One of the many things that I think makes Sisters on the Fly the best group ever is their commitment to works of charity! Paying it forward and helping those in need! Who wouldn't want to do that? Several times in the past generous and warm hearted sisters have donated their time and talents for great causes.
Sisters on the Fly has been a partner with Casting for Recovery, a not for profit organization that helps women recovering from breast cancer, for many years. At sister on the fly camp outs generous sisters raise money among themselves by raffling off what I call "Sistertastic" trailer finds. Every once in a while though that generosity is exceeded by a phenomenal donation like this 1957 Mercury "Quicksilver" vintage trailer donated by Jennifer Smith. It has been beautifully restored by Kent Kraemer at Blue Moon Caravans in Missoula, Montana. Thank you Kent! In addition to all of that it has been beautifully decorated by our very own sister on the fly "trailer whisperer", Kristin Manas. Job well done Kristin! It really speaks to me and I think she has expertly enhanced the classic charm of this Birchwood Beauty!
 These trailers are harder to come by everyday and having one ready to roll usually involves a big investment! A $25 tax deductible chance could win you this piece of nostalgia though!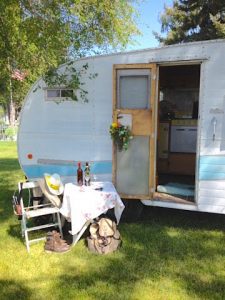 The only thing to be said here is "classic"!