On this weeks show I am highlighting the women out there who are creating beauty and sharing it with all of us. This Christmas Gift Guide is made up of the Girl Campers who create and share their talents with us. Buying a handmade gift not only supports artists but I think it's a statement of caring. It is so easy to jump on Amazon and swipe and say "done." I love the idea of procuring something special that you really put thought into as a way of saying to someone, "Thank you for your friendship throughout the year." Isn't that why we give a gift to someone? To thank them for being special in our lives? Here are the women creating beauty to share-
Dawn Wilson, is a solo woman traveler, award winning wildlife photographer, writer and entrepreneur. She has a new book out called, Preparing for the Next Shoot as well as three calendars to choose from –  Elk of Colorado, Rocky Mountain Wildlife and Inspiration From Wildlife. Dawn has been a guest on the podcast and the subject of my Go RVing blog. Her story is one of tragedy to triumph and I always love seeing her images come across the screen.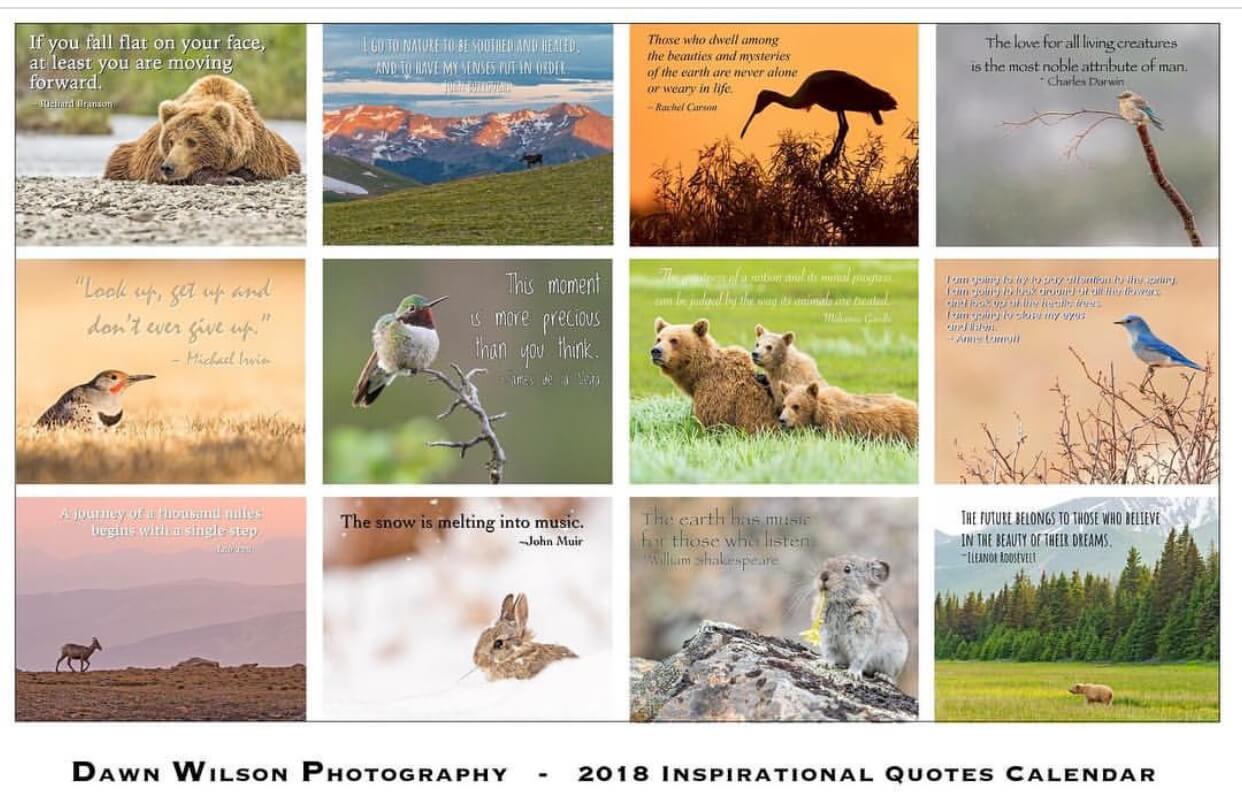 Lori Simon has an eye for nature. She sees things the rest of us walk by and she is patient enough to sit and wait for the right moment to capture the picture. She is a Vermont resident and a Girl Camper who takes her restored trailer on long road trips where she photographs the outdoors and participates in workshops. She just completed a trip that took her from Vermont to Rocky Mountain National Park and then on to Arizona. Lori's story is also one of triumph over adversity and is part of my Go RVing lineup of can do women. Her 2018 calendar is now available.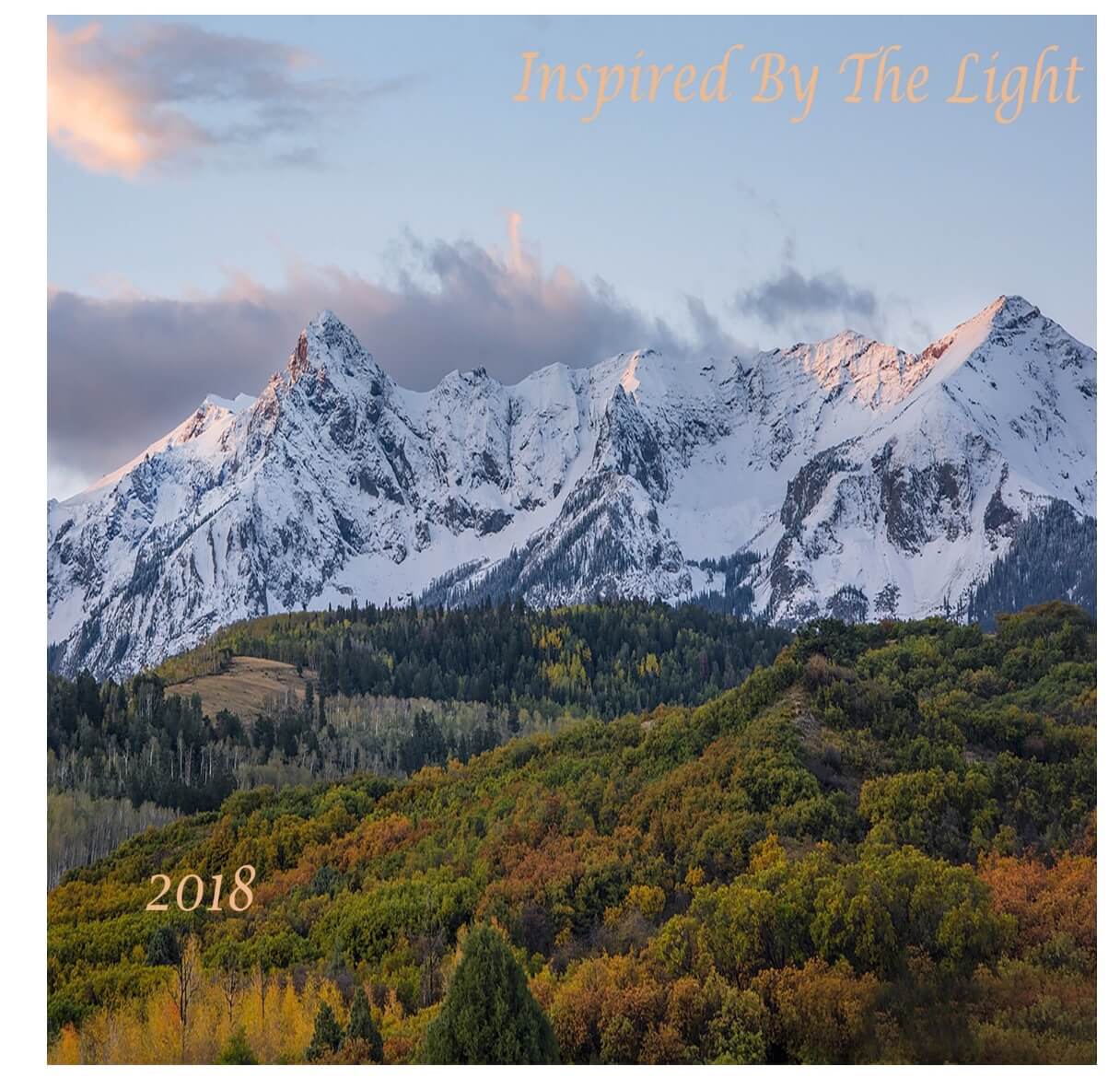 My friend Mary Gregory creates art that takes my heart to a place I don't ever want to leave. When I am feeling a bit overwhelmed Mary's images bring me to a place of appreciation for the simple things in life and remind me of what really matters. She has a way of transferring hope to canvas and bringing beauty into ones day. I am so thrilled that Mary has a calendar to offer us with these soothing images on them. She is also offering Girl Campers a discount of 10% on anything on her site. Just use the code GIRLCAMPER at checkout.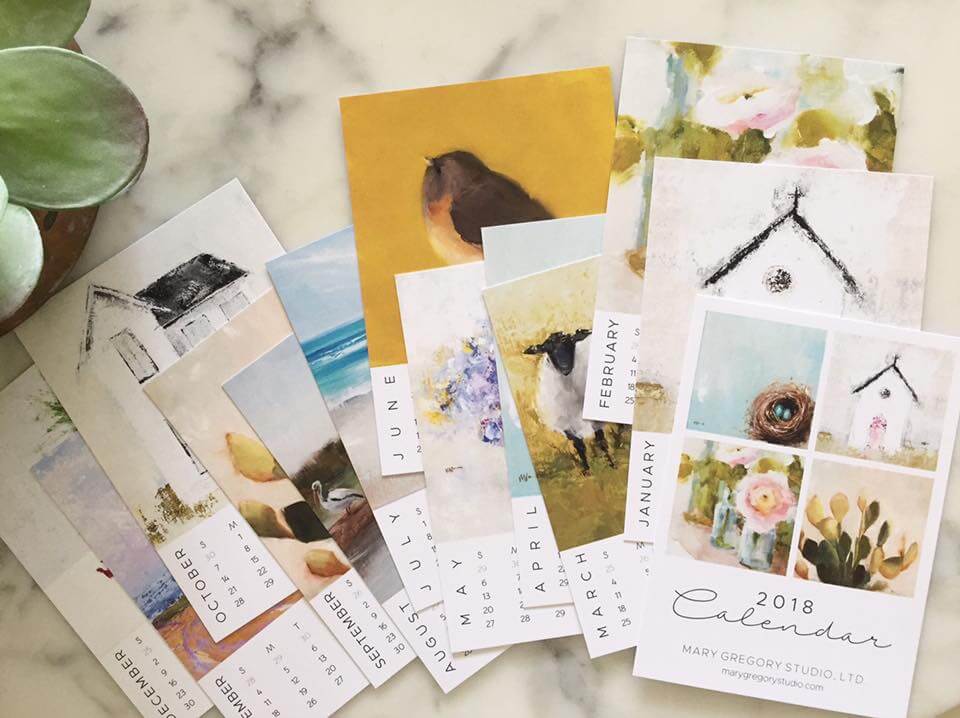 And last but certainly not least, the calendar that saw me through 2017, Simone Ritter's beautiful watercolor renditions of vintage campers. Each year Simone gives vintage trailer enthusiasts the opportunity to submit photos of their vintage trailers and she paints a painting a day for thirty days. People get to vote on their favorites and they become the upcoming years calendar pages. She has a second calendar available called Creative Journeys and it is full of her plen air paintings. Simone really paints on location in all kinds of weather and since she lives in Canada, north of Maine you know that's cold. She has a great Instagram feed that you can follow her at as well and see her at work. Simone is giving one lucky winner a calendar, set of gift tags and a set of three greeting cards. To be eligible to win, sign up for the Girl Camper Newsletter on the homepage.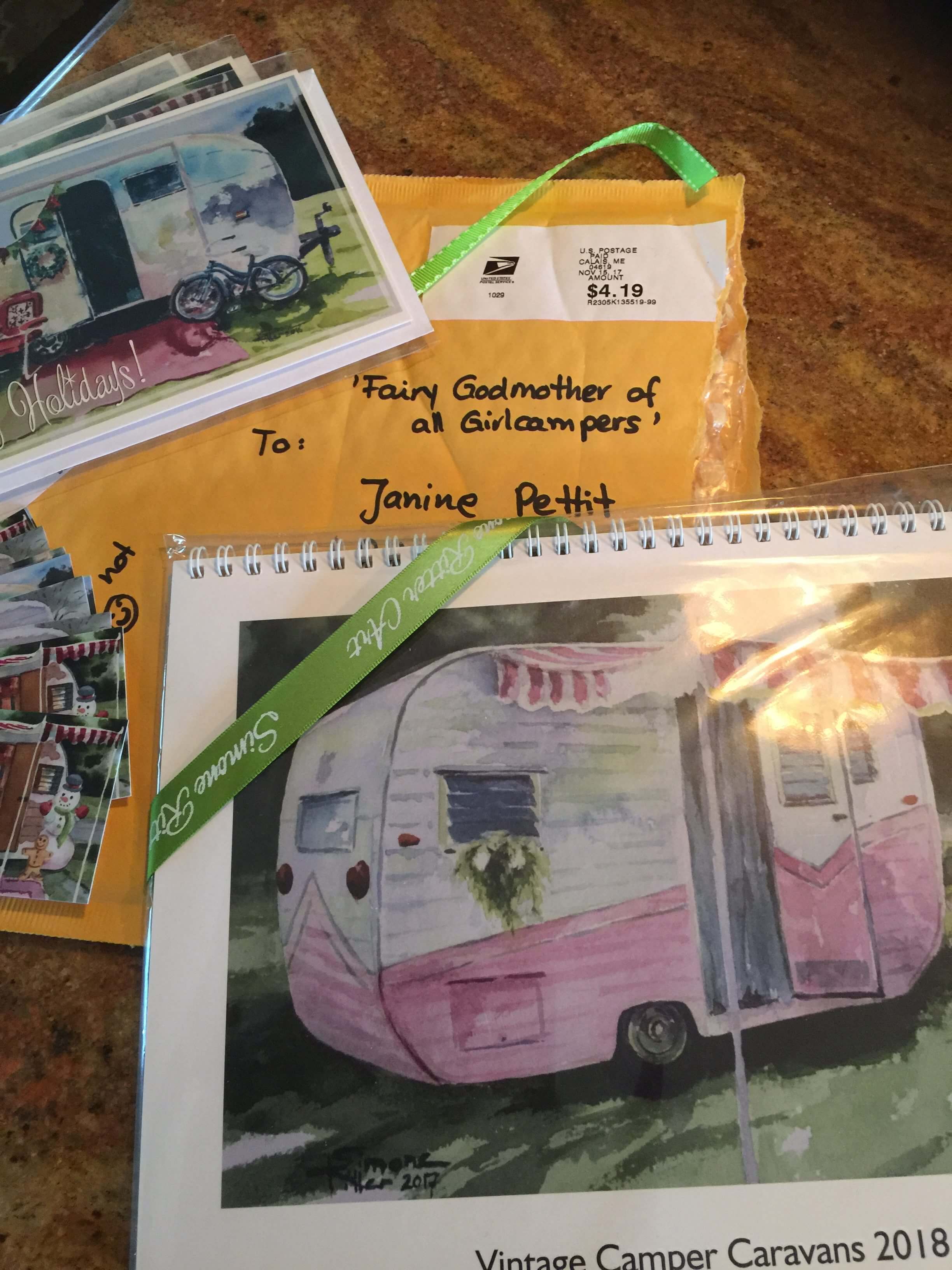 Our next entrepreneur is Patti Hughes, the founder and creative brain behind the brand Natural Life. I met Patti many many years ago at the Country Living Fair when her brand was starting out and it is so exciting to me when I began seeing her little treasures pop up in airport stores and gift shops. They make clothing and accessories as well as things for your home and unique gifts. It has a great happy boho vibe to it.  I was recently given the cutest little pack of thick clothespins with vintage trailer designs on them. They have a line of things called Happy Caper from t shirts to mugs to hats.  The artwork is so cheerful on everything they make and it is a company that gives back which I always love. They donate these boxes full of happy things to people in need of a pick me up or to charities for auction items. It is a box full of little sweet presents! They are giving one away to a Girl Camper. When you go on line and see their catalog you will want one of everything they make. I get their catalog in the mail and sit with it like the Sears catalog of old. There are a lot of turned corners on those pages. What I also love is the price range. There is something to give someone special to you in every price point. To be in the running for the Happy Box, head over to Instagram (girlcamper528) and find the picture of the happy box. Tag two people and share. PS Natural Life has a brick and mortar store in Jacksonville, Florida and they are in 5000 stores across the country.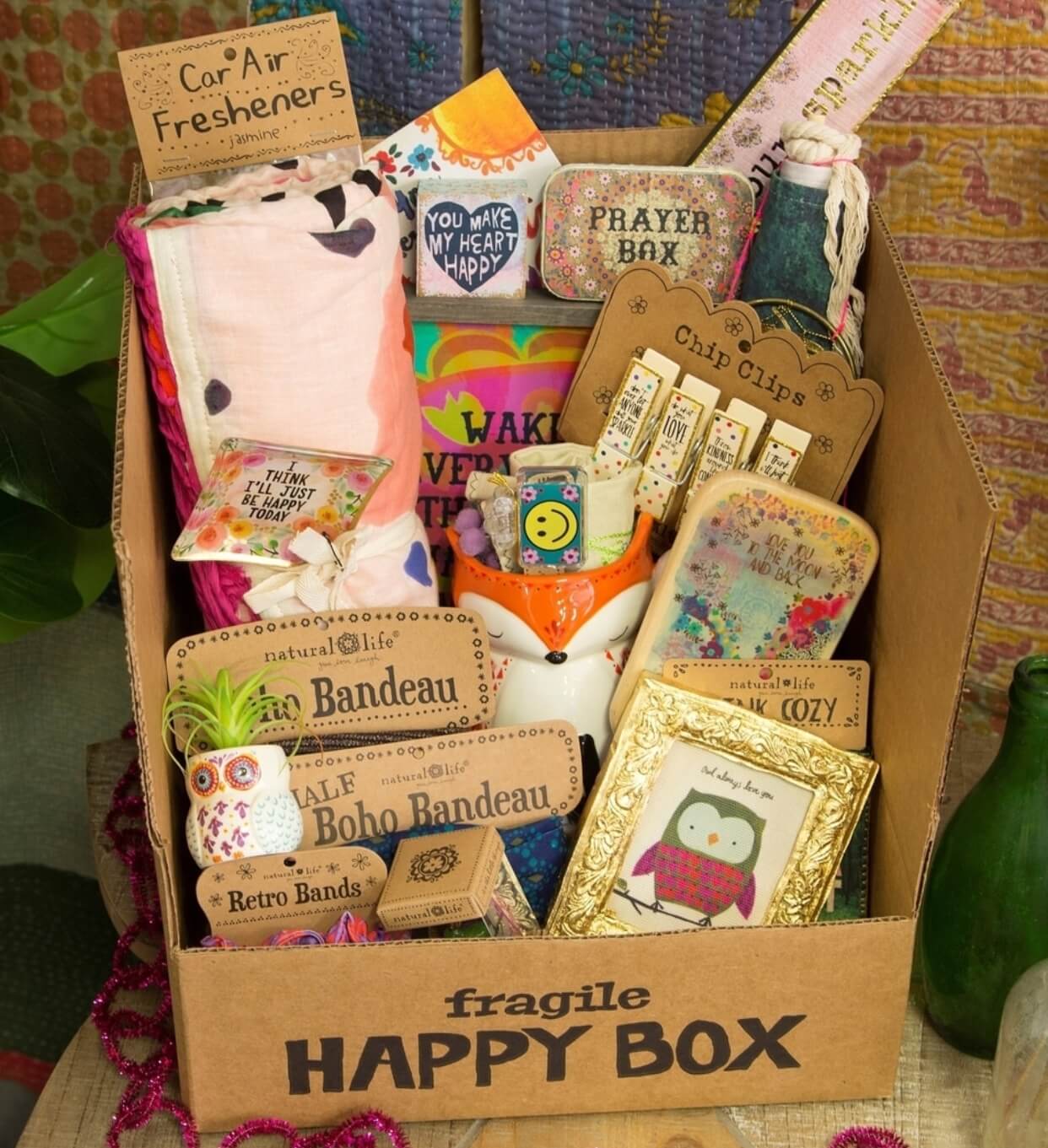 I have another shop keeper whose product line I love. Our friend Jennifer Megliore. Jennifer was on episode 76 of the podcast and we talked about using your trailer as a pop up shop. Jenn is the proprietor of a beautiful shop in Hilton Head, South Carolina called Artware. She has a great online presence as well though on her site Artware Designs  and sells some great Girl Camper ware. One of my favorite things in her Happy Camper line are the National Parks puzzles. She has the National Park patches poster that has been made into a puzzle for only $24 as well as a great map of the USA puzzle. I love puzzles and if you've shopped for puzzles lately you know that $24 is a good price. There are five online pages of Happy Camper treats ranging in price from $7 to $40. Jenn is giving the happy campers a 10% discount as well. Thank you Jenn. I'm getting the parks patches puzzle. Say that three times fast!!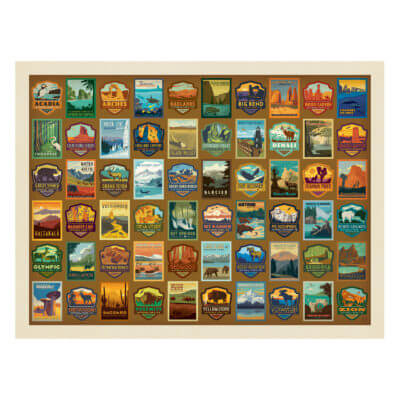 And now for the seamstresses and stampers out there. May I present Lindsay Ostrom. It is so hard to sum up Lindsay in a paragraph. She's a lifelong creator, published author, teacher, shop keeper and now has a line of fabrics! I have followed her on Instagram forever but had the pleasure of meeting her and getting a wonderful handmade wooden Girl Camper sign from her when I was in Nevada City, California a few weeks ago at Inn Town Campground. Lindsay creates in so many mediums it is hard to pick one to apply to her. I love her lettering and scribbles and scrapbooking journals. She has some video tutorials as well and can be found on her blog LindsayOstrom.blogspot. She has a  New stitching monthly kit club of appliqué and stitching a girl a month from Just Another Button Co. coming out soon as well as the fabric line coming from Adorn. Keep watching this smart, prolific creator.
Our girl Suzie Q, known to us east coast campers simply as Q creates the most amazing crocheted tire covers. She sells them on her Etsy shop and if you don't have the time or patience or skill for this particular project Q is your girl. She will custom make on in the colors of your choice. These make such a cute statement at the campground. Talk about camping like a girl!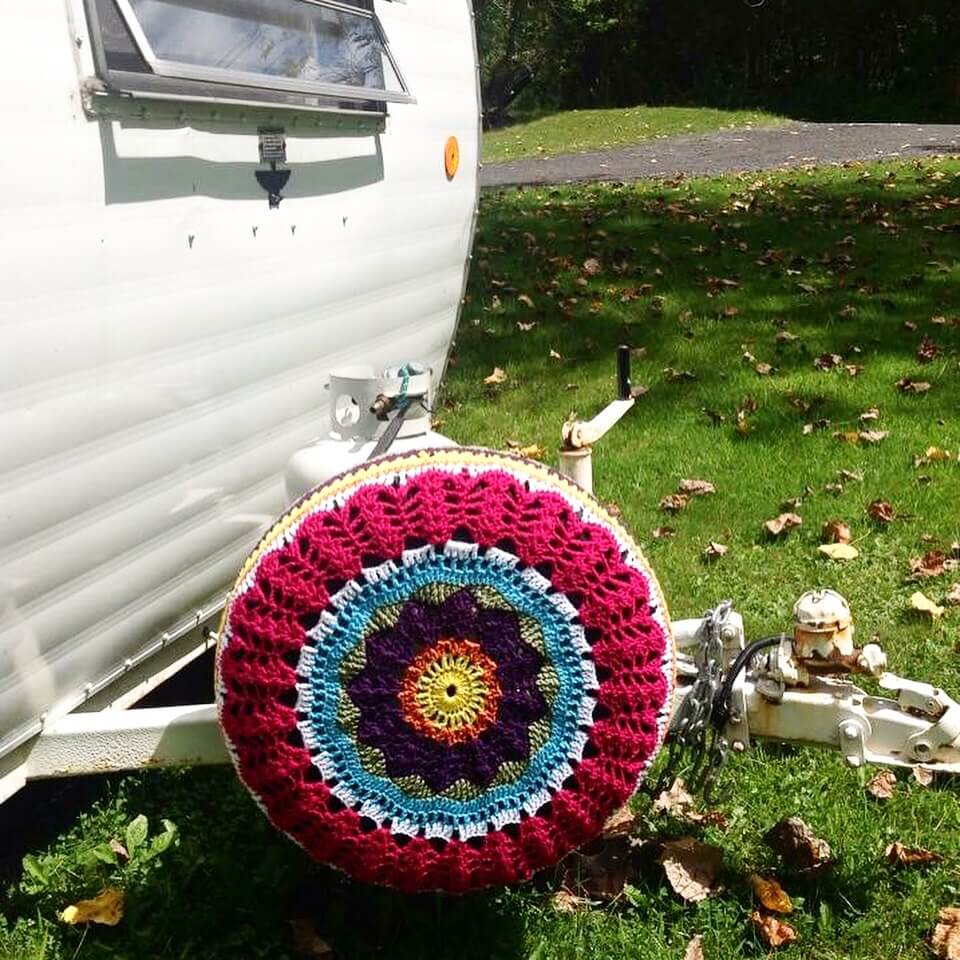 Another great handmade item for the discerning Girl Camper are the camp chair sleeves made by Adrienne Leibowitz, a California SOTF with an embroidery machine. Adrienne makes covers that slip over the back of your camp chair and she can embroider the back with different  designs. I saw a great one with a cowgirl boot but she has other designs as well. They sleeves are adjustable but Adrienne will take measurements from you to customize. She makes the sleeves with your name on them, group name, or your favorite quote. She also included a pocket in the sleeve for your cell phone. She has a dozen colors to choose from and they start at $25 and go up from there depending on how many extras you choose.
Girl Camper Angelita Bonita has opened her tea room! We have been watching her mix her magic blends for friends and now they are available to anyone through her Instagram page, AngelitaBonita. Angie is a true Girl Camper who has traveled across the country camping in a tent. She and her boyfriend Damian are renovating a vintage camper and chronicling it on Instagram under the name Backroadbetty.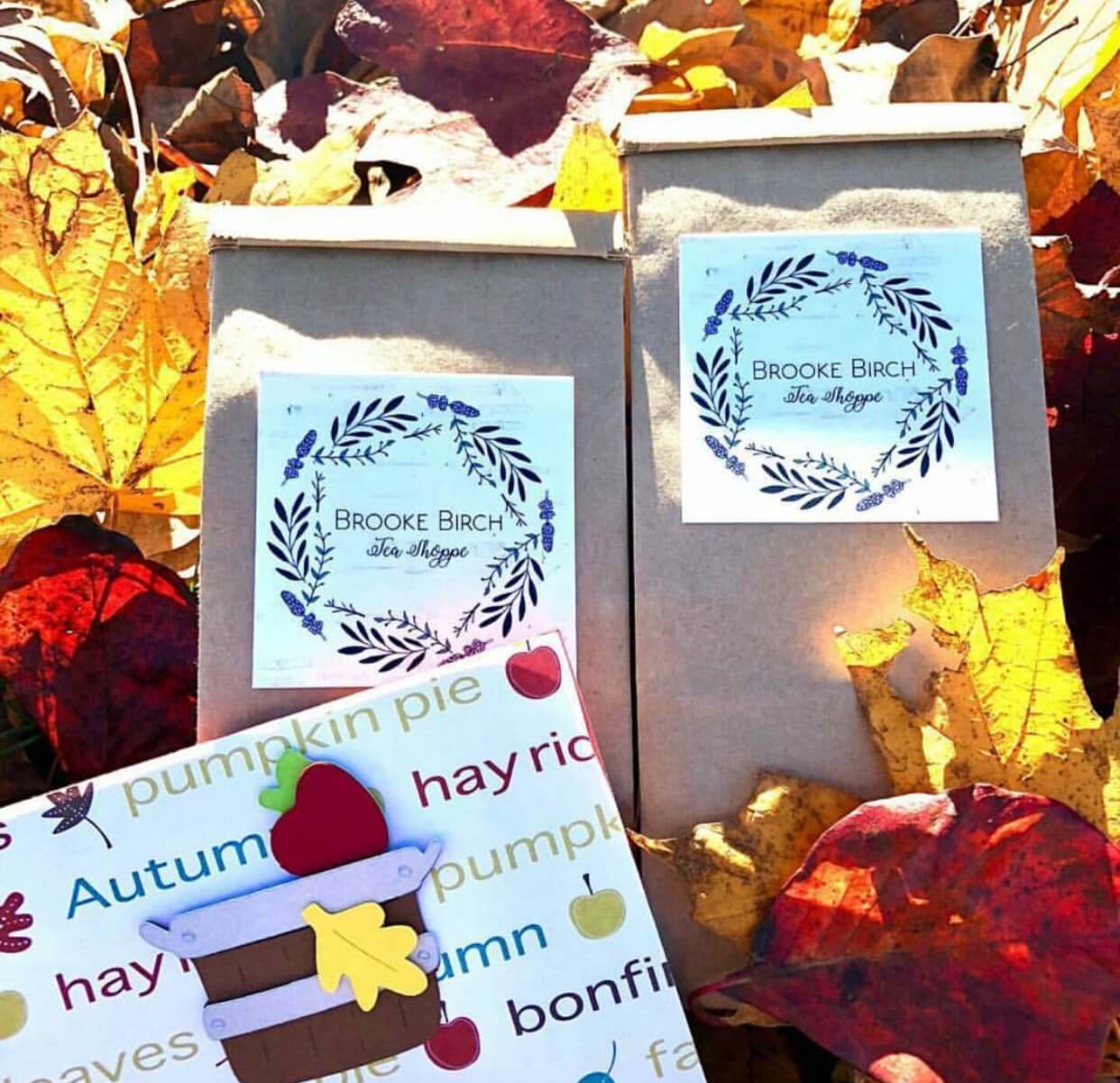 Last year my husband surprised me and bought me a necklace for Valentines Day from sister on the fly Caren L Cook who makes beautiful jewelry out of sterling silver spoons. She flattens the spoon and puts a little tiny vintage camper on it and then embellishes the rest of it with sparkly costume jewelry and embosses your name or whatever message you want on it. Mine says my name, sister on the fly number on it and the words Girl Camper on the bottom. Caren sells these through Facebook and you can message her via Facebook Messenger for information. They are $35 each.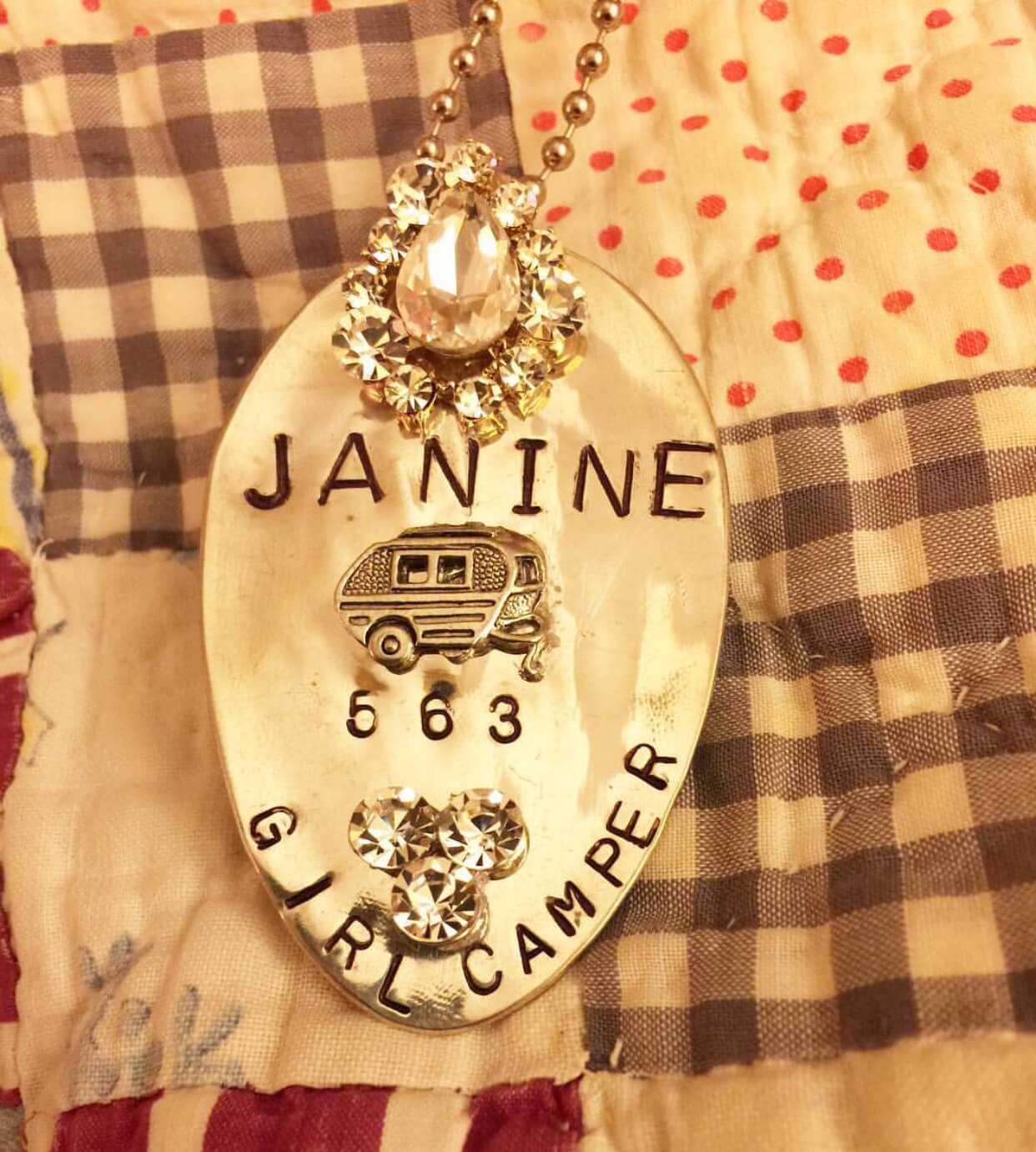 Lastly, I have an item. I have not put this out there yet because I have been giving them to my little helpers and people I meet on life's big highway but I created a new hat! It is a red baseball hat that is on the pink side actually and it says Tow Like a Girl on it.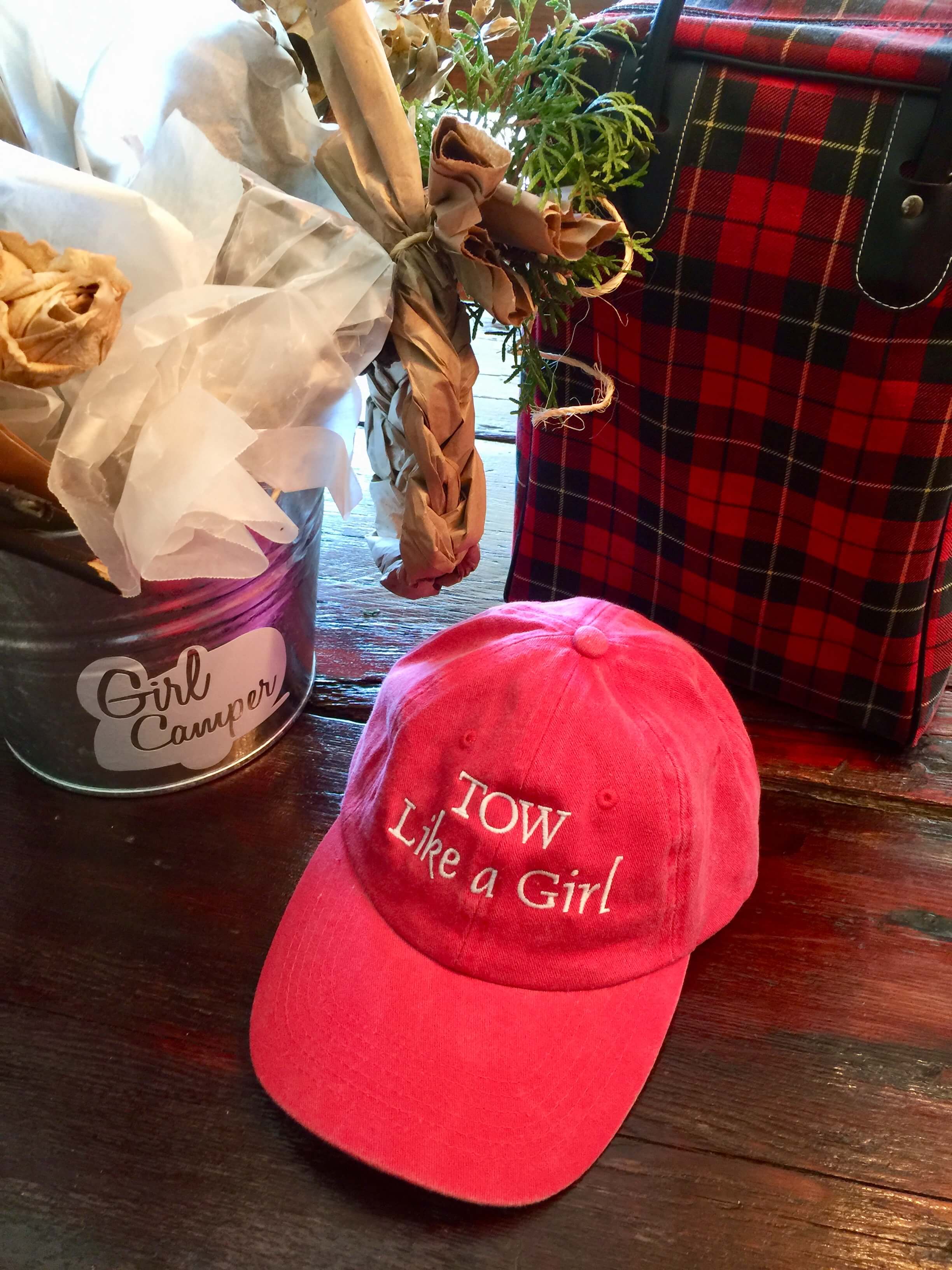 Podcast: Play in new window | Download