TIPS FOR FIRST TIME VISITORS:
Welcome to cool temps at 8,500 feet in this RV Resort in Northern New Mexico. Even in the summer, the high is 72-80 degrees with fabulous views at this 5-star RV resort. They have the WOW factor, and it is going strong for them as they continue to add more features to an already great resort.
Angel Fire RV is owned by Angel Fire Ski resort and is open year-round. There is a lot to do in the surrounding area in all seasons. When it's not ski season, Angel Fire has Zip-lining, ski lift rides, a fantastic mountain bike park, golf, and horseback riding.
Red River, an old mining town, is a pretty 35-minute drive over Bobcat Pass (9,820'). Red river is known for great family activities, hiking, fishing, shopping, Red River Brewing company, 4-wheel drive tours and the Red River Ski area. Famous for its arts, music scene, and UNESCO Living World Historic site Taos Pueblo, Taos is a beautiful 25-minute drive away thru Taos Canyon. Old warm charm greets visitors with the historic abode plaza, Rio Grande Gorge bridge, white water rafting on the Rio Grande, fantastic shopping, and museums featuring Georgia O'Keefe works.
Remember to take in many of the great restaurants: Lamberts on Bent Street or Ranchos Plaza Grill on the old plaza in Ranchos de Taos where the San Francisco de Asis Mission Church is situated. You must drive around the old mission for the best pictures.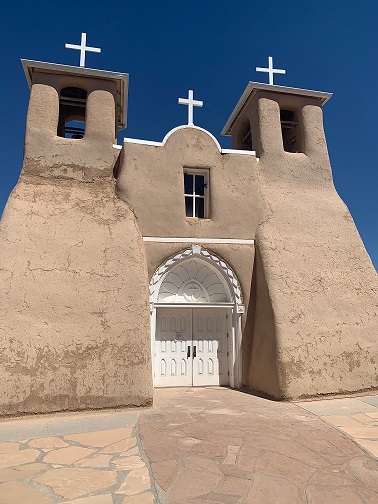 For those in a mood to drive, the 84 mile "Enchanted Circle Driving Tour" takes you thru Red River over Bobcat Pass, thru Questa and Taos and returning to Angel Fire. Great mountain, gorge and plains views abound! Keep an eye out for Rocky Mountain Big Horn sheep on you way out of Red River or at the Rio Grande Gorge bridge!
LOCATION:
Angel Fire RV Resort
27500 US 64
Angel Fire, NM 87710
NUMBER OF SITES:
After taking in the sights, you can return to your gorgeous site in the valley below Angel Fire ski area. The Resort has 93 pull-thru campsites, 9 back-ins that are designed with plantings of pine, aspen and perennials blooming all around the 66-foot-long sites.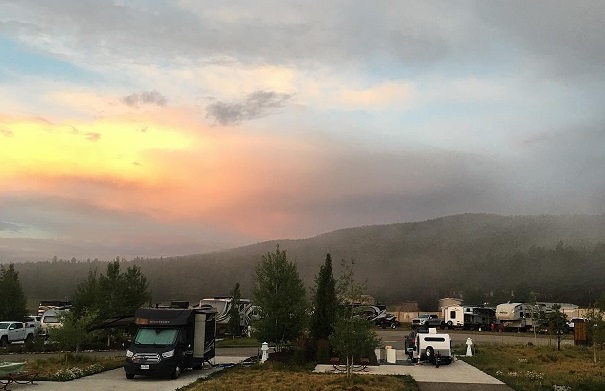 AMENITIES:
All sites come with 50-amp and 30-amp electric, water, sewer, cable hook ups, and wifi.
In the morning, head over to the office where a free breakfast of waffles, coffee and juice are served thru a pass-thru window. Take your breakfast and walk over behind the club house and take a comfortable seat by a propane fire pit. You may spy a herd of Elk in the meadow behind the campground!
After a day of hiking in Carson National Forest, come back to the campground and ease your sore muscles in the hot tub, located behind the bath house. The bath house has luxurious showers and a huge firepit with plenty of seating to meet your fellow campers.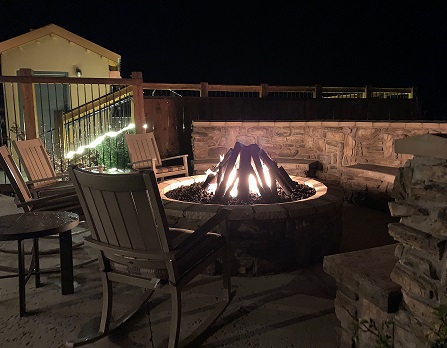 For those who travel with four-legged family members, a walk to the Bark Park is there for you. If you need a work-out, enjoy the micro-fitness room looking out over the meadow and mountains.
COST:
Site prices vary: $52-$90 in season or off season. Park side sites, mountain view or executive sites are available.
HOW TO RESERVE
Call to be sure they accept your rig: they might only be accepting 5th wheels and motorhomes.
www.angelfirervresort.com
1-855-421-0308
TELL US ALL ABOUT IT:
I camped here in July and the daisies where blooming in the grass around my site, a very pretty touch of class. I love walking among the perennials on the walking path that surrounds the resort; such a relaxing place to enjoy the sunrise.
The resort has family-friendly activities such as a playground, pickleball, putting green, horseshoes, and fun scooters available to rent at the office.
The beautiful location, summer climate, surrounding activities, and resort amenities make this campground an incredibly special place. We love this campground so much we have scheduled a Girl Camper event here. Come join us and experience beautiful Angel Fire Resort in the "Land of Enchantment", New Mexico.
Girl Camper Event – Look for an event for next Summer 2022 will take place at the Angel Fire Resort.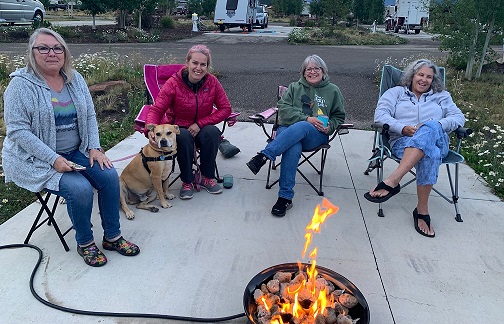 Article written by: Bonnie Shafto Girl Camper Guide North Texas and New Mexico
Follow me on Facebook at https://www.facebook.com/GirlCamperNorthTexas
Subscribe to an award-winning magazine https://girlcamper.com/girlcamper-magazine/
Do not forget to check out events – https://girlcamper.com/events/