Collecting is in the blood of most Girl Campers. So often our campouts involve a side bar to the thrift shops, second hand stores and local antiques shops. Everyone is looking for something different and some are looking for multiple things. People who "collect" rarely collect just one thing and I definitely fall into that category.
These are a few of my favorite things!!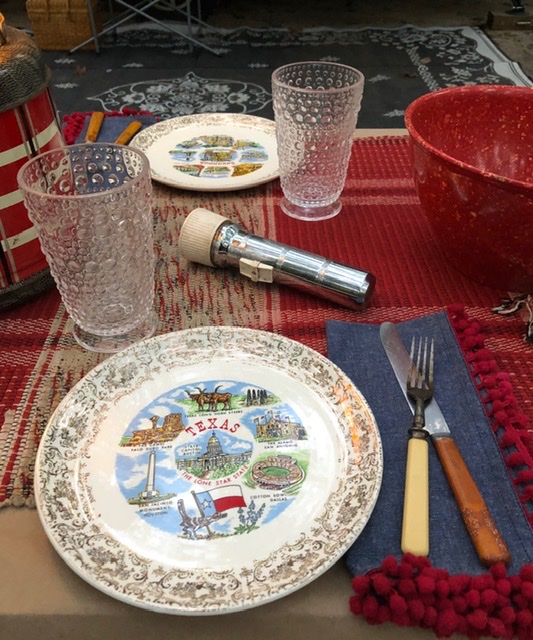 State plates! These were souvenirs that many people brought home from their annual vacations and they were often hung on kitchen walls. I love buying them and using them for parties. I ask everyone to tell a story about the state featured on the plate they are eating dinner on. I have heard everything from misspelling the state on a 5th grade spelling test, to rowdy college spring break behavior in states featuring sandy beaches!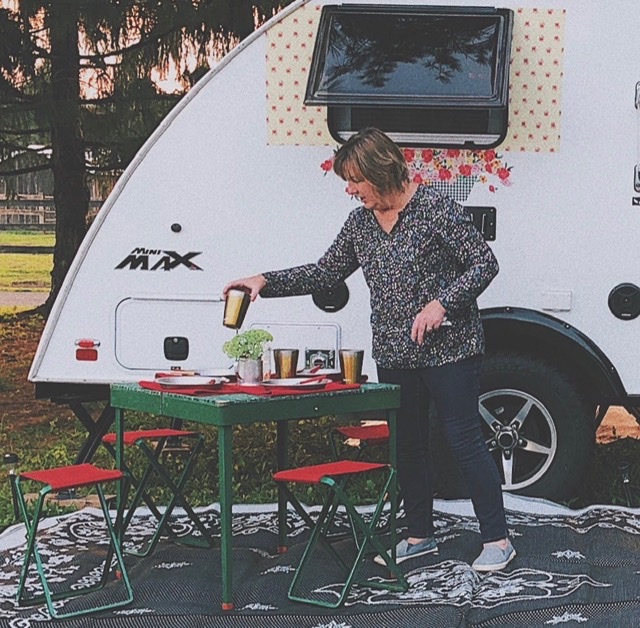 Coleman Picnic Set – Actually, Coleman anything. I love old Coleman camp gear and have lots of it including this great picnic set that all folds up into itself for easy transport. These were used for roadside picnics in the days before rest stops with chain restaurants. I scored this off of Ebay after some serious bidding. I paid $200 for it and did a jig when I ''won."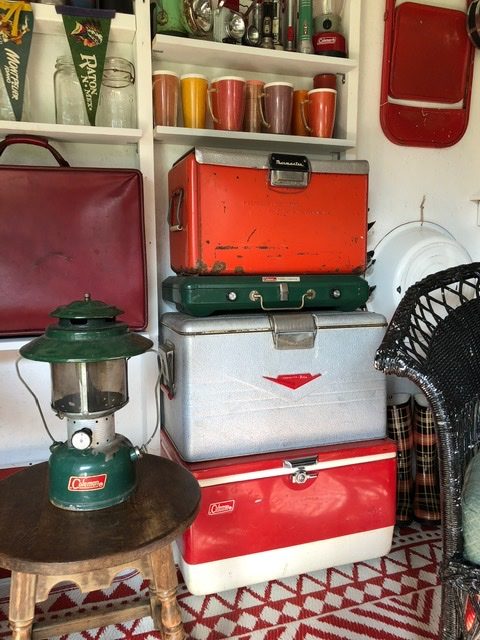 Vintage Coolers – they are lighter than some of the new ones, make great extra seating at the campground, and, for me, make great containers for the things I like to bring along. I store lighting, cast iron pans, electrical chords and adapters in mine. They stay put in the back of the truck and are great for small items. They also are much prettier than a rubber container.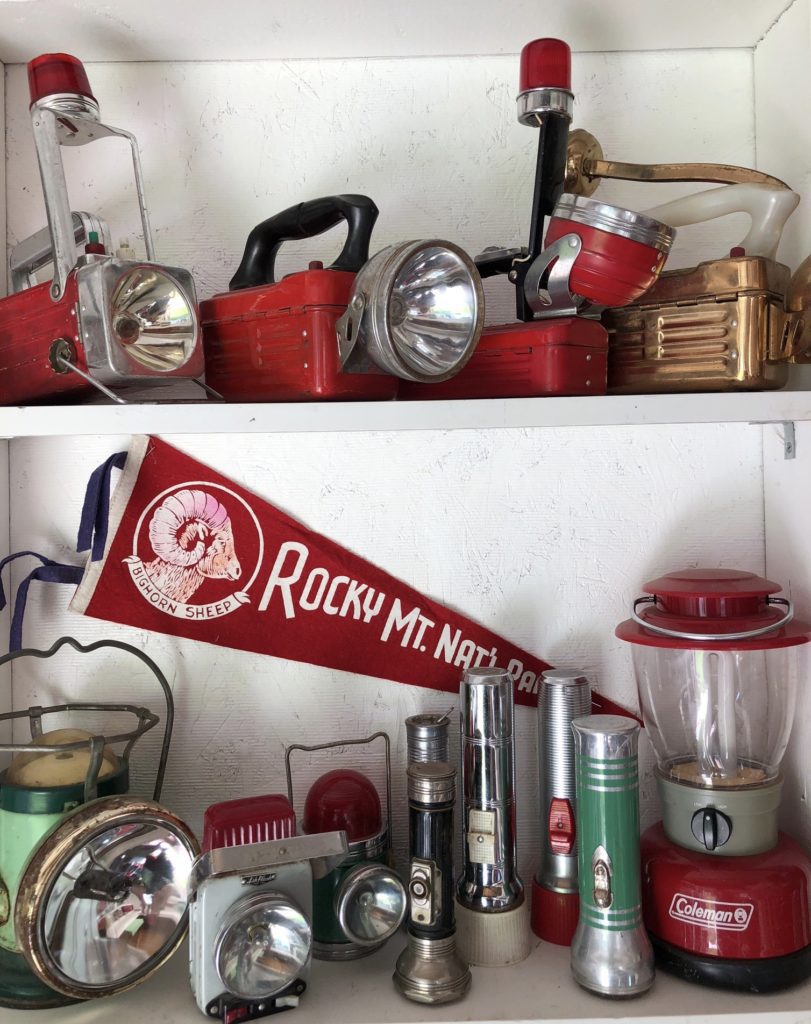 Old flashlights – Surprisingly you do not come across these as often as one might imagine. For reasons unclear to me, I hardly ever see them in antiques shops or even flea markets. When I do see them, I snap them up. They almost always work once new batteries are put in them. I have a supply of bulbs for stubborn finds though and, actually, they are kind of fun to fix. I use them when camping and as decor too. Last year the Christmas dinner table had a vintage flashlight theme. My favorite one in my collection is the official Girl Scout flashlight that my bestie Carol gave me.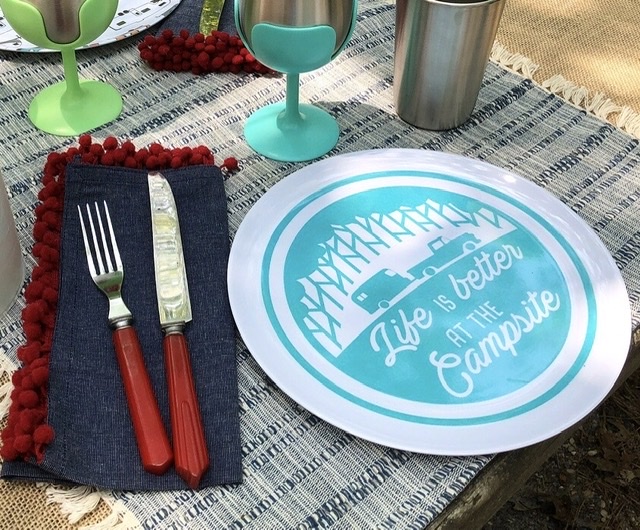 Cutlery – I fell in love with Bakelite flatware in the 80's when Martha Stewart kept posting it in her cookbooks. You could find it easily in those days in fairly good condition. I have discovered that people cycle through collecting phases and recently, these previously hard to find treasures are showing up again. I think the 1980's collectors are all downsizing and getting rid of things they don't use anymore. Good for those of us still collecting. I also love monogramed silver plate and hand forged utensils! Setting a great table at the campground makes every meal feel special, even if it's only a burger.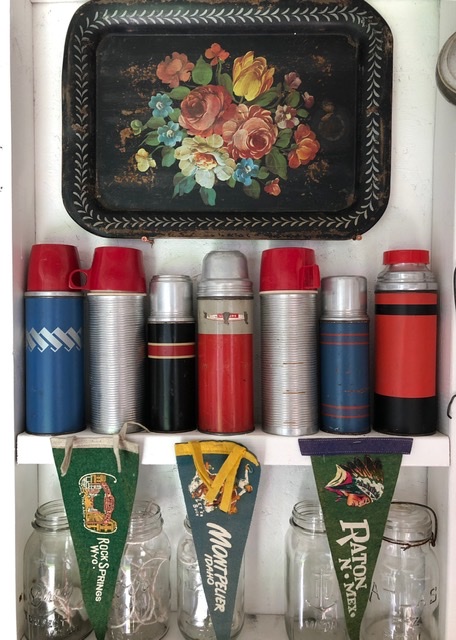 Thermoses – Vintage thermoses are a great storage tool in an RV. They scream 'camp' and look so much nicer on the counter top than plastic containers. I have a line up of them on my camper counter and I store sugar, coffee, orzo, rice, and oatmeal in them. I pack them in an old wooden crate that I carry with me. One they are unpacked at the campground, that box becomes my side table at the campfire.