I never lost my love of canvas tents and last year decided that I needed one to use when I did not want to tow and also as a guest bedroom to add to my campsite when a girlfriend or two could join me. Canvas tents today are not what they used to be. For one thing you can touch the walls when it rains and not worry about water coming in! I chose a bell tent by Stout Tents, a veteran owned company in Arizona. I am able to put it up by myself although it is a tad heavy for one person to drag to the spot alone.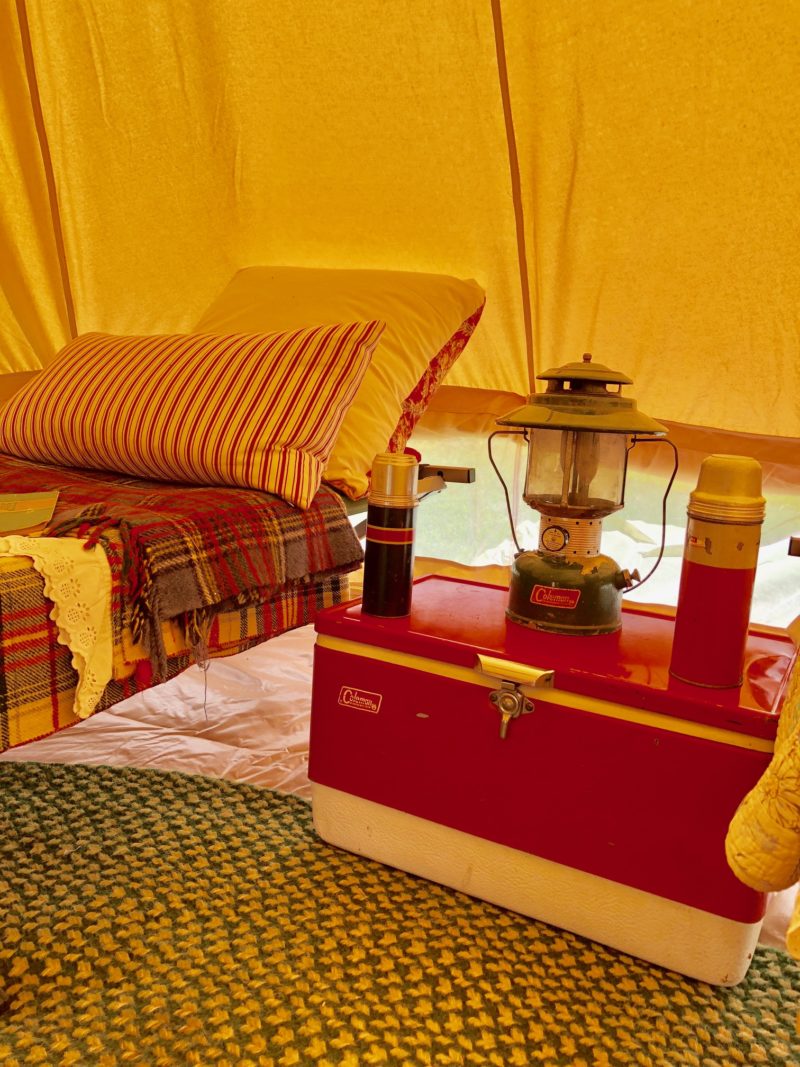 I love to fill my tent with all of the things that we had as kids. The classic Coleman lantern that we were warned never to touch the top of. One chilly night camping on Prince Edward Island I learned the hard way why! The Coleman cooler that is now a coveted collectible was new then and just a piece of camping gear that did double duty as a bench. The cots, the wool blankets and the rag rug that my mother shook out ten times a day all make my tent feel like a childhood flashback.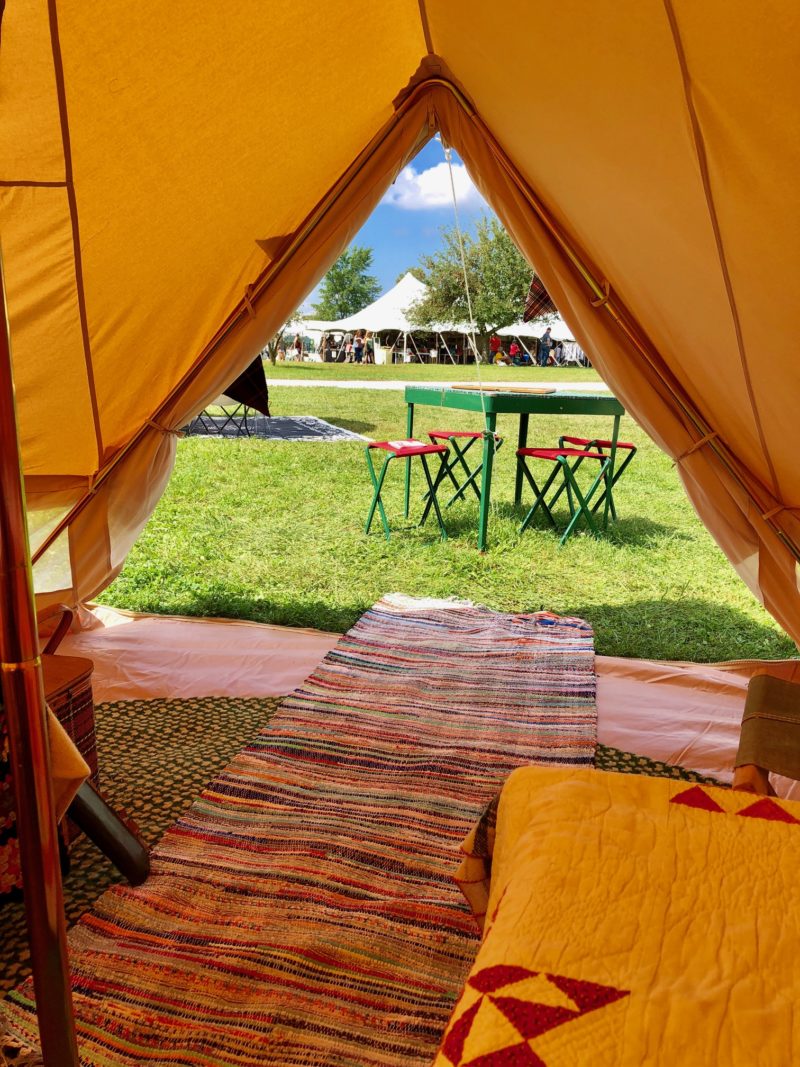 Making camp is so much more than setting up a tent. It's about making a temporary home, a place where you will set down roots for a day, a weekend or maybe longer but it will be filled with things that keep you warm, inside and out.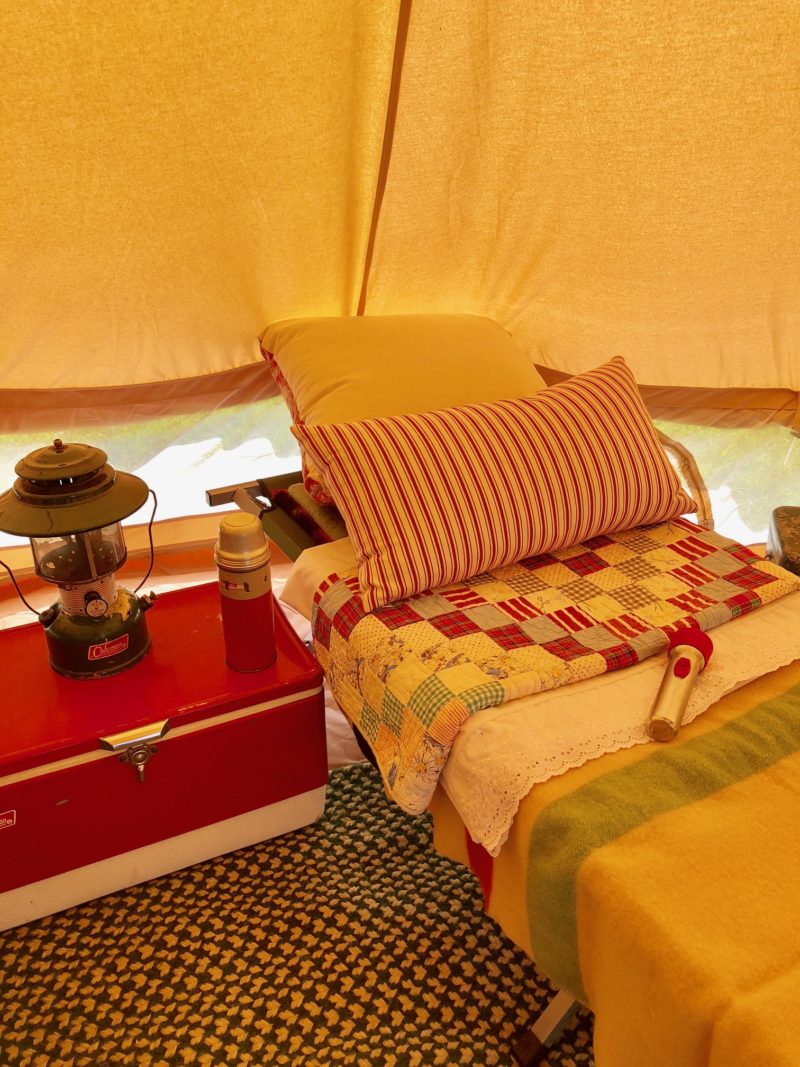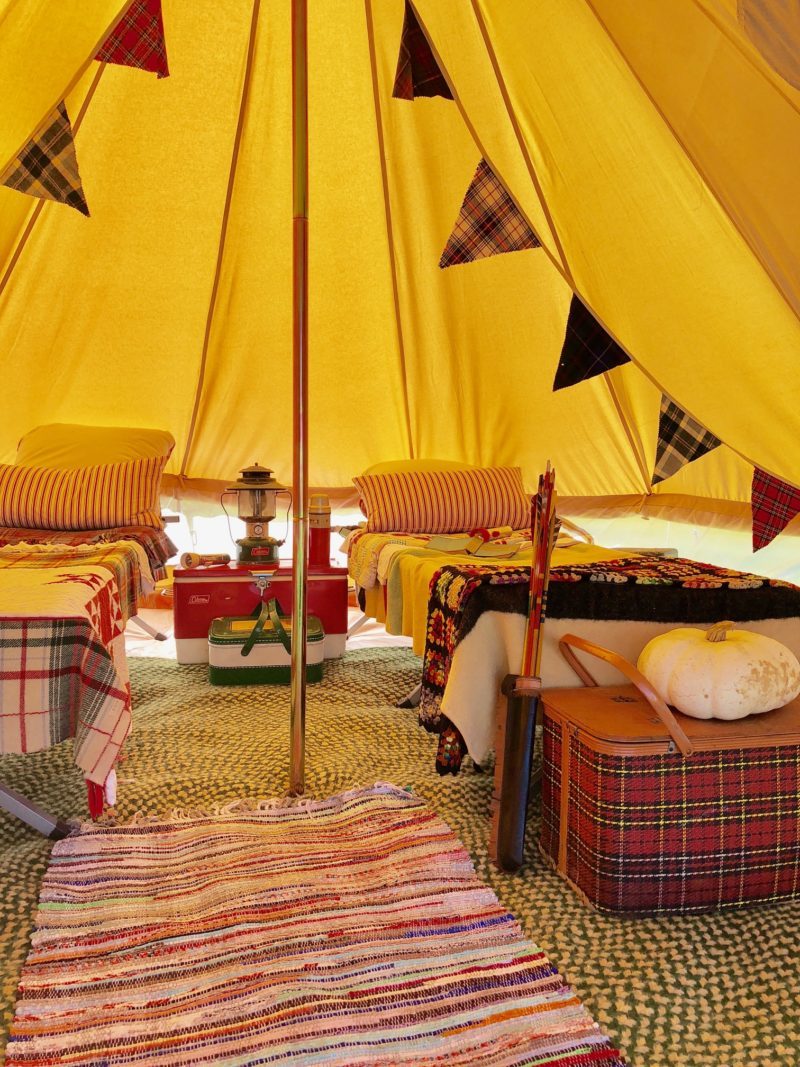 A Canvas tent is a great way to Camp Like a Girl without having to own a travel trailer. You can create a voluminous space that offers plenty of living area as well as provide enough room for a big bed or several twins. Some of my favorite things to add to a tent space are:
Cots – I am not ever going to sleep on the ground again!! I love a fold up cot or inflatable bed that gets me off the ground. I add a thick piece of memory foam to the canvas sling and sleep like a baby!
Blankets – It's all about the blankets in the tent. I collect old wool blankets that I get at garage sales, thrift shops and antiques shops. I also love vintage crocheted blankets that are tightly woven and made of wool. The Granny square pattern in multi colors with black edging is my favorite. They look great against the old quilts and wool blankets. I also love old vintage quilts that have been washed over and over and show lots of wear. They add such a nice feel to the bed but they are generally not warm.
Flashlights – I've been collecting vintage flashlights for years and use them all the time. When I was a kid we had ONE flashlight in our camp kit and no one was allowed to walk around with it. You had to ask permission to take it away from the site and it had to be returned to a parent. The cost of the batteries in that flashlight was an investment in those days and if it was lost, heads would roll. When I make camp in my canvas tent for guests I like to supply each guest bed with a personal flashlight for late night reading and midnight trips to the potty.
Cotton Sheets – Old fashioned 100% cotton sheets make for a great nights sleep. When I see them at thrift stores I always buy them. During heat waves in the days before central air conditioning, my mom would put our top sheets in the washer and ring them out. We would sleep under the damp sheets to stay cool. I don't do that in the tent but I love the feel of a thick all cotton sheet.
Picnic baskets – There are so many kinds of picnic baskets from the 1950's and 1960's. Woven baskets in many different colors, tin baskets with handles and suitcase style picnic cases. I covet them all and use them to store the not so pretty things when I am traveling. The red woven one I keep at the end of the bed contains all of my camp lighting gear. It also makes a great shelf for an extra blanket or board game.
Coleman – I collect Coleman coolers and use them as coolers (they work great) and as nightstand tables, benches and to hold gear. Red ones are my favorite but I never say no to a reasonably priced Coleman cooler, lantern or camp stove.
Rag rugs – You just can't kill a rag rug! They are easy to roll up, store, move around and then wash when you get back home. The multi colored pattern hides dirt and matches anything in the space. When they get wet you can throw them over a clothesline at the campground. The old ones were hand woven and mostly cotton but the new synthetic fabric ones are inexpensive and easy to care for. I have bought some great ones for $5 at the store Five Below.