General Overview
I grew up camping in a Shasta trailer with the orange stripe. Oh how I wish I had that trailer today! When my parents sold it to get a larger trailer, I was living in an apartment and didn't have a vehicle to tow it with. My mother regretted the change, saying the new trailer was not built as well as the Shasta. To this day I want to get a vintage Shasta to park as a guest room on my property and decorate the interior in a mid-century modern theme.
What type of Travel Trailer do you have?
RPod 180 towed with Jeep Rubicon
When it came time to purchase my own trailer, I went with the Hood River Edition of the RPod because of the higher clearance and package for going off pavement, and because the size was perfect for me and my dogs. I prefer the dry bath option and was glad the weight was under the max load for my Jeep.
Another feature I liked about this RPod is the exterior wall plug-in for a solar panel – I did not have to do any wiring for inverters or anything like that. One of the places I like to go is Antelope Lake, the place we went annually when I was growing up. Knowing this was one of my goals, I needed to be prepared to boondock (there aren't any hook-ups there).
I'm impressed with the Zamp suitcase style solar panel and glad I have it – it plugs right into my RPod and works great even when it's overcast: https://amzn.to/2L7nQeA
Make a list of your criteria: what's most important to you when choosing your tent, van, camper, RV, or travel trailer? What types of locations do you see yourself at most of the time? (Be prepared)
How do you describe your "camp style"?
I'm not sure, but I think "simple" and "fun" might describe my style.
What concept or elements influence your style?
I don't want a lot of things to set up or put away, so I don't create elaborate scenes when I camp. Because I tow with a Jeep, I want to keep my trailer light, so I don't load it up with a lot of extras like decorations.
Are decorations you set up and put away every time important to you because of the space you want to create when camping? For example, are extra pillows, sporty elements, girly details, cabin detailing – whatever your style – important to you? It all depends on how you want to feel when you are in your camping space.
I did make a few changes in the interior for the purpose of personalizing the space. Because I purchased the trailer with the goal of spending more time at the ocean, and because I love birds, those two factors influenced my style choices.
The fabrics needed to be sturdy because, when I started out with my RPod, I had two Dachshunds who lived on the bed when we were inside. I covered the bedspread that came with the trailer in bird fabric.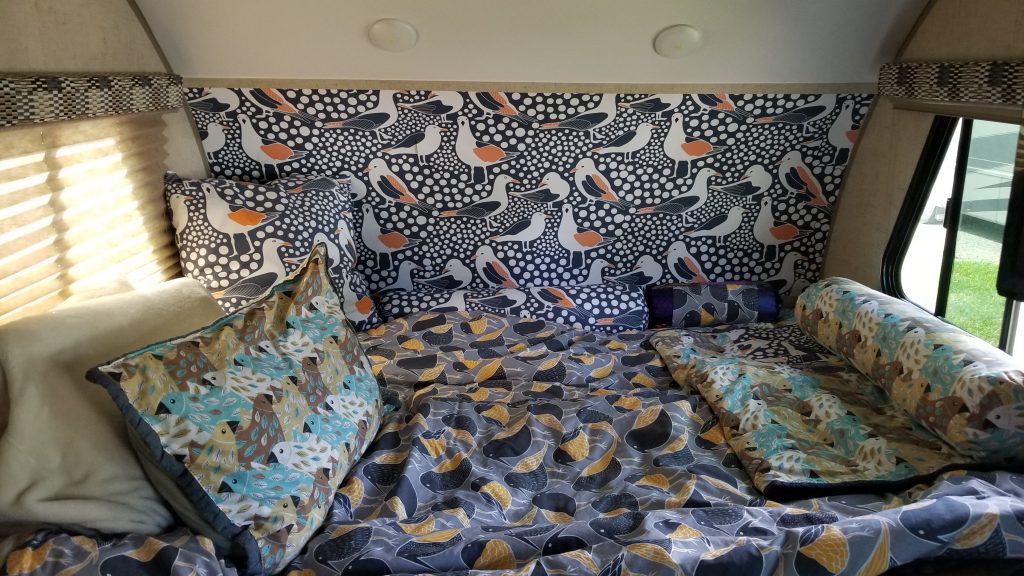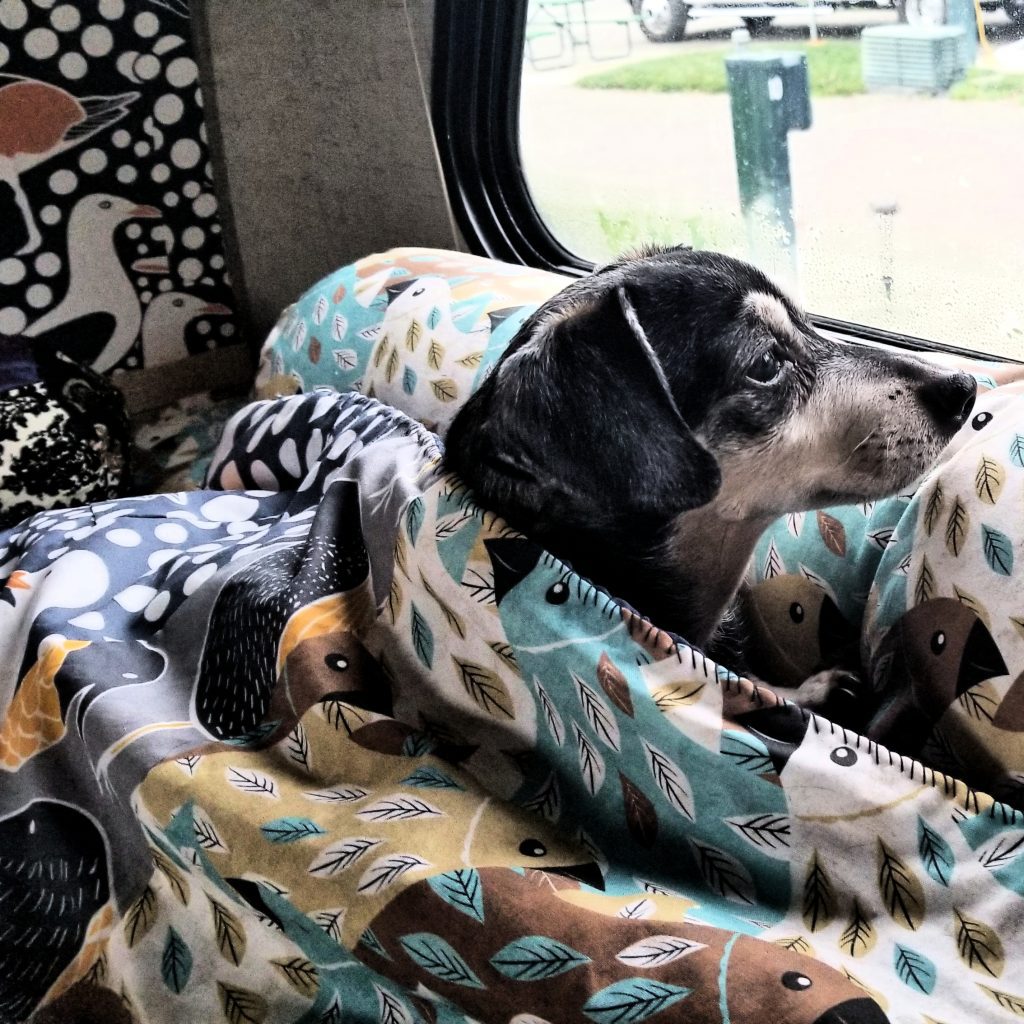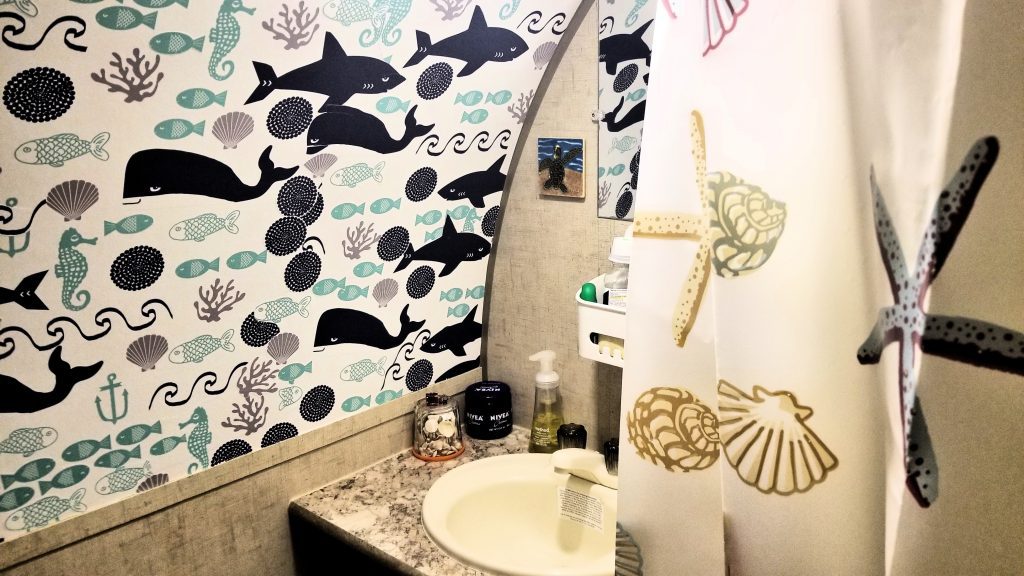 Spoonflower matching fabric and peel & stick wallpaper: https://amzn.to/350oDFQ
My love of photography and vintage camera designs dictated the dinette design and entrance wall.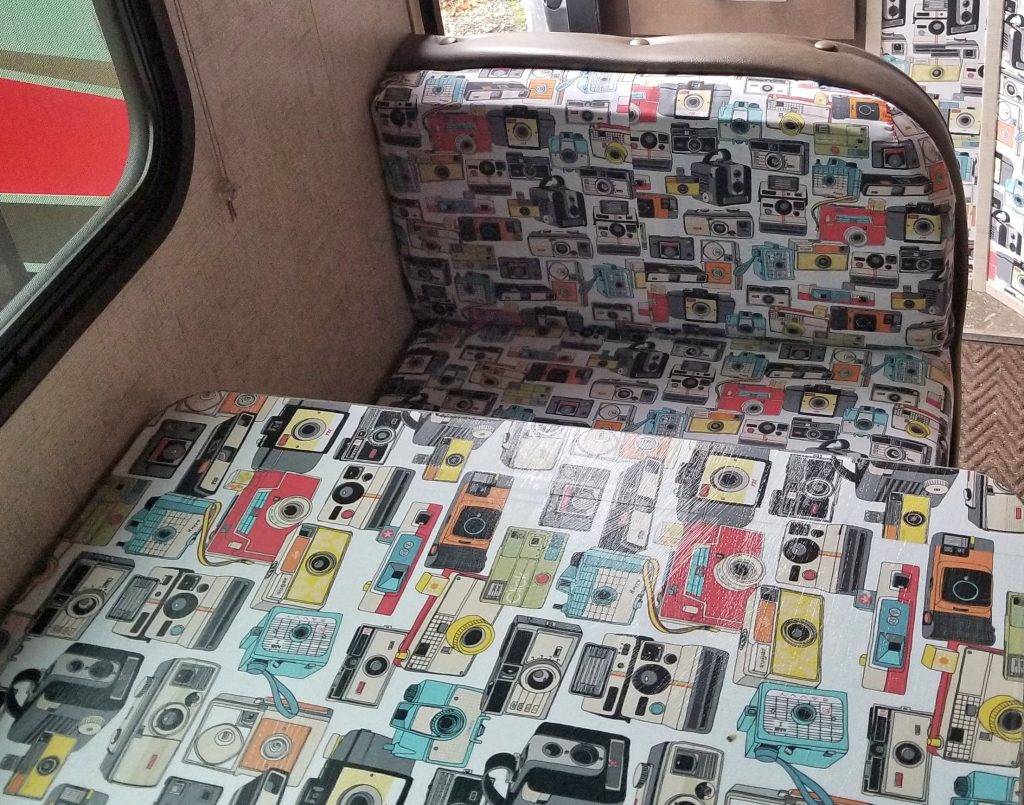 I am still a Polaroid fan! My first one still works and I can still purchase film for it. I also have two newer Polaroids and love to take photographs when camping and give them to people as gifts for their refrigerators – people love it and many have never seen a Polaroid before! It's STILL magic. My Polaroid One Step hangs in the dinette area when I'm camping to add a special touch to the scene.
Polaroid Snap Touch: https://amzn.to/36yiNwn
Polaroid One Step: https://amzn.to/2NNkH4J
When people who don't know you step into your camping space, what will they learn about you based on your unique camp style?
The vintage cameras led me to vintage kitchen options and I made my choice based on something I thought my mom would like (shown in featured image for this article). Because I like vintage trailers so much, I went with that theme when choosing my plates – they are light and unbreakable – and mugs.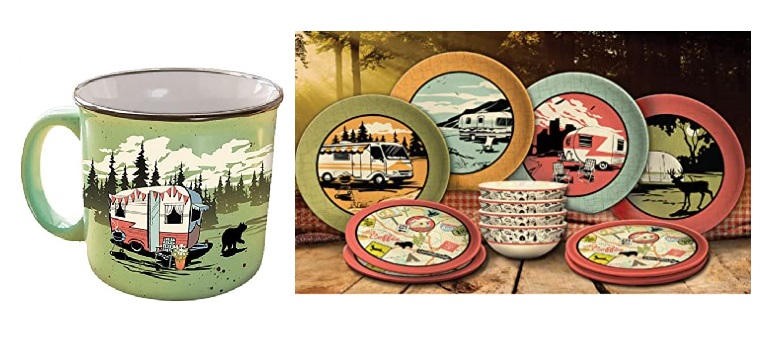 My Camp Casual kitchenware – I also got the large bowl and serving utensils to match: https://amzn.to/3sut2KP
I went with ceramic mugs even though they are breakable. I like a heavy mug for my morning coffee. I store them in the boxes they came in for travel: https://amzn.to/3bBNTWn
Have you made any style mistakes, and if so, what did you learn?
I thought peel and stick wallpaper would work on the curved walls of my RPod – it didn't stay adhered, sagging within a short period of time. I ended up stapling it to the curved walls (I'm not planning on selling anytime soon, so this isn't a concern for me).
I covered the dinette table with peel and stick wallpaper and then covered it with several layers of Modge Podge. I didn't realize heat and water might be an issue on that surface, so I need to use a coaster under my hot coffee cup, and be sure to wipe up water, or any liquids, as soon as they spill – or use a coaster under iced beverages that might have condensation.
I like the wallpaper I put in the kitchen area – it makes me happy, feeling like a part of my mom is with me. I especially enjoy the visual of matching curtains. However, I don't do a lot of cooking on my stove because, if I cook, I usually cook outside. Most often, because of the way I use my trailer, I make a point of getting food to go from restaurants at that location. IF YOU PLAN TO COOK FREQUENTLY on your cookstove, you would be wise to put up metal "tiles", perhaps with a pressed design, or a fake glass backsplash (keep it light weight), and avoid fabric curtains that might catch fire.
You can always go to the Girl Camper group on fb (more than 28,000 members and growing) and type in the search window any specific ideas you are considering. Based on the key words you type in, previous posts will come up on that subject and you can learn from the experience of others. If nothing comes up, you can post to the group and ask if any of them have tried whatever it is you are considering. You can also search in the groups you have joined based on your camping preferences (for example, I joined two RPod groups).
What advice or encouragement can you offer Girl Campers who are developing their camp style?
I liked the interior of my RPod and didn't make any changes for three years. There's no rule you have to decorate or personalize your camping space.
It doesn't matter what other people think: if you like it, it's great.
If you think you might sell anytime soon, it's probably best to keep things simple.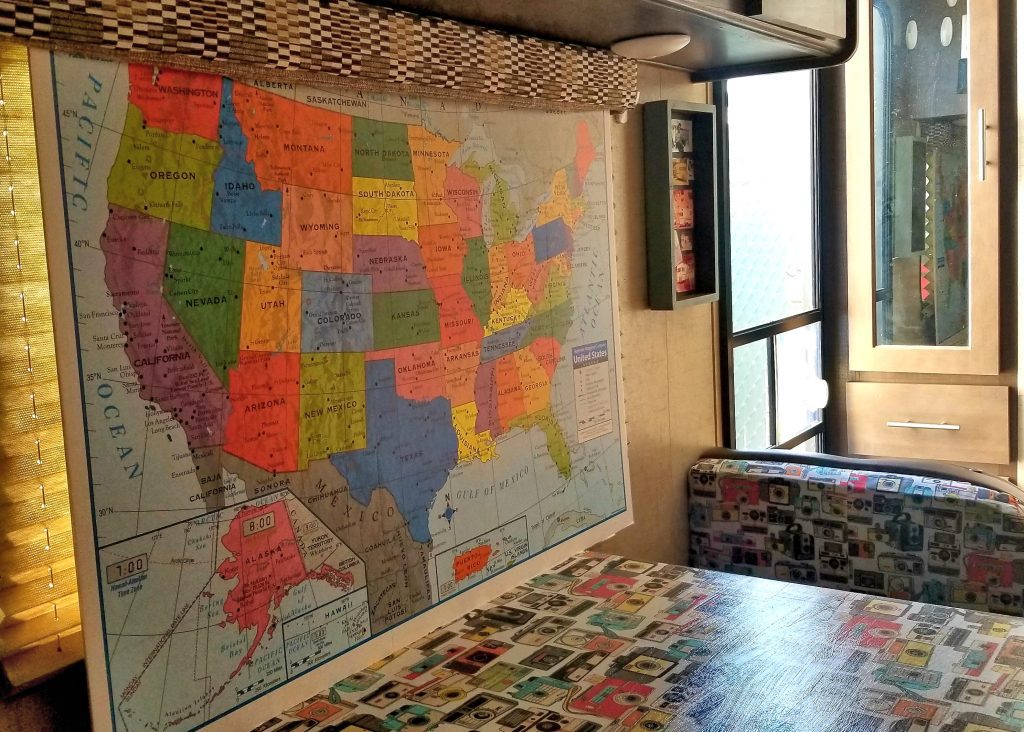 If you choose to personalize your camp space, it should be fun for you – no pressure! We look forward to seeing your Camp Style photos in the Girl Camper group on fb!
Article written by: Catherine Goggia
Save your seat at the Girl Camper Virtual Expo in March! https://girlcamper.com/expo/
Do you travel often or tend to take long trips? Let RV Trip Wizard be your trip-planning copilot, telling you where the campgrounds and RV parks are that will accommodate your RV, trailer, or tent – plus get a free RV Life GPS account: https://www.rvtripwizard.com/#5ff359c12459b
Subscribe to Girl Camper Magazine here! Award Winning Design
Check out upcoming Girl Camper Events – you can attend events in any chapter! https://girlcamper.com/events/