I am always touched when I see that a Girl Camper that has named her RV after her mother or grandmother. It's a beautiful way to honor the women who went before us and who encouraged us to blaze our own trails.
Girl Camping is all about knowing that we CAN do this camping, towing, traveling thing – alone or with friends. We help each other with encouragement and practical advice. Not many people these days thinks it odd that a woman travels alone. That she owns her own trailer. That she makes choices for herself. That she is married but travels without her husband. It's not a "thing" to be admired or frowned upon. It's just someone living their life.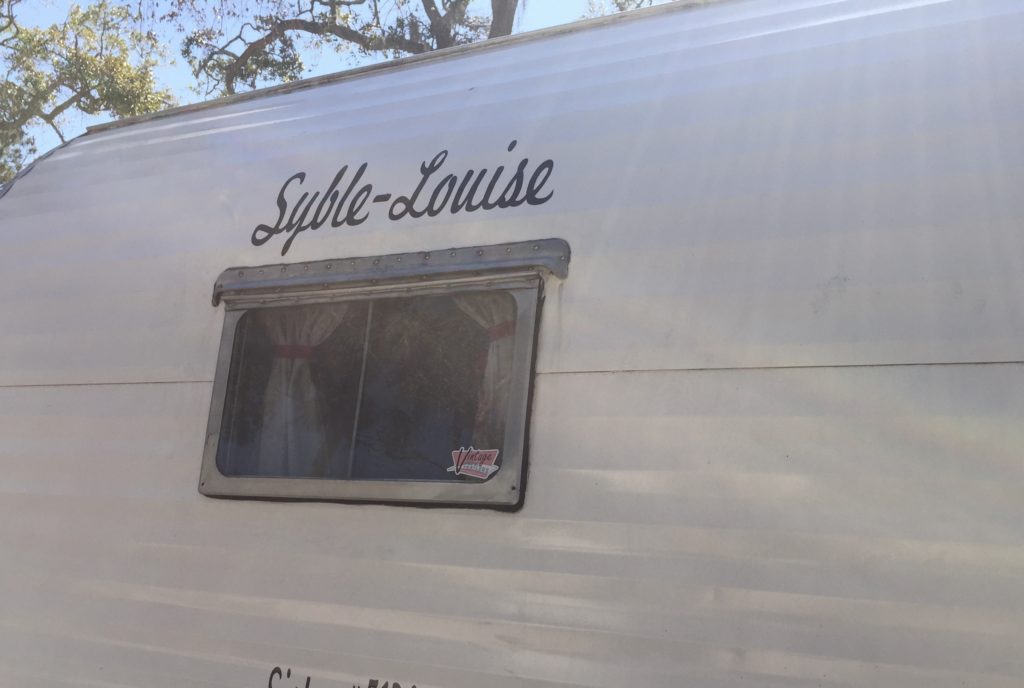 When I ask women about the mothers or grandmothers they named their trailers after, there is often a story about some way in which that woman struck out against the status quo of her time and made some waves. A story about going to college or making her own money or leaving a bad marriage. Those things were kind of a big deal not so far back. They were things that made a woman a rebel, and maybe just a little admirable to other women.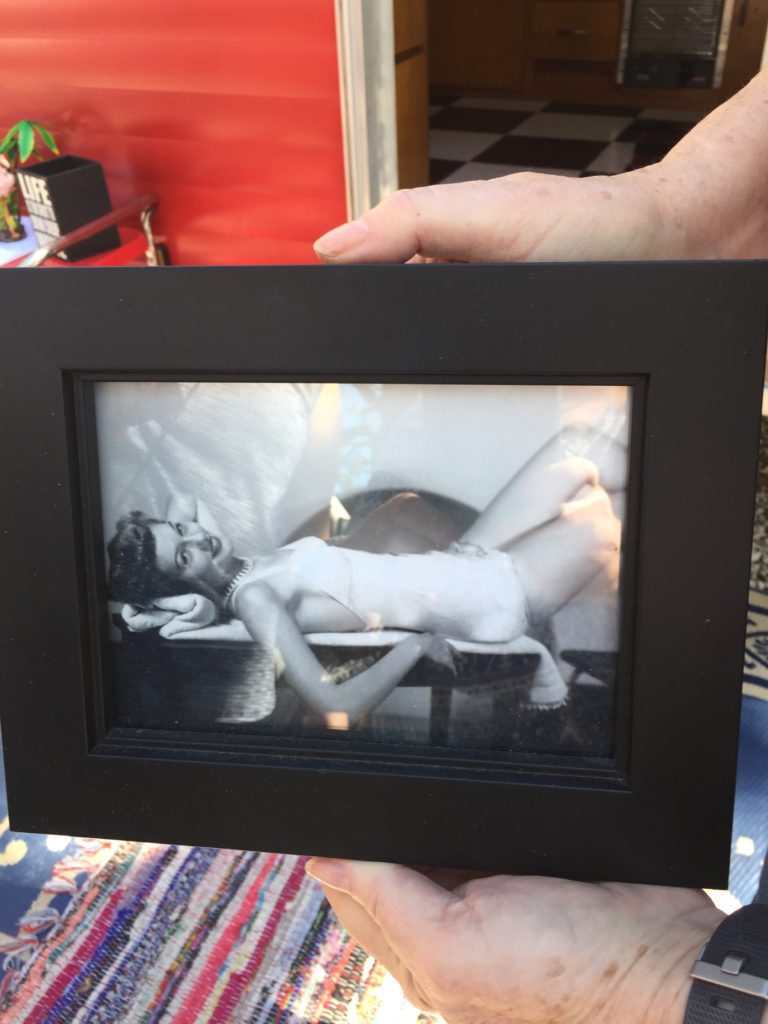 Jeanne Gaffney has the sweetest vintage trailer named after her mother, Syble-Louise. Her mother was a model before she was married! Not just a model, but a bathing suit model!! In those day's bathing suits were modest compared to today's standards, but it was still considered risque! She married a man with a drinking problem and did an incredible job raising her kids under trying circumstances. Her memory inspires her daughter to this day.
Jeanne's 19′ – 1963 Nomad trailer was a Craigslist find that underwent a complete restoration. The restorer was able to retain its vintage charm and add all of the modern amenities that RVers want.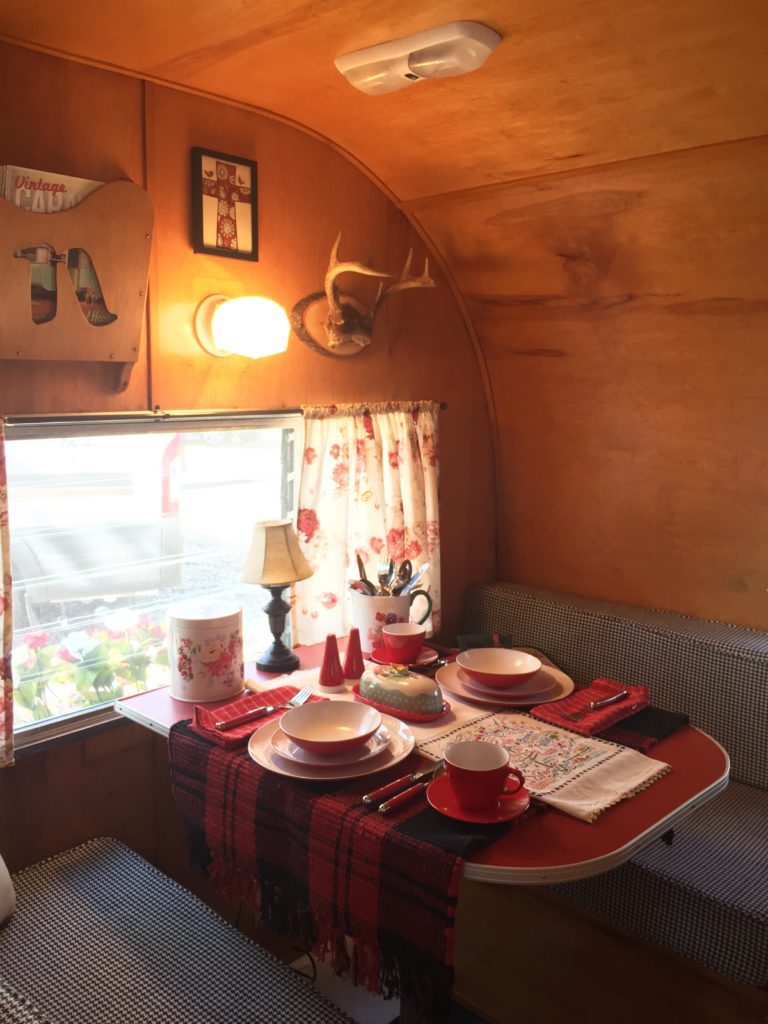 One of my favorite characteristic in this trailer is the big viewing window in the "dining room." Jeanne and I enjoyed a great view of Lake Gunterville in Alabama while camping there. This dining booth folds down to a nice sized bed for company!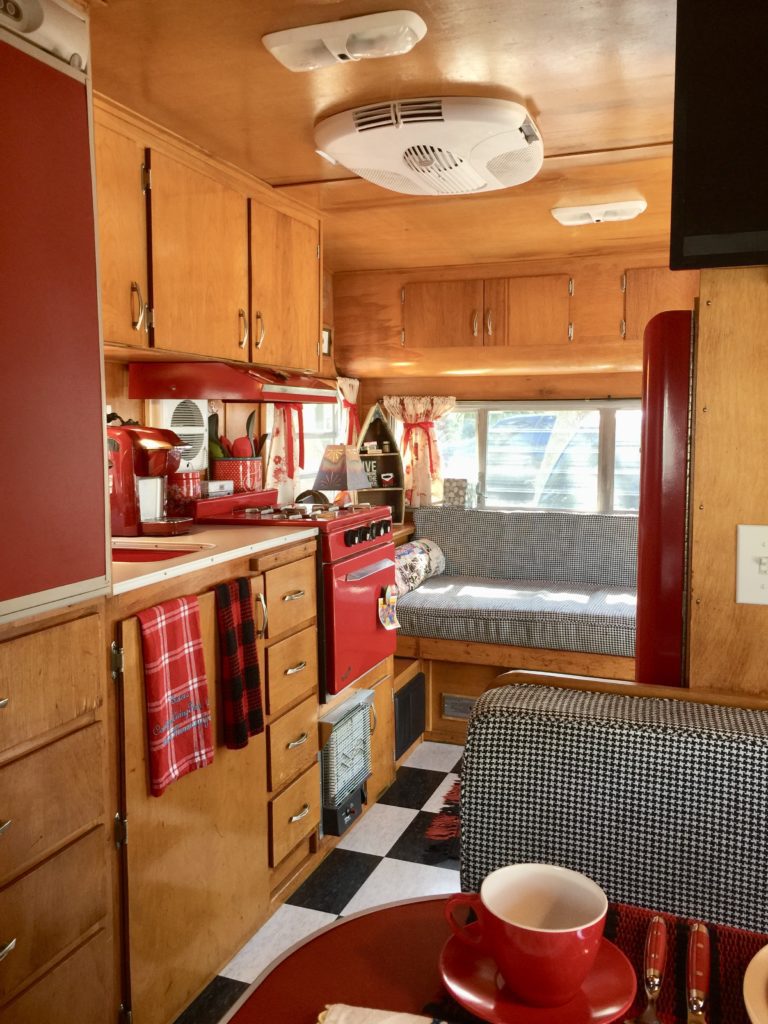 One of the best features of vintage trailers is the cabin feel the wood walls created. These trailers were called "birchwood beauties." Even though Jeanne's trailer retains the comforting vintage vibe, the restorer added a roof top air conditioner, tanks for the full bathroom with shower and plenty of electricity for modern conveniences like Kureig coffee makers. There is so much storage space in this trailer too!!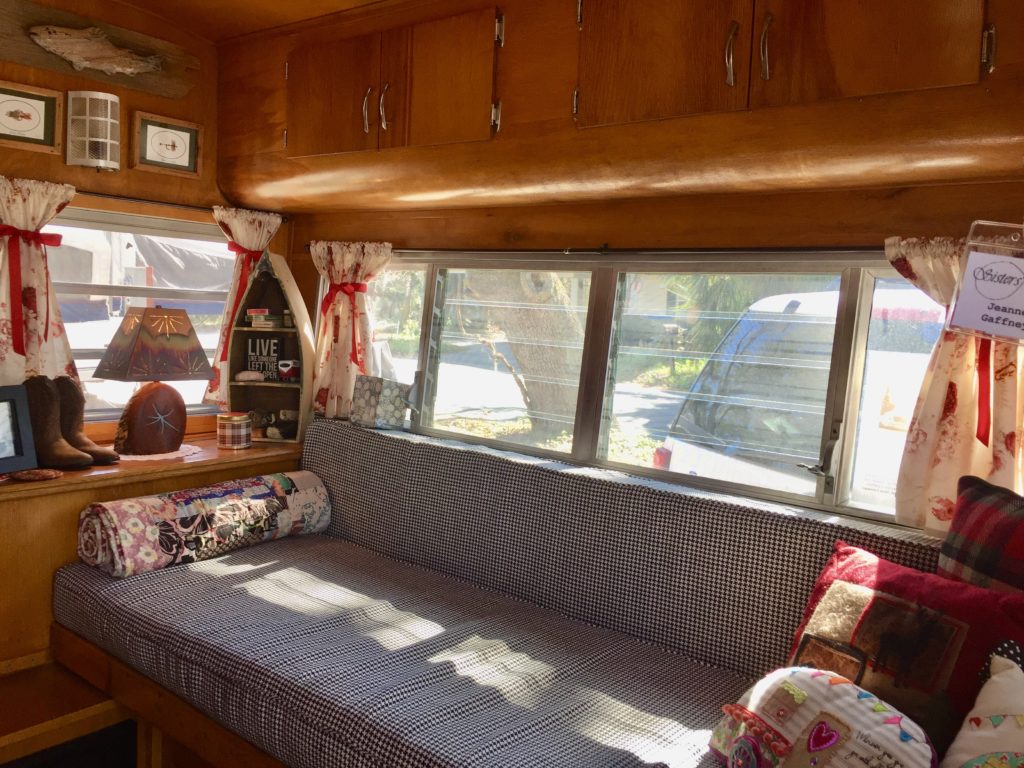 There are so many windows in old campers! Although the jalousie windows are not efficient, they are great in a camper. The light pours into this space and at night the windows can be tipped open for air without rain coming in. Jeanne chose the hounds tooth pattern for the benches. I loved the pattern so much that I put it in my own trailer. It's a great compliment to all of the reds and patterned quilts.
This front bench folds down in the evening to become a double bed. The shelf under the window is deep enough to hold her treasures, including a photograph of Syble-Louise in what surely had to be a risque pose in its day. I love the old quilt she folds up as a bolster but is ready for an afternoon nap!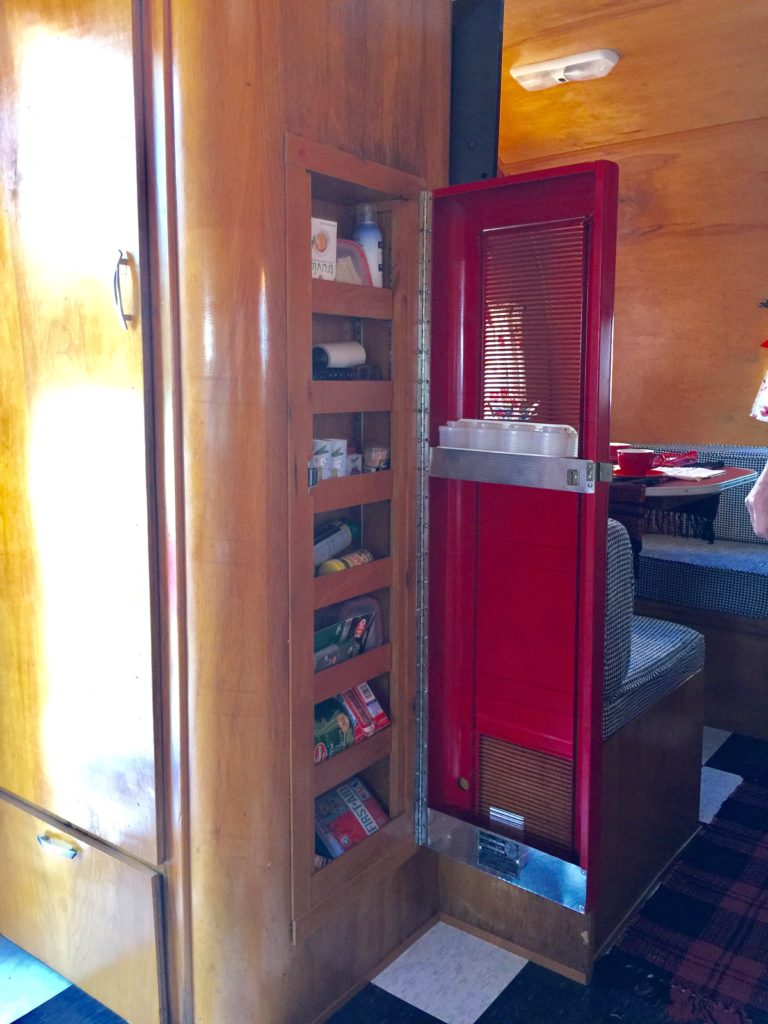 The restorer made great use of the space that once occupied the old furnace. He repurposed the front of the furnace to use as a door for the new storage space. The door at the front holds linens and clothes with the bottom cabinet holding utilitarian things like extension cords and flashlights.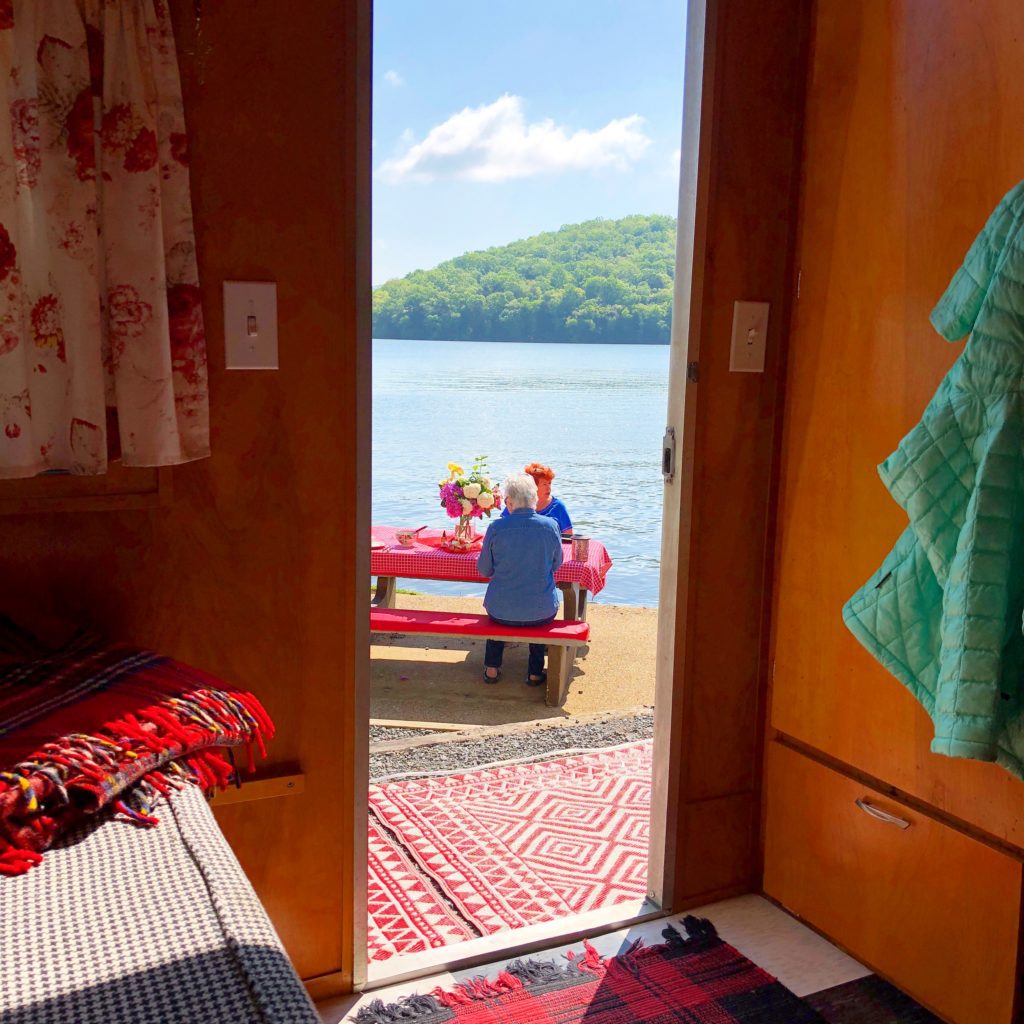 This little trailer offers everything this Girl Camper could ever ask for in a home away from home. What a wonderful place to retreat to after a day on the lake with girlfriends!