Camper College Ohio Style!  Haydocy Airstream and Janine Pettit, Girl Camper,  will be hosting a Camper College on Friday, September 18, 2015. If you have ever thought about joining the Girl Campers but don't know a thing about owning, operating or towing a travel trailer, please be our guests at this complimentary event. The staff at Haydocy will take us through all the steps involved in hitching up a trailer, getting the systems working once you arrive at a campground and what is involved when you are ready to leave. A question and answer session will take place after the demo and light refreshments will be served.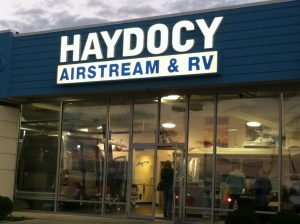 Haydocy Airstream and RV 3865 W Broad St Columbus, OH 43228

These Camper College events are designed to help those considering an RV purchase gain knowledge and confidence. The RV dealerships that I partner with are carefully chosen and have a supreme reputation for service. They understand that they are building partnerships of trust and that the immediate "sale" is not the goal. Successful RV dealerships know that "service" is an ongoing commitment and relationships with buyers extend past the contract stage of purchase. I believe that any dealership whose buyers hail from  39 different states has got a reputation that precedes them! That is Haydocy!
I have been working with Haydocy Airstream for several years and came to know them through their appearances at the Country Living Fair. Like most people, I harbor the Airstream dream! The team at Haydocy has opened their doors to the Girl Campers for after hours demonstrations and given us the grand tour of their line up of Airstreams and, the ever popular with Girl Campers, the Tab trailers.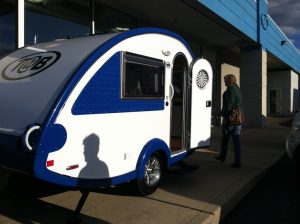 At this years Country Living Fair I will be displaying one of their Tab trailers which will be all decked out for Girl Camping. If the vintage trailer scene is not your thing, fear not! There is charm and hot water on demand for discerning RV buyers!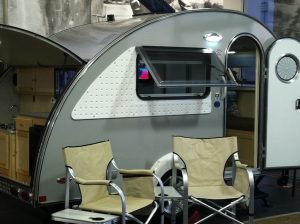 Tabs come in many different styles and can be color matched to your car!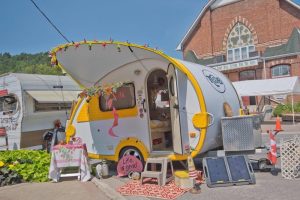 The Tab trailer of Sister on the Fly, Crystal Garman Baker!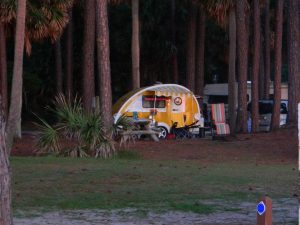 All the fun and none of the restoration!!!
To RSVP for this event you can call Haydocy Airstream at 614-279-8880.
Upcoming Camper Colleges
Stone's Camping World, Rte 73 Berlin NJ 856-767-5422,  Sept 11, 2015 at 6 PM – RSVP to Yvonne or Maxine
Girl Camper friendly dealership!
303-431-2211