by Lisa Dempsey, Southeast Texas Chapter Guide
Camping is not fun when things go awry. Here is a camping hack that will help keep you safer on your journey.
Start By Creating An Album
Step one: Create an album on your smart device. Name the album with the make/model/year of your camper/trailer/RV. If there are multiple equipment users regularly (husband/wife or mother/daughter), make it a shared album so you can each access the pictures. If you are new to this search the web for how to use your smartphone's features.
Step two: Add these top ten images.
Ten Must-Have Images on Your Smartphone
1. The Camper Manufacturer's Label on the exterior of the camper/trailer/RV. This label will show the VIN, manufacture date, and weight capacities.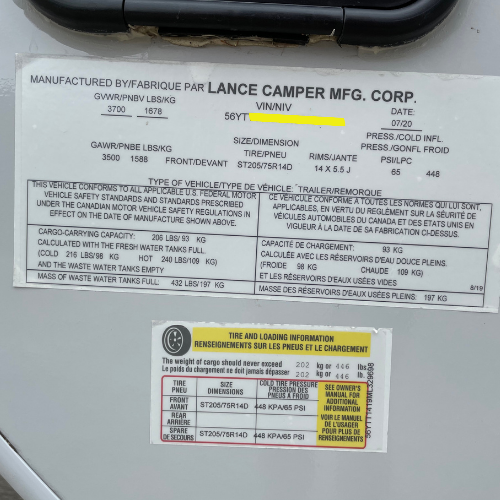 2. A snapshot of your camper/trailer/RV specifications, including length, exterior width, exterior height, fresh/grey/black water capacities, refrigerator type, LP tank size, and other equipment types. You can find this online at your vehicle manufacturer's website. This image will show more detailed information than the manufacturer's label and the specific types of equipment installed. I took a screenshot of the info right from the manufacturer's website. If you have ever started to panic and wonder if you would make it underneath that gas station's awning, check your height quickly using this image before proceeding forward!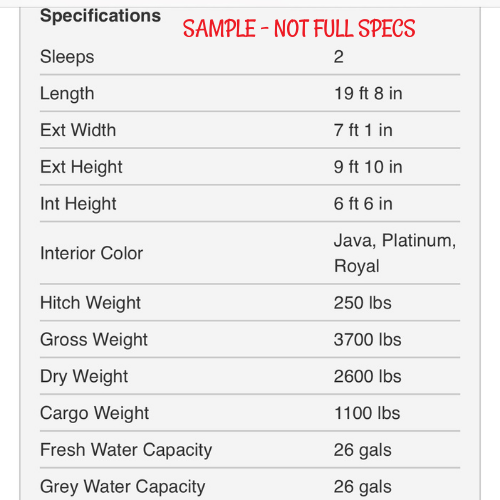 3. The Tire and Loading Information label on the exterior of the camper/trailer/RV. Remember, these tires are the ones it rolled off the manufacturer's line when completed. You or another owner may have changed them since that time. They may not be what is on your camper/trailer/RV right now.
4. An image of your camper/trailer/RV TIRES showing the DOT, Load, Range, etc. Check your tire's PSI before you pull out on each trip. This may be different than what is on your camper/trailer/RV's label if you have changed your tire. Use the current tire manufacturer's PSI recommendations. Know your DOT. Note: The DOT and other sidewall numbers are printed on one side of the tire. If you cannot see them, check the tire's opposite side. Tires deteriorate with age; even if you haven't put excessive miles on a tire, if it is beyond the manufacturer's recommended age, you should change them. Click here to learn how to read the sidewall numbers.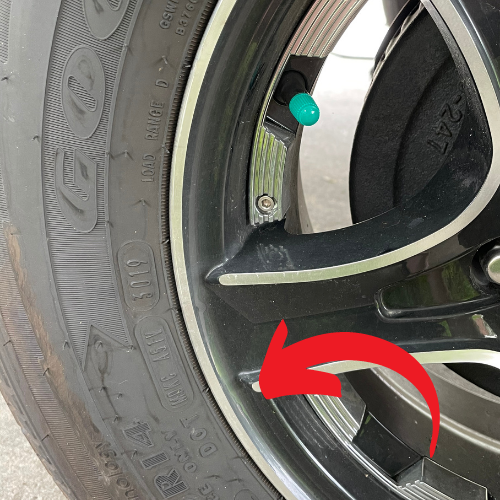 5. The Tire Information Label of your Tow Vehicle is found on a sticker inside the driver's side door. Your tow vehicle will also have recommended PSI (pounds-force per square inch). Check your pressure and sidewall numbers. Your tow vehicle will typically have a different style tire from your camper/trailer/RV. For more on tires visit our video series: https://girlcamper.com/experts/rv-101-rv-tire-preventive-maintenance-girl-camper-rv-video-series/
6. Your license plates for the camper/trailer/RV and tow vehicle. You will need these handy when you check-in at most campgrounds. If your camper/trailer/RV or tow vehicle is ever stolen, you will want this information for law enforcement.
7. All the camper/trailer/RV equipment's serial number labels. First of all, these numbers are so TINY. A photo allows me to enlarge the image and read the numbers/letters. Secondly, these labels often deteriorate over time. Having a picture when they are in good condition will come in handy if you need to contact the manufacturer for warranty work or troubleshooting.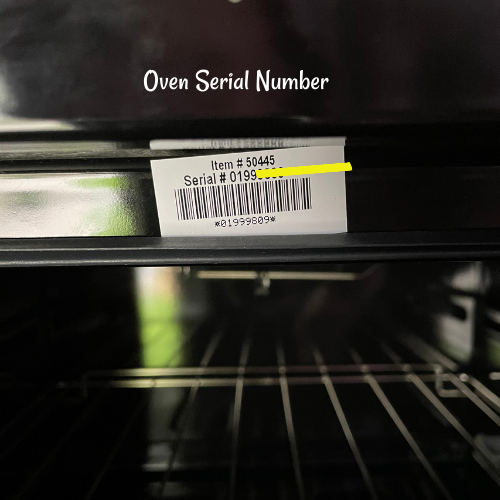 8. If you have a Bluetooth trailer brake or another item that uses a PIN to connect to your Tow Vehicle or Smart Device, a pic of the PIN. Do not assume that these will automatically save. You may need to reset them after a software update or adding a new vehicle.
9. Equipment that uses a special kind of battery, such as keyless entry pad or remote controls, take a picture of what type of battery it takes. For example, my keyless entry uses a special-sized lithium battery. It died on a trip. I quickly found a replacement at the local Walmart using my saved image.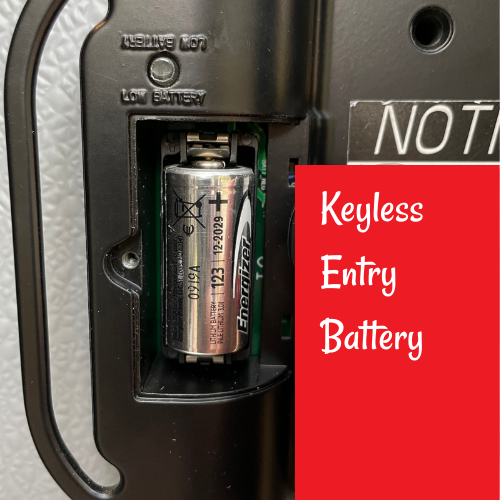 10. Your camper/trailer/RV battery. Be sure to capture the born-on date, which may be in code. For example, mine says B-22 which means it was manufactured in February 2022. You may have to look up the battery manufacturer to discover how they identify the date. Click here for a quick guide to reading your battery's date.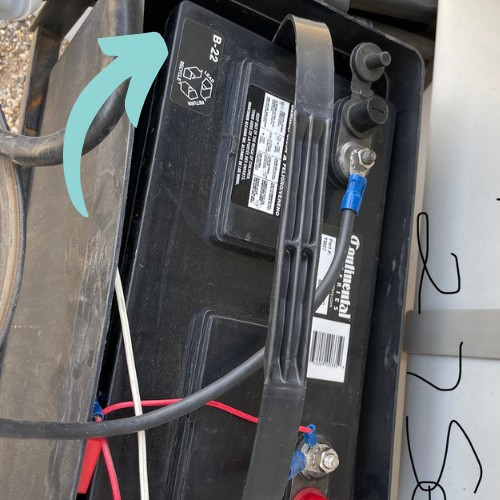 These are the top ten basic images you should have access to quickly for your camping rig. You may want to add things like your insurance documents, tow-vehicle insurance ID cards, troubleshooting guides, annual park passes, or other membership cards. I personally have those in a separate album under "camping documents." I also have separate albums for my travel and trailer pictures.
Here is one more tip. When I arrive at a new location, I take a picture of my site number. Then, I take a few exterior pictures of my trailer and tow vehicle after I am set up. Suppose there should be a weather event or another incident that causes damage to my rig during my stay. In that case, I will have documentation of the condition when I first arrived for my insurance company. I also like to keep a few of them in my travel log of the places I have visited.
---
I hope you have found these tips to be helpful and that they will make your travels safer and more enjoyable! Leave me a message in the comments if you found this helpful or have another image you like to have in your smartphone's album.