This past weekend, I ventured seven hours from home to cross a much-anticipated event off of my "bucket list." Come along with me as we explore the Grandfather Mountain Highland Games!
History of the Games…
For the past 65 years, thousands of kilt-clad athletes, musicians, dancers, vendors, spectators and proud individuals of Scottish heritage have gathered 6,000 feet above sea level at MacRae Meadow on Grandfather Mountain in North Carolina to celebrate Celtic spirit at the Highland Games.
The very first games at Grandfather Mountain were held on August 19, 1956. That date marked the 211th anniversary of the Jacobite Rebellion. During that rebellion, Scottish clans gathered to fight for their independence from England. After the failed rebellion, laws were executed banning any displays of Scottish heritage on English lands. This caused thousands of Scotsmen (and women) to emigrate to the United States – many to the beautiful mountains of western North Carolina.
Today, the games are played each July, and approximately 30,000 individuals ascend the mountain to witness four days of proud cultural heritage, displays of strength and athletic prowess, to enjoy competitive traditional step dancing, and to revel in the beautiful sounds of traditional Scottish music.
Opening Ceremonies…
The weekend begins with the Torchlight Ceremony. During this ceremony, a living representation of the Saltire cross is created when a member from each clan (or family) participating carries a torch from all points of the compass (indicating their family origins) and gathers together – forming the shape of the cross, and illuminating the night sky.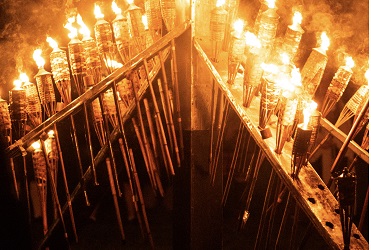 Let the Games Begin!
For the next three days, the games ensue. Strength competitions include a series of six events, and all competitors compete in all six. These events include the hammer throw, weight toss (for height), sheaf toss, and the ever-exciting caber toss. Amateur athletes are divided into "A" and "B" teams depending on experience and skill. These athletes are attempting to earn spots at the "Professional" level, and those athletes hope to one day compete in the "Master" class. In addition to these men's competitions, elite female athletes are featured by invitation only.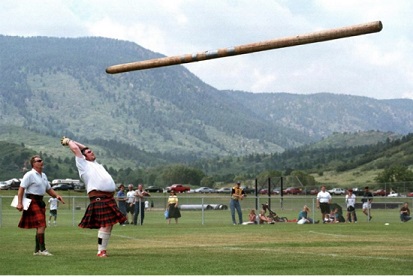 Track and field events include running (220, 440, and 880 dashes as well as one and two-mile runs), high, long and triple jumps, and pole-vaulting. Additionally, spectators may enjoy watching the highly-anticipated tug-of-war and Cumberland style wrestling events.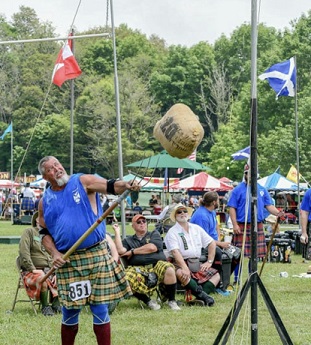 Music events include live bands, singers, piping and drumming, as well as fiddle and Celtic harp competitions.
As the weekend winds down, attendees have an opportunity to experience the Kirkin. Derived from the Scottish Gaelic word, "kirk," meaning "church" and further "blessing," the Kirkin is a celebration of Scottish roots from their Presbyterian heritage, and originated during WWII.
Finally, the not-to-be-missed Parade of Tartans features more than 1,000 marchers (representing over 100 clans and families) clad in full Scottish attire.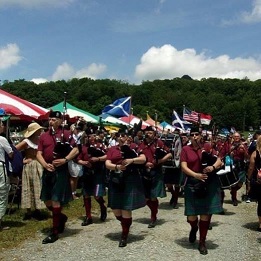 Until Next Time…
If you're ready to put this event on your bucket list, I can promise that all weekend long, the spirit of "Cead mile failte" (100,000 welcomes) will surround you, and the magic of the mountain will leave you with memories never to be forgotten.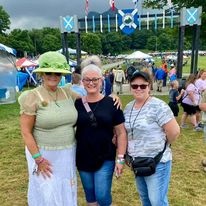 Written by: Teresa White Carver, Girl Camper Guide to Virginia
Follow the fun on Facebook at https://www.facebook.com/groups/girl.camper.virginia
Catch up with me on Instagram! https://www.instagram.com/girlcamper_virginia
Check out official Girl Camper events at https://girlcamper.com/events
Subscribe to our award-winning magazine here! https://girlcamper.com/girlcamper-magazine