Any time I see something that I can use in my camper that saves space, I get excited. I have a small R-Pod 177 with very limited storage. So, the only stuff I have in my camper are things I actually use and that don't take up much space. And are preferably cute. Squish makes brightly colored, collapsible products that are BPA free and highly durable so they will last thousands of "squishings."
My very favorite squish piece is their 1.5-qt mixing bowl. We actually have three of them. It's just the right size for putting cut up vegetables in while you are prepping them for the grill. It's also a great size for a nice one person salad. Amazon sells them for $9.99. Squish's larger 3-qt bowl is also handy for making pancake batter in and the side spout makes pouring batter directly to the griddle a breeze. Also sold on Amazon.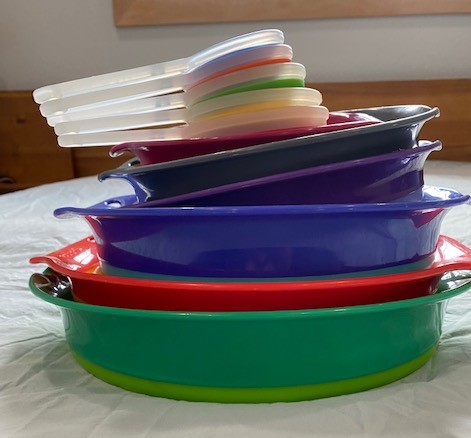 They clean up beautifully. And squish down to a fraction of their size. And saying squish is just fun.
Lesa McDermott | Girl Camper Guide to the Black Hills
Follow me on Facebook or Instagram
You can also join the GC Black Hills Facebook group page