Recently, we had a campout in North Texas for a weekend of card games, board games and cooling off in the swimming pool! I wanted to play games with the rest of them, so I researched recipes and menus to keep my time in the kitchen minimal. I love to host and cook, so the requirement also meant it needed to be delicious.
As always, I hope you really enjoy this recipe on your next campout or at home! I guarantee it will be a hit.
Tips and Tricks
This recipe was baked in the oven at the campout, but it could easily be adapted to a Dutch oven or crockpot. To use a Dutch oven, use a 10–12-inch Dutch oven with 24 hot coals. Place 8 coals under the oven and 16 coals on top of the lid. To use a crockpot, cook on medium high for 30 minutes, cook longer if the egg/milk mixture has not set.
I picked up frozen pre-made pancakes to use in the recipe. This made the preparation even easier and quicker. By adding the other ingredients later, it gives it a fresh and homemade flair. The blueberries also add a freshness- they pop with flavor after being baked on top of the pancakes.
Recipe
Around 24 pancakes
Lg package of blueberries
1 cup heavy cream
1 cup milk
4 eggs
2 heaping teaspoons honey
1 t. cinnamon
1 t. vanilla bean paste (I used Mexican vanilla)
Powdered sugar
Maple syrup
Cut all of the pancakes in half and place them cut side down in an over safe pan in two rows. Sprinkle blueberries over the pancakes.
Add the heavy cream, milk, eggs, cinnamon, honey and vanilla to a bowl and whisk together until fully combined. Pour the mixture all over the pancakes.
Bake in an oven at 350 degrees for 25 minutes or until the pancakes are golden brown.
Remove from the oven and dust with powdered sugar. Have Maple syrup available for serving.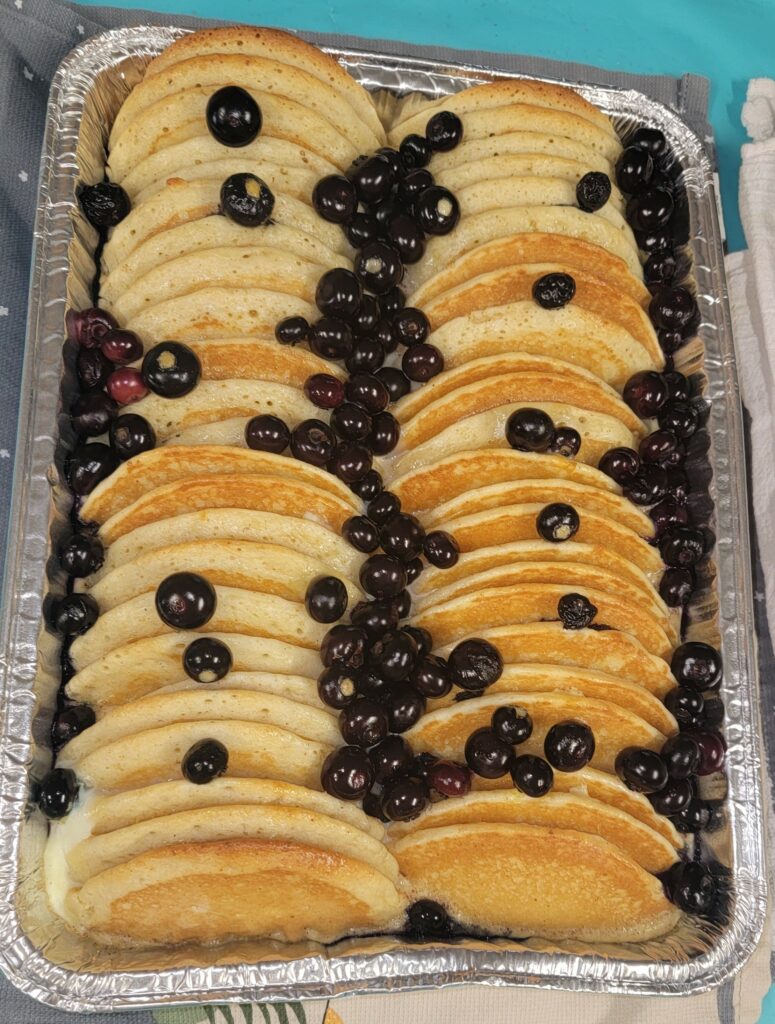 Connect with me!
Christy Taylor
Guide, North Texas
817-304-2754
Girl Camper Magazine: Subscribe to Girl Camper Magazine here! Girl Camper Magazine
Events: Check out upcoming Girl Camper Events – you can attend events in any chapter! https://girlcamper.com/events/
Main GC Facebook Group – Join over 400,000 like-minded women in our public Facebook group! Girl Camper FB Group
Facebook Page – This is my public North Texas page, where I'll share Girl Camper news, events and more. Girl Camper – North Texas Private FB Group – Where you can interact with others who are interested in camping in North Texas! Girl Camper North Texas Group