Nancy Grant/ Indiana Chapter Guide
If you are looking for a small, beautiful campground Buffalo Trace Park is the place for you, it's probably a secret to most of Indiana but the locals love it. It's a county park and campground located in southern Indiana in the small town of Palmyra. As a child, I watched them build this park growing up next to it.
Amenities
Picnic areas, a lake, tennis courts, basketball, a softball field, a petting zoo, playgrounds, and disc golf, are all offered. The lake has fishing, paddle boats, canoes, kayaks, and a beach. As a bonus, the lake has a 1-mile paved walking trail. Paddle boats, kayaks, and row boats are all rented for $10 an hour.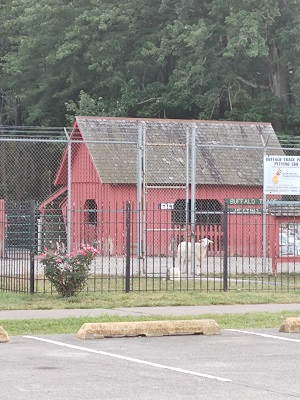 Lodging
For lodging options, you have the campground, cabins, rental campers, and yurt tents. The campground offers 51 modern campsites and 14 tent sites. There's electricity and water to fill up plus a heated modern shower house, with wood and ice for sale. The modern campsites' prices range from $15-$38 and the tent camping range from $12-$20.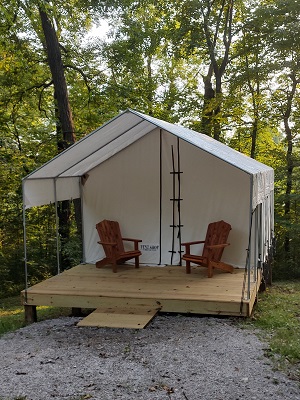 Attractions
Nearby there are several attractions to visit, Hubers Winery, Historic Corydon Indiana, and Marengo Cave. All these attractions are within 20 minutes of the campground.
The park holds several special events throughout the year including car shows, festivals, two Halloween weekends, and a fish fry.
If you need a break from large busy campgrounds make a reservation to check out southern Indiana and Buffalo Trace Park.
Connect with me!
Nancy Grant
317-985-3207
Girl Camper Magazine: Subscribe to Girl Camper Magazine here! Girl Camper Magazine!
Events: Check out upcoming Girl Camper Events – you can attend events in any chapter! https://girlcamper.com/events/
Facebook Page – this is the link for where you can tag us and we can tag you! This is where I'll share general Girl Camper news, events and more. Girl Camper – Indiana
Private FB Group – Where you can interact with others who are interested in camping in Indiana! Girl Camper Indiana Group.