Nancy Grant/Indiana Chapter Guide
It seems with camping comes cooking. If you want to spice it up with your camp cooking, try Fresh Jax spices. They offer a variety of flavor profiles to spice up your camping recipes. Fresh Jax spices are organic and non-GMO spices and seasoning blends. Fresh Jax is a family-owned business located in Jacksonville, Florida. Along with exciting your taste buds they have a mission to end child hunger, with their spice boxes; one box = one meal donated. Their spices are known for their high-quality ingredients and unique flavor profiles. Going to Freshjax.com you can create your own personal spice pack.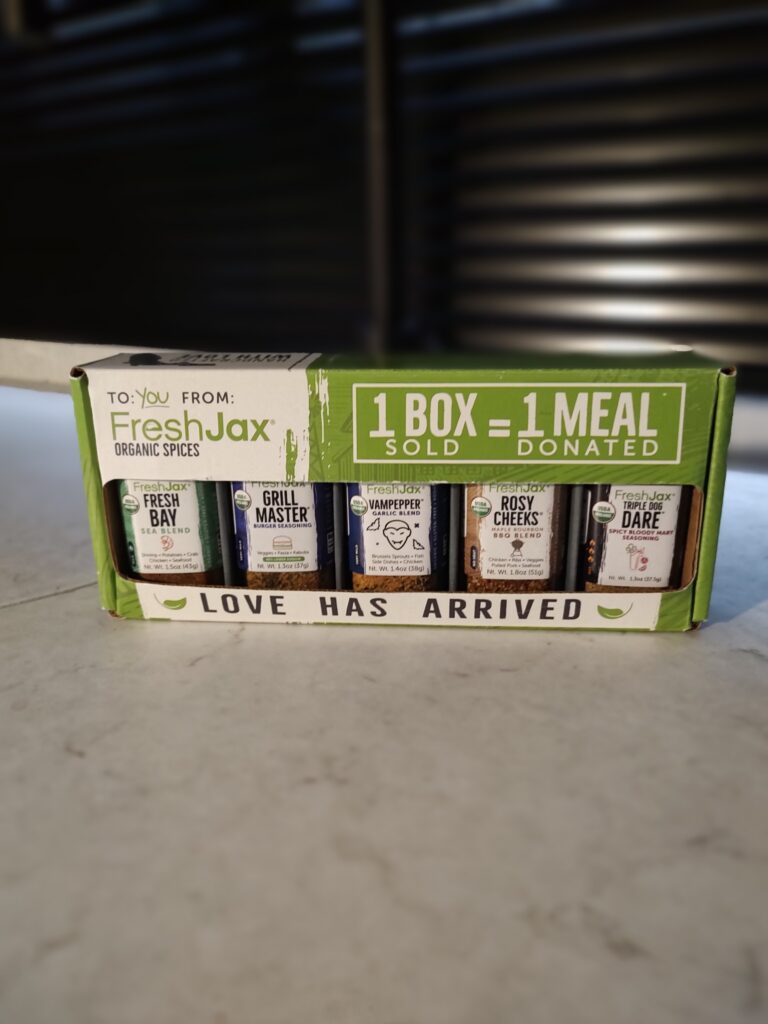 Some of Fresh Jax most popular spices are:
Grill Master
Smokey Southwest
Garlic Herb
Fresh Bay
Peppered Habanero
Fresh Jax spices can be used for many things:
Mix with soups, dips, and marinades
Grilling
Foil packet meals
Sprinkle on popcorn
Dust the rim of your favorite cocktail
Mix in ground meats before cooking
Sprinkle on salads, scrambled eggs, or roasted vegetables
Sprinkle on sautéed seafood
I was gifted a sample of 5 pack of spices of Fresh Jax including Fresh Bay, Grill Master, Vampepper, Rosy Cheeks, and Triple Dog Dare along with a container of Smoked Sea Salt.
We used Fresh Jax spices to make foil packets for a Girl Camper event. We used chicken and rice with various vegetables with the ladies choosing their spice preferences. According to all the Girl Campers they enjoyed their spice choice.
My personal favorite is the Smoked Sea Salt, as a result I find I have used it on everything I cook or grill. I find you need much less of the Fresh Jax salt than normal salt. All the spices and seasoning blends are spot on for flavor, it tastes exactly as it is described.
If you love to cook weather camping or at home, go to their website and checkout all their options FreshJax Organic Spices
Buy a custom spice pack or larger bottles of your favorites while donating to child hunger.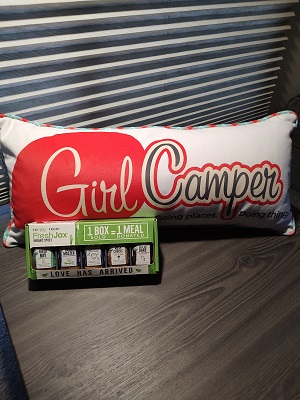 Connect with me!
Nancy Grant
317-985-3207
Girl Camper Magazine: Subscribe to Girl Camper Magazine here! Girl Camper Magazine!
Events: Check out upcoming Girl Camper Events – you can attend events in any chapter! https://girlcamper.com/events/
Facebook Page – this is the link for where you can tag us and we can tag you! This is where I'll share general Girl Camper news, events and more. Girl Camper – Indiana
Private FB Group – Where you can interact with others who are interested in camping in Indiana! Girl Camper Indiana Group.