By Guest Writer Georgie Libbie
Camping with my Gnomies was a hot one, but Girl Campers are tough, smart, resourceful, and OH SO FUN!!
Thirteen tough-as-nails gals met at beautiful Geode State Park in the southeast corner of Iowa for the trip, 'Camping with my Gnomies'.  We had five states represented…. Iowa, South Dakota, Illinois, Nebraska, and even California!  Wow!  It was such a wonderful mix of beautiful ladies!
Geode State Park
Geode Lake, surrounded by deep, green woods, was the backdrop of our trip.
The campground was super nice, with very spacious sites – many of them pull-through!  Most of us managed to be in an area all to ourselves, so we took advantage of it and we owned it!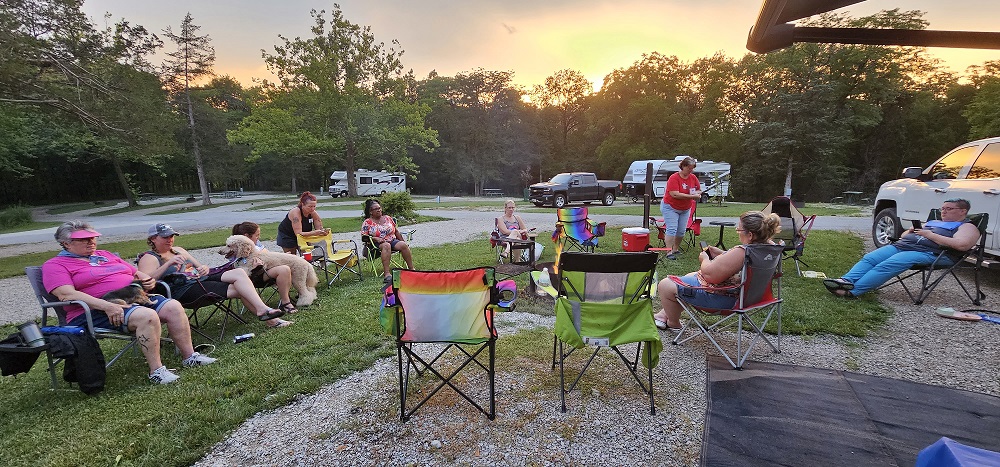 So many activities!
During the day, after coffee and breakfast at the host site, everyone did their own thing.  There was bike riding, kayaking, paddle boarding, rock painting, hiking, reading, and sleeping.  Yes, all of that happened!  Naturally everyone returned all sweaty and hot…. BUT some smart women had gone into town and bought a blow-up kiddie pool, as well as a dinosaur sprinkler!  (Yes, a six foot tall dinosaur sprinkler)  The rest of the afternoon we had a ball keeping cool like a bunch of five year olds!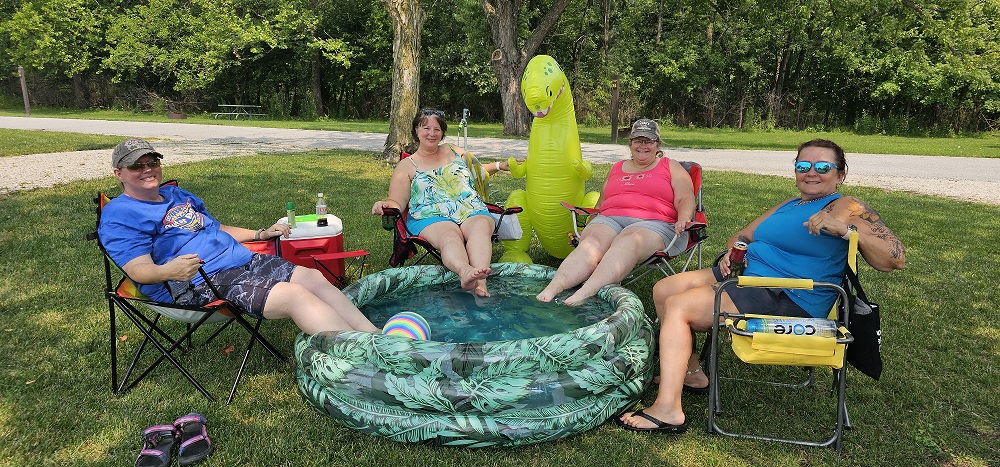 Our potluck on Friday night was probably one of THE best ones I personally have been to. The food was amazing and there was SO much of it! We literally had to waddle our way back to our own sites afterwards! Holy Cow – I think we all probably gained five pounds this weekend!
Later, around a campfire, sipping cold drinks, listening to some tunes…. spontaneous dancing broke out.  There was a whole lotta booty shaking going on, and so much laughter!  It was such a fun night fill with hilarity!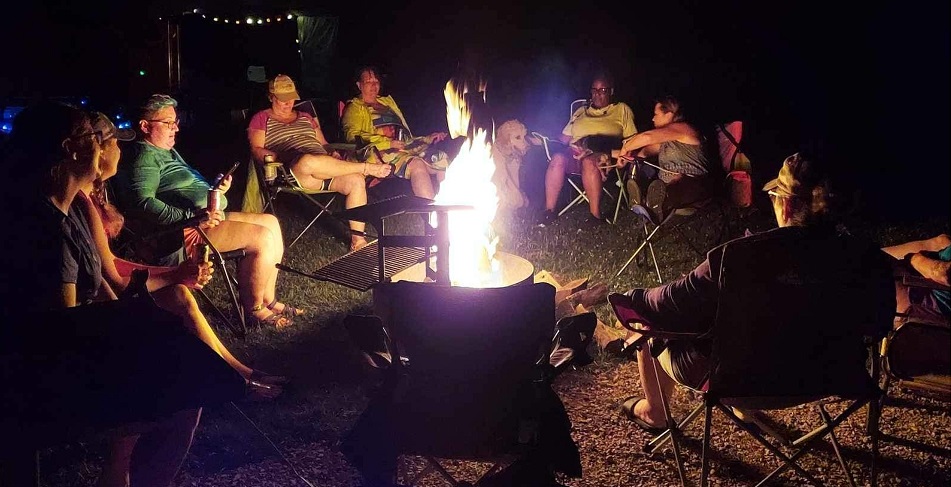 We have a strong tribe!
Camping with my Gnomies was my first time as a hostess, and I have to say that I loved it.  Was it work?  It was.  But it was so rewarding seeing what I had planned come to fruition, and how much fun and pleasure everyone got out of it.  New friends were made – new LIFELONG friends!  Since I have been in Girl Camper, I feel like I have a whole new family of strong women who love each other and are there for each other.  We have a strong tribe, ladies – regardless what state you're in.  Let's always remember that.  Whether you are currently doing great, or maybe going through a tough patch – we are your GIRLfriends and we have your back!  
I look forward to our next trip! Until then, be strong, be wise, and be kind to each other.
Georgie Libbie, Iowa Host
P.S. Alas, while we did see signs of them, no Gnomes were spotted, and no geodes were found. I guess that means we'll have to just go back!
Connect with our chapter!
Theresa "Resa" Leppert
Guide Manager
Guide, Iowa & Wisconsin
563.284.2868
Girl Camper Magazine: Subscribe to Girl Camper Magazine here! Girl Camper Magazine
Events: Check out upcoming Girl Camper Events – you can attend events in any chapter! https://girlcamper.com/events/
Main GC Facebook Group – Join over 350,000 like-minded women in our public Facebook group! Girl Camper FB Group
Facebook Page – This is my public Iowa & Wisconsin page, where I'll share Girl Camper news, events and more. Girl Camper – Iowa & Wisconsin
Private FB Group – Where you can interact with others who are interested in camping in Iowa & Wisconsin! Girl Camper Iowa & Wisconsin Group.
Resa's Articles – Click this link to see all of Resa's articles on the website! ARTICLES
Resaarticle