Cave County Canoes has it all! Located in the small town of Milltown, IN. Cave Country Canoes was established in 1983, they are a full-service canoe rental with over 700 craft plus their vans and buses to transport customers and open weekends in April, Sept and Oct, while open daily May-Labor Day.
History of Cave County Canoes
Cave Country Canoes was originally a grist mill used by Native Americans and pioneers transporting goods on Blue River. The Blue River headwaters start above Salem Indiana and then flows into the Ohio River below Leavenworth Indiana. Blue River offers canoe customers a little of everything rapids, nice calm pools and sandbars  filled with wildlife along the way.
They offer 3 river trips:
Half day -7 miles
Full day-14 miles
Two-day trip which includes both river trips with a night of camping in between the two trips.
The half day trip usually takes 3-4 hours to complete giving you time to stop for a picnic lunch or fishing along the way. The full day trip takes 5-7 hour to complete and isn't recommended for beginners or children under 12 years old. These times can also depend on the water level.
Prices range from:
Half day $23-34
Full day $29-39
Two day $67-74
Depending on the day of the week.
For Kayaks add $12
Group pricing available also
The campground is beautifully maintained. It is small, with just 13 electric sites.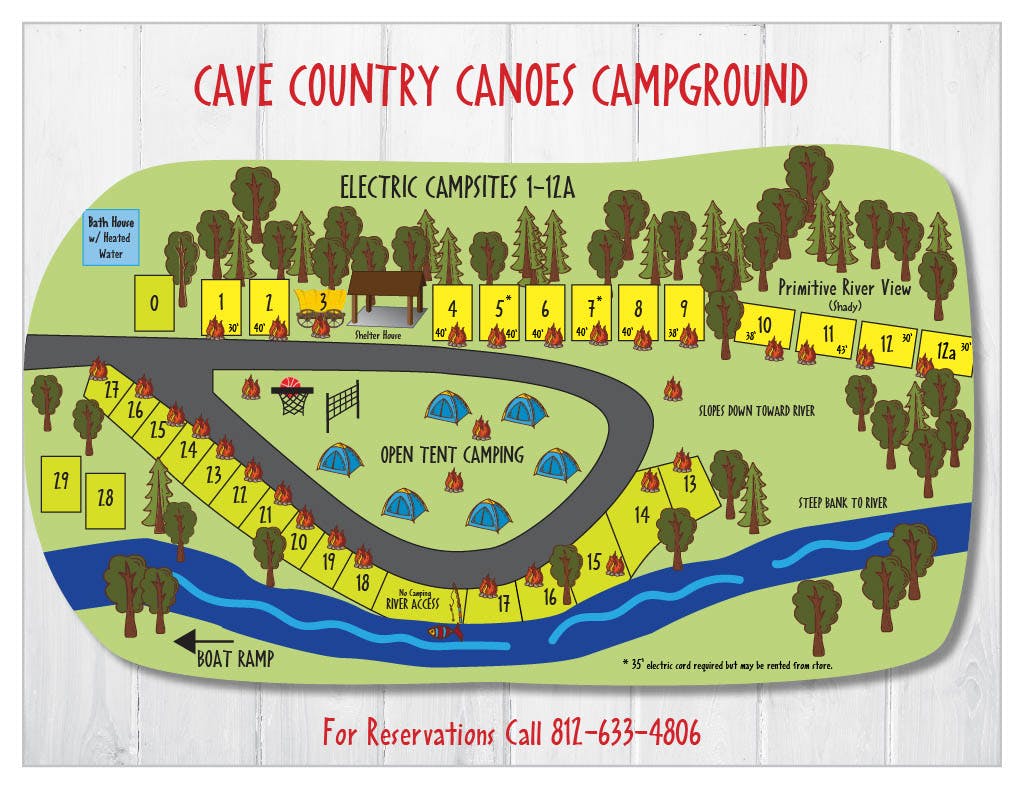 There are several areas for tent camping right on Blue River and a covered wagon that sleeps 8. Campsites include fire pits and grills. They have a shelter house, modern bathhouse, basketball court, volleyball court and city water.
They have several annual events:
Paddlefest
Full Moon Float
Scout weekend
Twilight Canoe and Dinner for two
Women's Weekend
Plus, live music several times a year!
Connect with me!
Nancy Grant
317-985-3207
Girl Camper Magazine: Subscribe to Girl Camper Magazine here! Girl Camper Magazine!
Events: Check out upcoming Girl Camper Events – you can attend events in any chapter! https://girlcamper.com/events/
Facebook Page – this is the link for where you can tag us and we can tag you! This is where I'll share general Girl Camper news, events and more. Girl Camper – Indiana
Private FB Group – Where you can interact with others who are interested in camping in Indiana! Girl Camper Indiana Group.