When it comes to camp style, my friends are hard to follow. Meet my friend, Lindsey Steber and her 1962 Aristocrat, Movin' Marie.
Lindsey fell in love with vintage campers when she saw several at a car show with her mother, Penny, in Newcastle, Wyoming. She knew she had to have one and put the word out to her friends. Soon, her friend, Jennie, found one on Craigslist. Lindsey called the seller and as soon as she got off work that day, she, her mom, her stepfather, her brother and his wife all headed to Rapid City to check the camper out. It was dark by the time they got there to look at it, but they thought it looked ok. Lindsey wanted a camper she could just decorate and take off camping.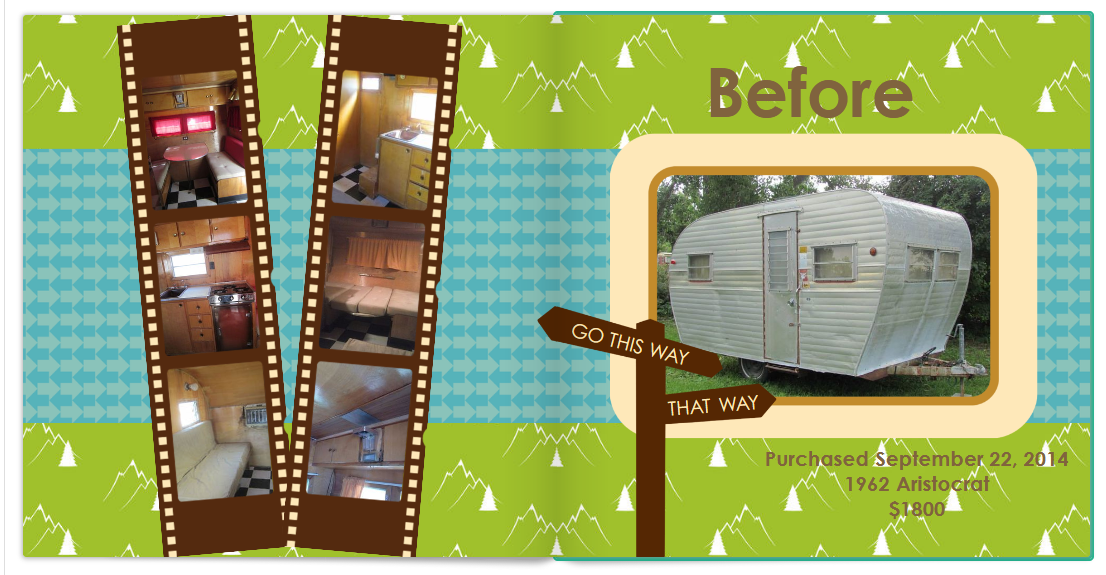 She named her little treasure Movin' Marie because Marie is a family middle name. And in the Disney moving, Aristocats, one of the kittens is named Marie. As Lindsey explains, "It was partly a play on being an aristocrat too. And I gave her the motto "always at home wherever we roam." "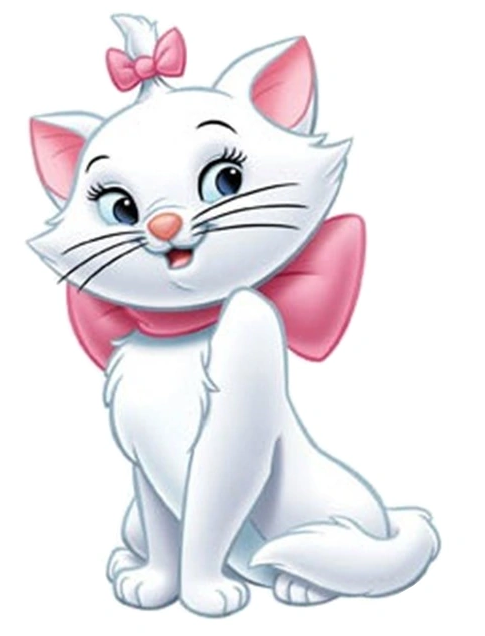 Unfortunately, once they got Movin' Marie home and started tearing into her, they discovered a lot of water damage. The work that needed to be done was overwhelming. Feeling discouraged, Lindsey didn't do anything to her little diamond in the rough for three years. But when she finally decided to tackle the renovations, she got busy.
With help from her family, they gutted Movin' Marie and Lindsey refinished all the furniture. She needed new paneling and with the curve to the roof they weren't sure how to do it. So, she took her camper to KK Kustom in Belle Fouche, SD and they fixed the paneling, waterproofed the camper, rewired the electrical, added 12 volt lights, and fixed the under belly.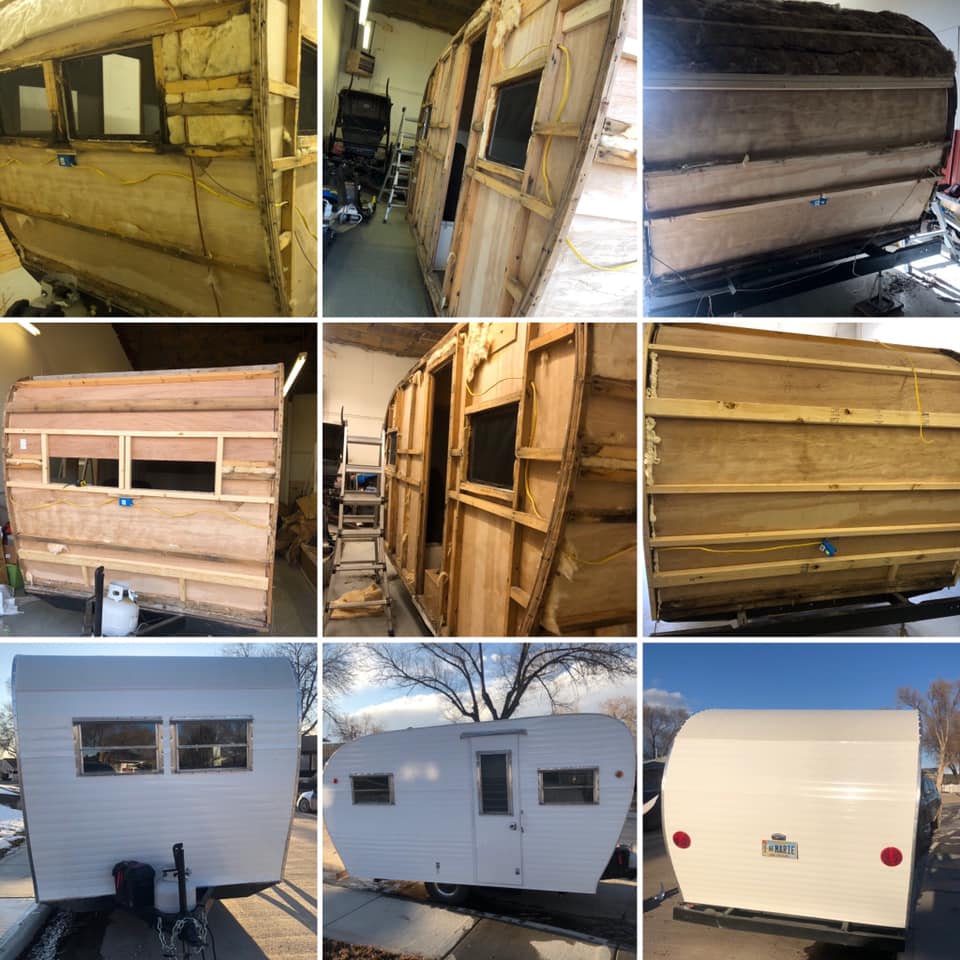 Once the Movin' Marie was back home in Wyoming, the work was still not done. Lindsey and her brother put everything back together. They redid the counter tops and worked on the floor. Lindsey painted a ton of stuff black. Her mom sewed new curtains and pillows. And, her dad helped put in a new the floor.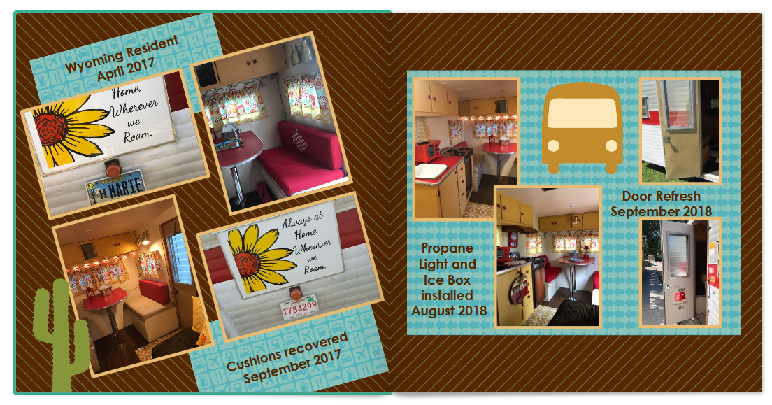 Lindsey's dad wasn't immediately a fan of her camper and referred to is as scrap metal. But it was a full family project. After four months of work, Movin' Marie was finally ready for her maiden voyage on Memorial Day, 2017. Lindsey took two trips that year but she didn't have a towing vehicle. So, in 2018, she got a Jeep to pull her Movin' Marie with and took three trips. Right before her second trip, there was a nasty wind/rainstorm. In horror, Lindsey watched as a branch from a tree landed on top of her sweet camper. They removed the branch off Marie and couldn't see any damage inside but they didn't get on the roof… big mistake. It took quite a while before Lindsey realized there were two holes in the roof. They tried patching the holes, but the leaking continued and did quite a bit of damage.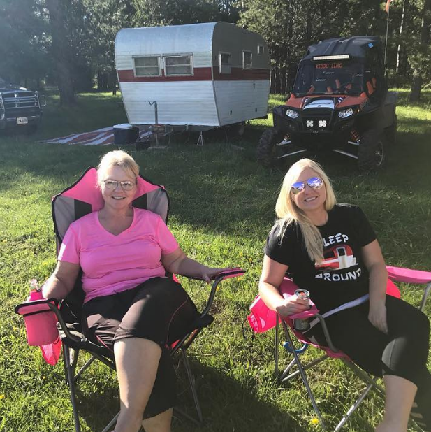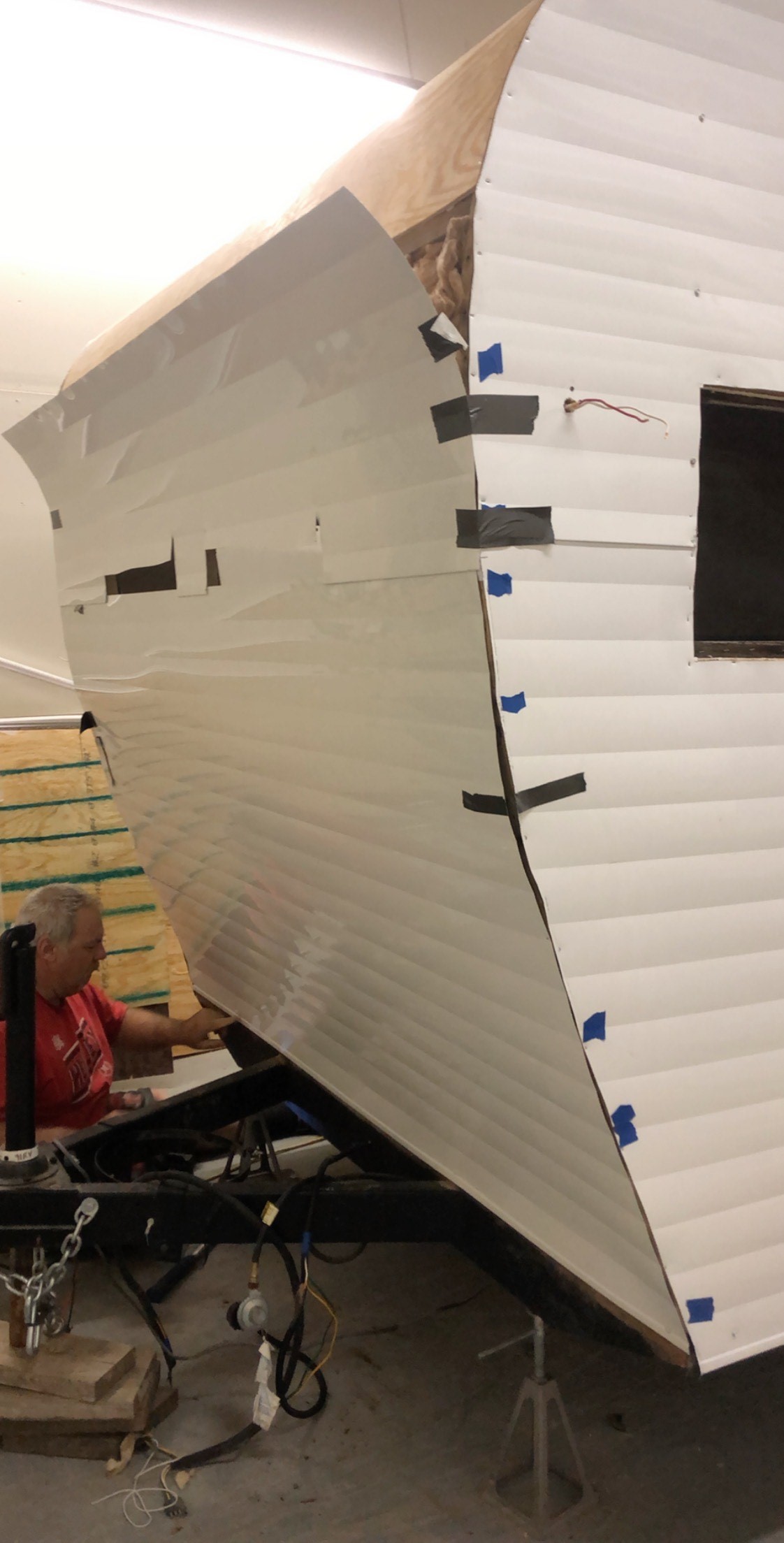 "I started using a tarp to slow the leaking, but I still wanted to camp. I just didn't look super classy with our blue tarp", says Lindsey with a smile. With the camping season ending, she researched how to fix the roof and got her dad on board for the project. They watched a few videos and decided to tackle residing the whole camper too. "The camper had pretty severe hail damage, so it was beneficial if we were going to be tearing her apart, we might as well do it all," she said. From October 2019 to February 2020, Lindsey and her dad spent nights after work and weekends working on the Marie. "It's not something we'd done before and turned out to be a big project", she said. They put in new lights and a roof vent. They built a new exterior door. And they replaced four pieces of damaged paneling.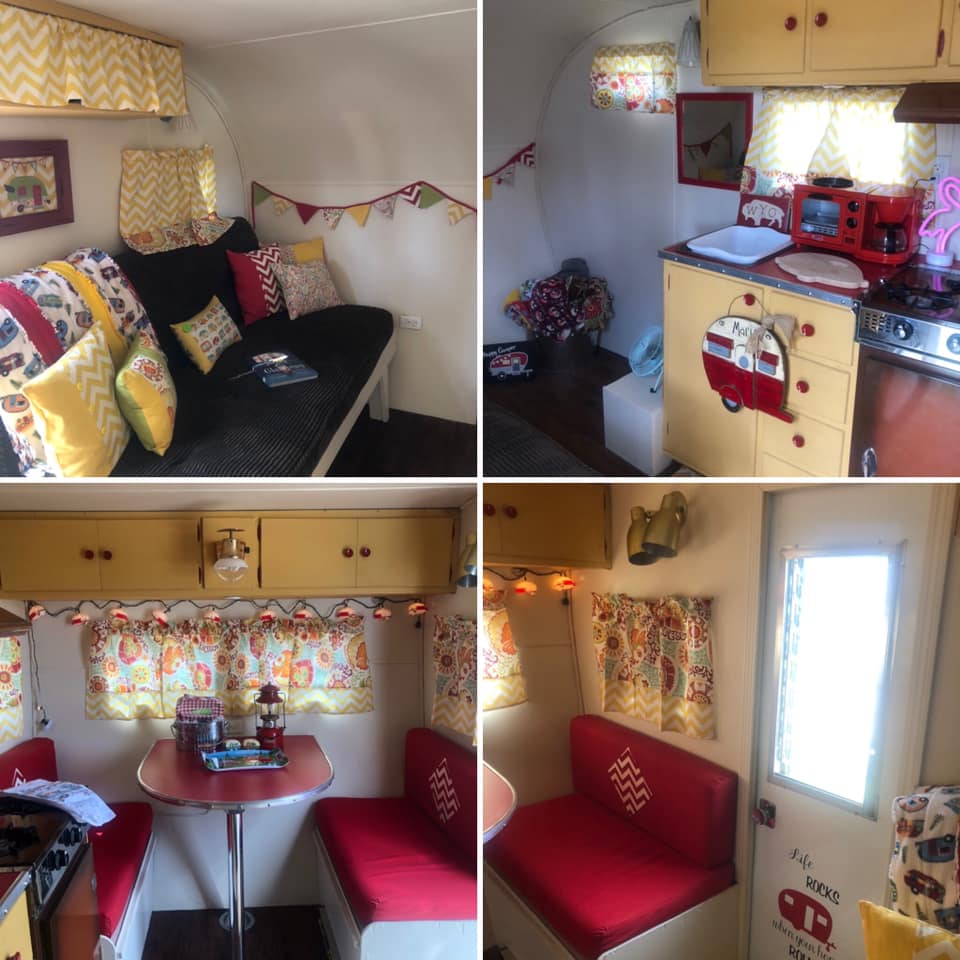 When it was finally done, they were both pretty proud of how it turned out. Her dad no longer thought Movin' Marie was scrap metal. She looked perfect! Lindsey pulled her home and had her parked for three days when a neighbor accidentally backed into her, putting a hole in the new siding! It was devastating. But not to be deterred, Lindsey was able to get another piece of siding (it comes from California) and get Marie fixed (again). The final touches were custom made vinyl graphics that her brother put on.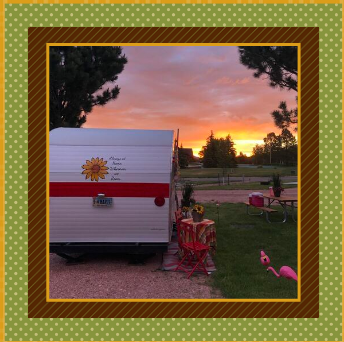 MOVIN' MARIE was finally ready for camping! She went on eight trips in 2020 with her new look! Lindsey will be the first to tell you she's very lucky to have so many family members that are talented and were willing to help her with this restoration project. It was a true labor of love. Be sure to keep your eye out for Lindsey and Movin' Marie in the Black Hills of Wyoming, South Dakota and who knows where else.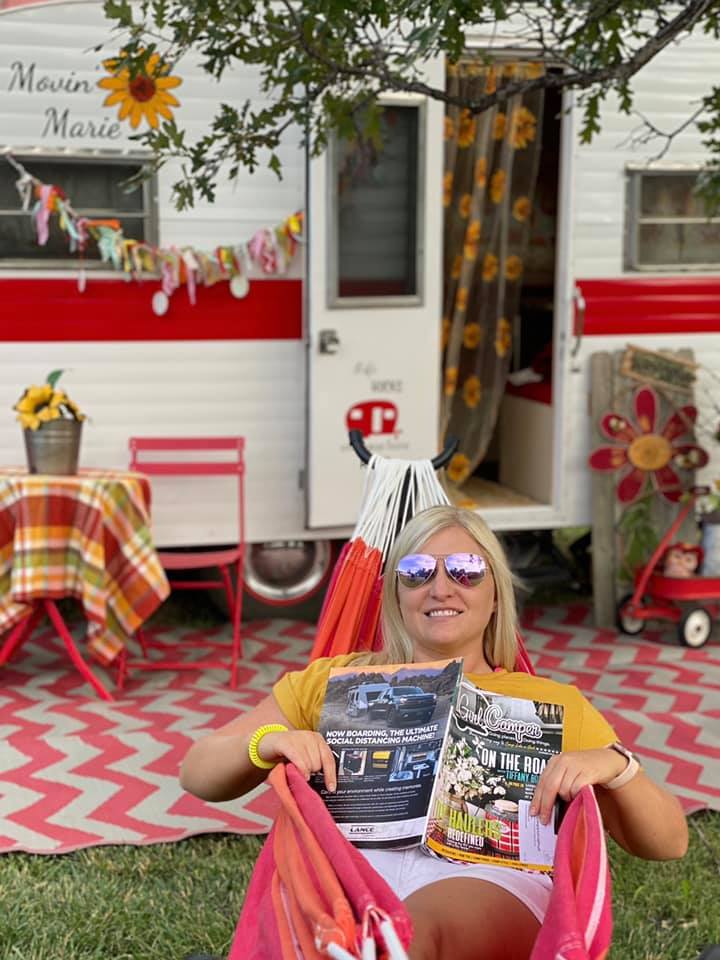 Lesa McDermott |Girl Camper Guide to South Dakota
Connect with Lesa & her Girl Camper Group
Facebook Page – this is the link for where you can tag us and we can tag you! This is where I'll share general Girl Camper news, events and more. facebook.com/Girl-Camper-South Dakota
Facebook Group – Please join the private Black Hills/South Dakota Group so you can participate in this supportive and fun community! Private Black Hills/South Dakota Chapter Group
Instagram – follow me for snap shots of the camping life: Instagram Girl Camper South Dakota
Events-Be sure to check out the Girl Camper Events I'm hosting.