When you've decided to go camping, the first thing you think of, "I need a tent". My quest to find my first tent was searching on YouTube University! I found a video listing the top 10 best tents to purchase and why. I discovered the quick instant pop up called Core Instant Cabin Tent. It was easy to locate this tent online at my local Wal-Mart and the pricing was reasonable. I chose this tent because I wanted room to move around inside my tent. I wasn't going to go back to my military days of sleeping on a cot, so I decided to purchased a padded queen size air mattress. Yes, comfortable is now my first name, Comfortable Mz. Hooked, I am.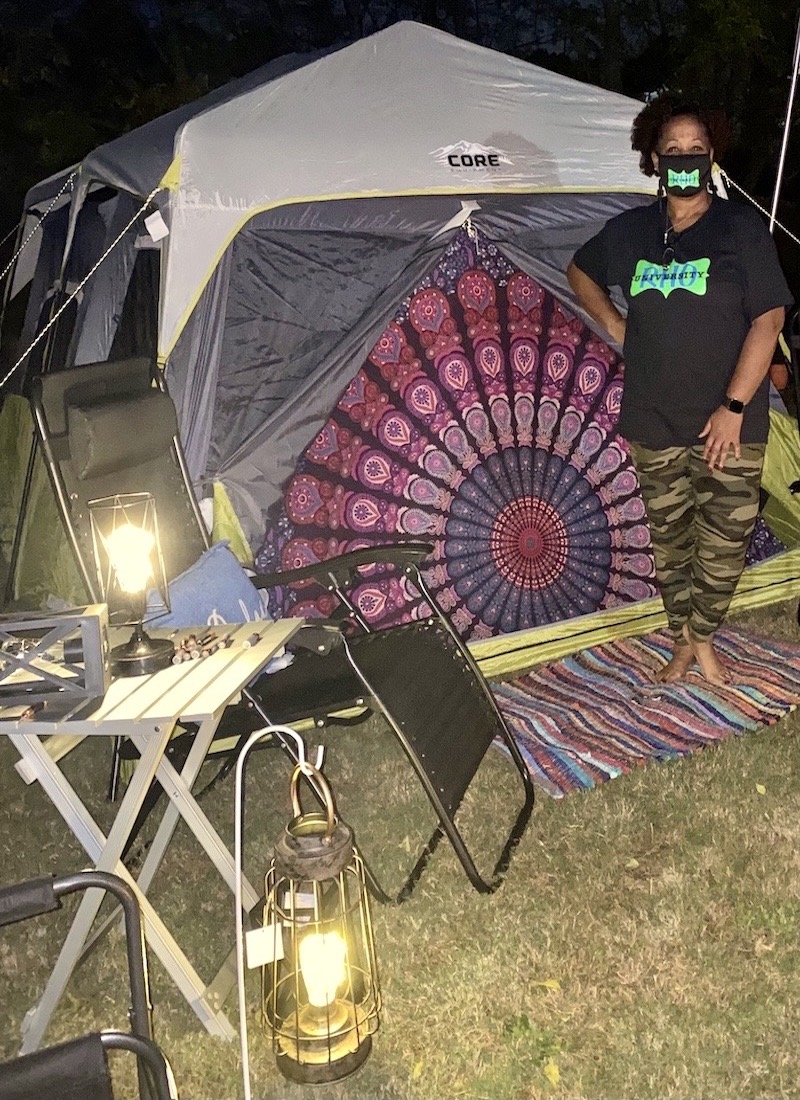 PRICEY
CORE tents are priced a bit higher than Coleman tents. They are usually designed to have a few more features than a comparable Coleman tent and they are designed to be waterproof. CORE tents are known for their high build quality and are designed for camping. All of which I am in complete love with.
This particular tent after receiving it came in a normal size grey bag. To get a better look at how easy this tent really is, I decided to set it up in my backyard. I was very pleased how simple it was to lay out and pop completely up after a complete walk around the tent. One thing, I forgot to mention, don't forget to place the rainfly on top prior to erecting the poles! Otherwise, a cinch!
I took my time opening the tent and walked completely around opening one pole at a time. It took me approximately 15 minutes only because I forgot about the rainfly. The best feature of all is if you don't place the rainfly on the tent you can look up and see the stars. It doesn't get any better than that. By the way, I sleep in the tent alone, I'm girly like that!
Since YouTube University is my all-time favorite tool for information. I decided instead of reading the directions, I used these clips to show me how to set up and tear down the CORE tent. This tent is the best purchase I've ever made. Although, they say it's easier for two people to set this up. I found out I could do this alone.
Pop Up, LET'S GO PLACES AND DO THINGS!
https://youtu.be/X4epTKdmGdo (SET UP)
https://youtu.be/ka4JLKpvc-c (TEAR DOWN)
Article by Yolanda J. Edwards (AKA Mz. Hooked), Georgia Chapter Guide
View my complete list of articles, click here: https://girlcamper.com/georgia/articles/
Subscribe to Girl Camper Magazine here! Award Winning Design
Join me on Facebook Girl Camper Georgia Group: https://www.facebook.com/groups/girlcampergeorgia
Follow me on Instagram at Girl Camper Georgia: https://www.instagram.com/girlcampergeorgia/
Follow me on Facebook Page at Girl Camper Georgia: https://www.facebook.com/GirlCamperGeorgia/
To see the complete list of my articles, click here: https://girlcamper.com/Georgia/articles/
Remain HOOKED on viewing upcoming Girl Camper Events – you can attend events in any chapter! https://girlcamper.com/events/