By: Theresa "Resa" Leppert
Last weekend, early October 2021, we had our second Girl Camper Iowa Chapter camping event! Driftless Unplugged was held in a place near and dear to my heart – Yellow River State Forest.
Our event was really small – just two of us! The other folks had to cancel last minute, so it was just April Gardner-Taylor and me & Shiloh, my canine camping buddy.  I'm deliberately not going to share details of the campground in this post – because there is more info coming in the Fall Issue of Girl Camper magazine – check it out!
Lots of rain.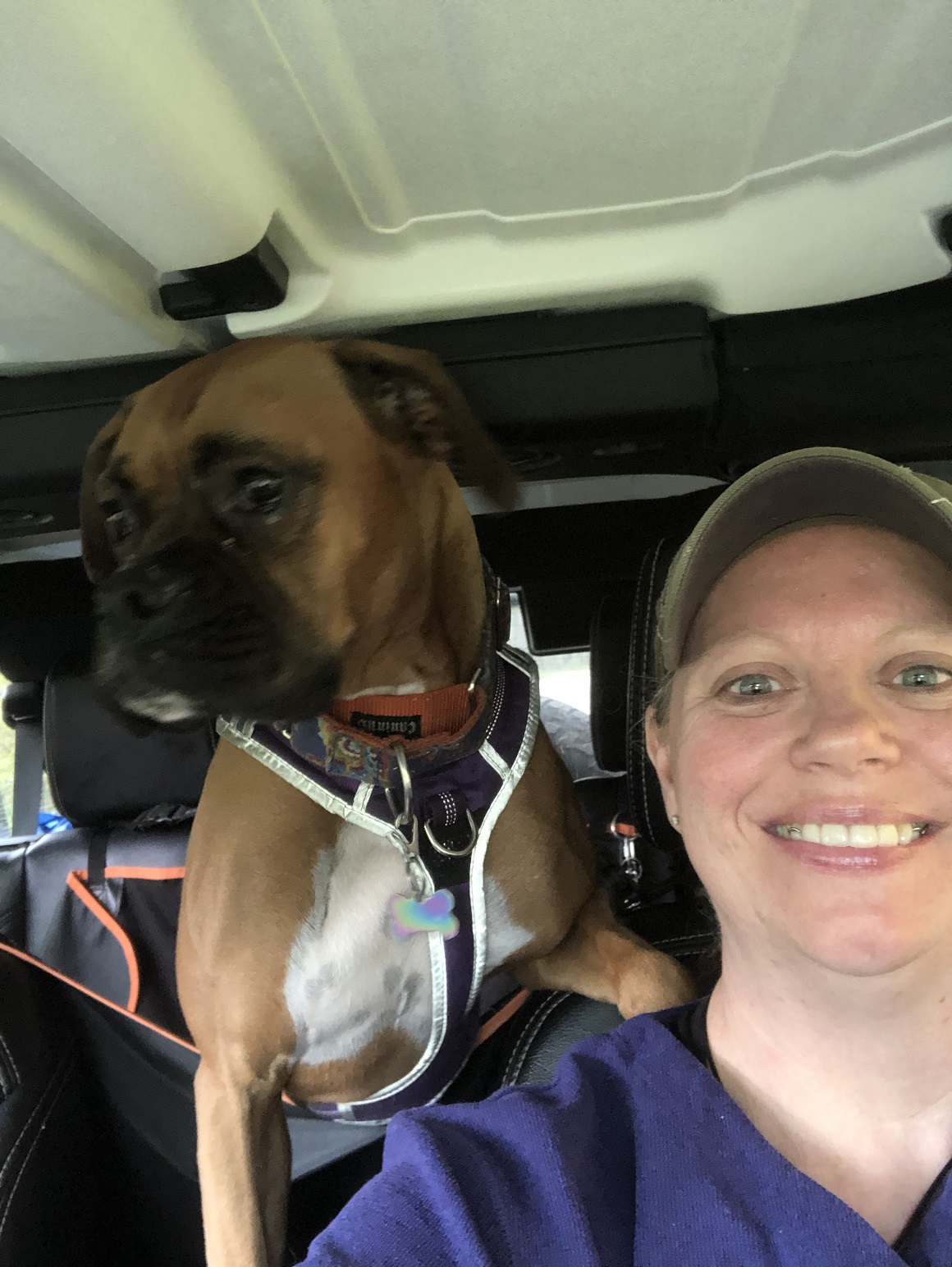 The weekend started with rain – lots of rain.  Shiloh and I arrived on Thursday, and I set up in a steady pouring rain.  It was a bit of an inauspicous beginning for our Driftless Unplugged event. I got SOAKED just unhitching and getting my Clam set up.   I was so soaked through that we just loaded back up into the Jeep and went to town to find something to eat and to allow the Jeep heater to dry out my clothes a bit.  It rained all Thursday, Thursday night, and most of the day on Friday.  Thank goodness for Shiloh's doggy coat.
I had bought wood at the Friends of YRSF self-serve woodshed and it was stored safe and dry in the Jeep until the rain stopped.  Boy, I tried for hours on Friday to get a fire going – FOR HOURS – to no avail.  None of the usual tricks worked:  pine cones, pine needles, cotton balls with Vaseline, tiny sticks, bigger sticks, dry grass bundle…..  NOTHING WORKED.  I have never EVER had this much trouble getting a fire going.  EVER.  So much for my first evening campfire at Driftless Unplugged.
April arrived by about 6 p.m. on Friday. We hung around the fire all evening, chatting and telling stores, and getting to know each other. It was so much fun being able to hang out one on one. April also tried all evening and we just couldn't get a flame to take on that wood! I ended up cooking our dinner on my camp stove instead – brats/buns and a lovely salad. It seems like others in the campground were having the same problem – there were very few fires in the campground Friday evening!
Saturday was a sunshiny day!
Saturday, we woke up to sunshine and lovely temps! April made a wonderful breakfast of scrambled eggs and STEAK – oh boy was that just what I needed! Yum!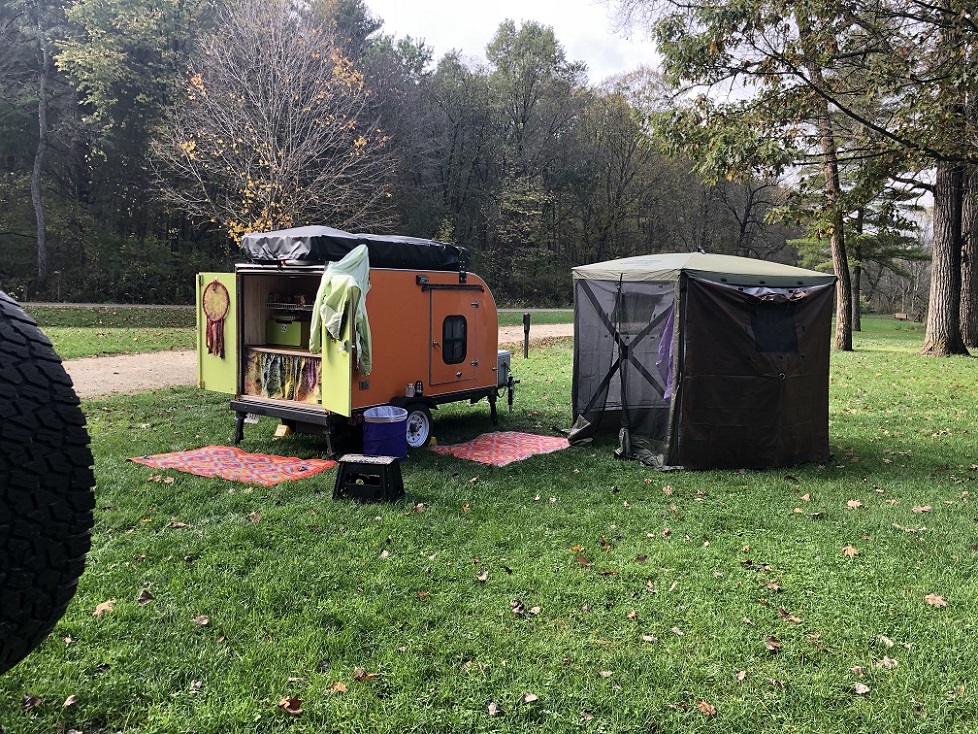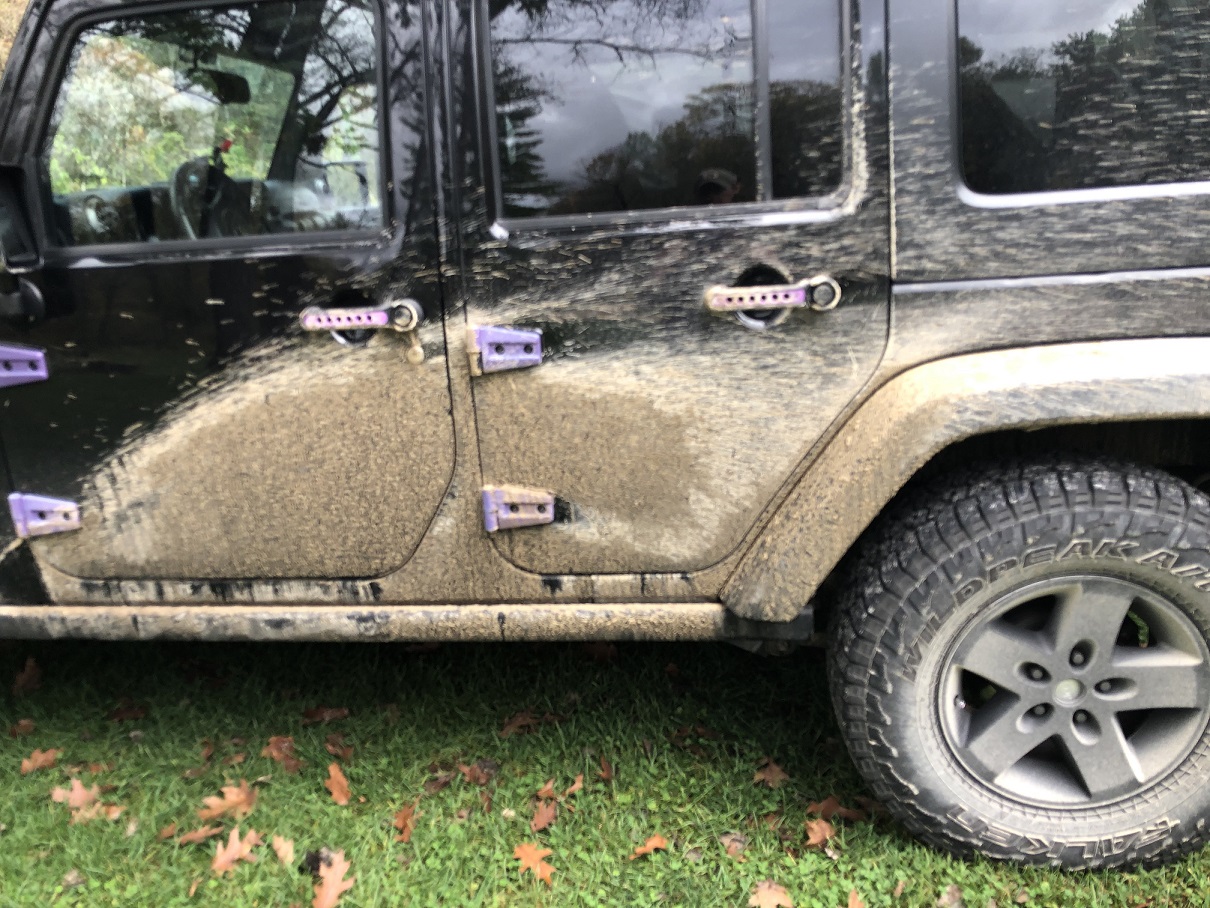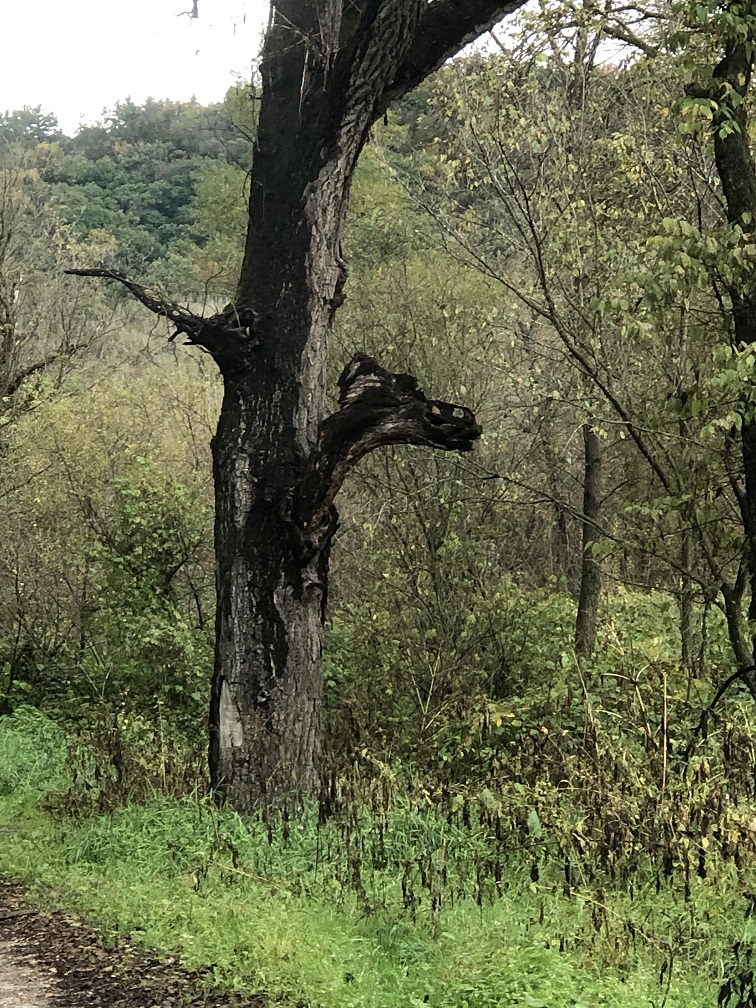 Jeep tour of the back roads.
We decided to head off on an adventure.  First, I took April for a Jeep tour of the forest roads of YRSF. It was a chance to explain why I named this event Driftless Unplugged! We talked about the Driftless Area and how YRSF is completely "unplugged" from the rest of the world.
With all the rain, the trails were a bit muddy! In fact, as soon as we got to town, had to go find a car wash! Check out this cool tree, though! It had been burned at some point, it looked like. I see a dragon's head. Do you see it?
Effigy Mounds National Monument
After our Jeep tour of YRSF forest roads, we headed to Effigy Mounds National Monument for a hike. There were lots of folks out hiking! I was working on Shiloh's trail manners, specifically teaching her to step off to the side of the trail and sit quietly and "wait" while others pass. We hadn't been on a trail with others for quite some time, but she picked it back up quickly. I'm not sure who was more excited – us or Shiloh!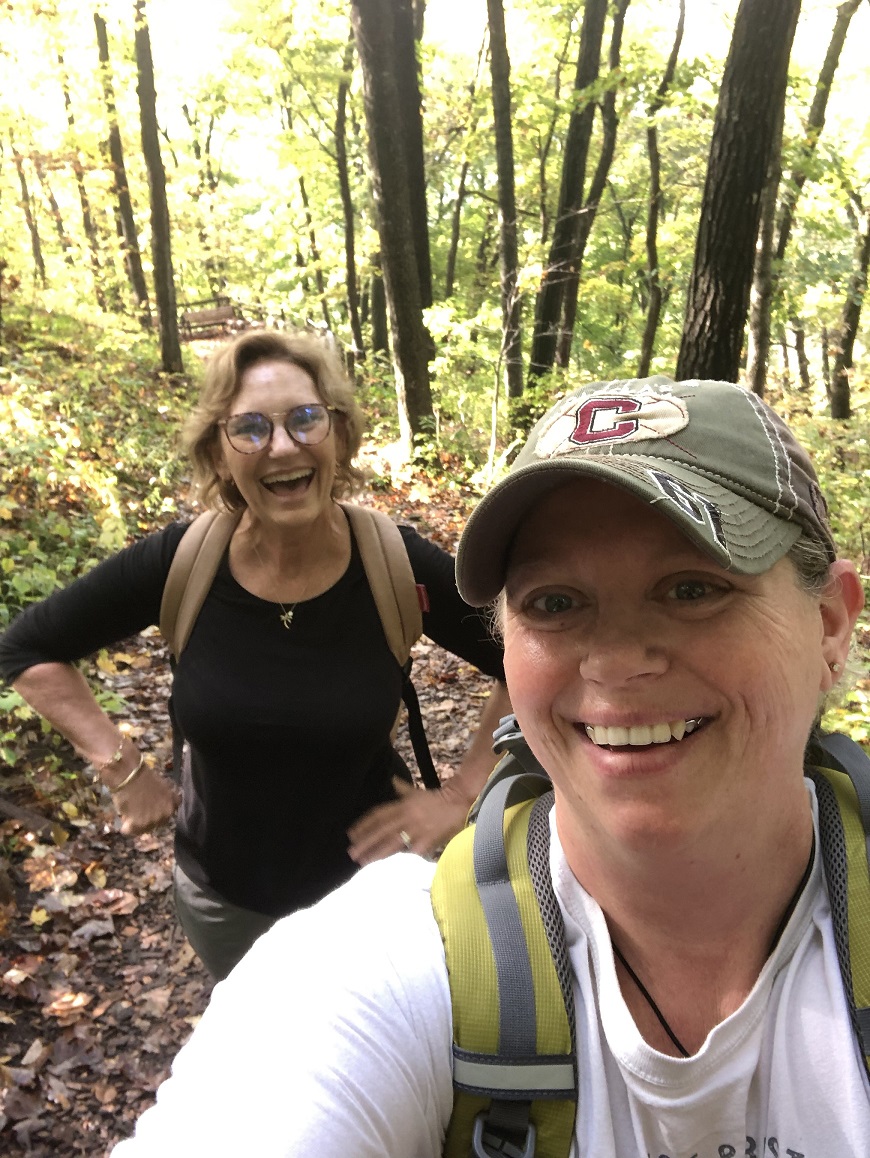 If you've never hiked at Effigy Mounds, I highly recommend it! Most folks don't know that this National Monument is even here in NE Iowa. Oh, and the trails are DOG FRIENDLY, which is unusual for most national monuments. Please, though, make sure to pick up after your pet and pack it out. Take only pictures, and leave only footprints. The mounds are sacred, so it is important to stay on the path and keep your kids and pets on the path with you.
You could spend the whole day there. The hike up to the overlooks is a bit steep at first, but once you get to the top, it levels off and the views are SPECTACULAR. It was a big hazy when we got up there, but it was worth it. You can find more information about Effigy Mounds HERE.
Check out these pics of the Mississippi River from the Effigy Overlooks!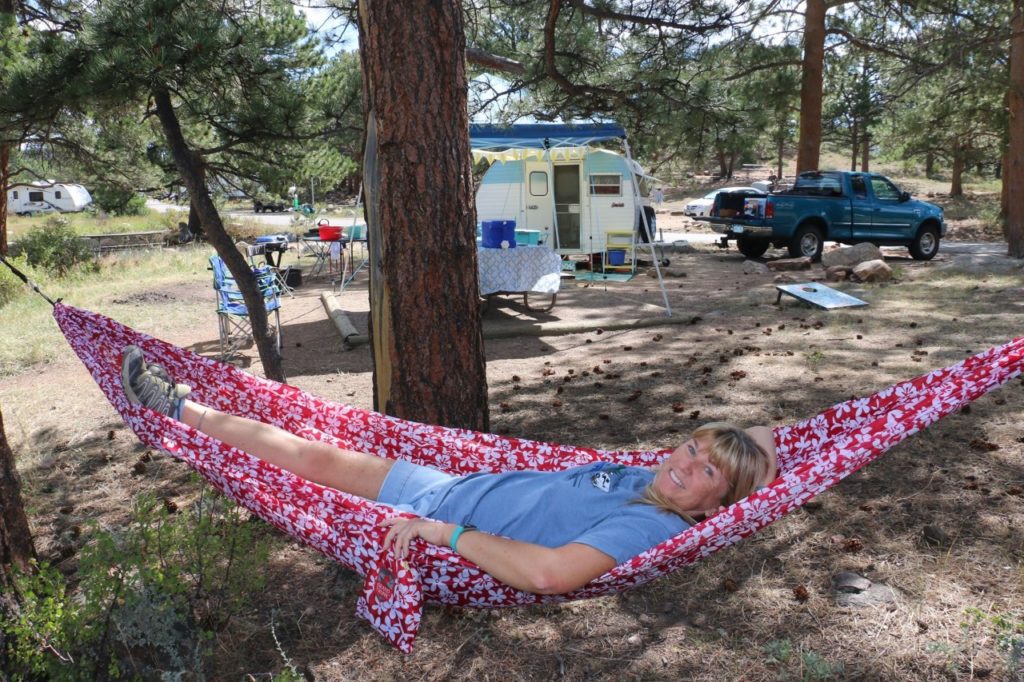 McGregor and Marquette, IA – two little towns with lots to see!
After our Effigy Mounds hike, we headed into McGregor, IA to find some lunch at my favorite place – Café McGregor (check them out HERE) and to enjoy the whole vibe of the town. There was a artisan/craft fair in progress, and so many neat things to see! Shiloh was just a peach the whole time – got lots of compliments on her behavior, which made me smile. Of course, it was likely because she was tired after that hike, lol. There was also a flea market in Marquette, but we were really wanting to get back to camp to take a nap!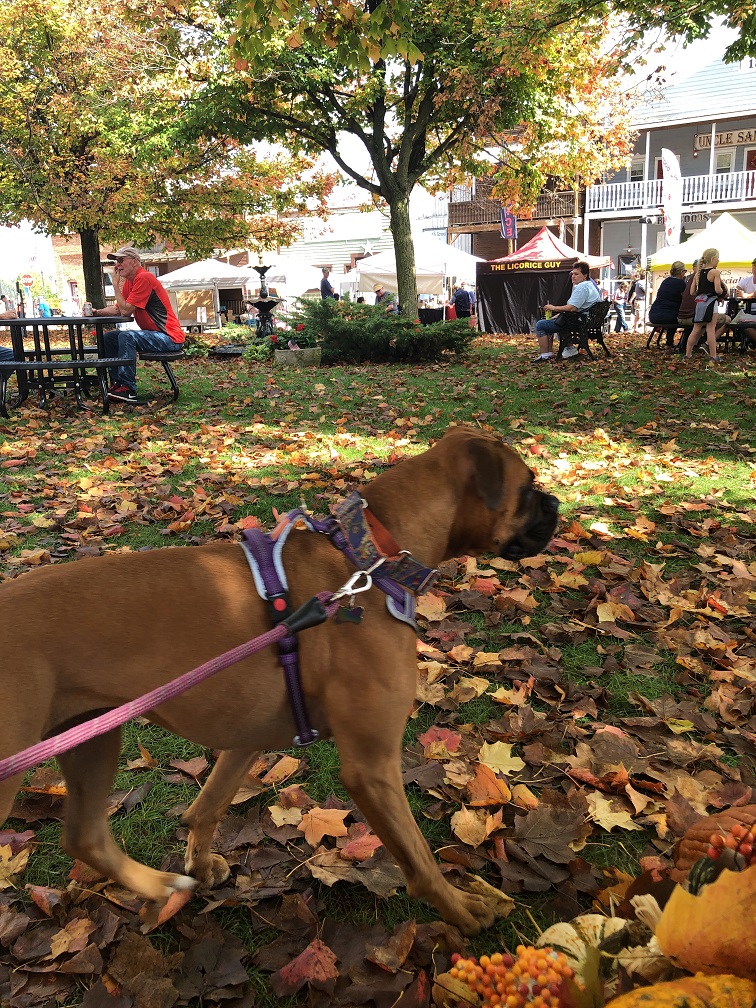 We all took a rest when we got back to the campground that afternoon. Nothing better than snoozing in the sun after a strenuous morning! Dinner was simple fried chopped Spam and sliced brats, served with Moroccan flavored couscous.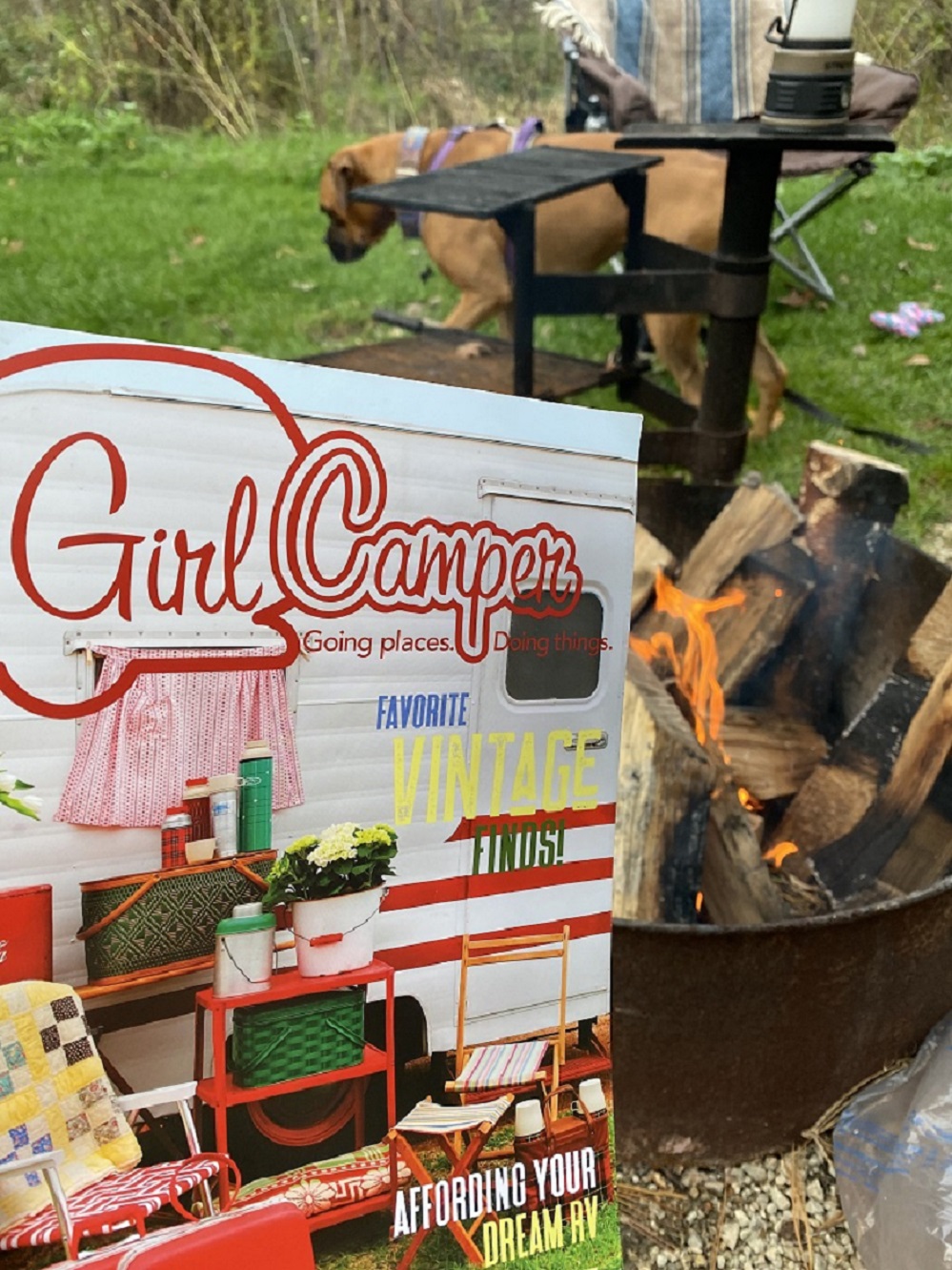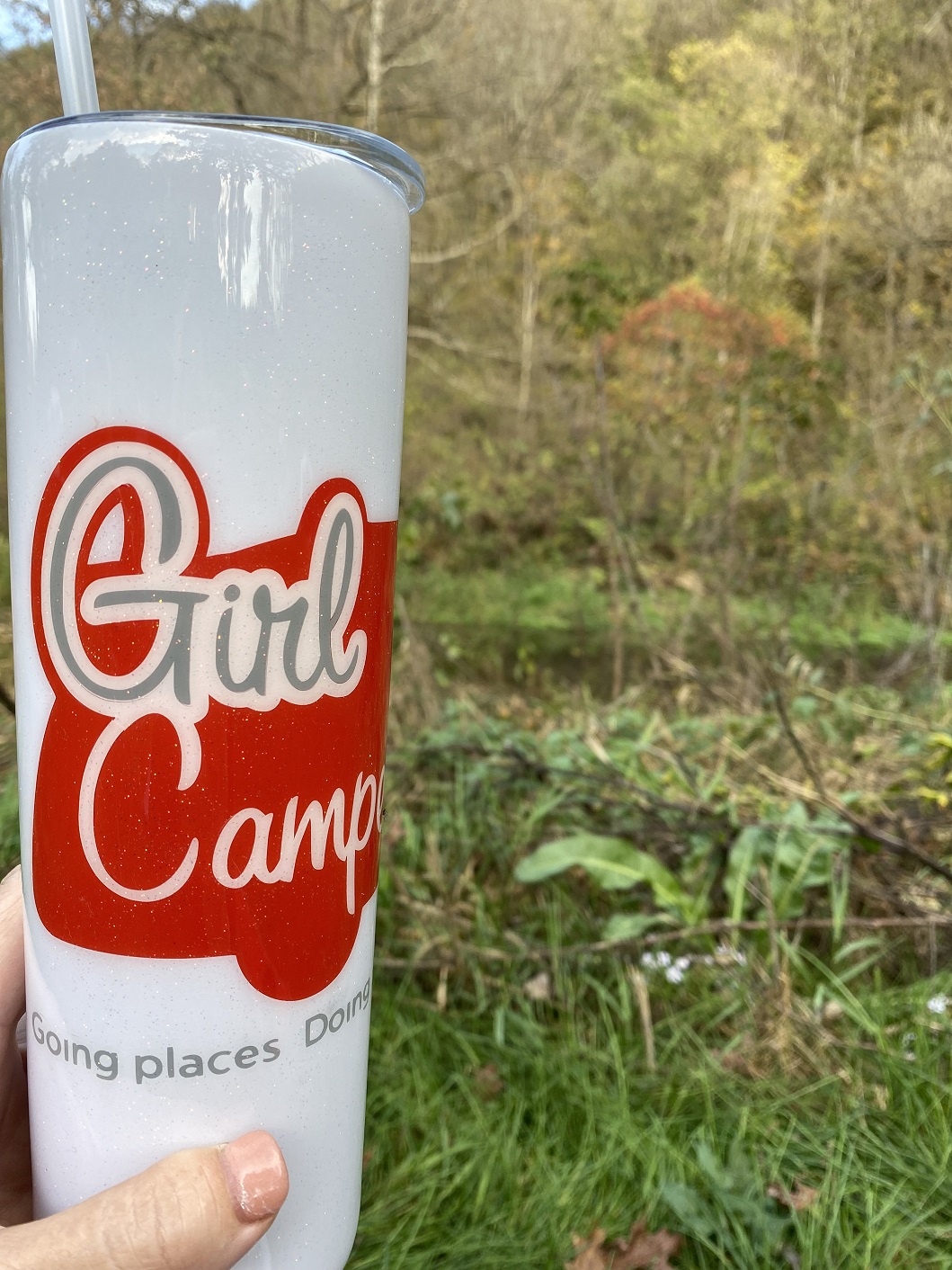 April was the proud winner of both door prizes!
So, since April was my only guest, she automatically won the door prizes! She is the proud owner of a couple of Girl Camper Magazines, and also this awesome Girl Camper custom tumbler!
Oh, and OHMIGOSH, April gave me this AMAZING Mexican hot chocolate for dessert. IT'S MY NEW FAV CAMPFIRE DRINK. I came home and ordered two cans of it right away.
On Sunday, we both just packed up slowly and bit by bit – and then it was goodbye til next time.  I look forward to future camping trips with you, April!  And Shiloh is still your #1 Fan!
If you'd like to learn more about Yellow River State Forest – check out my previous article about this incredible park in NE Iowa.
Connect with me!
Theresa "Resa" Leppert
Guide Manager
Guide, Iowa & Wisconsin
563.284.2868
Girl Camper Magazine: Subscribe to Girl Camper Magazine here! Girl Camper Magazine
Events: Check out upcoming Girl Camper Events – you can attend events in any chapter! https://girlcamper.com/events/
Main GC Facebook Group – Join over 350,000 like-minded women in our public Facebook group! Girl Camper FB Group
Facebook Page – This is my public Iowa & Wisconsin page, where I'll share Girl Camper news, events and more. Girl Camper – Iowa & Wisconsin
Private FB Group – Where you can interact with others who are interested in camping in Iowa & Wisconsin! Girl Camper Iowa & Wisconsin Group.
Resa's Articles – Click this link to see all of Resa's articles on the website! ARTICLES
resaarticle