Easy Morning Eggs for Dutch Oven Cooking
My Favorite Girl Camper recipe, I like to make when we have 12 or more camping together.
It's easy and with a little prepping and buying pre-cut potato's and cheese, makes for an easy meal to feed a crowd. Everyone enjoys this recipe and it's so easy and makes you look great.
Great ice breaker in the morning, waiting with our coffee mugs in hand, wearing our camper PJ's and enjoying the smells of breakfast cooking.
TIPS:
Cooking the ground sausage, links or bacon freezing before I go.
Cracking and whisking together eggs, milk and spices. Placing in a container to freeze or bring.
Buying shredded Cheese and frozen shredded potatoes or a bag or Simple Potato's
Layering across 3 sheets of Parchment Paper in my Dutch Oven, for easy clean-up.
Remember to turn your lid and oven a quarter turn every 15 minutes, so the oven cooks evenly.
I start with coals in my chimney and let the coals turn slightly gray.
In the meantime I layer parchment paper in the bottom of oven.
Then adding potatoes in the bottom, followed by sausage, cheese and pour eggs and seasonings over the potatoes, sausage and cheese.
Using 10 coals evenly spread out on bottom I place the oven over those, then with lid on, place 12 coals on top. Remembering to turn a 1/4 turn for even cooking. 45-55 minutes depending on amount of eggs and ingredients, watch the heat!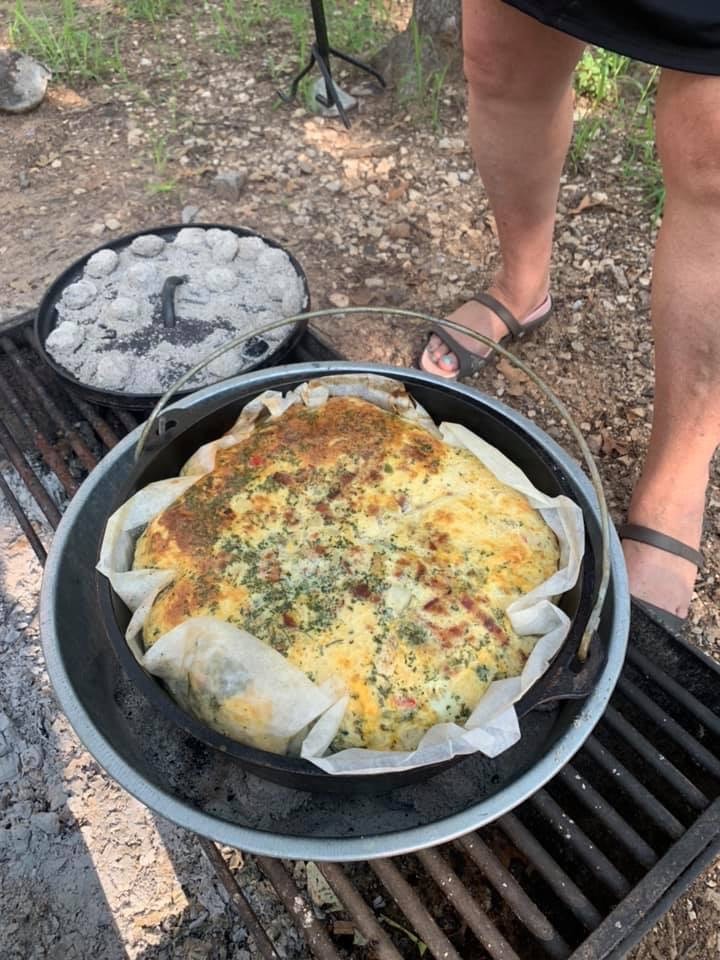 Easy Morning Eggs
INGREDIENTS:
12 eggs whisked
1 pound of cooked sausage or a package of cooked and sliced links
1/4 cup of milk or almond milk
8 0z. package of shredded cheese
Simple potatoes cubed or shredded, My favorite is the southwest flavor.
S and P
1 teaspoon of dried parsley
Make the egg dish by adding Green Chili Sauce or sautéing onion and peppers and add to the whisked eggs. Can also use shredded frozen Ore-Ida's potatoes.
Feel free to add left-over steak, ham or Bacon.
Enjoy the oooh's and aaah's when you lift the top off. The eggs puff up, nice light and airy.
written by Bonnie Shafto
Bonnie Shafto Girl Camper Guide
Connect with Bonnie & her Girl Camper Group
Facebook Page – Girl Camper – North Texas Group
Facebook Group – Please join the New Mexico Group so you can participate in this supportive and fun community! New Mexico Chapter Group
Instagram – follow me for snap shots of the camping life: Instagram Girl Camper Bonnie S
Events-Be sure to check out the Girl Camper Events I'm hosting.
SAVE 15% on Harvest Host using this code – http://harvesthosts.refr.cc/bonnieshafto1