I LOVE fried rice. I could eat it every day. So when I heard about breakfast fried rice, I couldn't wait to try it. It did not disappoint! It is easy to make and oh so yummy. I made a double batch of it recently on my 17" Blackstone griddle and fed eight of my girlfriends. But you could easily make this in a skillet on a campfire or a grill. Here's what you need:
Ingredients (serves 4)
8 slices of bacon or 1 lb sausage) 3 cups of white rice (uncooked)
Onion (chopped) Green Pepper (chopped)
6 eggs Soy Sauce
Pepper 2 Tbsp Sesame oil
Step 1. Cook the rice. I did this at home the day before.
Step 2. At the campground….cut up the bacon in to bite sizes and cook them on your griddle or in your skillet over medium high heat. Or if you are using sausage, cook the sausage.
Step 3. Add the onion and green pepper and cook 3 minutes.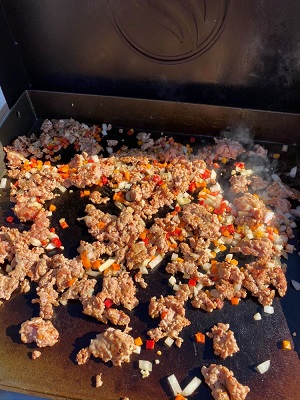 Step 4. Crack open the eggs into a bowl and give them a good scramble. Add them to the mixture on the grill.
Step 5. Season the mixture to taste with pepper.
Step 6. Once the eggs have cooked, add the rice to the skillet/griddle and mix with in.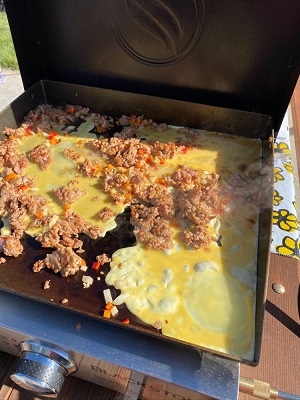 Step 7. Fold in the sesame oil.
Step 8. Season to taste with the soy sauce. Let the mixture cook for a couple of minutes.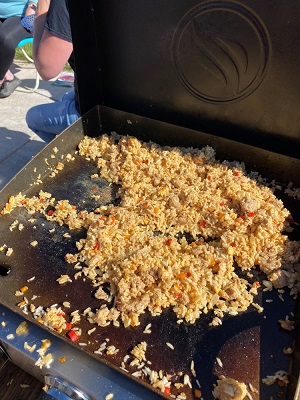 Step 9. Remove from the heat, serve, and ENJOY!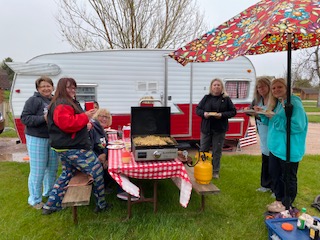 You can easily add things to this recipe like garlic, cheese, etc. Post a picture on the Girl Camper Black Hills, South Dakota group Facebook page of your breakfast fried rice and what you added to it. Selamat makan!
Lesa McDermott | Girl Camper Guide to the Black Hills
Follow me on Facebook or Instagram
You can also join the GC Black Hills Facebook group page