Unless you play the guitar…in that case, you've got your sing-along bases covered!
I'm not talented enough to play the guitar. Nor do I sing well enough to match the persona of the guitar. For me, the ukulele is the perfect camping instrument.

I share this article in response to the Covid-19 stay-in-place order. First, I tell you about my personal experiences, and then I will share some science to validate what I am sharing with you.
Click on this link to see the Waterman Ukulele in action:
https://www.youtube.com/watch?v=qe1Pyo_i0bY
I am recommending the ukulele because, for me, it is impossible to play this instrument and not feel better on some level. When my father passed away, I played the ukulele every morning to muster the strength to go to work. When I'm feeling blue, it cheers me. When I'm feeling happy, it helps me sustain my joy.
For campers, I recommend the KALA Waterman Ukulele because it's made of plastic and won't be ruined by changes in temperature. Quality wooden ukuleles can be damaged when left in cars and RV's because extreme heat, or fast temperature changes. In fact, playing them outside in extremely hot weather can also damage them. The KALA Waterman is super cute – it looks like a toy because it is plastic, but it has KALA strings and sounds good for the price point. For you hikers and kayakers, it's good to know it even comes with a bag you can carry shoulder or back-pack style.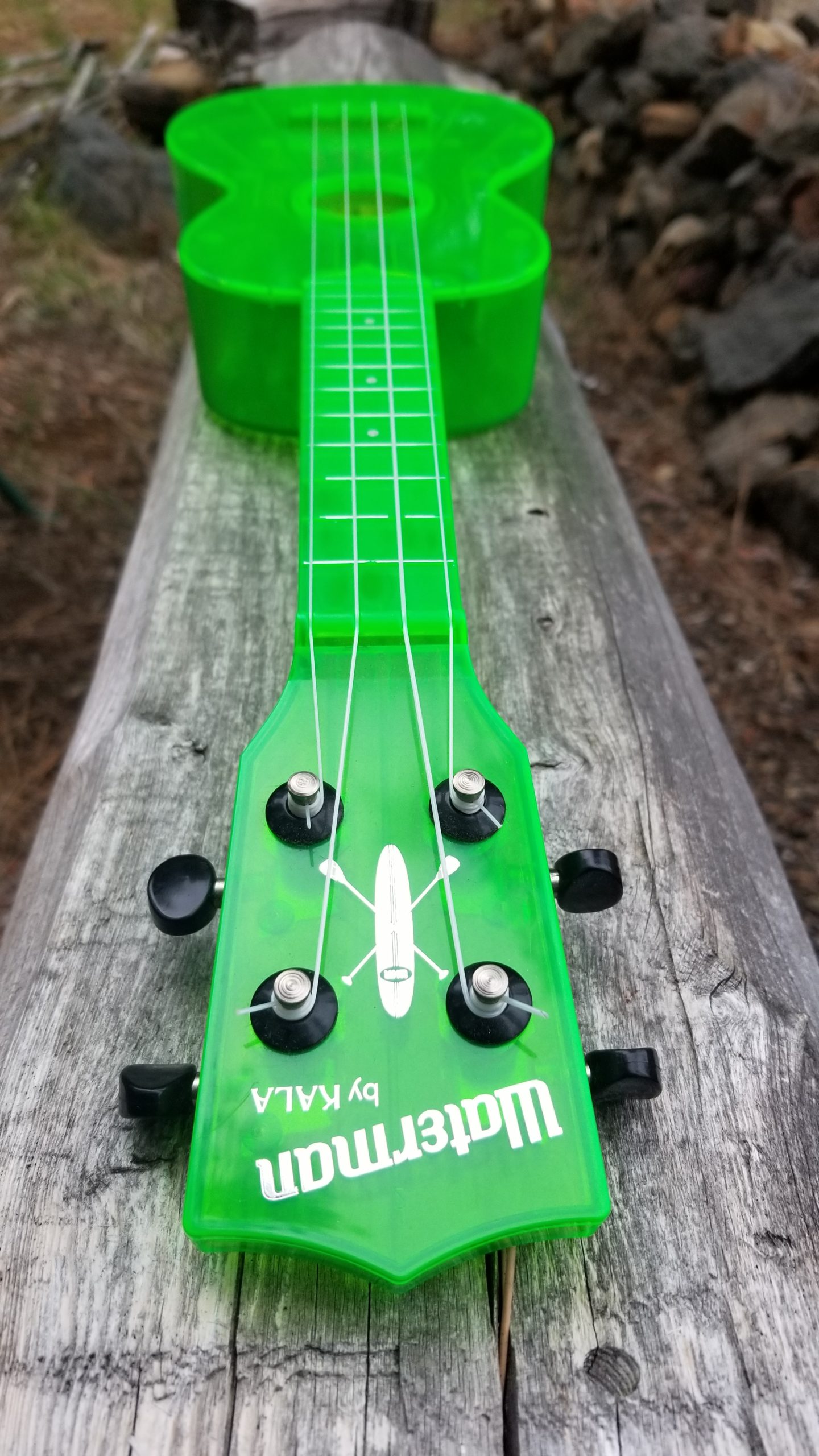 Here's my direct link to learn more about this fun and colorful instrument: https://amzn.to/3oBlmEi
This ukulele comes in a variety of colors – I chose green to go with my RPod. It even comes in a glow-in-the-dark option that would be fun around the campfire! If you are an inked hipster, the matt black might be your color of choice. Oh yes, I've already recommended this ukulele to one of my camping friends and she purchased one for herself and one for her grandkids. Here's the link for glow-in-the-dark option: https://amzn.to/2JijMXV
Or, if you have kiddos at home, maybe it would be more fun to purchase a kit and build your own (thanks to my friend, Tracy, for reminding me about this option): https://amzn.to/3bO8WSO
The longer this stay-in-place order lasts, the more important it is to specifically plan fun and self-care activities into your day. Isolation fatigue is real, and an increasing number of people are reporting having pandemic nightmares. This is why I decided to reach out to the camping and hiking community to encourage you to play music and sing your little hearts out! The great thing about the ukulele is, you don't have to take it seriously. I give myself permission to goof-around and talk-sing like I'm good at it.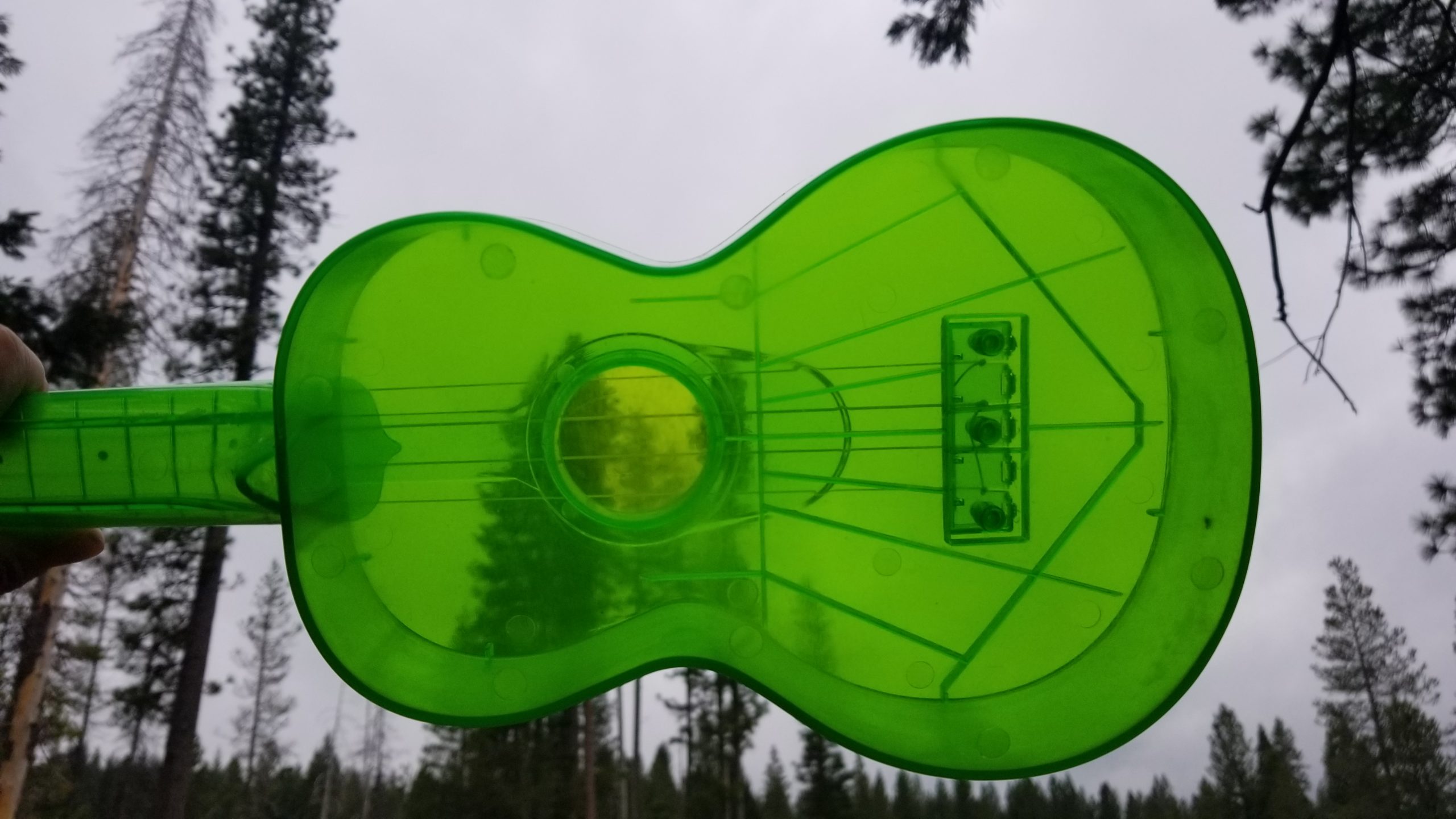 I don't usually sing in front of other people. However, one time I was at a bar when the musician was setting up her guitar and ukulele, and she asked if I would play so she could adjust the speakers and amp. I nervously launched into, "Act Naturally" and everyone at the bar joined in singing – it was such a surprise and a lot of fun.
The ukulele is a sweet instrument. I asked my dear friend, Pam, if she would play and sing with me at my dad's funeral service. We played, "Amazing Grace," and everyone sang with us. It was beautiful.
When I'm camping, I like to bring out the ukulele after dinner, and sing a few songs around the campfire. It is common for people to come by with their kids and ask if they can watch or even hold the Waterman. This is another reason why I recommend this ukulele: I have a few I would not want to hand over to children. However, it is so pleasurable to share this instrument with kids, and if something were to accidentally happen to it, at $39, it isn't going to be a big deal. Also, because I take it in my boat, and have also hiked with it, I don't get freaked out about every little scratch.
Enough about me. Let's get to the science behind my recommendation.
According to an article published online by Vincent Reina in February 2018, "Playing an instrument can help refocus bad energy into something positive and enjoyable, which in turn can help alleviate stress. Research shows that playing and composing music can reduce stress by lowering cortisol levels. While you are in the pursuit of becoming a great singer, you are actually also improving your respiratory system (because of the breathing required). Playing music has even been shown to help people recover from strokes as well as slow down the onset of dementia and Alzheimers. Research between Tenovus Cancer Care and the Royal College of Music has found that singing for an hour can increase levels of immune proteins, reduce stress and improve people's mood. Studies have also shown that making music enhances the immunological response, which enables us to fight viruses."
And, according to Susan Kuchinskas, WebMD, October 2010, "Casual music-making can short-circuit the stress response, research shows, and keep it from becoming chronic. Stress starts in the brain and then kicks off a chain reaction that switches on the stress response in every cell of our bodies. Over time, these cellular switches can get stuck in the "on" position, leading to feelings of burnout, anger, or depression as well as a host of physical ailments.
Researchers now know that playing a musical instrument can switch off the stress response, improving physical and emotional health."
Okay, back to me. I don't want to give you the idea that I'm a talented musician and singer. I am casual about the ukulele because I play and sing for myself. I don't know how to pluck individual strings in that gorgeous Hawaiian style. I know how to strum a few chords and with that alone, I can play hundreds of songs and so can you.
I encourage you to take advantage of this stay-in-place order to learn something new and have some fun. If the ukulele is not for you, maybe you could get on TikTok and learn a dance. It doesn't really matter what the specific activity is, as long as you are playful about it. Loosen up. Have some fun. And take good care of yourselves.
Article written by: Catherine Goggia
To see the complete list of my articles, click here: https://girlcamper.com/northern-california/articles/
Do you travel often or tend to take long trips? Let RV Trip Wizard be your trip-planning copilot, telling you where the campgrounds and RV parks are that will accommodate your RV, trailer, or tent – plus get a free RV Life GPS account: https://www.rvtripwizard.com/#5ff359c12459b
My awesome pocket camera with 25x zoom and good video: Canon Powershot
My laptop for working on the road: Light and Powerful Laptop
Follow the Girl Camper Northern California page: Girl Camper Northern California
Subscribe to Girl Camper Magazine here! Award Winning Design
Check out upcoming Girl Camper Events – you can attend events in any chapter! https://girlcamper.com/events/