Fenton Michigan is located 60 miles north of Detroit. Accessible via I75 or US23 downtown Fenton is a thriving area that makes for a full day of exploration. Sidewalks cross through town and are in good repair making this walk accessible to most. Large flower pots brighten up the walk and lovely cascading flowers grow along the rails of the bridge.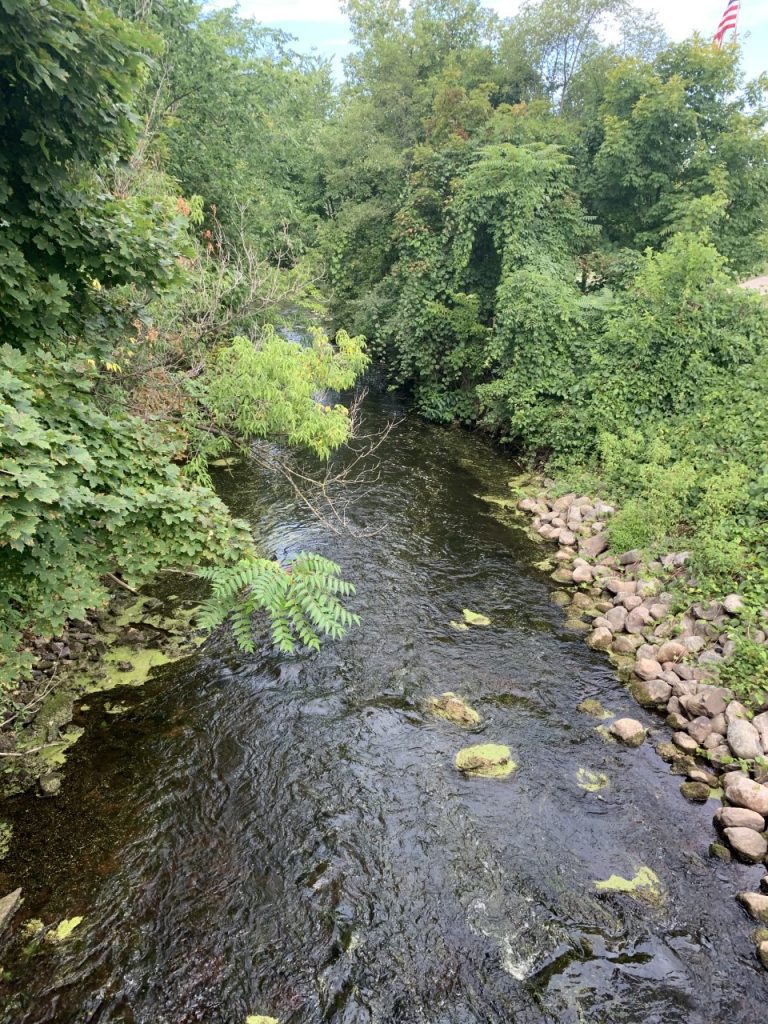 Fenton is for Foodies
One of the things Fenton is best known for locally is the number of independent restaurants. Starting your day at Crust, you can enjoy an excellent gourmet coffee drink and fresh baked muffin or a full sit down breakfast in the restaurant area. The menu is packed with farm fresh ingredients and freshly baked goodies. Dean and Deluca and Williams Sonoma have featured their baked goods for sale across the country!
The Laundry is a local hotspot! This quirky neighborhood restaurant offers a full bar with custom cocktails created by their bartenders, a beer garden in the warmer months, outdoor dining when weather permitting and fresh ingredients. Walking around the building one can see the bee hives on the roof and the herb and tomato gardens in the back of the building along the sidewalk.
Scoop is an ice cream parlor that offers locally made ice cream from Guernsey Dairy. The menu offers custom made ice cream sandwiches with cookies from Crust. Milkshakes are a delight for the senses here and can be made with an adult twist.
Fenton House is a solid choice for sharing a meal with family and friends. Famous for their incredible breadsticks, this is a must visit for carb lovers! (You can get a bag from the carry out counter to take home for later if you've indulged elsewhere!)
Finally, Fenton Fire Hall is part of the Union Joints Restaurants (Clarkston Union). This beautifully decorated historic fire hall is now a barbeque restaurant that also serves the famous Mac & Cheese that made an appearance on Diners, Drive-ins and Dives. In addition to the delicious food on the menu inside, the Pump House is located behind the restaurant and serves delicious ice cream to enjoy while you sit by the river.
Art Abounds
Beginning at the Fenton Community Center, you can wander the sidewalks and enjoy an ever changing selection of sculptures. My favorite sculpture is The Game located outside the community center. Viewing this piece closely you can enjoy the detail that makes this an exceptional work of art.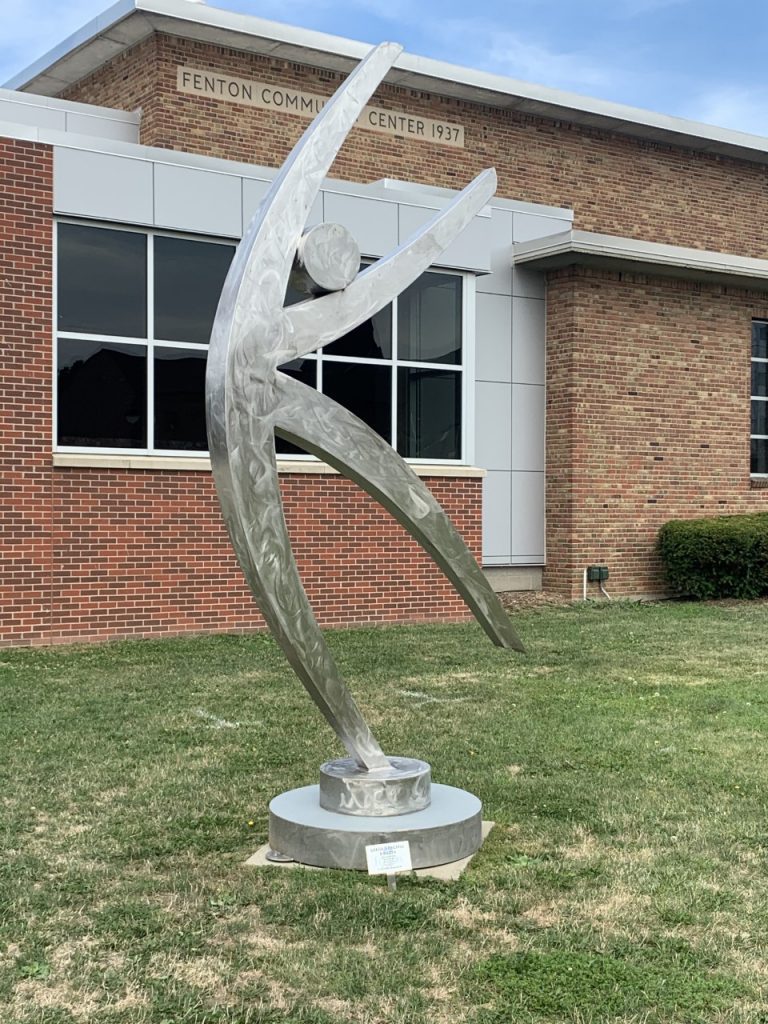 A beautiful floral mural on the side of the Ivory Loft bridal shop is now a great spot for photography. On any given day there are multiple people stopping to take a quick picture with their phone or possibly even a high school student having senior pictures taken.
Shopping
Fenton Open Book has been a long time staple in my life. I have spent many hours in this cozy shop browsing the books and finding unique local items that make fabulous gifts. If you are lucky you get to meet Storm, the resident Dalmatian, during a visit to the shop.
The Ivory Loft offers a selection of gorgeous bridal gowns. If you are not in the market for a gown you can still enjoy the beauty this shop offers through its seasonal window displays and the earlier mentioned mural on the side of the building.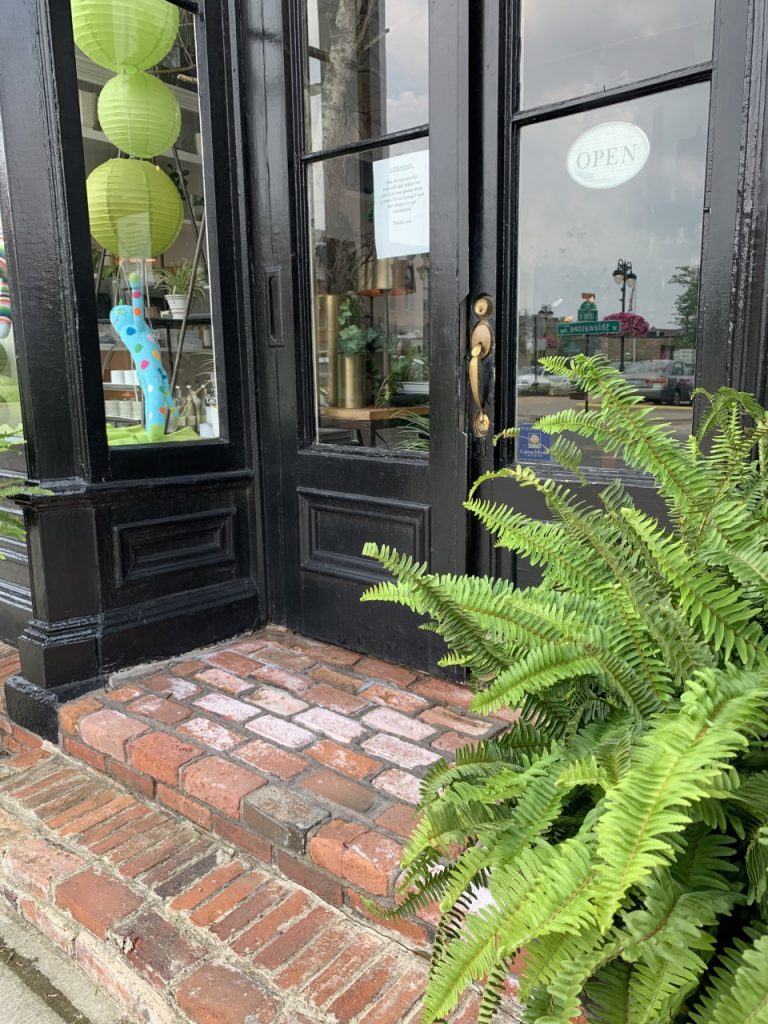 The Iron Grate is a beautiful boutique filled with luxe home goods. This shop is always on my list of places to visit because of the ever changing offerings. If you are looking for a special gift for someone or simply want to pamper yourself with a large block of creamy soap stop in and wander the shop. Don't forget to visit the second floor where there are sales and clothing for sale.
Bridge Street Exchange is a local men's shop specializing in quality American made products. Classic Michigan gear from Stormy Kromer, Shinola watches and Thoroughgood boots are aplenty in this fun shop. This is a great spot to find something special for one of the men in your life.
The Cheese Lady is a darling shop offering an exceptional variety of gourmet cheeses from around the world as well as crackers, chocolates and wine that would go well with your selection. There are single serving charcuterie plates available that would make an ideal picnic lunch with minimal prep for you.
Where to Stay
If you'd like to turn this into a camping destination, Seven Lakes State Park is located a few miles from town and would make a great home base for exploring the local sights. Reservations can be made six months in advance by visiting https://midnrreservations.com/ .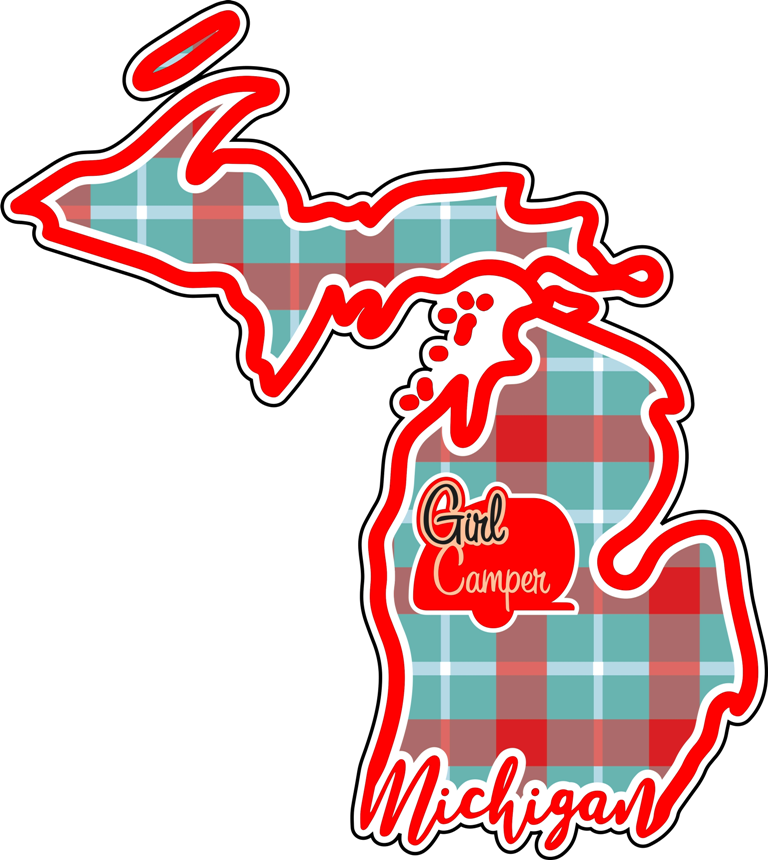 Tracey Stieb |Girl Camper Guide to Michigan
Connect with Tracey & her Girl Camper Group
Facebook Page – this is the link for where you can tag us and we can tag you! This is where I'll share general Girl Camper news, events and more. www.facebook.com/girlcampermichigan
Facebook Group – Please join the private Michigan Group so you can participate in this supportive and fun community! Michigan Girl Camper Chapter Groupinst
Instagram – follow me for snap shots of the camping life: Instagram Girl Camper Michigan
Events-Be sure to check out the Girl Camper Events I'm hosting.