By Valynda Rankin, Florida Girl Camper Guide
The History of Fort Clinch
After the war of 1812, the USA decided it needed to defend itself against foreign invaders. We began building a series of forts along the east coast. Thus, the original construction of Fort Clinch State Park began in 1847. Unfortunately, when the fort was only about 2/3 finished the civil war began. The US Army Corp of Engineers (the Union) abandoned the project since it was officially part of the Confederacy.
The Confederation worked on the fort and built fortifications in the area but in 1862 Robert E. Lee ordered the fort abandoned since the Union was gaining control of Southern Georgia and the area. Again, the Union took control of the fort and worked on it. But they were unable to complete it before the war ended in 1869 and the fort was abandoned by all. As a result of all the different builders, you can see when each change took place. The walls and buildings show the different brick size, color and materials used by each builder.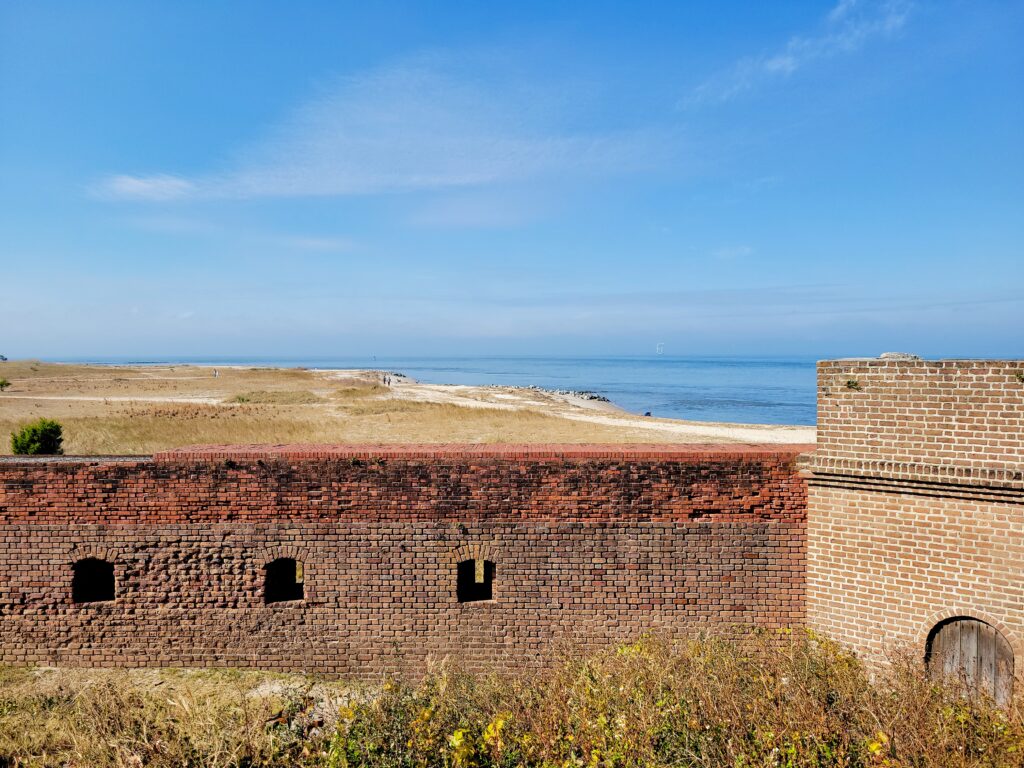 The fort was maintained on a minimal basis until 1898. When the Spanish-American War began, it was used as a barracks and ammunition depot. At this point, they finally put guns on the walls and even a minefield outside. But that war only lasted about a year, and they abandoned the fort again. It sat empty for years and began to crumble. Florida weather and its storms were not kind to the old handmade bricks.
Fort Clinch was down but still not out!
Then, in 1926, the Army sold the fort because they thought it was of no value as a military post. Fortunately, many people saw its value as a historic relic. And it became one of Florida's first state parks in 1935. Thanks to Franklin Delano Roosevelt's "New Deal", the Civilian Conservation Corp (CCC) Company 1420, was stationed at Fort Clinch State Park. They built the museum, campground and park roads in 1936. Plus, massive amounts of sand were removed from the fort and the buildings restored.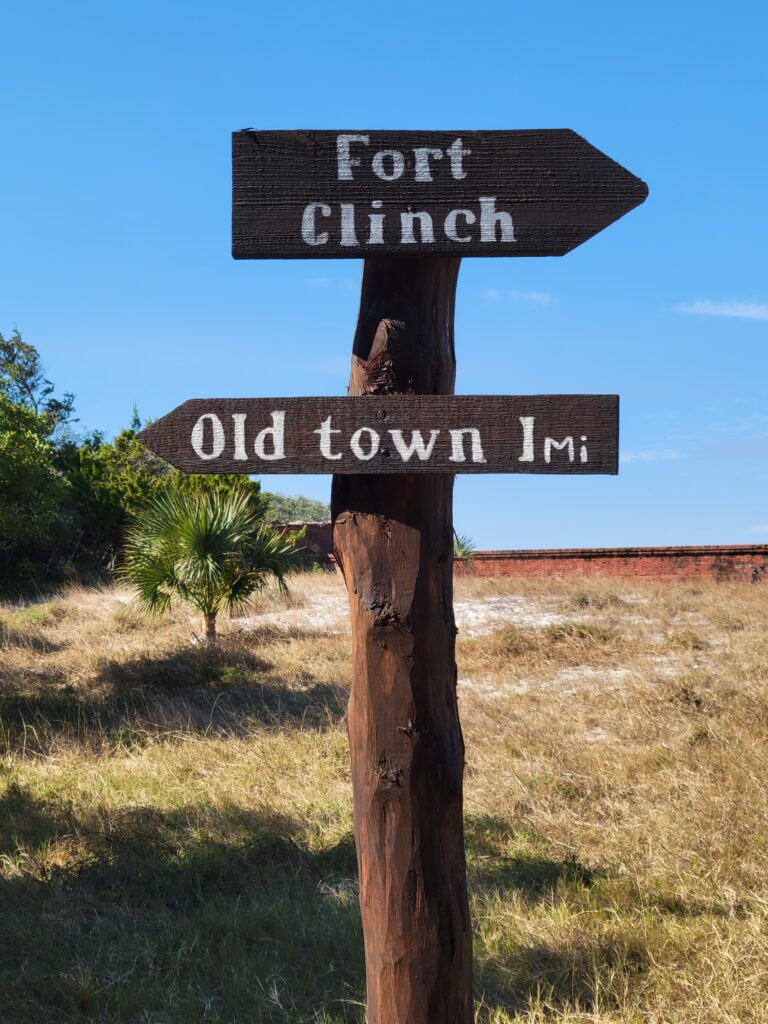 But Fort Clinch was not as useless as the Army thought! In World War II it was used as a joint operations center for surveillance and communications. After it served its final mission, it was returned to the public. It has proudly served as a Florida State Park since then.
Today, the base at Fort Clinch State Park is decorated as it would have been during the civil war, specifically the Union occupancy. The officers' quarters are quite interesting since they are decorated in what was considered luxury. And the size of the enlisted beds makes one wonder: Did they sleep two (or more) to a bed? Or did their wives sleep with them? (This was common during the civil war). The floor of the prison is only for the sure-footed due to its unique features. The kitchens and other rooms are fascinating to tour. And the view from the top of the walls is quite breath taking.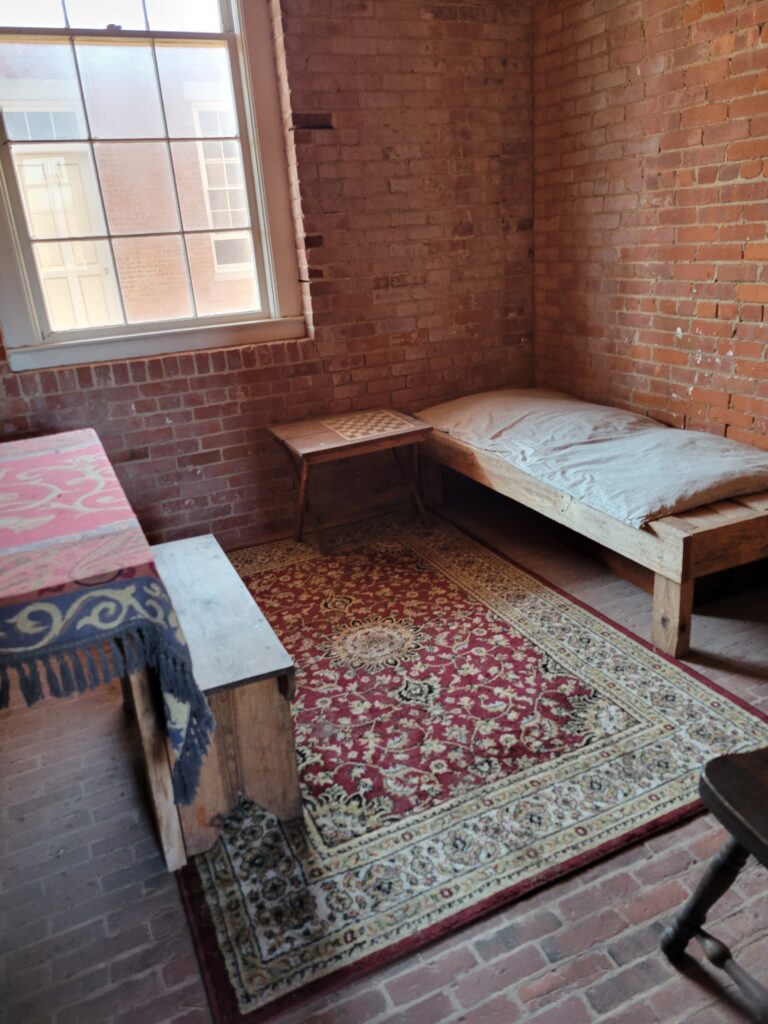 What to do at Fort Clinch
Plan to spend an entire day at the base at Fort Clinch State Park and the museum, you will need the time to see everything. If possible, visit the first weekend of the month when they fire the cannons and demonstrate battle skills. Most weekends re-enactors are available to answer questions and pose for pictures.
Birding and Geocaching
All around the fort, you will discover an amazing nature park! Fort Clinch State Park is one of the first stops on the Great Florida Birding and Wildlife Trail (GFBWT (floridabirdingtrail.com)). There are over 100 species of birds that are permanent residences of the park. And there are too many migratory birds to count. In addition, Fort Clinch State Park is part of the Operation Recreation GeoTour. (Operation Recreation Geotour | Florida State Parks) Geocaching is fun for everyone.
Hiking
Fort Clinch State Park has hiking trails from ¼ mile up to 6 miles in length. Some of the trails involve climbing steep sand dunes. This can be quite difficult so make sure you know which trail you want to try before you head out. Also, it is quite common to encounter all sorts of wildlife from squirrels to deer to alligators on the trails. Make sure to have your camera ready!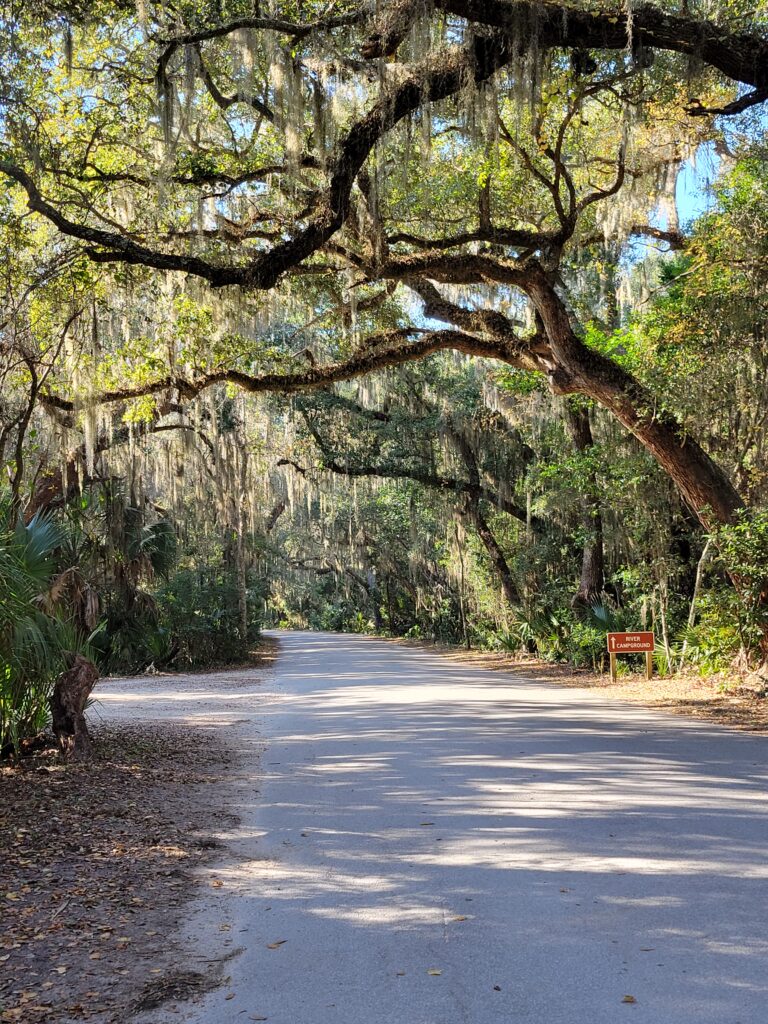 Kayaking
Kayaking at Fort Clinch State Park is discouraged except for the most experienced sea kayakers because it is so dangerous. The launch at St Mary's Inlet has extreme currents which are quite unpredictable. This is not the place to kayak!
The beach and swimming
The beach at Fort Clinch State Park is a wonderful place to find shells and shark teeth. Just be sure that any shells you find are not still occupied and being used. If they are, please, return them to the water and pick another. Swimming at the park is only allowed at the Atlantic beach which is accessed across a boardwalk. All other beaches at the park are unsafe for swimming.
Camping at Fort Clinch
There are two campground loops at Fort Clinch State Park: the Amelia River campground and the Atlantic Beach campground. All campsites have fire rings, picnic tables, potable water and electricity. Tent sites and primitive sites are also available. Camping reservations may be made up to 11 months in advance. Camping reservations are made at Stay the Night | Florida State Parks. The camp sites are Fort Clinch are all quite large and very well shaded. (Please note, I was on a handicapped site that weekend because I had just had surgery. Most sites do not have a concrete pad.)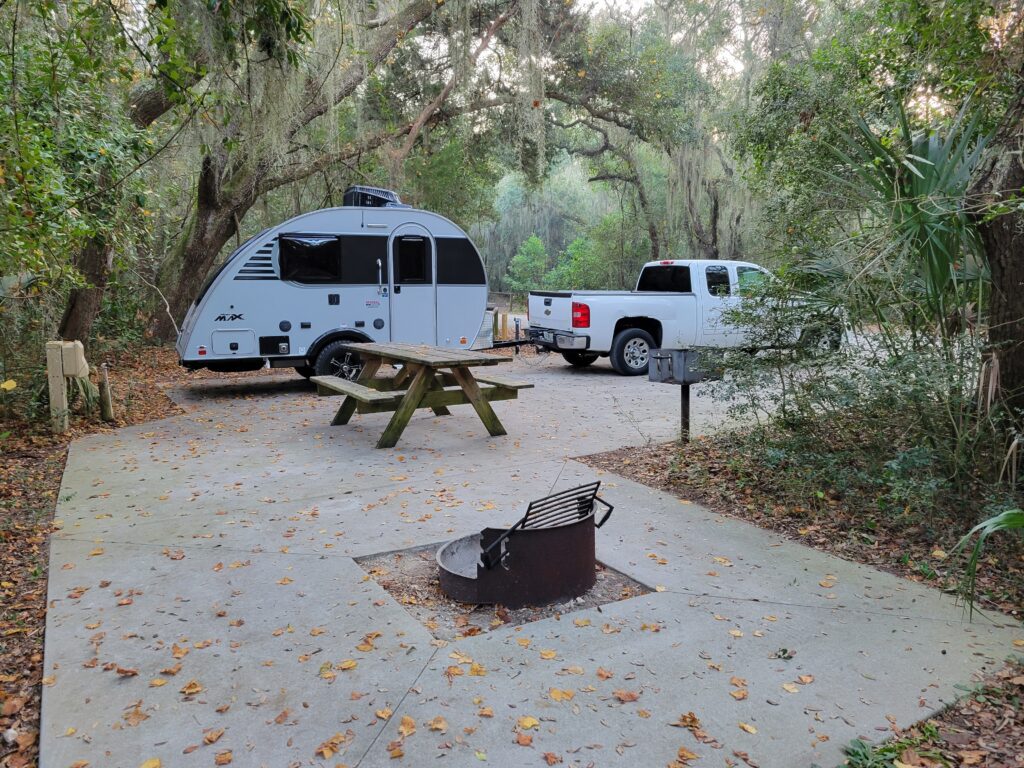 Pricing Information as of October 2022
Fort Clinch State Park is open from 8am to sunset daily. The visitor center is open from 9am to 4:30pm. Admission to the park is $4 for a single person car or $6 for 2-8 people car. Or you can enter with your Florida Park Annual pass ($60/year). There is a $2.50/person fee to visit the fort. Camping is $26/night plus a non-refundable $6.70 reservation fee. There is a $7/night fee for electricity, water, and sewer (this does not apply to tent campers). Pets are welcome at the park on a 6-foot leash and must not be left unattended.
Fort Clinch State Park is located at 2601 Atlantic Ave. Fernandina Beach, Florida. It is in Nassau County.
Valynda Rankin |Girl Camper Florida Guide

Connect with Valynda & the Girl Camper Groups
Facebook Page – This is where we share general Girl Camper news, events and more. Girl Camper | Facebook
Facebook Group – Please join the women only Florida Group so you can participate in this supportive and fun community! Girl Camper – Florida Group | Facebook
Events – Be sure to check out the Girl Camper Events I'm hosting.