So many of us think of what we would like to do, but never take the time or put in the enormous effort to bring our dream into fruition. Every girl camper I speak with has their own desires and visions of their dream camper. Girl Campers are a group of women supporting other women. Deb was a friend who through determination and perseverance changed the phrase "I can do it into the statement "I did it"! But for many of us, it rarely becomes a reality. Time, money, family and a host of other responsibilities take precedent over our own desires. I think a woman's nature is to put others' wants and needs before their own. We seem to weave ourselves into a fabric of responsibility and dependency. As a consequence we often lose our confidence in the ability to go it alone thinking that all will unravel if we snipped a single thread. One way I managed to change that mindset was to join girl camper.
Girl campers have a way of empowering women not just to dream, but to reach out and grab opportunities when they present themselves. Everyone of us has a different dream, different circumstances , and different compromises that need to be made. Girl campers are a group of women who encourage, support and educate one another to go places and do things. It doesn't matter if you are camping in your car, tent, trailer or motor home.
They are all inclusive, and they will make you see that impossible dream is not so impossible after all. We realize things will not fall apart if we take just a moment or two and give in to our own desires and needs. They are the quintessential support group when it comes to making dreams a reality. The support of other women with similar interests is therapeutic. They can help nurture the ideas you have seeded in your brain to bloom. Everyone has different aspirations, but no matter what they are, you will find encouragement in sharing both joys and sorrows. Because they genuinely care.
Deb accomplished her dream – one that would be my nightmare!
I own and operate a campground with my husband and son. We work on average about 84 hours per week during the season, and as much as I love to tour the vintage campers women pull in with, I don't see myself putting in the time and effort. But vintage campers are not everyone's dream. Girl camper is so much more than the camping unit you pull up with.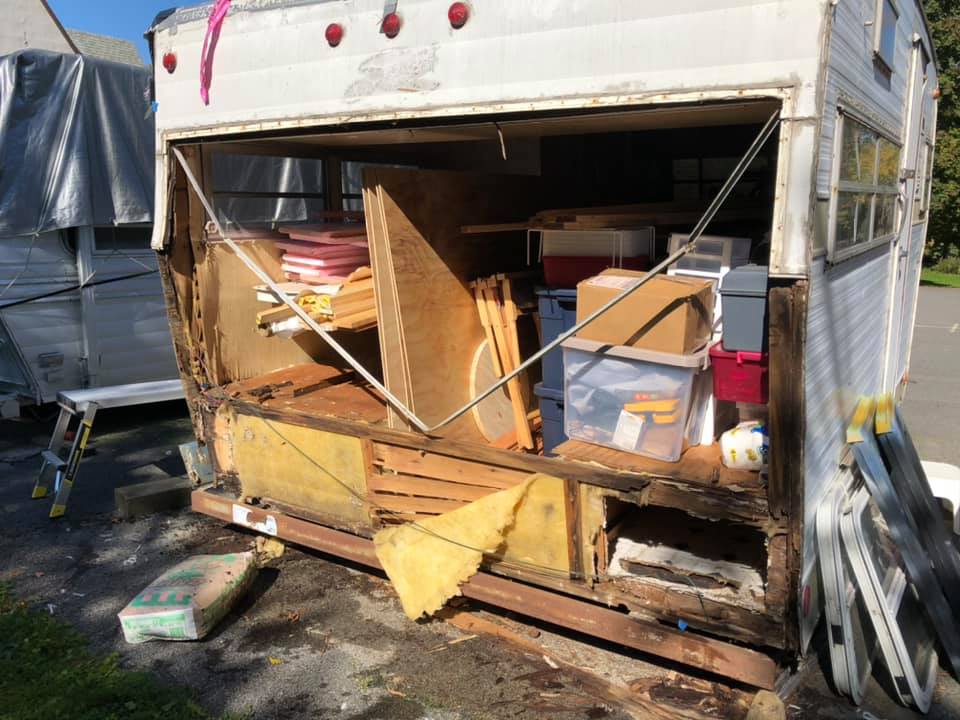 "I can do it" becomes a mantra
If you are a hands on, do it yourself type person, you can save a lot of money; provided you have the time and inclination to do your own repairs. The girl camper group has hundreds of members who have done wonders with what most would call "dumpster worthy" trailers. Deb was one of those women.
Deb's dream was to travel and make camping a lifestyle. She was faced with the task of making the unit you see above, her home. The mere sight of this trailer would have filled me with dread; but where I saw doubt she saw hope. I would have despaired after removing the skin and seeing this amount of damage. But where I felt hopelessness, Deb felt inspiration and determination. There are so many women in the girl camper group who are incredibly inspiring in their abilities, determination and accomplishments. I will admit they have often coaxed me out of my comfort zone; and have helped me to go where I had never had the courage to go before.
I'm still on a learning curve
Do you have what it takes to make your dreams a reality? I never believed I did until I became a part of this community of women. Self-confidence was not my strong suit. When I listen to their stories, I will admit to having lived a pretty sheltered life. But it is the diversity of backgrounds and experiences willingly shared by all of these women from which you gain new insight into yourself. I still have lots to learn, places to go, things to do and people to see.
"You never know what you can do till you try." William Cobbett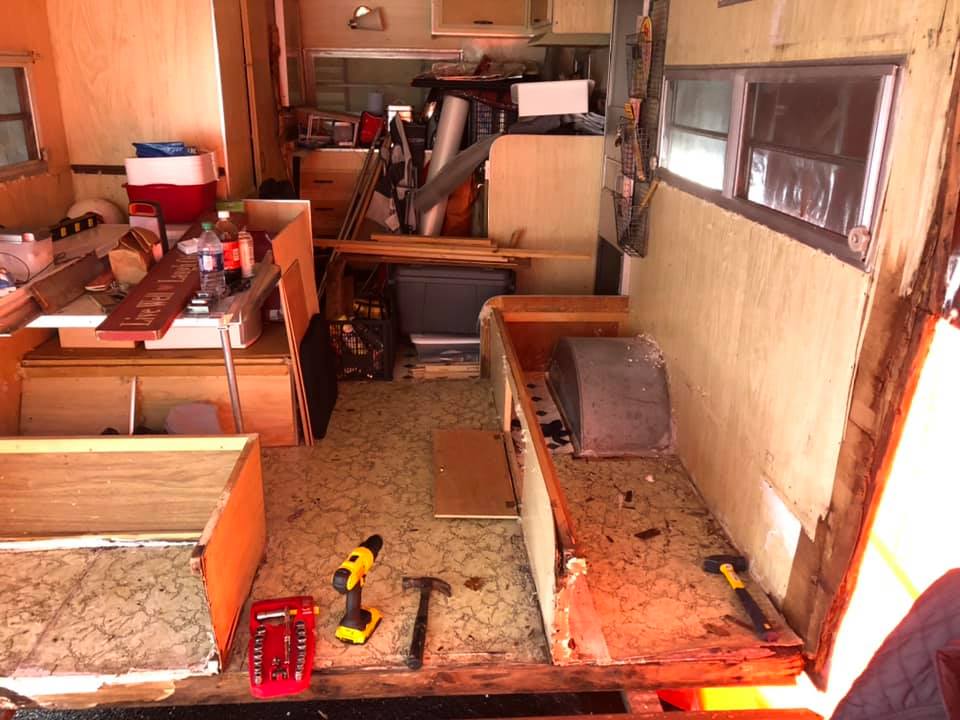 Deb did have some experience wielding hammer and nail. What she didn't know, she searched for how-to instructions on you-tube. She was also able to draw insight through conversations and advice from others who have rebuilt their own vintage trailer. Frankly, I know I would never have the desire to take on a project like this. I know my limitations and lack of patience and would not attempt to do it. This project aside, many girl campers have stories of overcoming fears, and accomplishing tasks they never thought possible .
Seek and you shall find…
We all look for friendship and support whenever and wherever we can find it. We can all benefit from encouragement and inspiration. When Girl campers chose to gather at my campground, www.camptaylorcampground.com, they offered me that selfless friendship and encouragement. I have been lucky enough to have become the girl camper guide for northern NJ. You can find me on Facebook at http://girlcamper/northern-new-jersey.com . I invite all women to come join the thousands of us who enjoy the outdoor experience and reconnecting with nature. My door is open, as are many many others. Sign up today at www.girlcamper.com
For help with restoring your vintage rv try visiting some of these websites: