Written by Karen Knox – I have found that a few days at Wilderland Glamping Cabins in Arcadia, Missouri brings me back to nature, which helps me feel balanced during the busyness of life. There's nothing quite like listening to the sounds of nature to offset the sounds of a busy workweek.
As a young girl, I joined Girl Scouts and enjoyed many various camping trips. At the time, it was just a fun adventure. I certainly didn't appreciate it for all it did to help me grow into a well-rounded woman. Now, as an adult, I am so grateful to realize that seeking out a place to camp, hike, and watch the flames dance in a fire pit brings me back to that sense of myself.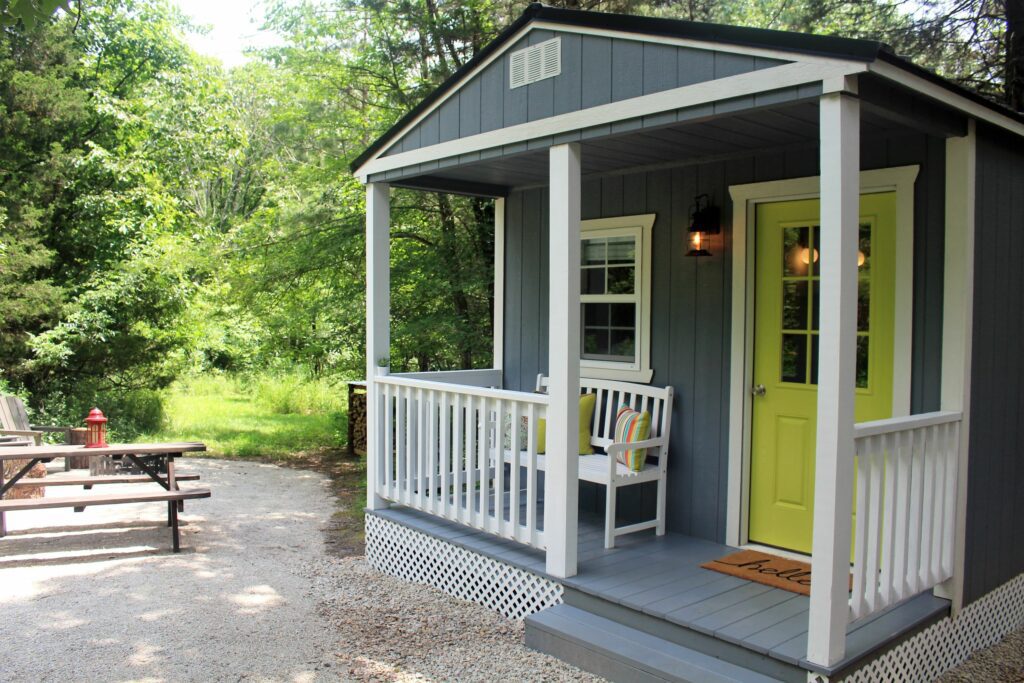 Life's challenges awaken a longing for wellness
Like many others, life has been full of adventures for me, and many of those adventures have been very challenging. I grew up in Michigan, spent a few years in Austin, Texas after college, and moved back to Michigan to be near family. In the past 25 years, I have lost my dad to suicide, gotten married and divorced, lost my sister to cancer, battled breast cancer, lost my mom to Lewy Body Dementia, and fought for my own mental and physical wellness. At the same time, I have had a successful career as a librarian, IT manager in libraries, and library director.
A year ago, I moved to Missouri on my own, looking for a new chapter. I got a great job here, so I packed up myself and my two kitties, and we are finding our way. I have learned that I need to go after what I want in life. I am trying new things, attending events on my own, and even putting myself first.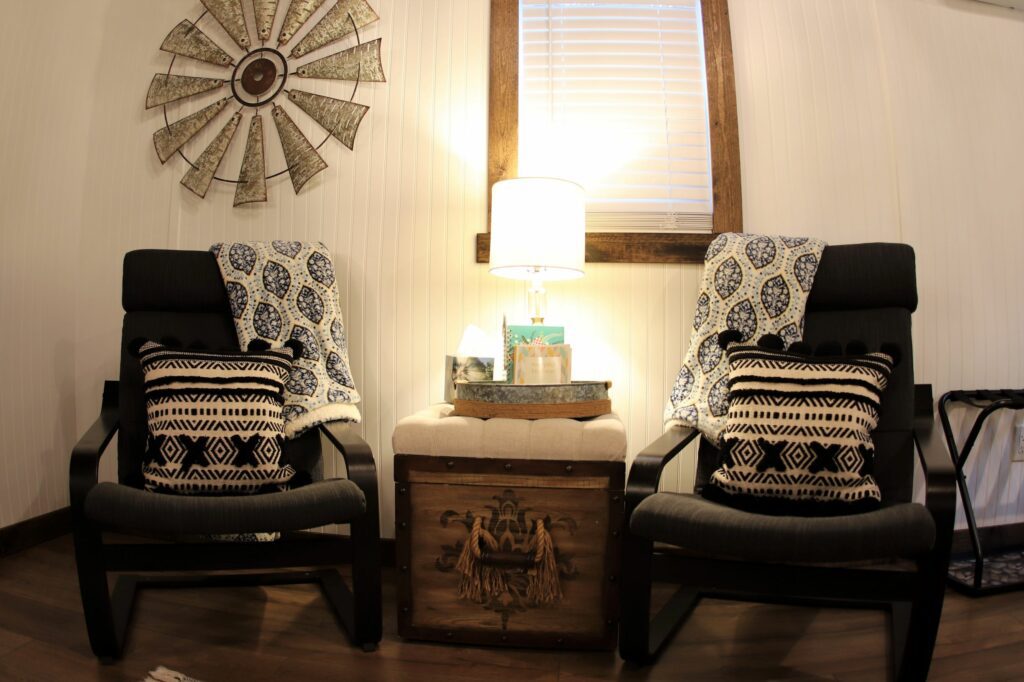 Wellness for me means finding a balance
One thing I strive for is balance. Balance between work and play. Balance between health and indulgence. Balance between doing and being. Self-care is all over the media now. It's trendy to talk about taking time for yourself, and it means something different to everyone. I believe wholeheartedly in the power of self-care as a piece of the wellness puzzle. For me, it has an important role in reconnecting me with myself. After spending the past 25 years mostly "surviving" my life, I now want to make the most of my life. I want to understand myself and be the best version of myself. And I've learned that means I must listen to myself. That's where glamping comes in.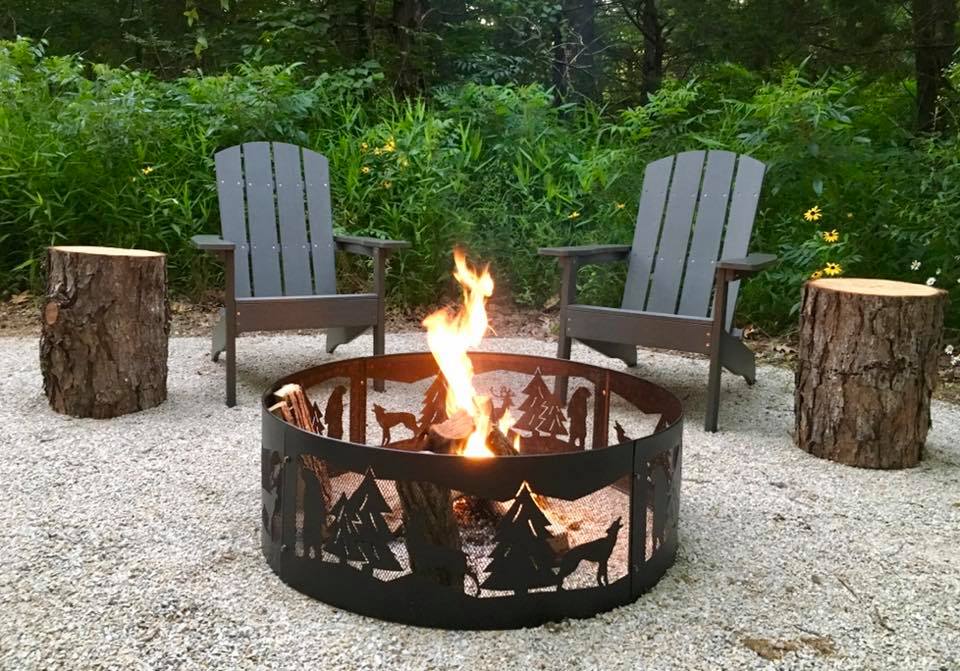 Glamping provides an escape
I read an article online about Wilderland Glamping Cabins in Arcadia, Missouri. The story touched my heart. The cabins are owned by Tiffany and Matt Ursch. Tiffany is a breast cancer survivor, like me. Tiffany is a warrior, and after her successful treatment, she and Matt decided to move to rural Missouri and live a "slower" lifestyle, out in nature, and they opened Wilderland to adults only who want a respite from the busyness of life. I knew immediately that I had to go check it out. Even then, I didn't know exactly why it called to me so loudly, but I booked a 2-night stay to find out what this "glamping" was all about.
Once I arrived, I started to understand why it is such a special place. Being there provided me the opportunity to connect back with that Girl Scout self of mine…the one who enjoys the outdoors and the immersion in nature and the quiet that comes with it. For me, there's just something about being present with yourself in a natural setting that brings me so much peace. Life has gotten so busy! And for me to truly slow down, I must physically get away from where the busyness happens.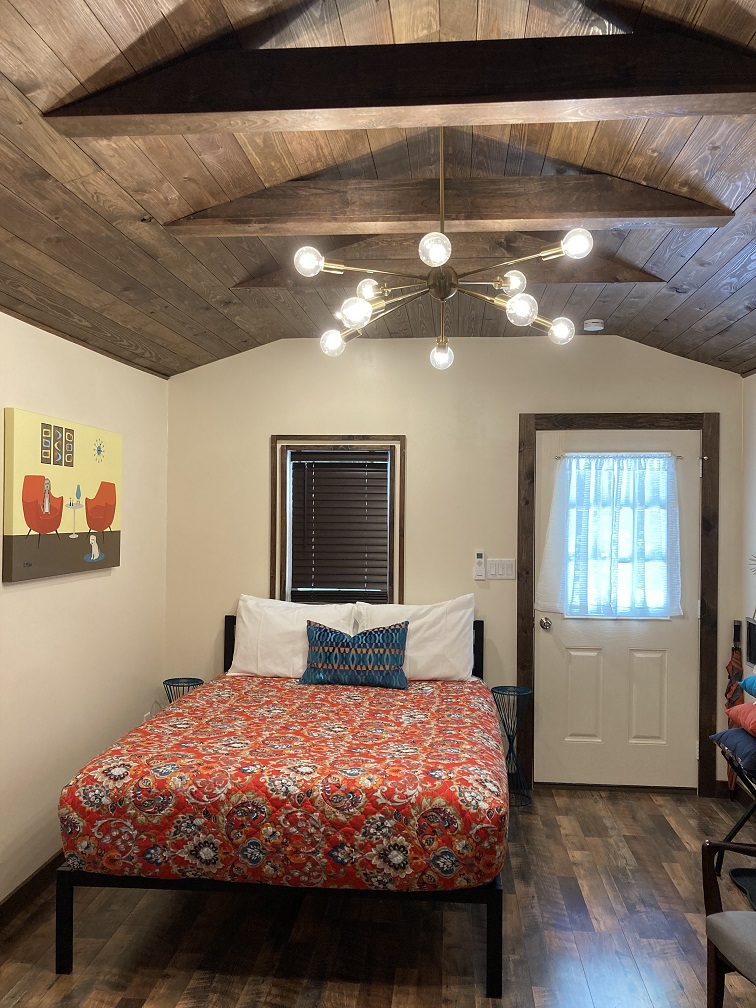 I make the time to prioritize my wellness
And now that I'm in my late 40s, it is overwhelming to consider managing a tent and all the necessary supplies or all the other logistics that come with camping. I'm sure I could, but I don't really want to. Plus, it's just me, and on my own, the overwhelm is even greater. What good is getting away if I stress over the logistics of making it happen?
But why glamping? So many reasons! Glamping provides a safe space with all the amenities and plops you right there in the natural world for a couple of days (or longer). It's different than a day trip to a park for a hike (although I do those while staying at Wilderland) as it's a longer period to be surrounded by nature. I need that longer immersion to help my body settle. Plus, glamping is something I can do on my own. I do a lot of things on my own, but I am ever aware of finding safe ways to do so. Or perhaps I watch too many crime dramas on television. Either way, glamping here does not raise my anxiety about becoming the next victim to be found alone in a park! And Wilderland is only for adults! I do not have kids of my own, although I have a nephew and niece and many friends with kids who I adore. But for me, the calm that I feel in an adult-only space is so important for my soul.
What do I do while glamping? Whatever I want! That's the beauty of it. For me, it's about allowing myself to choose activities that refill my cup. In the morning, I sit on the front porch of my cabin with a cup of coffee and listen to the sounds of the calling birds, chirping insects, rustling leaves, and distant crowing roosters. Wilderland is in a great location, with many beautiful parks within driving distance, so I hike through some of those. I visit some of the small towns nearby for a bite to eat. I read, even listen to audiobooks in the car during the drive! I write, to connect to myself, as I find so much inspiration while I am there. I have been a writer for a long time, mostly for myself, but I have struggled with making the time for it. At Wilderland, the inner critics are quieted, and the words find their way to the page for me. I nap (and do not feel guilty for doing so)! I catch up with Tiffany and Matt…watch the chickens and the goats and their dog. In the evening, I make a bonfire and sometimes I roast marshmallows and eat s'mores (ingredients provided in the cabin!) to truly bring me back to my scouting days. With limited Internet access there, it's all about tuning out the noise and tuning into myself. When the time comes to return home, I find that I do so with a renewed sense of calm and joy.
If wellness is important to you, I encourage you to consider glamping too
I have visited three times so far, and I'm planning a fourth visit later this fall. It's only a couple hours away, making it very manageable for a weekend trip. This next trip will be slightly longer, using a little paid-time-off to provide my mental health with a short writing retreat for myself.
We all make excuses for not taking care of ourselves the way we might want to. And if there's anything my life has taught me so far, it's that this life we have is very, very precious. Make the time. Figure it out. Be good to yourself. Refill your cup. Take time away by yourself or with a loved one (the cabins sleep two adults). For me, it's the perfect spot to connect with myself, away from the busyness of life. As I strive to find balance in my life, Wilderland provides an opportunity to do just that.
More Girl Camper
Girl Camper Magazine: Subscribe to Girl Camper Magazine here! Girl Camper Magazine
Events: Check out upcoming Girl Camper Events – you can attend events in any chapter! https://girlcamper.com/events/
Main GC Facebook Group – Join over 375,000 like-minded women in our public Facebook group! Girl Camper FB Group