by Stacy Taylor
A riverfront park oasis
There's nothing like sunrise and sunset in the Columbia River Gorge at Maryhill State Park. The shadows and play of colors across the rock face of the Gorge is a show, and I never get bored.
After a 7 hour drive it was a relief to pull into Maryhill State Park. This open, grassy, riverfront park is like an oasis in the summer heat. You can choose a campsite right on the water if you get reservations early, or opt for the quieter, shady back section, like I did.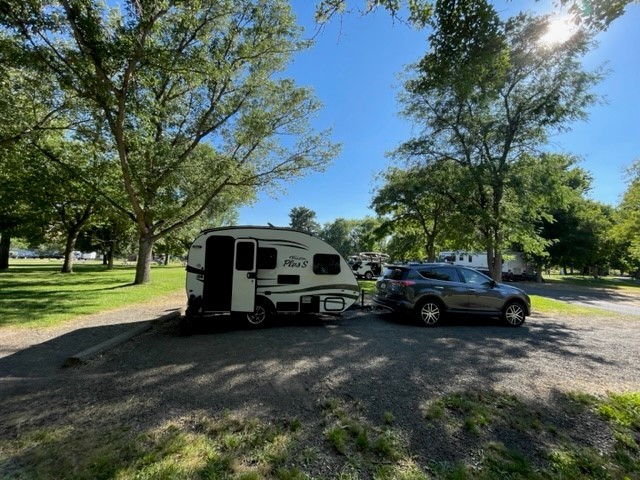 So much to do in the Columbia River Gorge
There are so many things to do here, it's worth staying a few days. Just minutes from the park, Maryhill Museum, built by entrepreneur Samuel Hill, houses one of the most unusual private art collections on the west coast. A mile away from the park is one of Washinton's most unique landmarks. Samuel Hill built a full-scale replica of Stonehenge as a monument to soldiers killed in World War I.
If you'd rather relax close by, the park is near two wineries offering tastings. Waving Trees and Maryhill Winery both have great wine.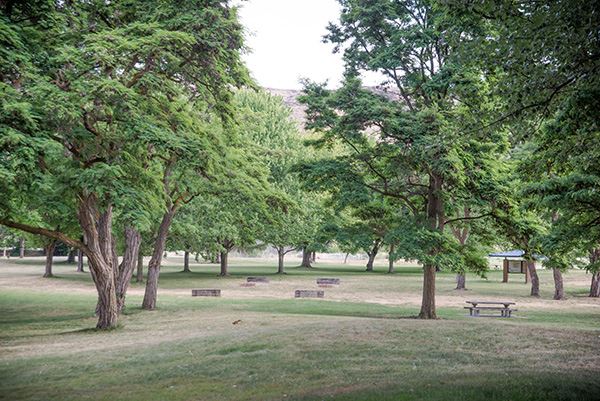 Visit Nearby parks in Goldendale
Less than 25 minutes away, on a high plateau, Goldendale Observatory State Park offers stargazing, and 22 miles west, Columbia Hills Historical State Park offers hiking, climbing and seasonal guided ranger walks to view Native American pictographs and petroglyphs. Hood River is a wonderful town worth exploring, with excellent fruit available during the season. The 42-mile drive to Hood River gives you an opportunity to explore the Gorge to the west.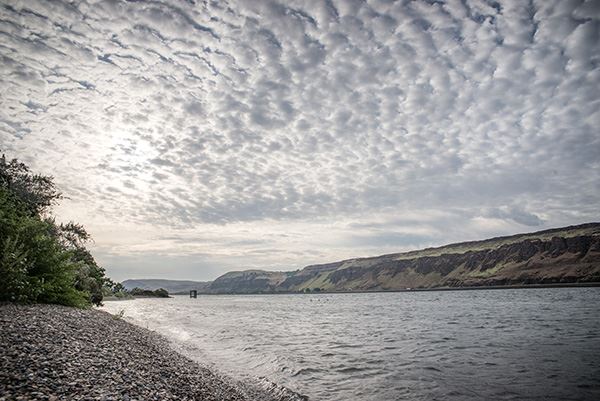 A few things to know about the Gorge
There are two important things to consider when planning to visit this location. All Columbia River camping locations have some level of train noise from the freight trains that run along the Gorge. I didn't find them bothersome, but some might. The other thing to consider is the wind. There is a reason nearby Hood River is known as the windsurfing capital of the west! The wind is somewhat seasonal and depends on temperature variations, so check the forecast before you go.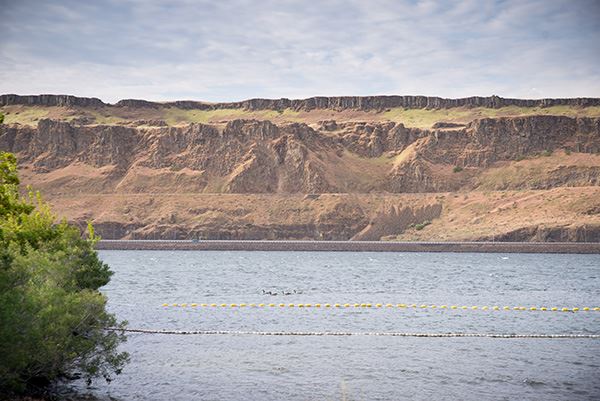 Maryhill State Park | Washington State Parks and Recreation Commission
Home (goldendaleobservatory.com)
Columbia Hills Historical State Park | Washington State Parks and Recreation Commission
Maryhill Museum of Art | Fine Art in Southwest Washington
Waving Tree Winery Maryhill Winery – Homepage
Connect with our chapter!
Stacy Taylor
Washington Guide
Girl Camper Magazine: Subscribe to Girl Camper Magazine here! Girl Camper Magazine
Events: Check out upcoming Girl Camper Events – you can attend events in any chapter! https://girlcamper.com/events-page/
Main GC Facebook Group – Join over 430,000 like-minded women in our public Facebook group! Girl Camper FB Group
Facebook Page – This is my public Washington page where I'll share Girl Camper news, events and more. Girl Camper – Washington
Private FB Group – Where you can interact with others who are interested in camping in Washington! Girl Camper Washington Group.