Whether you camp in your local area or travel around the country, it's always fun to remember where you've been and what you've done while you were there. There are lots of creative ways to create a memory to carry along with you when you're camping. In the photo above, you'll see how my mother chose to keep her memories. She put travel stickers on her suitcase as she traveled around the country with the Air Force. She's pictured with her suitcase from 1951!
How do you keep your memories close at hand? Here are a few of my favorites.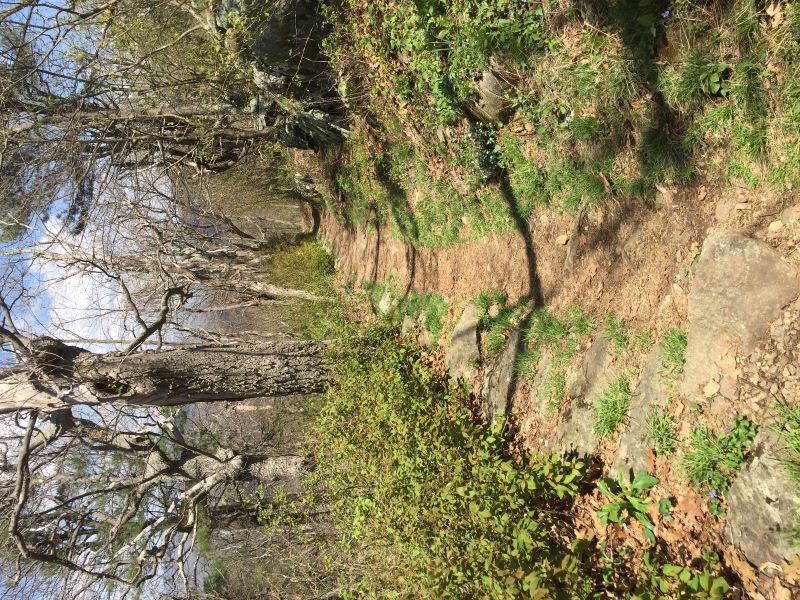 Patches! I have loved patches ever since I was a Girl Scout. When I was in high school I had an old jacket that I sewed all of the patches from the camping events we attended as a troop as well as places we visited. I still have that wearable memory packed away in an old trunk, so I decided to make an updated version. I've just started my new denim camping jacket, but you get the idea.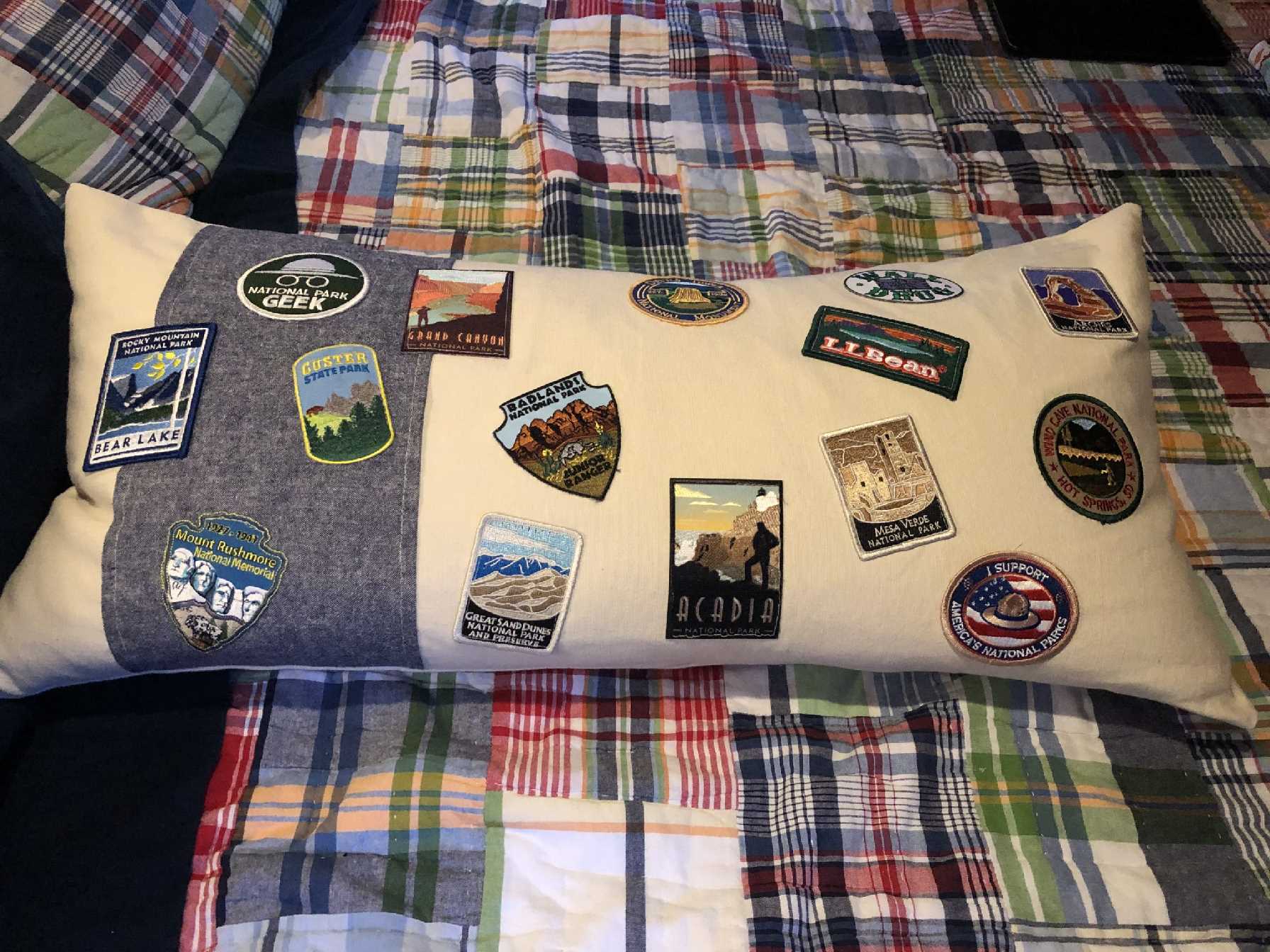 Patches are such a great way to keep a memory and I love this pillow that a camper I met in Moab last year had in their little teardrop camper. They took a simple pillow and sewed on patches from everywhere they visited. I'm so grateful that they let me take a photo so I can make my own camping memory pillow.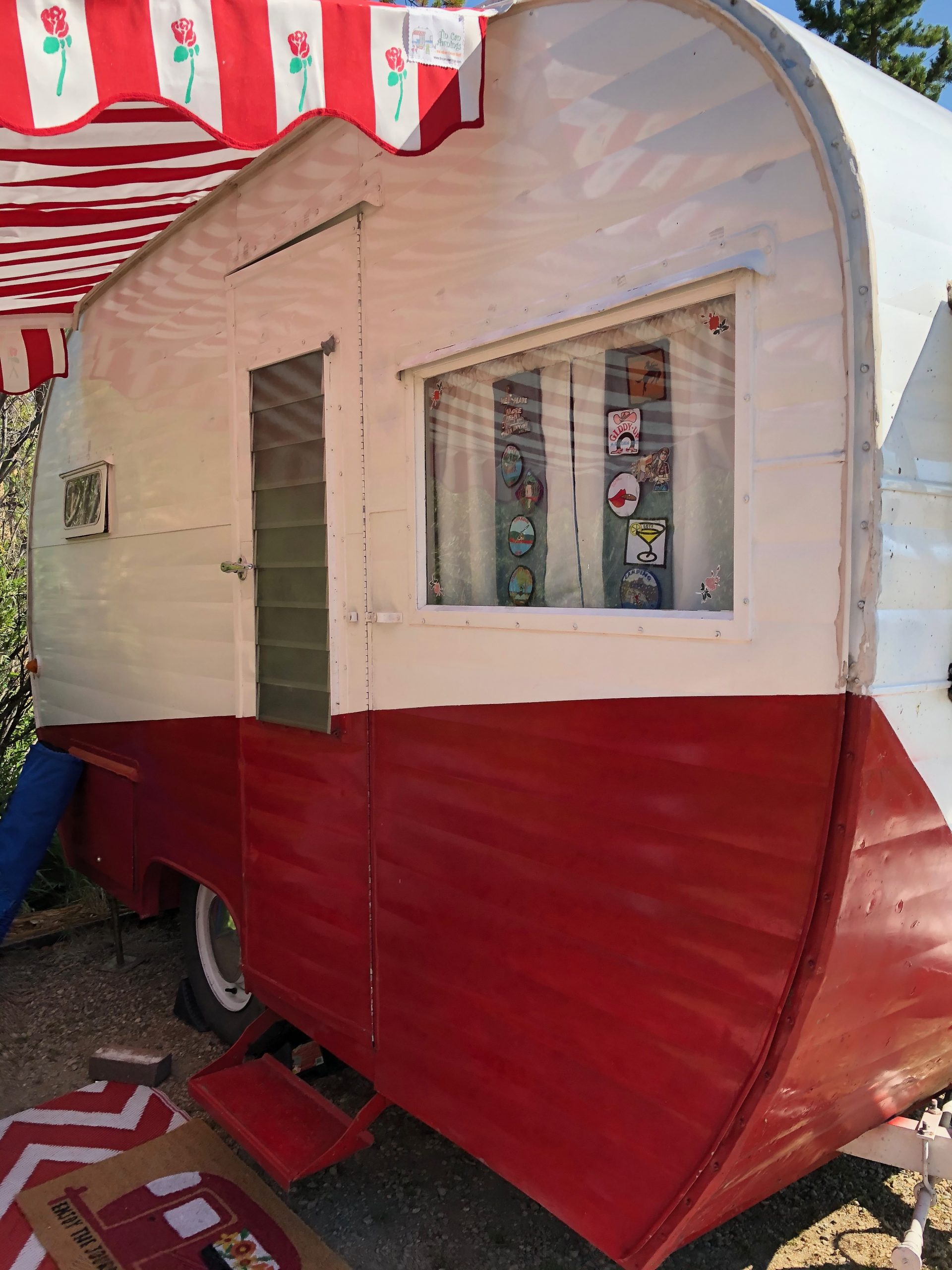 Here you can see that the patches from events attended were sewn to the outside of the camper's window curtains! This is such a creative way to display the patches, and everyone who passes by gets to share in your memories.
How about using magnets as your memory? I love the idea of collecting small magnets from the places I travel to. If you can't find a magnet, you can always make one out of a post card or photo! Here's a cute little camper fridge collecting magnet memories!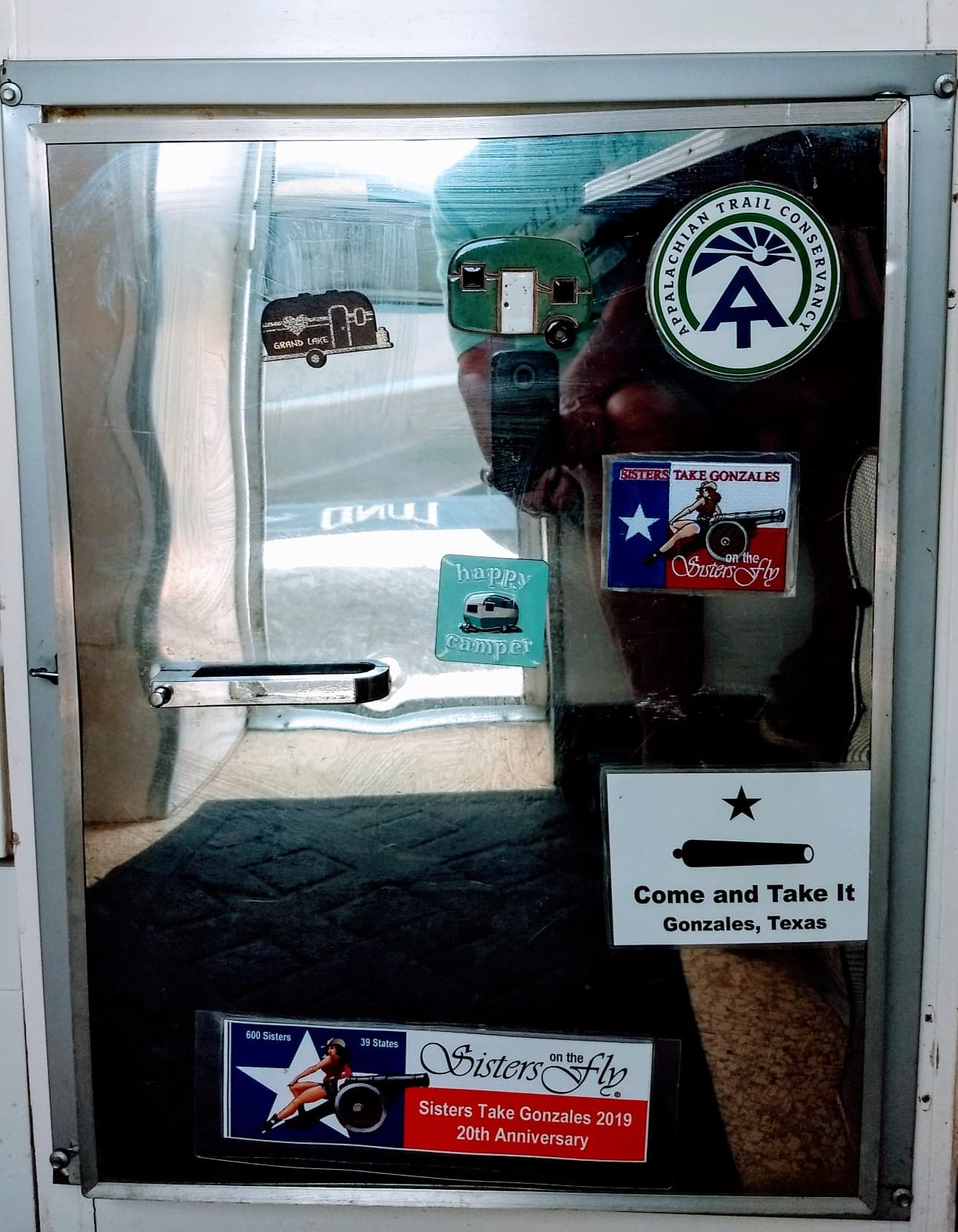 Speaking of postcards, they are probably the most economical way to make a memory. You can display them on your walls, in a basket, or even on a string of clipper lights! I've even seen them decoupaged onto one camper's bathroom door!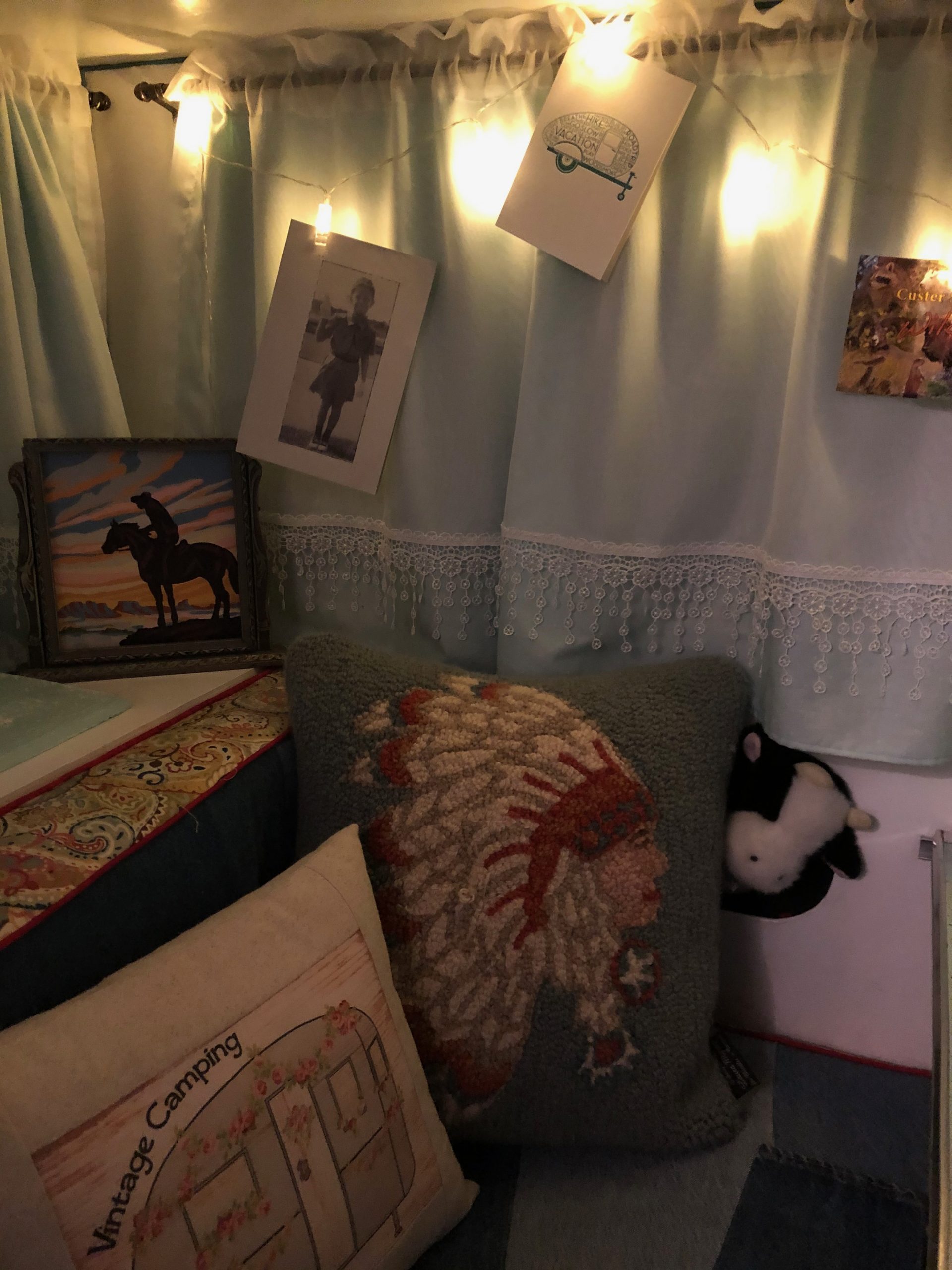 Since I love vintage items, I have collected vintage pennants from some of the places I have camped, and from places that I still want to camp. It's my 'forward-thinking' camping memory wall. I have them tacked up onto the rear wall of my camper. To me, they are both a memory and a goal… and a little bit of artsy thrown in!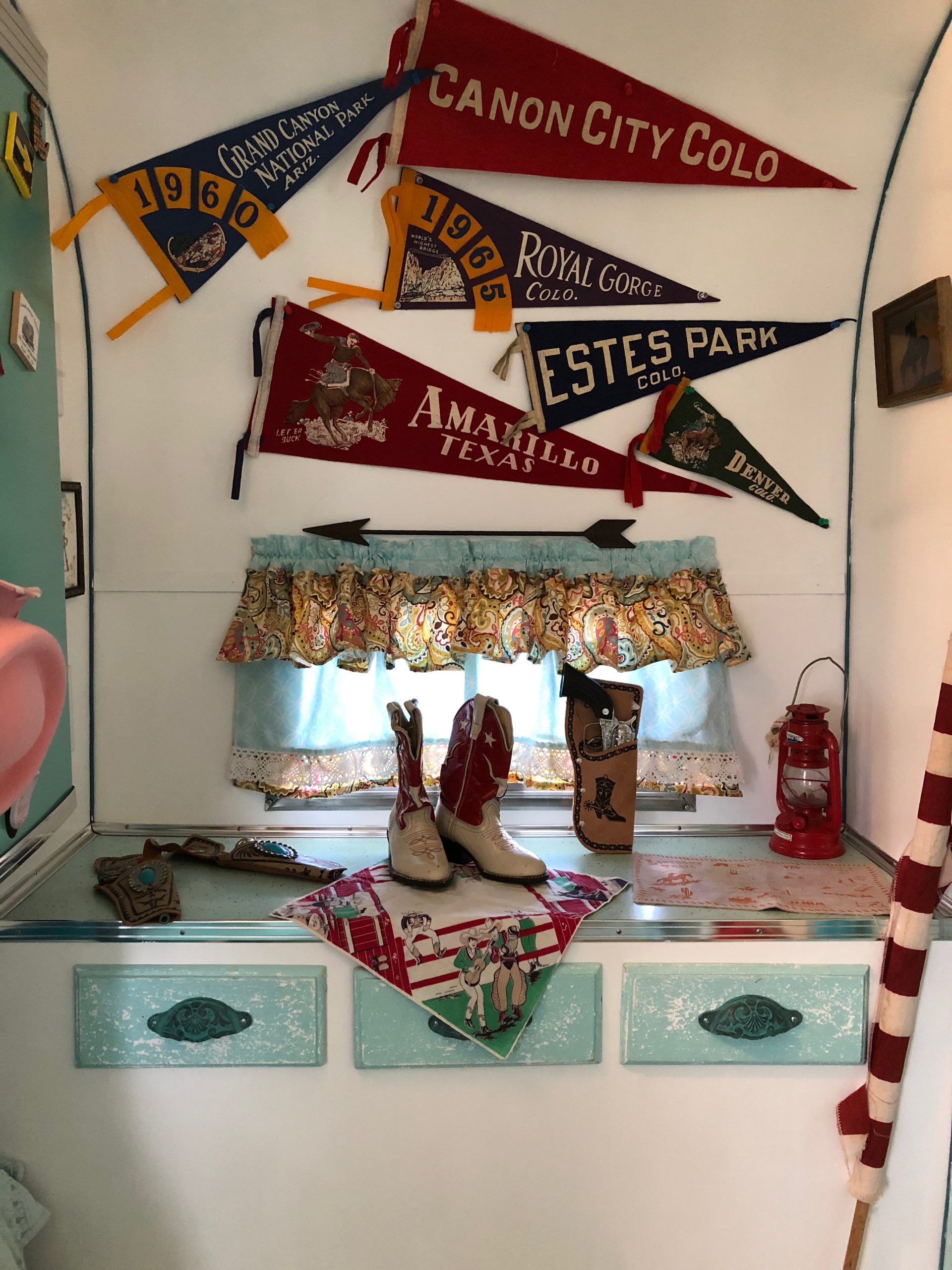 There are so many ways to make a memory to take camping with you. Maybe you're a fan of bumper stickers, or travel maps and brochures, or maybe a photo album is more your style. Whatever it is, you are guaranteed to relive your fun camping memories every time you see your special tribute! I would love to hear how you keep your special memories!