How do you store all the fun gear that you take camping? I love paddle sports and own two kayaks and two inflatable stand up paddleboards (SUP).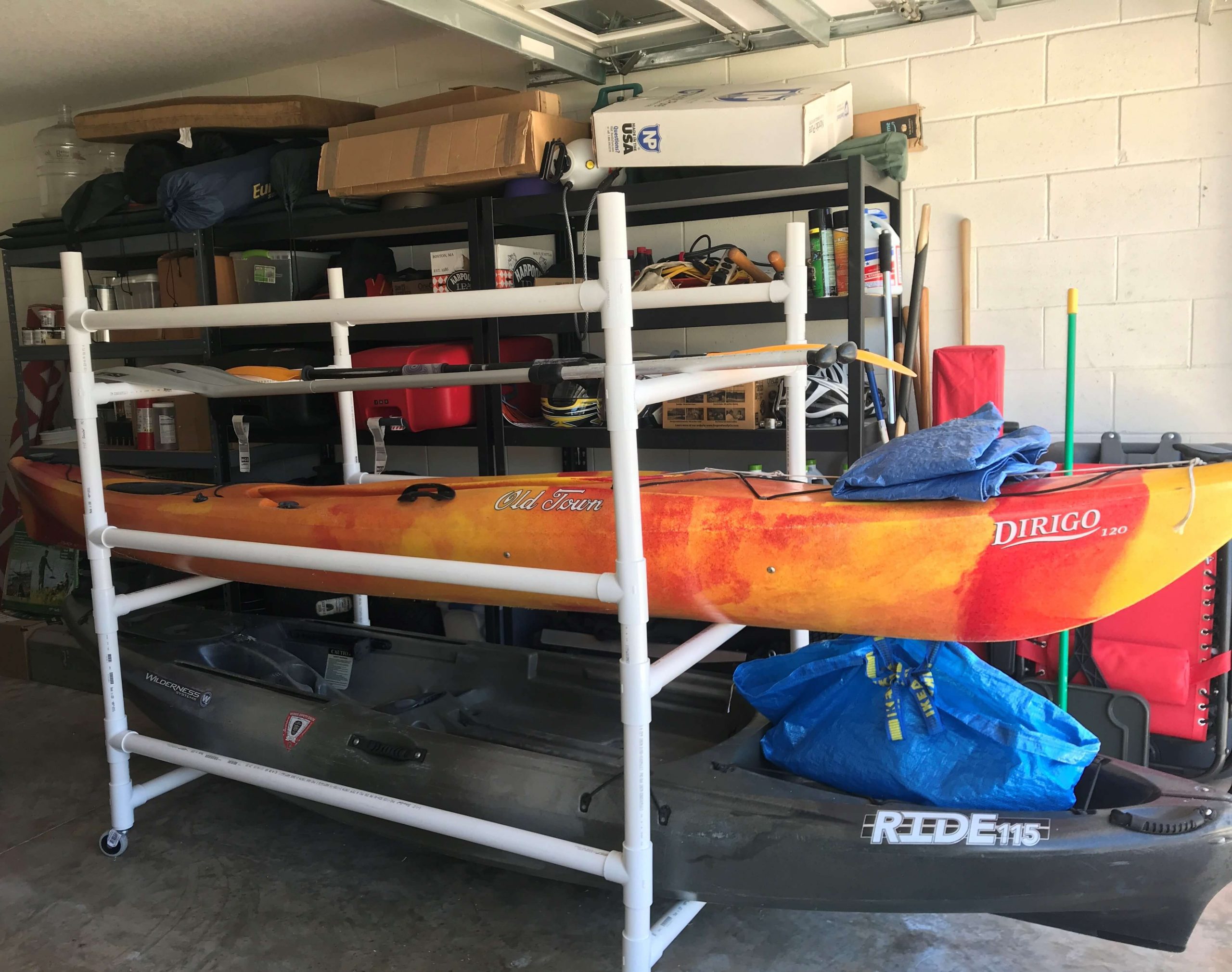 We have plenty of other gear (read toys) in our garage and I wanted to find a better way to store and access my kayaks so I was able to find an example for a DIY rack. During our stay-at-home time I thought my husband and I could tackle this.
Follow along and you too could soon have a rack like this.
Material Needed:
7 – 10 foot 1.5″ schedule 40 PVC
24 – PVC tee fittings
4 – coupler
4 – end caps
4 – PVC bushings with 1/2 reducer
4 – Rubber caster wheels 3″ (at least on locking wheel)
4 – Large washer
4 – Nuts to fit caster wheels
1 – PVC glue
1 – Locktite thread locker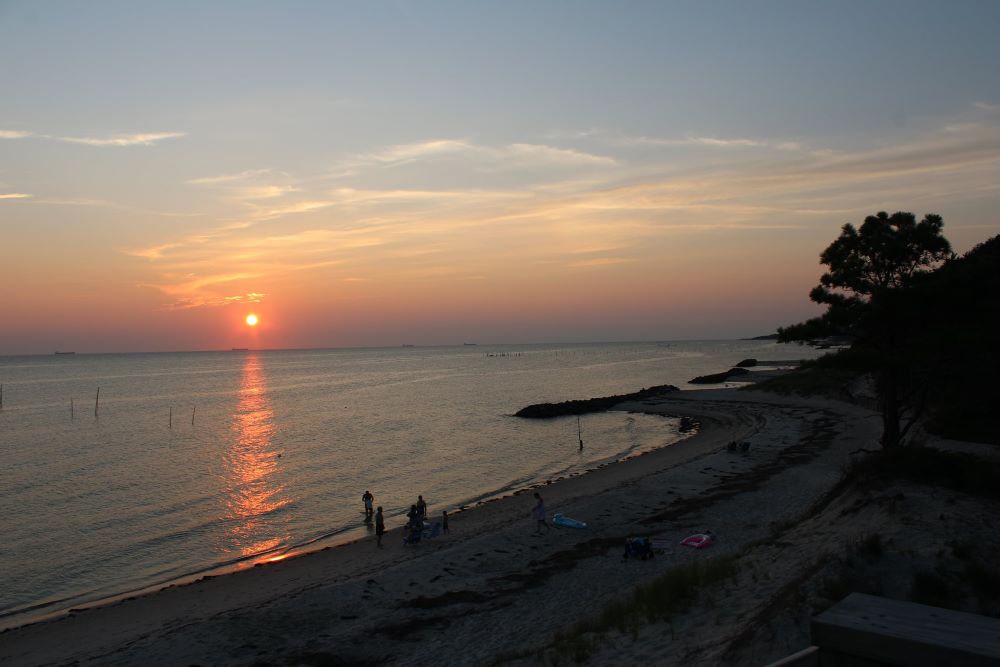 Cutting the PVC
Once you have assembled your products you will need to cut the PVC to the following lengths.
6 – 60″
6 – 36″
8 – 12″
20 – 5″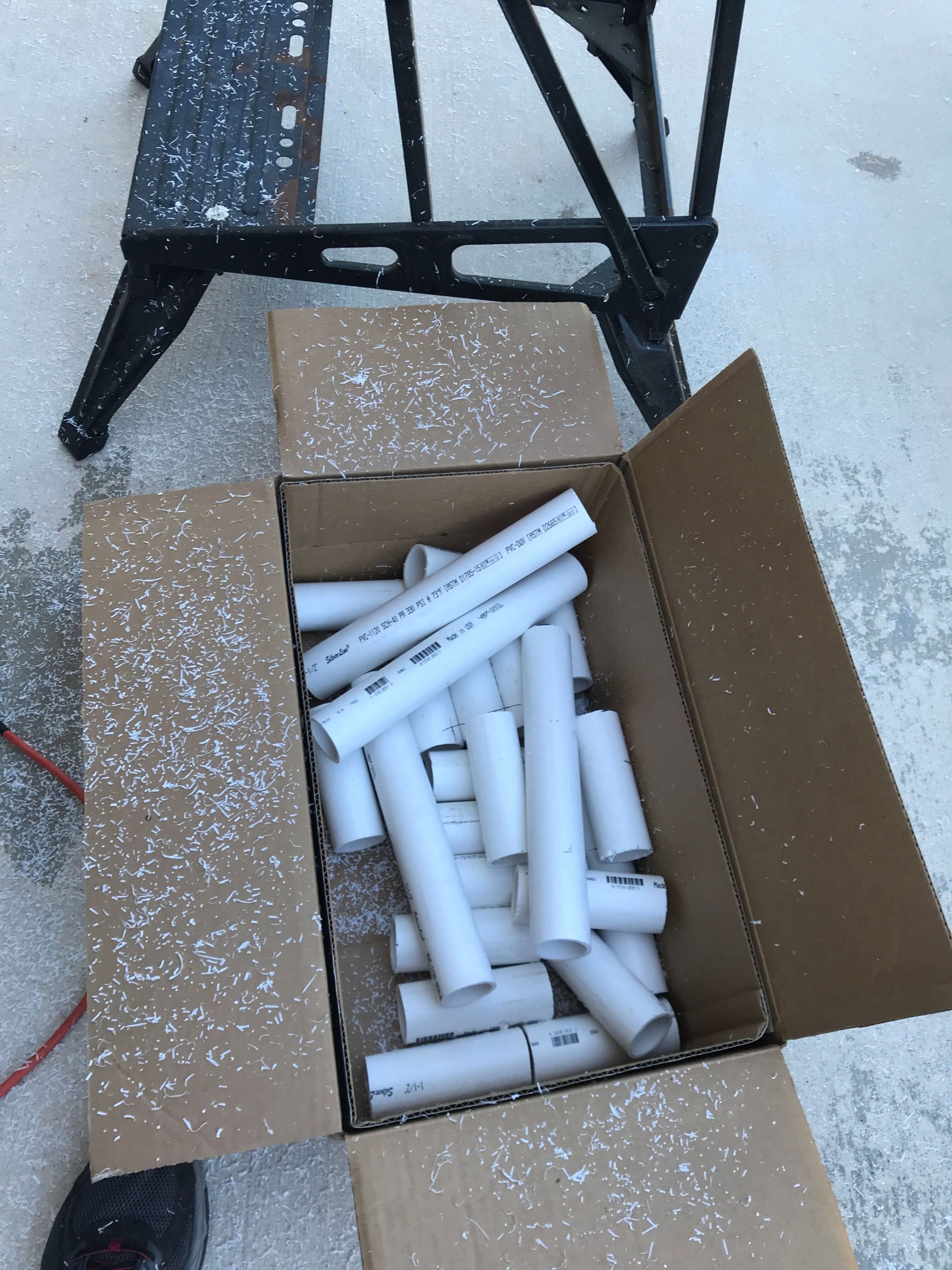 An electric circular saw was used to make all of the cuts. If you don't have access to a power saw, a pipe cutter for PVC of this size should be about $15. PVC is easy enough to cut but using a bow saw or hacksaw would wear my arm out.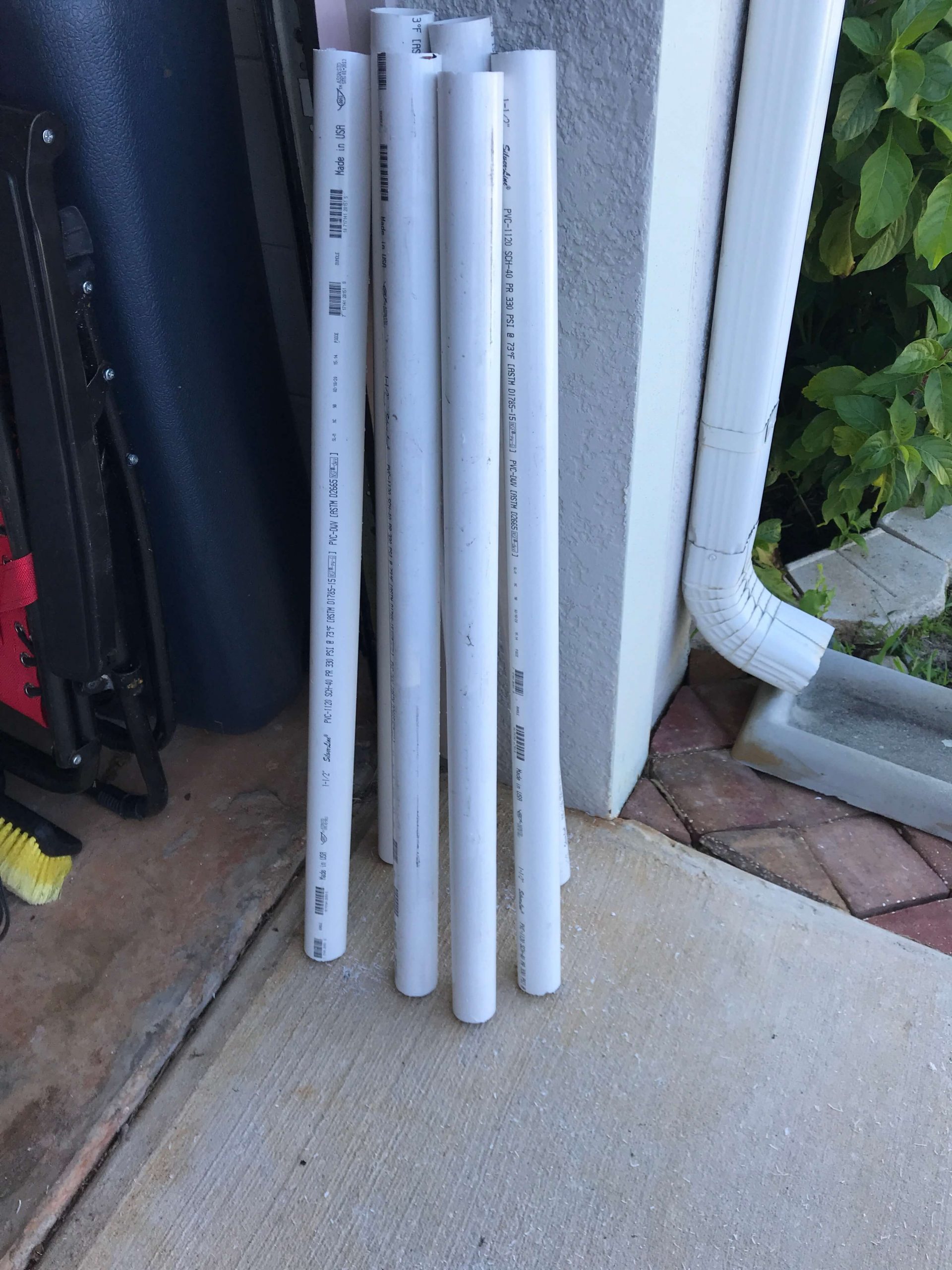 Ready for Assembly
Start with the wheel assembly if you are using them. Insert the caster post through the bottom of the bushing, add a washer and nut to secure. Locktite should keep the wheel from working loose. Set the wheels aside until the end.
You might choose to skip the wheels and put flat end caps on the bottom if you need to store this rack outside. The flat end caps will help to keep the rack from sinking into soft ground.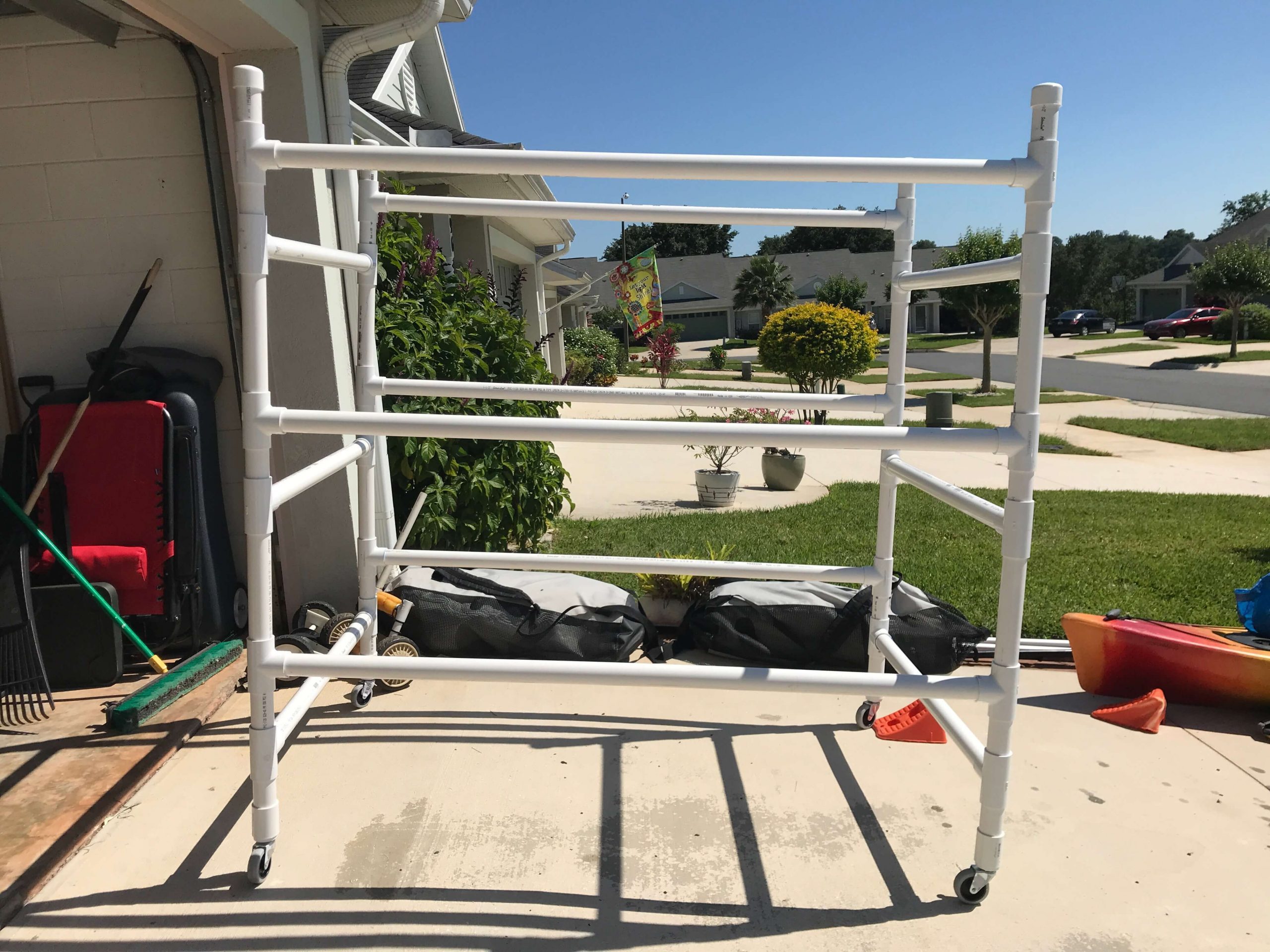 Rack assembled row-by-row upside down and added the wheels last before flipping it right-side-up.
We realized that if we added a 5″ piece between the bushing and the tee fitting we could store a screen room (in the bag) under the rack. This is a good reason to do the dry-fit and see how it will work for your situation.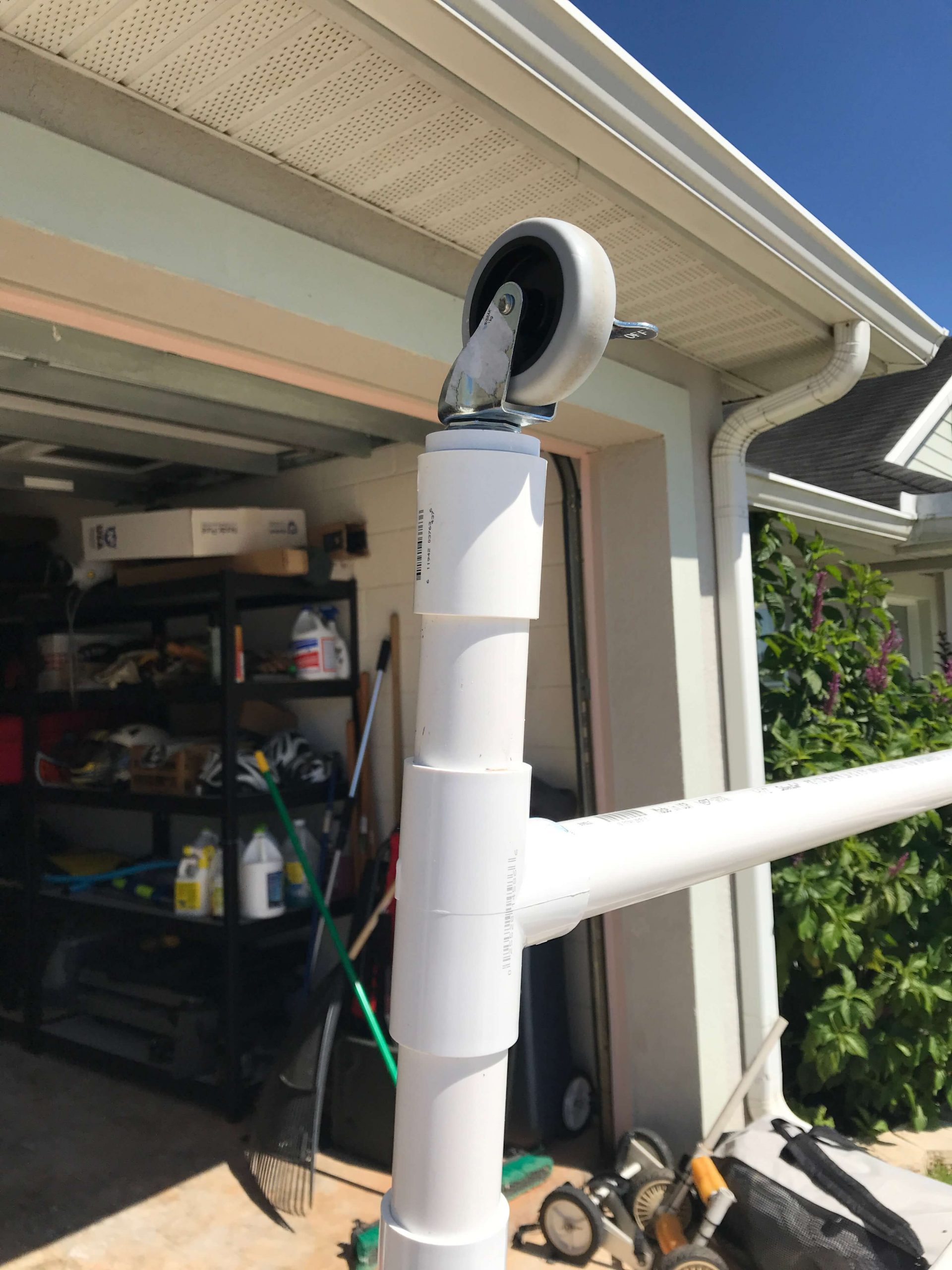 My sit-on-top kayak is about 70 pounds dry-weight and the sit-in is 55 pounds. This rack is stable with this weight. I am able to store paddles on the top shelf and will likely put a sheet of plywood across the top so I can keep the paddleboard bags up there.
What has been your favorite storage or organization addition? How do you store gear that you like to take on camping trips?
–Judi