by Shari Sullivan
.
Whether you are visiting for a day or staying for a week, Rocky Mountain High at RMNP is the place to be!
When visiting Colorado your trip is not complete without a visit to Rocky Mountain National Park. Located roughly 75 miles Northwest of Denver, there is no reason to leave this park off of your list. The Continental Divide runs north and south through the center of the park and you're guaranteed to see snow all year long.
Rocky Mountain National Park was made an official National park by President Woodrow Wilson on January 26, 1915. The park itself has a total of 265 thousand acres and boasts over 150 lakes, 5 visitor centers, 60 mountain peaks that tower over 12,000 feet in elevation, and the highest paved through road in the United States. You can drive your car up Trail Ridge Road to the Alpine Visitor Center perched at 12,183 feet. You can also climb the 14,259 foot "14er" Longs Peak, the highest peak in the park!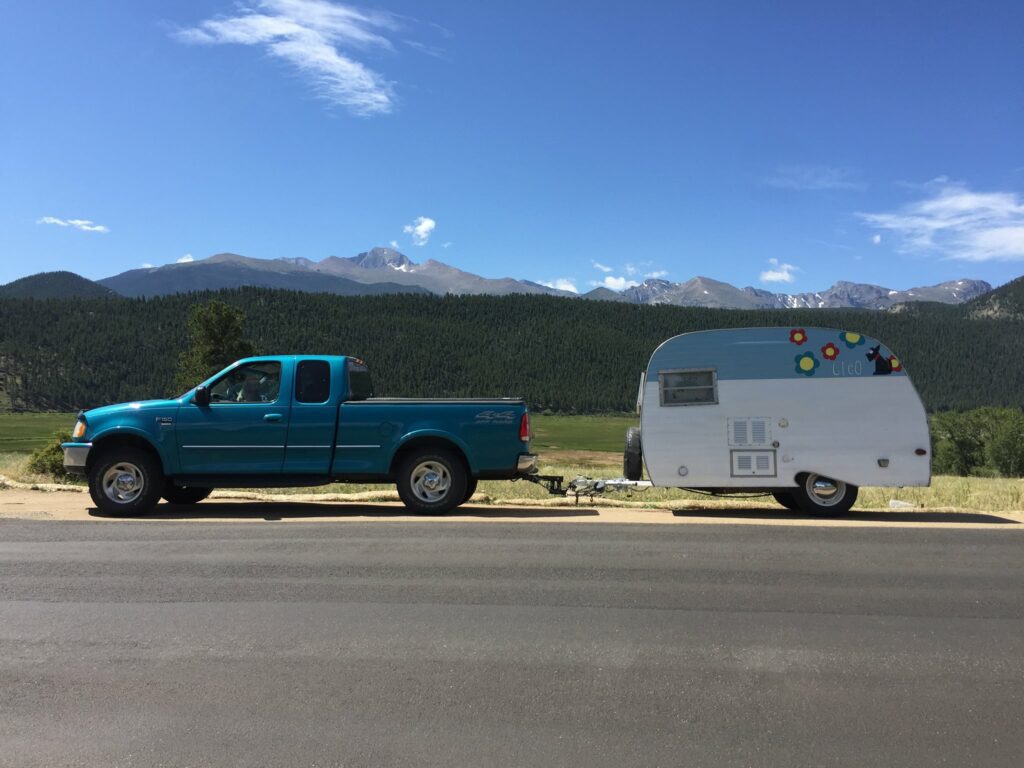 If climbing a mountain isn't your speed, you're welcome to camp at one of the 5 campgrounds the park offers. My favorite campground in the park is Moraine Park and I make it a point to camp there at least once each camping season.
Moraine Park Campground, like all campgrounds in the park, is considered dry camping. There are no electric or water hookups, although water is available near each campsite. Bring your bucket! With 244 sites to choose from in Moraine Park, you might think it's crowded, but each campsite has its own private feel. Of the 244 sites, 101 of them are for tents only, so there's something for everyone!
Each campsite is different in Moraine Park Campground. Some have huge boulders and rocks while some have towering pine trees. Each campsite has its own fire ring where you can cook your meals or have a campfire at night. What's camping without S'mores around the campfire!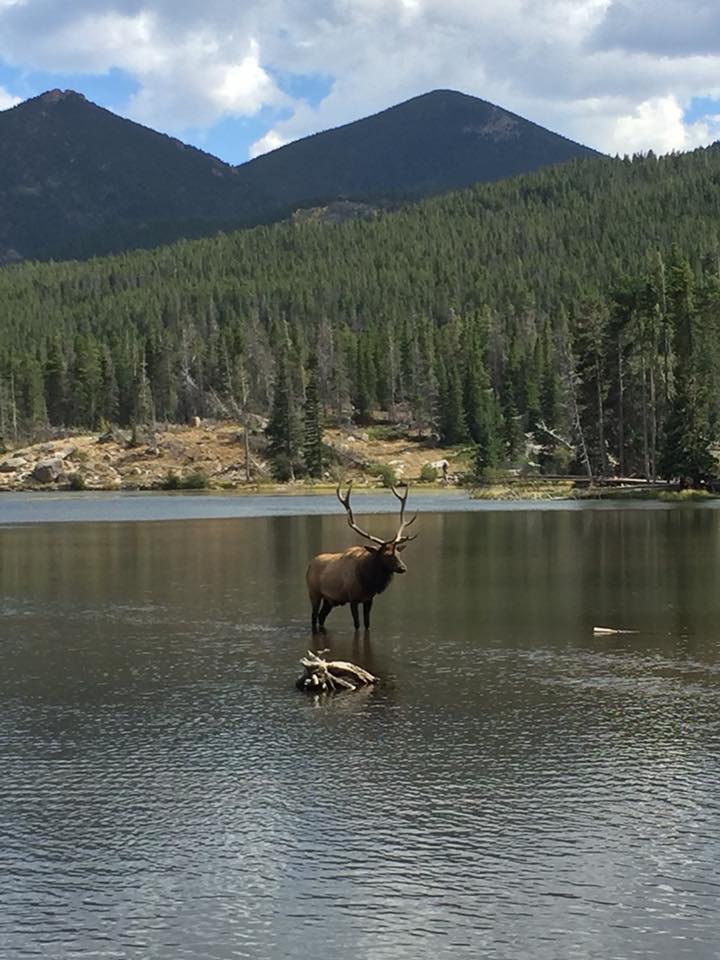 This campground is situated with a perfect view of Beaver Meadows, a huge open area where elk, deer, and even moose like to graze. Longs Peak towers above the meadow making it a prime spot for photographers. At night, there are no lights around, so the milky way is easily visible as are shooting stars for those patient enough to sit outside and wait for them.
In August, the Perseid Meteor showers bring hundreds of extra visitors to the park for their amazing light show.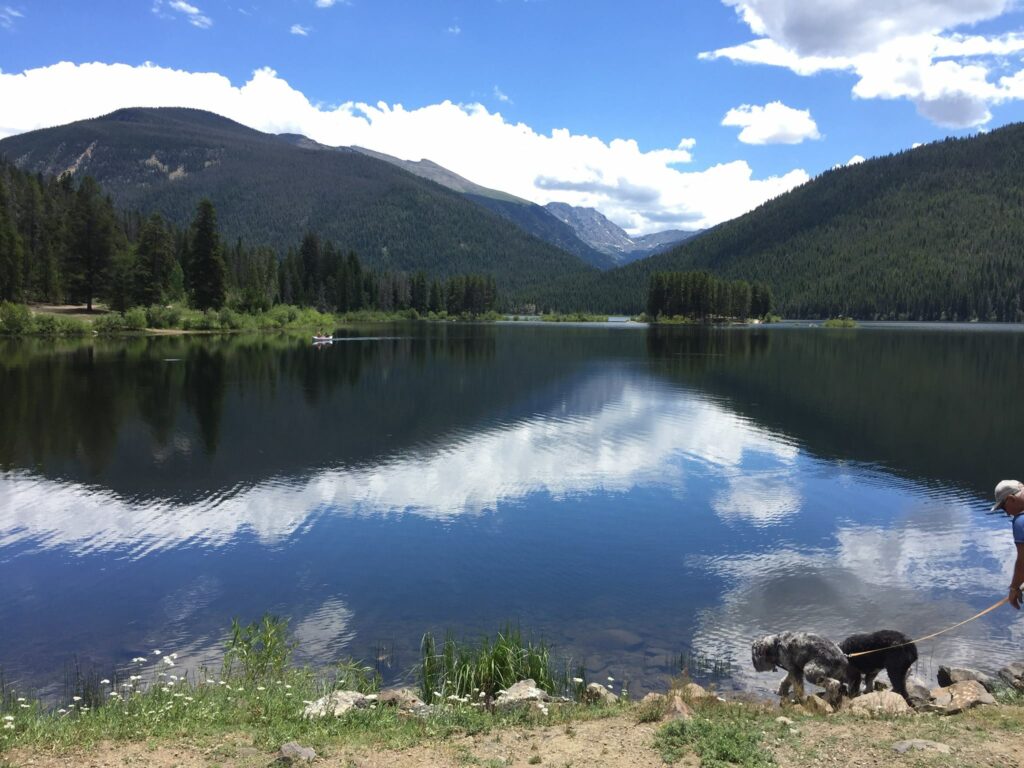 Hiking trails are numerous in Rocky Mountain National Park and you can walk or take the shuttle to several trailheads from Moraine Park. We love packing a lunch and plenty of water for early morning hikes on the trails close by. One thing to remember is that dogs are not allowed on any of the trails in Rocky Mountain National Park, so if you bring your furry friend be sure you have someone to babysit while you're out hiking!
If hiking isn't on your to-do list, you can visit any of the visitor centers and learn about the history of the park, the wildlife and the geology. There are several driving loops that take you past jaw dropping views and meadows where you may see elk or big horn sheep. There are short walks to beautiful waterfalls where you can dip your toes in the icy water that's fed by the mighty Colorado River whose headwaters start in the Northwest region of the park.
Be sure to plan a visit to Rocky Mountain National Park and a camping trip to Moraine Park Campground. You can make reservations up to 6 months in advance at https://www.reserveamerica.com/explore/moraine-park-campground/FLST/752181/overview
To learn more about Rocky Mountain National park, be sure to visit https://www.nps.gov/romo/index.htm and explore what the park has to offer. The website invites you to "Feel like you're on top of the world!"… and you definitely will!
To see what's going on in different areas of the park, take a peek at the parks webcams at https://www.nps.gov/romo/learn/photosmultimedia/webcams.htm
From scenic drives to amazing heights, to hiking, biking, trail rides and kayaking, Rocky Mountain High National Park has it all!
Visit their site and come find your Rocky Mountain High.
https://www.visitestespark.com/rocky-mountain-national-park/
Happy Trails… Shari Sullivan
Senior Editor for Girl Camper
Alabama Girl Camper Chapter Guide
Georgia Girl Camper Chapter Guide
Follow me on Facebook at Girl Camper Alabama
and Girl Camper Georgia
Follow me on Instagram at Girl_Camper
https://girlcamper.com/alabama/
https://girlcamper.com/georgia/