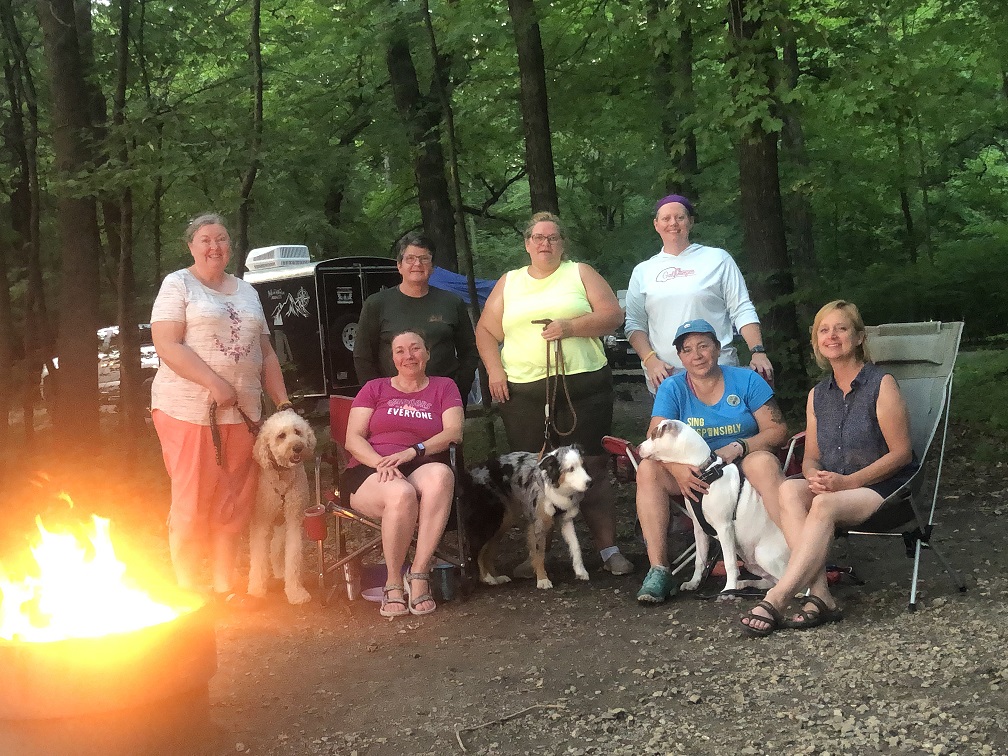 By Theresa "Resa" Leppert
What a great weekend in Minnesota!  Thank you to Arlene for the suggestion to come to Myre-Big Island State Park. We had a fun little group – Barb & Daisy, Georgie & Camper stayed with us for one day, Brenda, Dina, and Paula – and we got to meet some new folks – Arlene & Izzy and Veronica (Vee) & Otis! 
Early Intel on the Park
Barb and Brenda came straight from Wisconsin over to Minnesota.  They gave us great intel on the park, the bathrooms, and the firewood situation.  You can find out more about our campground HERE.  I arrived Thursday afternoon after a pleasant drive. Boy was it muggy when I got there! One interesting tidbit – all I could smell all around that lake was something flowery – maybe honeysuckle? I didn't SEE any blooms anywhere, but it smelled divine!
Big Island Campground had been TOTALLY redone!
Myre-Big Island State Park was a gem. If all Minnesota State Parks are this nice, I'll definitely be back. Our loop had been redone, and the bathrooms were AMAZING.  I mean, look at these pictures.  Have you ever been to a campground bathroom that had Dyson hand dryers?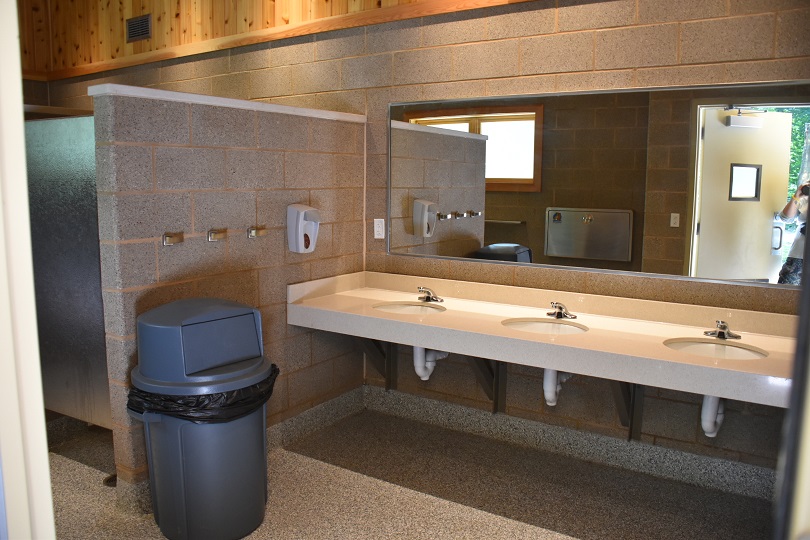 Oh – and they had a dishwashing station outside with HOT WATER! Mind blown. That was the most convenient feature ever. Honestly.
The handicap-accessible bath/shower room was particularly nice. There were two of these – one on each side of the shower building.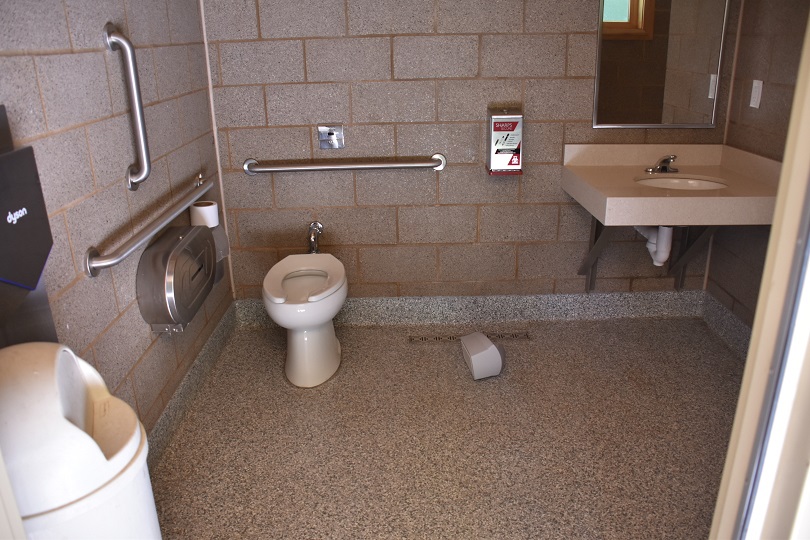 I should have set up my Clam screen tent….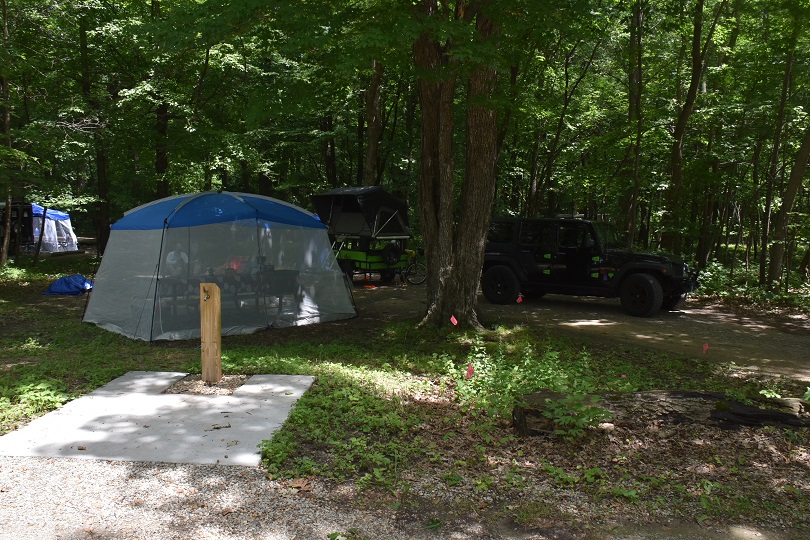 I decided not to set up my Clam screen room. I did regret this later as I had no where to go to get away from the unexpected rain on Friday. Barb, Brenda, and I did set up Barb's big Ozark Trail Screen tent over the picnic table. Check out that wonderful screen tent!
Hard to believe that big screen tent folds down into that chair-sized bag! It is now on my Walmart.com wish list.
The Raccurians are coming!
The raccoons (or the "Raccurians" as I call them) are persistent in Minnesota.  One little jerk Raccurian climbed my tent ladder multiple times, trying to get into my rooftop tent on Thursday night – pawing at my tent door, and pulling on my power cord so hard it almost pulled my phone out of my tent! 
They had a blast over in Brenda's screen tent, dumped out Ziplocs of fresh drink ice – and tried to get into her vodka bottle.  They were particularly aggressive trying to get into Georgie's tent, so much so that they crawled under her rain fly and tore through her screen on her tent, trying to get in, as she was slapping them through the screen. Are all Minnesota raccoons this persistent?
We had no issues Friday night, but Saturday night we were sitting around the fire and one got into the garbage 6 feet away! When I took the garbage down to the dumpster before bed, there were 7 or 8 of them in the dumpsters – someone had left one dumpster open and they appeared to be having their own potluck.
What a great hike!
We went for a hike Friday around Big Island, beautiful landscape, true Minnesota foliage. Unexpected rain Friday afternoon put a damper on our activities – our little boat ride on Albert Lea lake was canceled due to weather, unfortunately.  However, I was able to move our Friday night dinner to a covered pavilion in a nearby picnic area.  By then, the rain had stopped, but my campsite was one big LAKE, so we had to find a temporary meal-time venue.  My trailer was literally sitting in a little pond.  It's a good thing my tent is up high!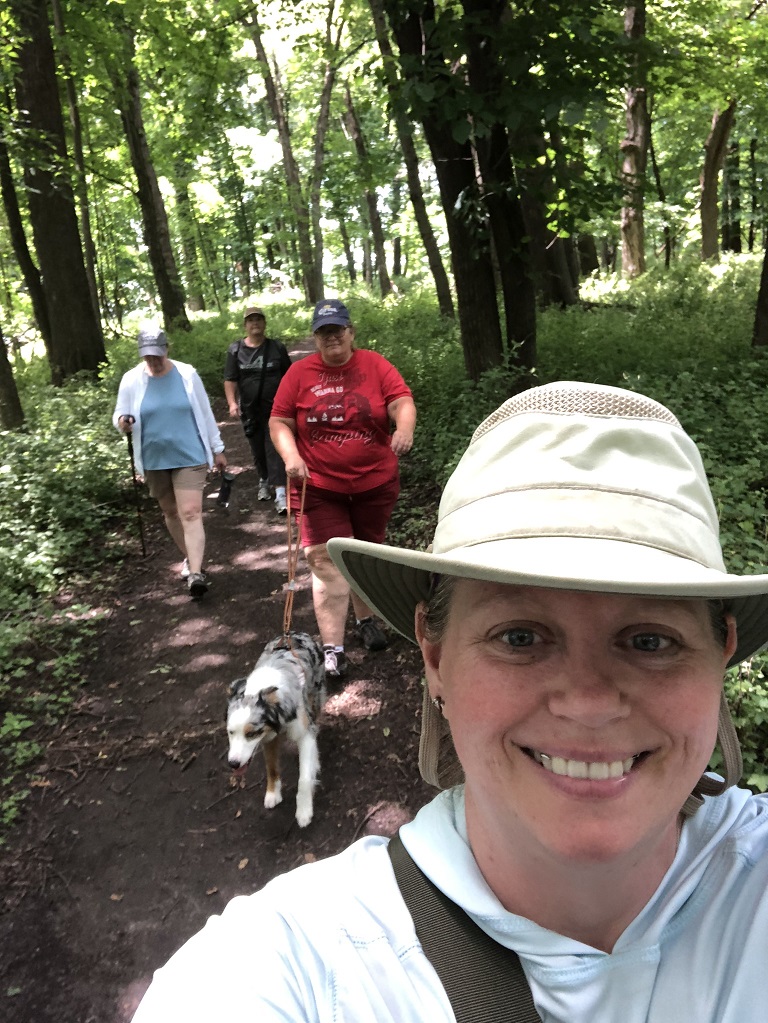 Saturday morning, Dina got out her inflatable paddle board and Brenda rented one from the park – and they went paddling! It was Brenda's first time on a paddle board. Dina is apparently a great teacher – because Brenda was able to stand up on her board and she didn't fall in! Look at those smiles! Way to go Brenda!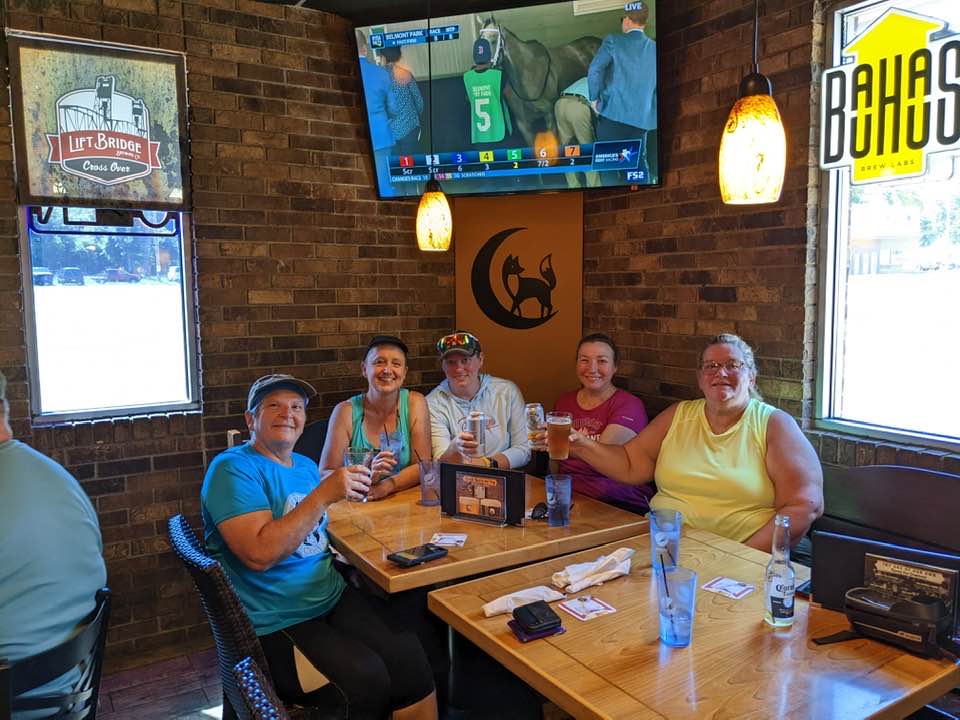 Bike ride into town, rewarded with a late lunch and a drink or two….
Some of us went for a bike ride into town and had late lunch at the Thirsty Fox, then rode back to the campground – about 12 miles total! Whew! Those last few miles were straight into a headwind and I'm not gonna lie – I got back by sheer will alone. Check out this pic of us at the Thirsty Fox – pay special attention to the TV Screen above our heads – what we call the "butt photo bomb." Ya never know what's going on in the background in these sorts of pictures!
Saturday evening was potluck – and as always amazing choices and WAY too much food. Georgie's strawberry shortcake was a big hit! Dina took a few minutes to show us a modification she made to her trailer. She changed the plywood insert on her bench to these wood slats connected by webbing strips stapled to each board. It is reminiscent of Ikea bed frames – and it makes it so much easier to get things out of the storage bin! Instead of having to lift the whole thing, you can just move part of the slats to one side. Genius!!!! She plans to do it for the storage area under her dinette/bed too. Both lighter weight than the original, and easier to use. That's a win/win!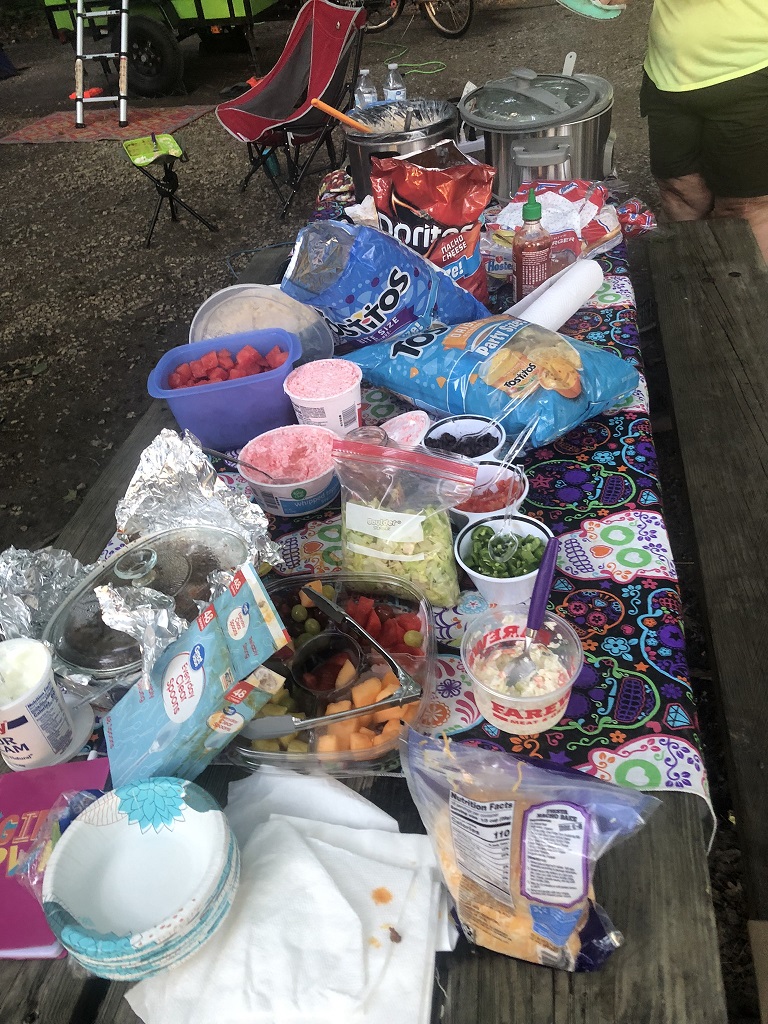 Things I learned:
How to fold a fitted sheet – this was taught to me by my campsite neighbor, Katie – who I am sure we will see at a future event – she's a Girl Camper at heart! I have now joined the Coven of the Folded Fitted Sheet, LOL.
Bicycle shifting strategy – Paula (and Barb before her) have instructed me lately on strategy for shifting my bicycle. I just started riding again after decades away. While you never forget how to ride a bicycle, I needed instruction on how to ride one efficiently! I was able to ride all the way back from town without having to walk my bike on any hills at all. Great improvement!
Always set up the Clam – weather forecasts are not accurate. That popup storm really wreaked havoc on my Friday afternoon plans. My trailer was in the middle of a small pond!
Sunday, many of us packed up early.  There were some ominous clouds and thunder off in to the distance – but I think we all beat the weather.  Sadly, all good things must end.  I get it.  It doesn't make it any easier, though, to say goodbye.  While I love to go home and see my family and my furbabies, it's hard to say farewell to my friends, old and new.  Until next time, ladies!  You can view our public photo album for this event if you are so inclined.  Minnesota did not disappoint, that's for sure.
Connect with me!
Theresa "Resa" Leppert
Guide Manager
Guide, Iowa & Wisconsin
563.284.2868
Girl Camper Magazine: Subscribe to Girl Camper Magazine here! Girl Camper Magazine
Events: Check out upcoming Girl Camper Events – you can attend events in any chapter! https://girlcamper.com/events/
Main GC Facebook Group – Join over 350,000 like-minded women in our public Facebook group! Girl Camper FB Group
Facebook Page – This is my public Iowa & Wisconsin page, where I'll share Girl Camper news, events and more. Girl Camper – Iowa & Wisconsin
Private FB Group – Where you can interact with others who are interested in camping in Iowa & Wisconsin! Girl Camper Iowa & Wisconsin Group.
Resa's Articles – Click this link to see all of Resa's articles on the website! ARTICLES
resaarticle