I never would have thought I could have such a great time camping with a bunch of ladies when my girlfriend Ruth insisted that we go and try it out together. She was driving from Michigan, I would come from Maryland and we would catch up with our friend, Gail, in Texas. So let me tell you about my first Girl Camper event.
To begin with, I am not really that girl that takes weekends away without hubby or family in tow. However, I decided it was time to see what this Girl Camper thing was all about. In the end, I did bring my husband, Luis, with me, since I was traveling over 3,200 miles round trip. We would be stopping along the way to see family. Also, he would have the opportunity visit clients while I was with the ladies.
Even though I have spent a lot of time in the Dallas area over the years I have never heard of Waxahachie, and after many corrections I finally figured out how to say it correctly (walks-uh-hatch-ee) without offending anyone.
It is my understanding that this town, Waxahachie, loves girl campers so much so, that they have been rolling out the red carpet for these ladies for the third year in a row. Now I know why…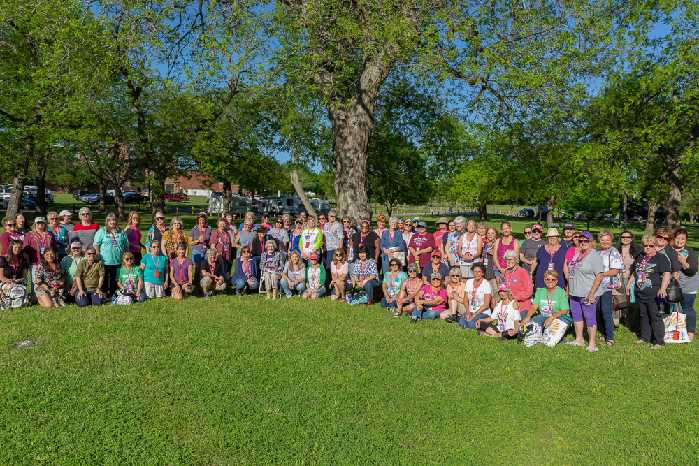 As a matter of fact, there were 100 women from 17 states that gathered together. Though not everyone knew one another, there was a common thread that bonded them instantly, we are all Girl Campers! As Janine Pettit (founder of Girl Camper) has said often, there is no right way to camp like a girl and they came in tents, pop-ups, Class A, B and C, travel trailers, vans and even cars.
Images by Michelle Almodovar Photography
Hence, I realized that many of the women had families such as mine and really enjoy spending time with other women. They even had their own special camper for the occasion. Their campsites were decorated showing off their personalities and things that made them feel warmer and more special!
Images by Michelle Almodovar Photography
We learned campsite cooking with Kate Dunbar, author of The Campground Gourmet. Several of us met up for the infamous Camper College, where small groups met with professionals in their fields to teach campers at all levels how to hitch and tow your trailers safely, hook up your campers to your campground sewer, water and electric and even everything you need to know about boondocking! We enjoyed music, sat around campfires and bonded…making friends for a lifetime.
~ Michelle Almodovar | Photographer, techie, lover of nature and thrilled to be your Travel Beacon