Learn more about Picacho Peak Start park campgrounds and what a great time Girl Campers in Arizona had at the Picacho Peak Palooza. An Arizona Christmas camping event was held in December 2021. Girl Camper Arizona member Inez Whipple wrote the article.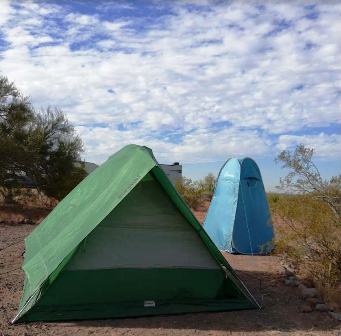 This past weekend, I attended my first Girl Camper Arizona event. I'd wanted to join for a while. Finally, all the stars aligned, and I was able to get to one of their events. I'm always a little nervous meeting new people, and this trip was no different. Will I fit in with the group? Am I "camper" enough? How will my dinky tent stand up next to the other rigs? Well, it's time to test the Girl Camper motto, there's "no wrong way to camp like a girl"!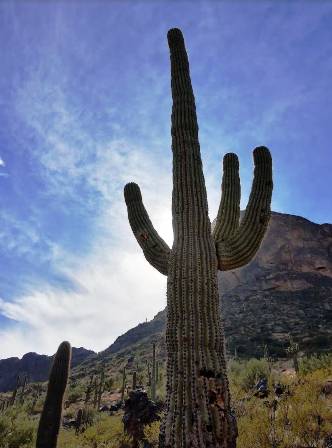 About Picacho Peak State Park
Picacho Peak State Park in Picacho, Arizona, is part of a 31-unit state park system managed by the Arizona State Parks agency. Not to be confused with the fictional Pokémon character, Picacho (pee-KA-chō) Peak is a 1500 foot peak visible up to 45 miles away that has been used as a landmark since pre-historic times (AZ State Parks).
Located midway between Tucson and Casa Grande, 3,747-acre Picacho Peak State Park is about 45 minutes from either location and about an hour and a half from Phoenix. The campground offers pull-through and back-in sites with no maximum RV length! The campsite reservation page lists the drive length, and all sites have 20-30-50 electricity. Sites are $30 per night October through May and $25 per night June through September. The campsite fee (AZ State Parks) includes the dumping fee. The sites are large and have desert scrub and mighty Saguaros between them. Beautifully kept restrooms offer flush toilets and hot showers for campers. Because it is in the desert, there is no water at the sites, so come with your tanks full.
The Park sits about a mile off of I-10. During the day, the traffic noise is hardly noticeable, but if you're in a tent at night as I was, you will hear it buzzing at night. There's also a train line that runs next to the interstate. I'm not a deep sleeper, and I slept in a tent. Neither the train nor the traffic kept me awake.
The Adventure Begins
Nine girl campers rolled into the Park for the event. A few campers had entered Thursday night, but most arrived on Friday between 2 pm and 6 pm. We met for the planned happy hour, but
I had no idea we were about to be treated to a holiday spectacular!
Merry colored, and white twinkle lights decorated Rhonda's Class C motorhome, and there was holiday music in the air. Her Trader Joe's Winter Wassail made our happy hour even happier. Girl Camper Arizona provided cheese, crackers, olives, orange-infused dried cranberries, and garlicky almonds, and one of the members, Sherri, also provided a chunky avocado dip with tortilla chips. These were perfect for helping us break the ice and get to know one another. I immediately felt welcome in the group.
Happy hour was a chance for our canine pals to get to know each other as well. Roxy, Bentley, Snickers, and Princess sniffed and wagged as our hostess offered them treats as well.
As I made my way back to my tent, I was amazed by the number of stars and planets visible in the sky. Venus, Saturn, and Jupiter were visible that evening along with Capricorn. Although the area around the state park is not considered an International Dark Sky, Both Tucson and Casa Grande have light-protected regions that keep the sky dark enough for stargazing.
The desert areas' temperature dipped down quickly at night, and I found I needed a light jacket to cover my t-shirt as the sunset and then a heavier jacket about an hour later. I slept comfortably in a pair of lightweight, long underwear topped with flannel pajama pants and a t-shirt under my sleeping bag. The low (in December) was in the mid-40s.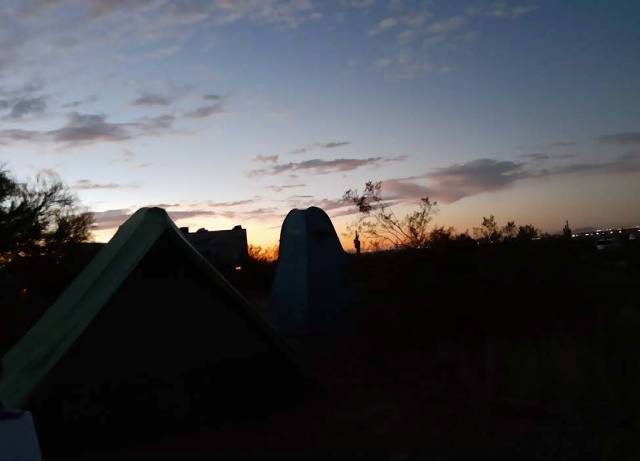 By 8 am Saturday, it was already warming up. I stretched and yawned as the morning sun lit up my tent. I could hear Larie, our AZ Camper Girl Chapter Guide, busy making breakfast in the campsite next to me. She made eggs, potatoes, bacon, sausages, and since it's Arizona, she made refried beans, hot tortillas, and salsa, too! Drawn by the smell of fresh cooking tortillas, everyone made their way toward Larie's campsite. As we brunched on our breakfast burritos, we talked about what the day might bring. A few had some things to do, and five of us decided to take a short hike.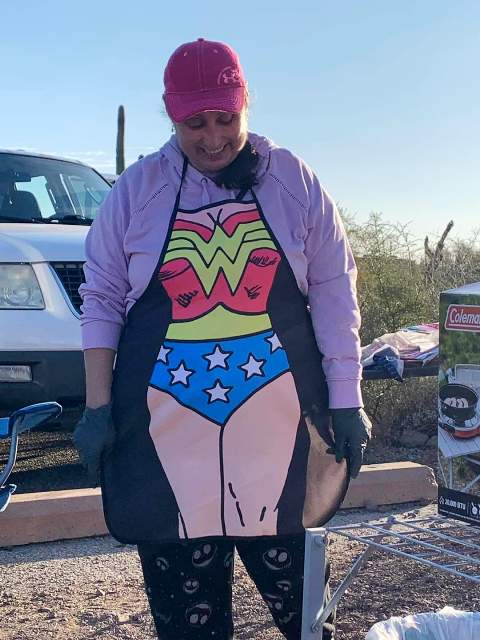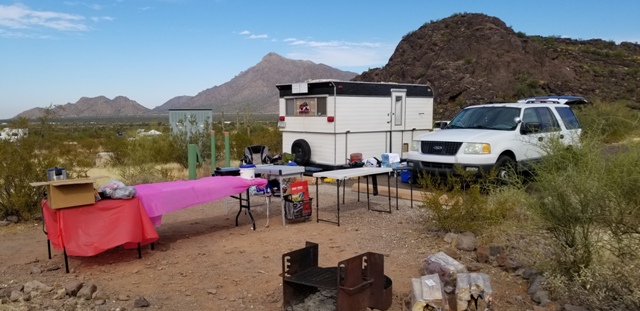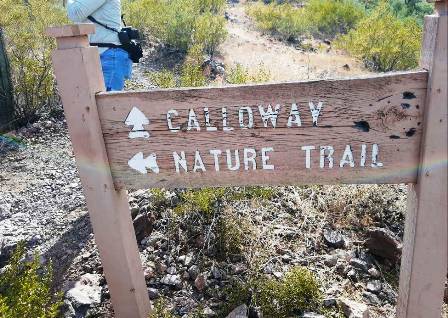 Calloway Trail is a moderate, rocky hike that climbs 322 feet in .7 miles between Picacho Peak and a smaller mountain just east of it. At the terminus, it overlooks the other side of the saddle. From there, we could see the ostriches at the nearby Rooster Cogburn Ostrich Ranch and other points south of the peak.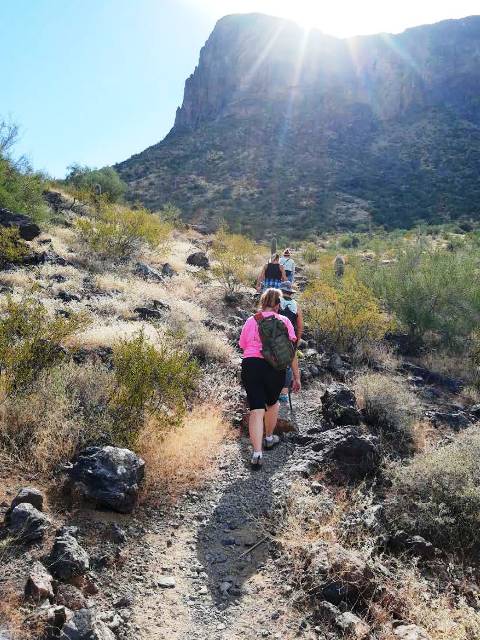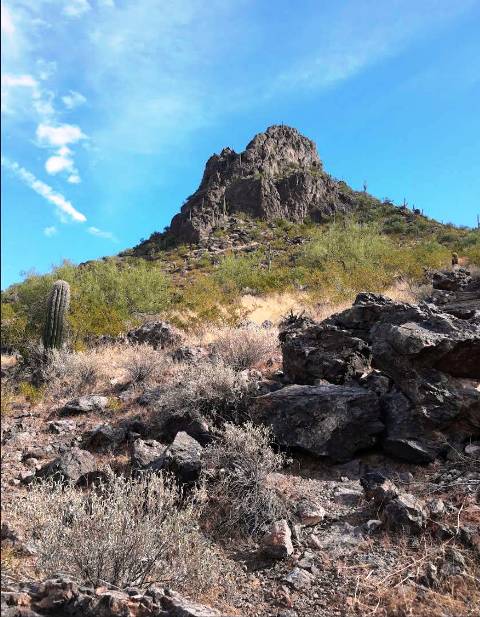 On the way back, we met a man and his son and daughter who had just finished their climb to the top of Picacho Peak itself via Hunter Trail. They had started at eight am and were ending at 1:30 pm. Hunter Trail is a challenging hike and if you attempt it, be sure to bring plenty of water, 3-4 quarts per person, and gloves. Gloves are needed to keep your grip on the steel cables you must traverse to get to the top. As for me and the other girl campers, we were pleased with Calloway Trail!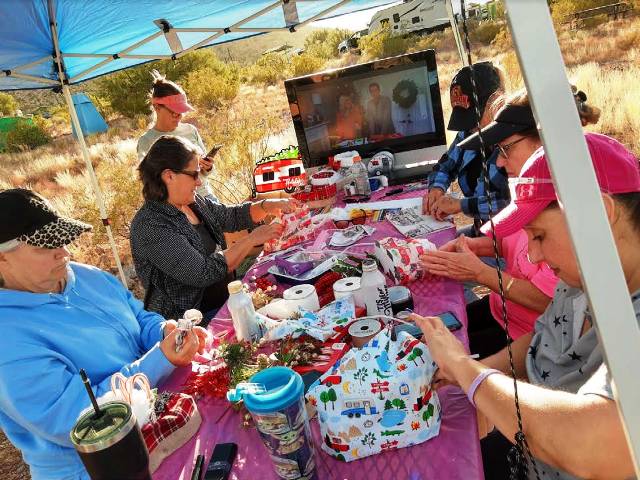 On our return, I found time for a bit of rest and a snack (my favorite PB&J!). The group once again gathered at Larie's site for a great craft activity. I'm not really a crafter, but Larie had chosen one so easy even I could do it. Hacking through mine as fast as possible, I enjoyed relaxing and watching the others shine in their craftiness. As each person completed their holiday "hiking" boot, we congratulated each other on a job well done. However, it wasn't about the craft; it was about being together and talking. Some of the other women had experiences, sometimes similar to mine, and some were very different from mine. We all had so much to share.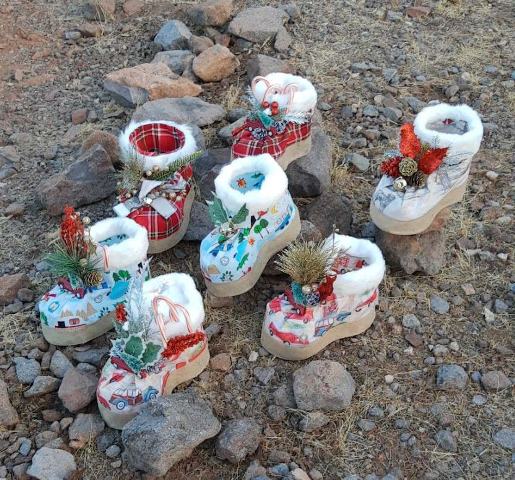 After crafting, the group dispersed for showers, dinner, or whatever we wanted to do and then re-grouped for more stargazing. This time though, the stars we were gazing at were movie stars! Not one but two feature-length films played on a mobile screen. We laughed together by the light of the campfire as the movies touched both the holiday and camping themes.
After another cool night (temps got down to the low 40s – we know this isn't cold to our hardy northern sisters, but it is Arizona after all!), the sun graced us with its presence once again on Sunday morning. As I ate my grab-and-go breakfast of fruit, bars, yogurt, and pastries, I marveled at how quickly I had become close to these women. This trip may have been my first Girl Camper trip, but it won't be my last. Where to next, ladies?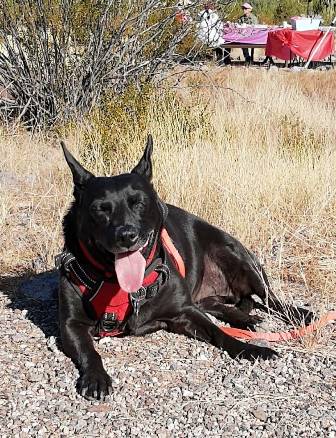 If you go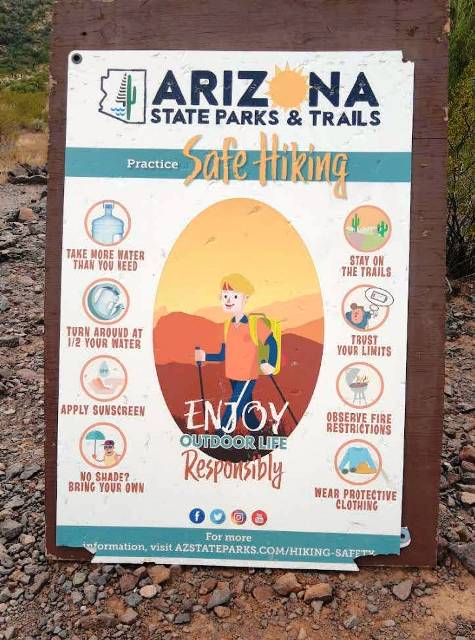 Be sure to stay on the trails, wear sturdy shoes, and take plenty of water, even in winter. Hiking in the desert can be treacherous due to dehydration, hyperthermia, hypothermia (yes, both!) as well as plant and insect stings. Dehydration is a killer, especially for those not acclimated to the area. The temperatures can easily climb and stay into the hundreds and one-tens between May and September.
Additionally, between July and September, "monsoon" rains, afternoon rains that build quickly and downpour inches of rain in a few minutes, are possible. Lightening is a real possibility during these storms.
Thank you, Girl Camper Arizona chapter member Inez Whipple for the article and pictures.
Larie Dowdy | Girl Camper Guide to Arizona
Connect with Larie & her Girl Camper Group
Facebook Page – this is the link for where you can tag us, and we can tag you! This is where I'll share general Girl Camper news, events, and more. facebook.com/Girl Camper – Arizona
Facebook Group – Please join the private Arizona Group so you can participate in this supportive and fun community! facebook.com/Girl Camper Arizona Group 
Instagram – follow me for snapshots of the camping life:  Instagram – azgirlcamper
TikTok – follow me for shots of the camping life:  TikTok – azgirlcamper
Events – Be sure to check out the Girl Camper Events I'm hosting.