by Lisa Dempsey – Southeast Texas Guide
---
The road to anywhere can be long in Texas, so knowing the best places to stop and take a break is crucial. Suppose you are traveling along I-10 between Houston and San Antonio or maybe headed South down Highway 59 towards Port Aransas and passing through El Campo. In that case, you need to make a point to stop at Prasek's Family Smokehouse. You can fill up your gas tank, make a personal pit-stop, and shop! Prasek's is one of Texas's travel site superstores.
When you enter the store, you are greeted by a large smiling sausage in an orange cowboy hat. This guy is Big H, the store's mascot. The staff is helpful and everything, including the bathroom, is clean. Each store has a bakery with over 100 delicacies, a line of homemade smoked meats, a dine-in restaurant, an ice cream shop, and a wine section. They also have a large selection of outdoor gear, fixtures, clothing, and gifts. If you are heading off to a remote location and have forgotten something, there is a good chance you will find what you need here at Prasek's. Take a selfie with the Big H on your way out the door if your hands aren't too full of the goodies you picked up inside!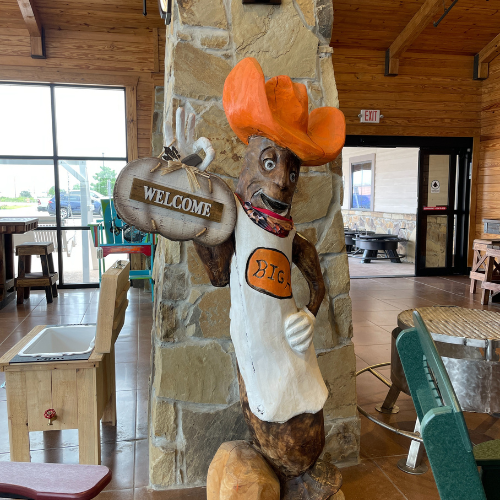 Of course, like any travel stop superstore, you will also find a large variety of snack foods that are a part of a good road trip. One of my favorite items is the handmade Texas Craft Beef Jerky. They have different styles and varieties of meat to choose from beef, bison, turkey, and venison. I like the traditional peppered beef. It is worth the stop to load up on freshly baked, famous homemade kolaches for breakfast and a few cookies for dessert.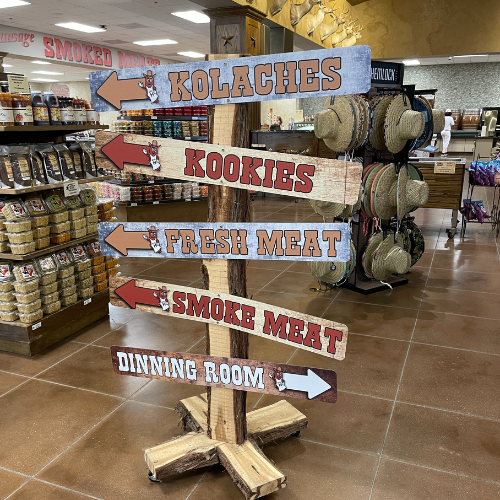 If you are heading south to the coast and need fishing gear or a cooler Prasek's has a nice selection to choose from. If you have your kids with you, they will love the giant fish tank inside the store. Make sure you wander past and say hello to the giant catfish and his friends gliding around.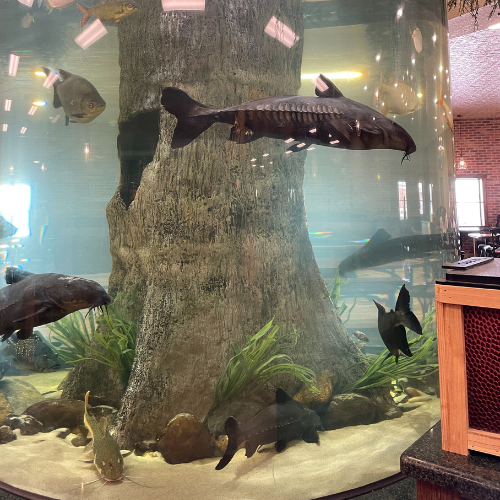 Prasek's has two locations in Southeast Texas. Prasek's El Campo located at 29714 US 59 HWY ElcCampo, TX 77437 and Prasek's Sealy located at 2949 I-10 Frontage Rd Sealy, TX 77474. To order items online or read more about their history visit them online at https://www.praseks.com/.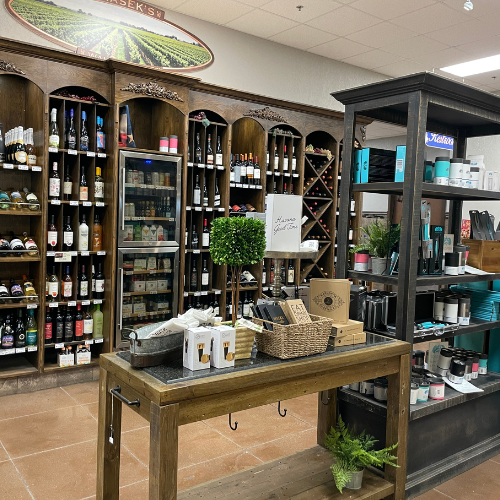 Check out our upcoming events at www.girlcamper.com/events. Remember, "there is no wrong way to camp like a girl!" There is something for all of us to try and experience with Girl Camper. Follow me on Facebook https://www.facebook.com/girlcampersoutheasttexas.
Article was written by Lisa Dempsey, Girl Camper Southeast Texas Chapter Guide.  Originally posted June 29, 2022.