RV organization and storage always seems to be a struggle for camper owners. Consequently, I've come up with this list of my favorite things to help with camper organization and storage.
Suction Cup Utensil Holder Organizer
My camper has very little kitchen counter space and only two small drawers in the kitchen. Therefore, these suction cup utensil holders sold by Camco on Amazon are very helpful for organizing and storing my cooking utensils.
This product comes with a sticky vinyl piece that adheres to your countertop. After applying to your desired location, you twist the holder, which has the suction cup on the bottom, to the smooth surface of the vinyl piece. After seeing a recommendation, I bought one to try and see how well it actually worked. Surprisingly, upon arrival at my camping destination it was still attached and the utensils were still in the holder! Three of these utensil holders fit in the small space between my stovetop and the wall. In addition, I use one in my bathroom to hold my hairbrush & comb upright and handy on the countertop! Here is the Amazon link: Utensil Holder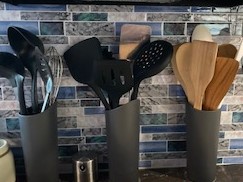 Over-the-Door Storage Organizer
I love, love, love this over-the-door storage rack. Therefore, I hang it over my bathroom door and it adds much needed storage space! The clear windows on the front make it easy to see what it inside each pocket. The pockets are deep, with lots of space. I use it for storing kitchen towels & dishcloths, cloth napkins and placemats, my portable essential oil diffuser and oils, along with other miscellaneous items that I like to keep handy and within reach. It's sort of my "junk drawer" for my camper. Here is the Amazon link for the Over the Door Storage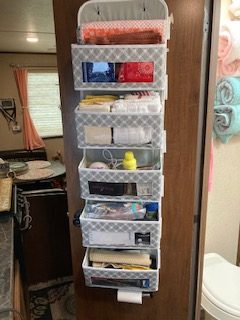 Lazy Susan Storage
If you have a lazy susan in your home you know how handy they can be. I found this set of two that have sides to keep things in place while traveling down the road. Even though they are different sizes, they both fit in my narrow pantry. Basically, with just a gentle spin I can easily find what I am looking for. Here is the link to this Lazy Susan set.
Command Hooks
An RV owner's best friend, these Command Hooks are the best for hanging things on the walls and holding things in place. They are sort of like Velcro except made from plastic, and are much stronger. They won't damage your walls and you won't need to pound nails or use screws. Command hooks come in a variety of weight limitations. Therefore, make sure you get the ones that will support the weight of the item you are hanging.
Stackable Cabinet Shelf Storage and Organization
We all know that some of our cupboards in our RV's seem to have a lot of space. However, they don't always have shelves inside which can limit how much you can actually store. This stackable cabinet shelf increases your storage space by creating an extra shelf. Therefore, you can store more items without having to stack items on top of each other which limits the accessibility of items on the bottom.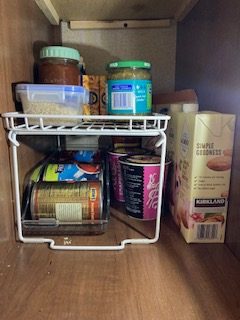 Lid Organizer
Everyone knows what a mess your cupboard can become without some sort of lid storage organizer. This organizer will help solve that problem and keep your cupboards neat & tidy with everything in its place. I just place the organizer on the top of my stackable cabinet shelf (see above) and store the bowls and containers below. Everything is within reach and easy to find! Find the organizer I use here: Lid Organizer
Adhesive Hooks
These Adhesive Hooks are the best I have found! The medium size is roughly 2" X 2" and they hold up to 12 lbs. The hooks are very sticky and I haven't had any issues with them falling off the wall. As a result of the clear design, the hooks are not very noticeable on the wall. I've used these all over in my camper for hanging everything from robes to decorations to hats. I purchased mine on Amazon and the first box came with a note asking for a review. After my review the seller sent me another box of hooks for free.
What items would be on your camper organization and storage must-have list?
Deanne Kelly
Girl Camper Guide – Colorado
Contributing Editor/Writer/Photographer
3783 Golden Eagle Drive
Dacono, CO 80514
303-810-4256
Follow me on my Facebook Page
Join our FB Group
Check me out on Instagram: girlcamper_colorado