by Dava Jean Wharton
The Snake Pit has been around for 135 years. It has had a few names, such as Enaville Resort, Josie's, Clark Hotel, and several others.
This Unique and Unusual Venue
The Unique and unusual venue is located at the fork of the Coeur d'Alene River off of the Kingston exit from I90. It has had several titles over the years, such as boomtown bar, Railroad layover, hotel, and house of ill repute.
Today it is a restaurant with a rustic flair. People love it. Even with all the camping in the area, people will come in from their campsite to grab some food or listen to live music. On Friday evenings during the summer, they have live music from 6-8. They also serve a generous portion of Prime Rib. This is a full bar, so feel free to load up.
The venue has had several owners
The venue has had several owners over the years. Each wanting to have their own touch added to the establishment. One memorable story was when it was called the Enaville Resort. In 1974, the river had major flooding. They went and tied up boats outside and took photos to send to Boise to have it marketed as a real resort.
Prior to indoor plumbing, they had the privies out back in the swampy area. While out there, they could see water snakes.
There is also some true crime activity there. A murder/suicide where a male customer shot a woman and then himself. There was also a customer that showed up after being on a train from Kellogg, to transfer to another train going up North to find a deceased man at the bottom of the stairs and he had been knifed. The man stated that people just kept stepping over him for building access.
History of the name Enaville. Ena was the Postmistress. She was the wife of a railroad crewman.
The Snake Pit can be traced back to 1879. In 1911, they had a suspicious fire and they kept it as business as usual during the rebuild. The Sign out front with the two skulls on either side, had a red light that would be turned on if the ladies were available.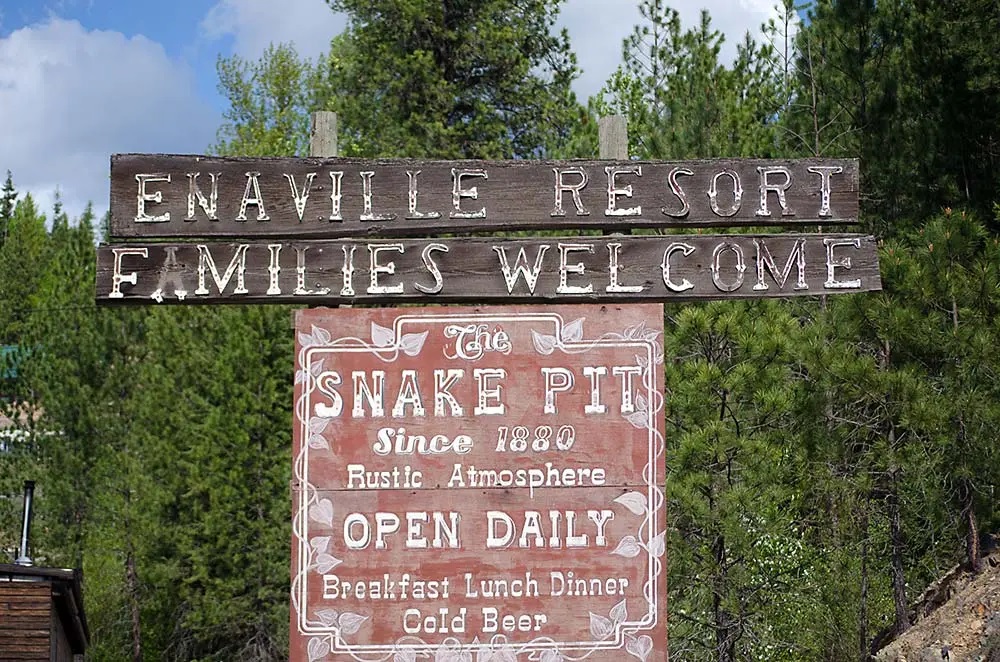 Enaville was the gateway
Enaville was the gateway for a transportation center back in the day for railroaders, miners and at the times when they sank the logs. The post office was super busy as it processed all of the mail for the hundreds of workers up the upper North Fork working in the CCC Camps.
The paintings were all done by an artist named Joe Breckenridge. The furniture is made by a man named Equil in the 1950's. The living quarters upstairs also have pieces by him. Memorabilia was collected by Josie in the mid-1950's. She asked for donations and people were so excited to share their personal collections with her. The NASA pictures were taken by Josie's son who is a photographer. The flooring is bird's eye maple. The fireplace was added by previous owner Al Bates. He asked everyone to bring in a "pet rock", which is now the fireplace.
https://www.snakepitidaho.com/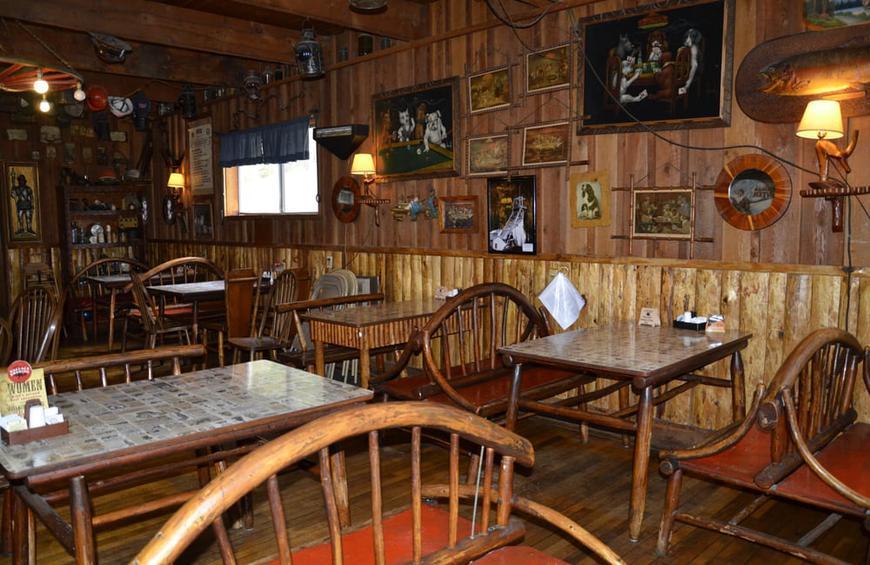 There is plenty of camping nearby.
See previous article regarding Alberts Landing Campground: https://girlcamper.com/chapter/visit-alberts-landing-campground-kingston-idaho/
$50.000 bar plus free campground: : Lincoln Silver Dollar (50000silverdollar.com)
Crystal Gold Mine Tour and Campground: Home – Sierra Silver Mine Tour – Wallace, Idaho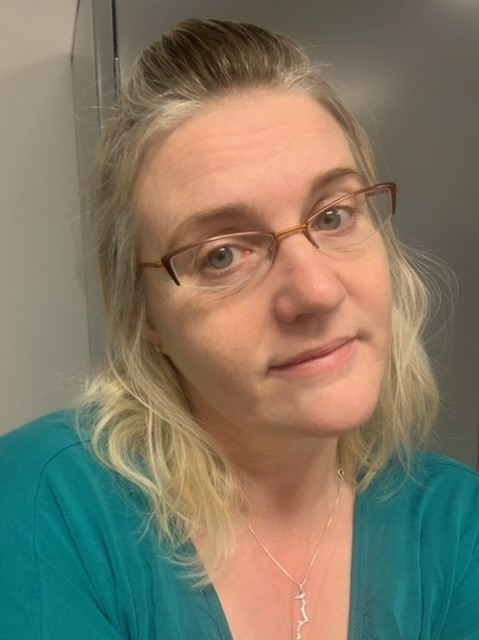 Connect with me!
Dava Jean Wharton
208-820-3948
Girl Camper Magazine: Subscribe to Girl Camper Magazine here! Girl Camper Magazine!
Events: Check out upcoming Girl Camper Events – you can attend events in any chapter! https://girlcamper.com/events/
Facebook Page – this is the link for where you can tag us and we can tag you! This is where I'll share general Girl Camper news, events and more. Girl Camper – Idaho
Private FB Group – Where you can interact with others who are interested in camping in Idaho! Girl Camper Idaho Group.