Do you love the smell of woodsmoke? Have friends that debate the merits of mustard based sauce versus tomato based sauce? Want to find the best barbecue at a campground near you? Then the South Carolina BBQ Trail is the resource you need!
My family LOVES (yes, all capitals!) anything barbecue. We will go out of our way to find great smoked meat, amazing side dishes like perfect macaroni and cheese, and banana pudding. In fact, we have made it one of our family camping goals to try at least one new-to-us barbecue restaurant close to any campground at which we are staying. We have had some amazing 'cue in small towns across South Carolina. Close to home we are partial to Scott's Barbecue by famed pit-master Rodney Scott in Charleston, the family owned Music Man's Barbecue in Moncks Corner (my kids are hooked on their chocolate pudding dessert as much as the pulled pork sandwich), and Home Team BBQ when we are near or on Sullivan's Island or in Mount Pleasant.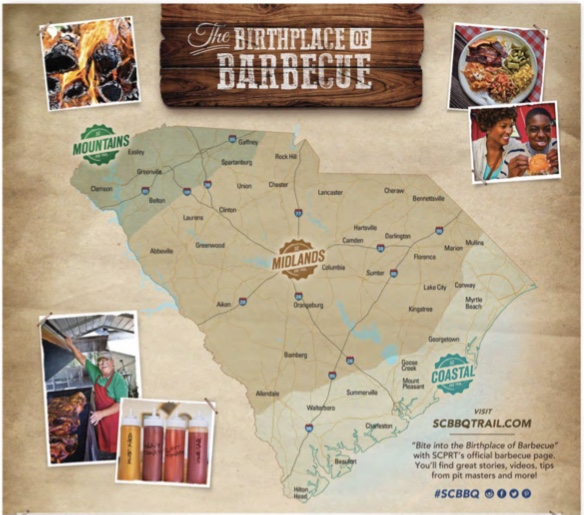 When travelling away from home, finding a great barbecue joint was a matter of luck until I found the interactive SC BBQ Trail map on the Destination BBQ website. The SC BBQ Trail map is a great resource put together by the South Carolina Department of Tourism. It divides the state into territories (mountains, midlands, coastal) and identifies many, though not all, of the barbecue restaurants in the state within each territory.
The official South Carolina BBQ Trail map not only provides the name and address of each barbecue restaurant in the state, but it also provides the phone numbers, websites, and hours of operation. And, if you're paying close attention, you will notice each entry has one or more colored dots beside it. These dots indicate the type of BBQ sauce the restaurant provides. To see the SC BBQ Trail map, click on the link! And, to download a PDF for printing and keeping handy with your camping supplies when you don't have WIFI access, try this link Download SC BBQ Trail Map.
Great recipes, reviews and information about the various barbecue competitions in this great resource whether you are at home or on the road.
Written by Amy Kovach
Amy Kovach | Girl Camper Guide South Carolina
Connect with Amy & the Girl Camper South Carolina Group
Email [email protected]
Facebook Group – Please join the South Carolina Group so you can participate in this supportive and fun community! Girl Camper-South Carolina Group
Events-Be sure to check out the Girl Camper Events I'm hosting.