by Lisa Dempsey, Southeast Texas Chapter Guide
Your Starting Place to Camp Like a Girl
I bought my first trailer in 2020. I solo camped in my trailer, but I stayed in parks close to home and did not venture too far because I was nervous about everything! I found Girl Camper and attended my first campout event, Camporee, in March 2021. That experience changed everything! I could head off to a campground and know there would be other women there to help if I needed it, and we could share a campfire, a trip into town, and other adventures. Eighteen months later, I became a Chapter Guide, and I love helping women feel confident and safe on the road.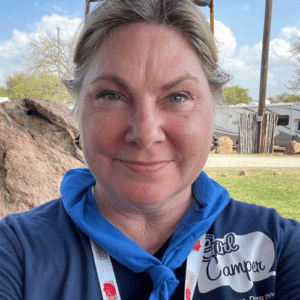 As the Southeast Texas Chapter Guide, I get a lot of questions about Girl Camper and what we do, so I'm answering a few of them here today.
We say at Girl Camper; we are going places and doing things. We have something for women who want to create, explore, find adventure, make new friends, and get outdoors. But where do we go, what do we do, and how do you get involved?
Let's look at a few examples of our activities:
Camping Trips: at State Parks, Recreational Areas, RV Resorts, and Glamping Grounds like Pink It Out in the Park
Sightseeing Caravans: Such as Route 66
Weekend Crafting Events – maybe at a campout or at a cabin or house rental like The Cat's Pajamas
Day Activities – Hike, Bike, Fish, Craft, Shop, Explore together like Saturday Social
Meet and Greet Gatherings Dinner/Lunch/Brunch like Seeds of Friendship
Educational and safety event classes like RV Basic Maintenance
Bucket List trips across the country and around the world: check out Pack Your Pearls on Mackinac Island and the Salmon River Rafting Paddle and Play.
You can attend any chapter's events, not just the ones closest to your home. You do not have to be signed up or a member of a specific chapter to register for an event. Once you go through the Girl Camper "safety vetting" application, you are ready to register and attend an event or activity offered on the Girl Camper website. If you were not able to see the events when you clicked the links above, you have not completed the "safety vetting" application of your registration. Click the "safety vetting registration" button and follow the instructions. There is a one-time $10 fee. Girl Camper does not charge an entry fee or annual membership fee.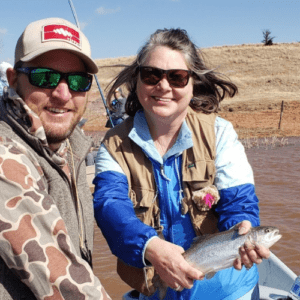 How do you get involved in camping and attending events?
You do not need an RV, trailer, camper, or even a tent to attend many Girl Camper events or activities. If you aren't sure about the type of accommodations at a specific event, reach out to the Hostess or Chapter Guide and ask about the options available.
If you are traveling with a friend and sharing a campsite, each person still needs to RSVP, follow the registration process, and pay fees for each camper attending. The benefit is in sharing the cost of any campsite reservations.
Most of our events and campouts are for women only over the age of 21. Occasionally, special trips include a spouse, partner, children, or grandchildren. We are lucky to have a diverse group of ladies of all ages who are married, single, divorced, and widowed. Some women have been camping for years, and others are just dipping their toes into an exciting new chapter of their lives. Our Camper-in-Chief, Janine Pettit, recently did an interview with RV Business about the growing number of women entering the world of camping. Click Here to read that article.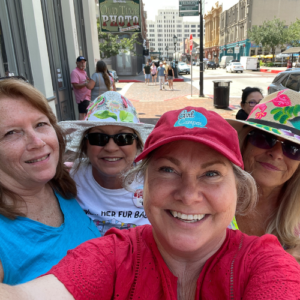 Is there someplace special you would like to camp or an activity you think would be fun to do with a group of girl campers? Do you have an area of outdoor expertise, specialty craft, or other valuable skill you'd like to teach others? Have you considered being a hostess for an event and bringing your idea of fun to the Girl Camper community? Chapter Guides are there to work with you and help you create an event to share with other girl campers. Reach out to your area's Chapter Guide and let them know you have an idea and are interested in hosting an event or activity. If you aren't ready to host, you may also ask about co-hosting with a Chapter Guide.
How do we stay connected and learn about camping?
Even though we love being outdoors, you will find us actively engaged on our Chapter Facebook Pages and Private Facebook Groups. The stories you will find here are funny, educational, and empowering. You might even find your next camper as many women will post their camper for sale on our sites! Follow the Facebook Pages in the areas you are most interested in visiting. This is where we will post Save the Dates and teasers about upcoming events. I get asked a lot, "why don't you post all the details on social media?" There are a few reasons; the primary ones involve safety and privacy. Another reason is we may have special registration instructions for a specific event, and we want to make sure they are followed as a courtesy to the hostesses and campgrounds and to ensure the campers are in the correct location at an event.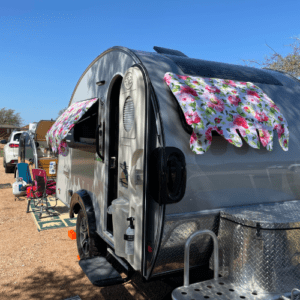 How to connect with other Girl Campers on Social Media.
To find the Facebook groups and pages, visit GirlCamper.com/girl-camper-chapters and visit the Chapter Guide's Page. Under the Chapter Guide's bio, you will find links to request to join the private chapter Facebook Group, and below that is a link to follow the Facebook Page.
Next, at the very bottom of this article is a button that says "Subscribe Here," where you can sign up for the monthly Girl Camper Newsletter.
Finally, if you really want to indulge yourself in everything Girl Camper, then subscribe to Girl Camper Magazine. Another idea is to put it on your wish list for your next birthday or another season of giving.
I hope I've answered a few of your questions about Girl Camper. If you have another question, post it in the comments section!