by Shari Sullivan .
In 2023, the Georgia State Park rangers are inviting you to "Take Flight" with them. They will be exploring the world of all things that fly. That includes bees, birds, bats and other pollinators. They are offering numerous programs and events at state parks across the state all year long through their Take Flight Series.
What kind of programs does the Take Flight Series offer
From the Georgia State Parks website, here is a list of some of the programs to be offered:
Bee analysis under microscopes
Learn backyard birds
Bird folklore
Pinecone bird feeders
Pollinator garden instruction
Bat programs
Coastal birding hikes
Light pollution and birds
Seasonal bird experiences
Complete the Take Flight Series:
When you visit any Georgia State Park or Historic Site, just pick up a free Take Flight card from the ranger station there. Every time you attend a program that is a part of the Take Flight program, have a ranger initial your card. Once you have attended four Take Flight programs, you will receive a prize. Simply take a photo of your card with the rangers initials and email it to the email provided on the website and your prize will be mailed to you. That's pretty awesome!
Where are all of the Georgia State Parks and Historic Sites:
Check out this map, and then visit the website for addresses of every state park and historic site in Georgia. https://gastateparks.org/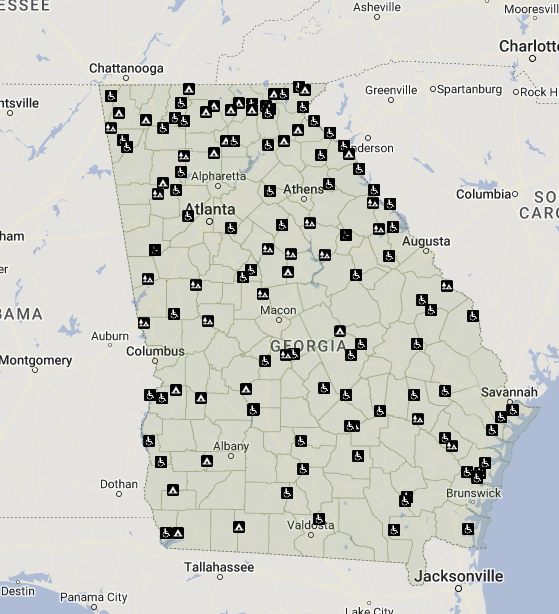 Here is a link to all of the Take Flight Events for 2023. https://explore.gastateparks.org/TakeFlightEvents Have fun as you Take Flight with the Georgia State Parks this year. Please post your favorite Take Flight events in the comments below.
Happy Trails… Shari Sullivan
Senior Editor for Girl Camper
Alabama Girl Camper Chapter Guide
Georgia Girl Camper Chapter Guide
Follow me on Facebook at Girl Camper Alabama
and Girl Camper Georgia
Follow me on Instagram at Girl_Camper
https://girlcamper.com/alabama/
https://girlcamper.com/georgia/