I must tell you why I love my Clam Quick Set screen tent! It has saved my skin, literally, on more than one occasion.
Since I live in Mississippi screens are a necessity and it is often claimed that the mosquito is our state bird. So you can see why I felt that I could use a screen tent for my camping adventures.
The Research
I wasn't so sure I would be able to handle a screen tent on my own as a solo camper. Needless to say, I was excited when I saw the Clam. I have helped others put up their screen tents with poles and stakes and have never enjoyed that task.
There was a lot of excitement about these Quick Set screen tents within my social media camping groups. Everyone seems to love theirs, so I wanted to give one a try.
After much research, I decided to get a 9×9' model. It was a very hard decision, as I had never seen one, and couldn't picture the size. I considered the 6-foot model but felt it might be too small. I wanted one that would be big enough for myself, my dogs, and a guest if the occasion arose.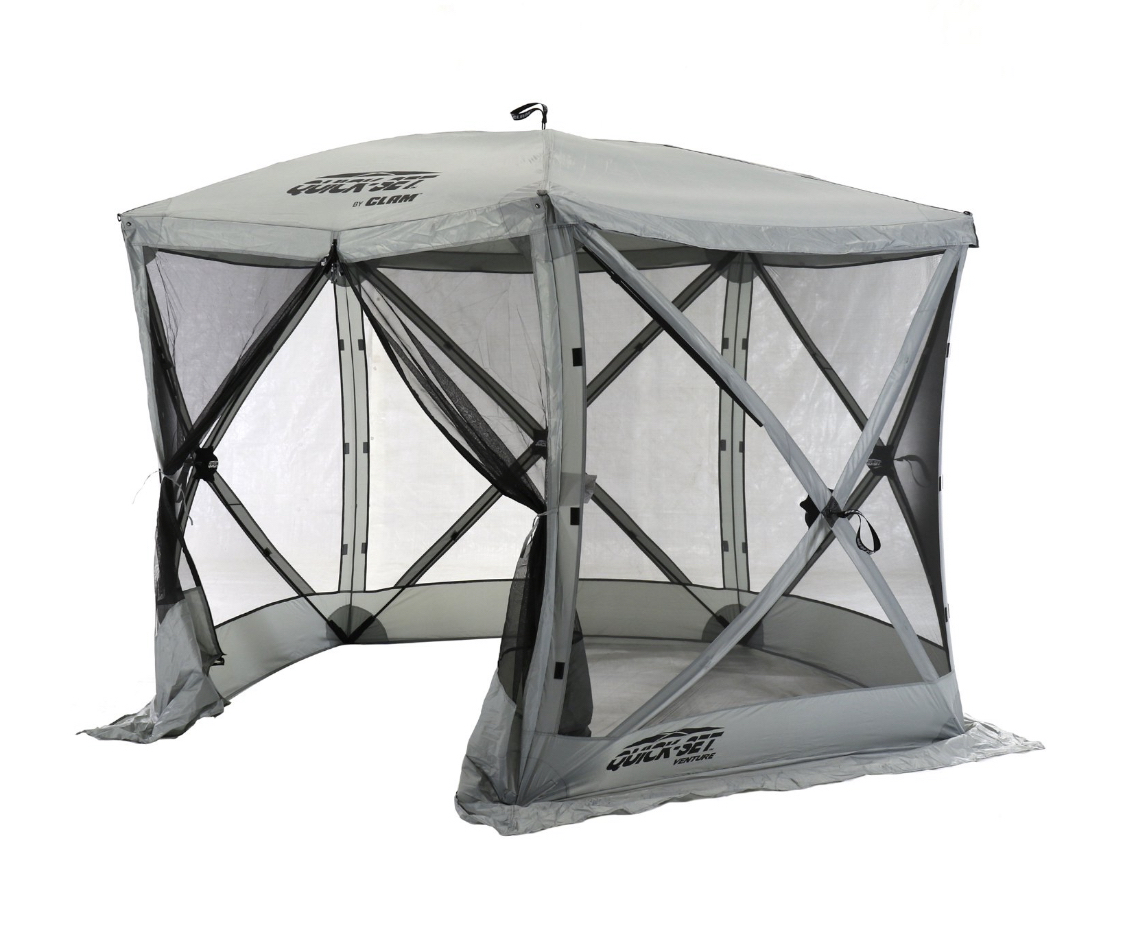 Decisions, Decisions
I shopped many places for my Clam and ended up buying it online from Walmart. I got a great deal with free shipping.
My Clam came with a roomy carry bag, stakes, and rope. I also purchased an optional set of wind and sun panels from Amazon. They are well worth the extra expense as they provide shade and privacy.
Putting it to the Test
I received my tent a few days before my camping trip in the summer of 2022. In preparation, to make sure that I could manage it, I enlisted my sister to help me with emotional support, but to let me set it up on my own.
The first try took quite a while to figure it out, but I finally got it after about an hour! Now it only takes me about 15 minutes to set it up and stake it down, complete with mat, chairs, and dog bed.
I used to only set it up if I am staying longer than 2 nights, but I have become so proficient in setup, I now put it up routinely.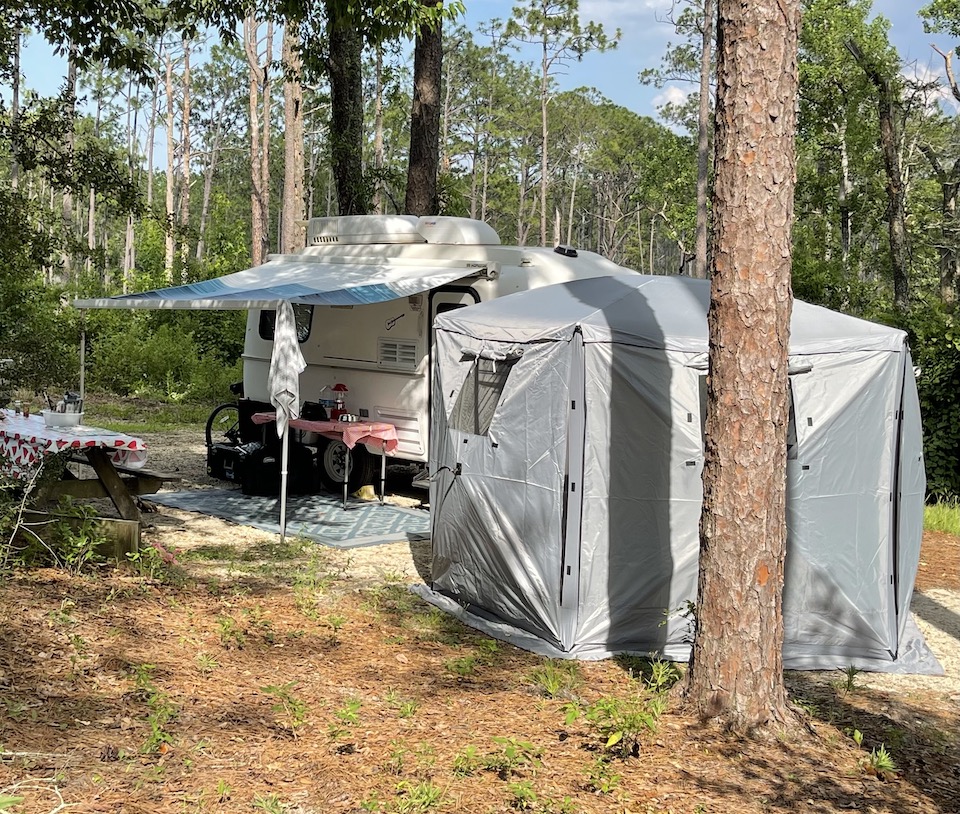 The Take-away
My advice is this: if you are seeking a great, quality screen tent that's easy to use, then consider the Clam Quick Set.
There are many places to buy these screen tents and a lot of different options available. Do some research online and shop around as they frequently go on sale to make way for the newer models.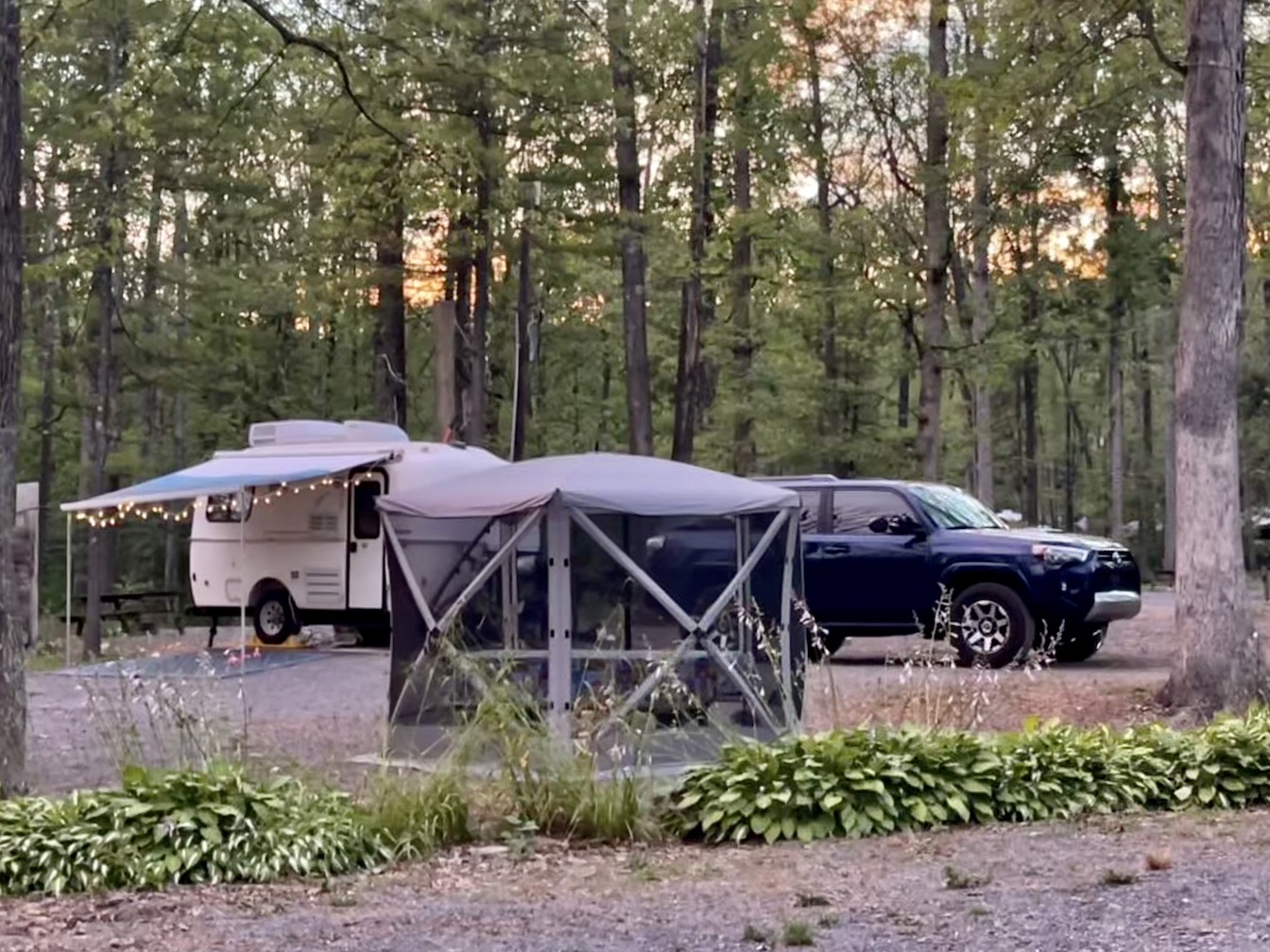 Here's hoping this helps you stay a happy camper, too!
Connect with me!
Phyllis Dufrene
570-321-1266
www.girlcamper.com/mississippi
Girl Camper Magazine: Subscribe to Girl Camper Magazine here! Girl Camper Magazine!
Events: Check out upcoming Girl Camper Events – you can attend events in any chapter! https://girlcamper.com/events/
Facebook Page – this is the link for where you can tag us and we can tag you! This is where I'll share general Girl Camper news, events and more. Girl Camper – Mississippi
Private FB Group – Where you can interact with others who are interested in camping in Mississippi! Girl Camper Mississippi Group.
Going Places, Doing Things