by Jess Nessler, Guest Writer
I would say that this attraction is indescribable, but let's give it a try. According to their website, this is a place of the exotic, the unusual, and the amazing. What started in 1945, by Alex Jordan, turned into a 70+ year adventure of wonderment. Housing the world's strangest musical instrument collection to the world's largest carousel, an infinity room, a Japanese garden, and over 6,000 Santas at Christmastime is The House on the Rock. (www.thehouseontherock.com).
We weren't ready to go home!
After enjoying a wonderful Girl Camper Supper Club meet and greet in Cuba City, WI the night before, my husband and I wanted to visit something unique in the area before making the trek home. Although we were less than two hours away, we still wanted to make the most out of our weekend getaway. Living east of Madison, this gave us a lot of options for things to do. Both my husband and I love the weird, the unexpected, and the different. So what better place than The House on the Rock?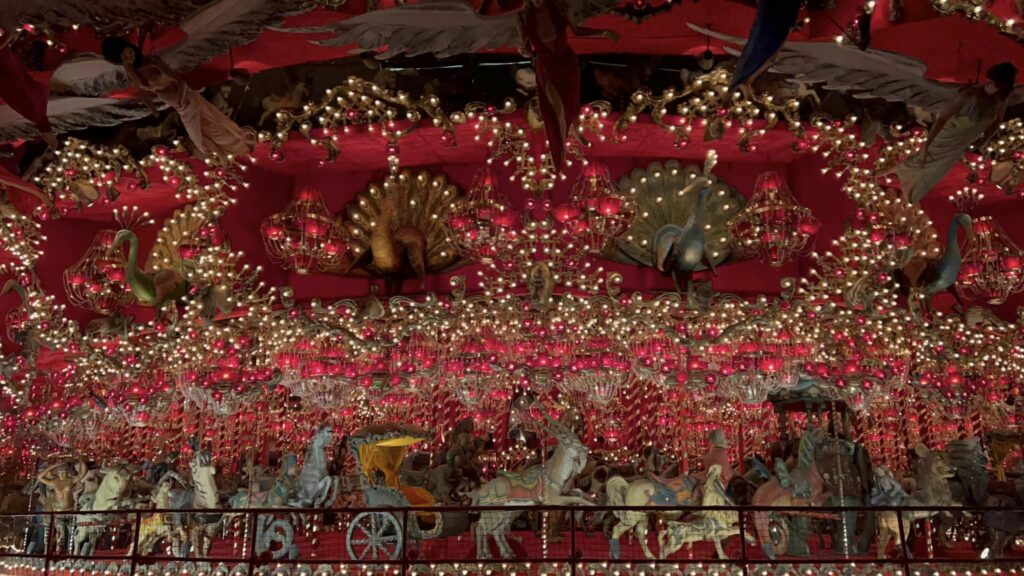 I can't even begin to tell you why you need to spend a Sunday morning here. We arrived at 9 AM (when they open). Spoiler alert: we had the WHOLE place to ourselves. We were like children in a candy store, well.. more like children in a toy shop. That's how you'll feel when you visit. The self-guided tour took almost four hours, but that's because I wanted to see everything and remember everything I saw.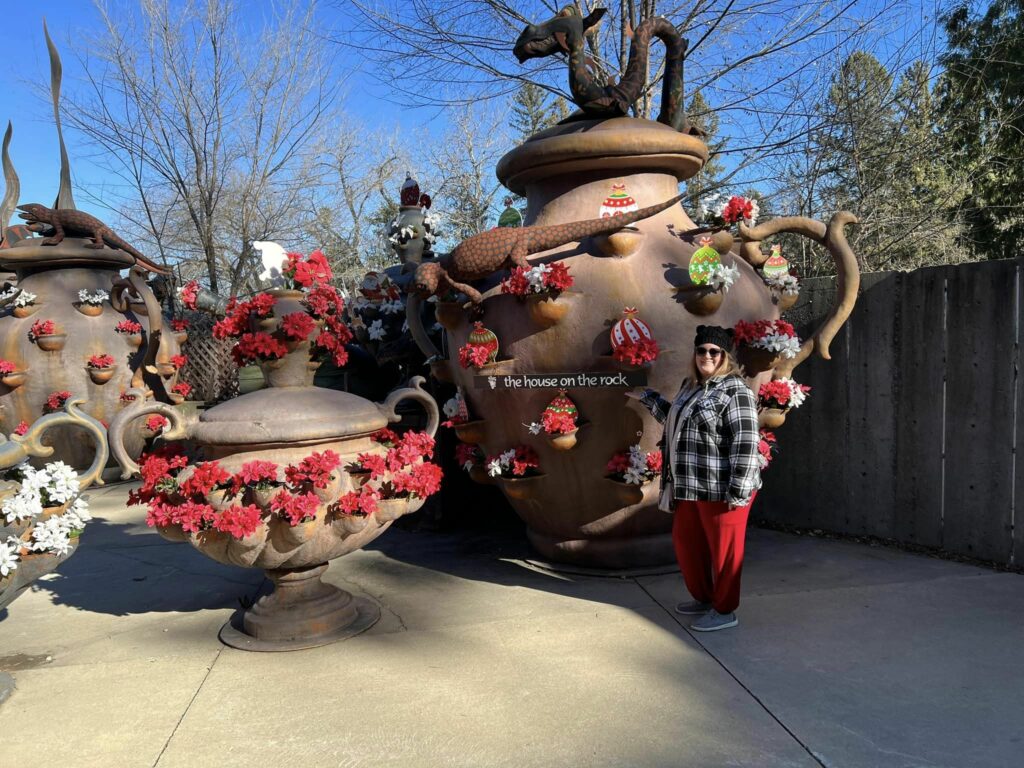 As a collector of various things, I was eager to explore into someone else's personal collection. Seriously, this guy hoarded everything (lamps, instruments, cameras, dolls, airplanes, cars, anything nautical, etc.). He was also a fabricator and created many self-playing instruments, mechanical displays, and a 200-foot tall sea creature battling a giant octopus. How cool?!  I couldn't get enough of this maze of a home. There are some great articles out in the interwebz about this incredible place – one of my favorites is here: Only In Your State.
Open Year Round
The House on the Rock is open year-round, Thursday through Monday, 9 AM – 3 PM, for a self-guided tour. Located in Sauk County at 5754 State Road 23, Spring Green, WI 53588. This is just one of the wonderful places to visit in our amazing state! Check out my last article about another attraction not far from here – The Dickeyville Grotto.
Connect with our chapter!
Theresa "Resa" Leppert
Guide Manager
Guide, Iowa & Wisconsin
563.284.2868
Girl Camper Magazine: Subscribe to Girl Camper Magazine here! Girl Camper Magazine
Events: Check out upcoming Girl Camper Events – you can attend events in any chapter! https://girlcamper.com/events/
Main GC Facebook Group – Join over 350,000 like-minded women in our public Facebook group! Girl Camper FB Group
Facebook Page – This is my public Iowa & Wisconsin page, where I'll share Girl Camper news, events and more. Girl Camper – Iowa & Wisconsin
Private FB Group – Where you can interact with others who are interested in camping in Iowa & Wisconsin! Girl Camper Iowa & Wisconsin Group.
Resa's Articles – Click this link to see all of Resa's articles on the website! ARTICLES
resaarticle