Lions, and Tigers & Bears, Oh My! Throw in some wolves, jaguars, leopards and other large carnivores. You can also find fox, racoons, emus, alpacas, horses, and even a camel!   Where can you find all these animals in one place?   At the Wild Animal Sanctuary, which is 789-acres of natural habitat located northeast of Denver near Keenesburg Colorado.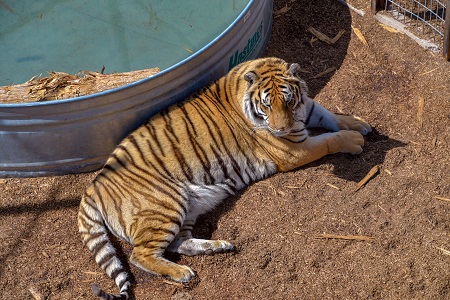 About the Sanctuary
The Wild Animal Sanctuary (TWAS) is the oldest and largest nonprofit sanctuary in the world.   Dedicated to rescuing captive exotic and endangered large carnivores throughout the world you can find it located right in our backyard here in Colorado!
TWAS is a State and Federally licensed zoological facility and a 501© (3) nonprofit organization, established in 1980.   It's first location was just outside Boulder and it has since relocated twice and moved to their current location in 1994. 
Originally, TWAS was not open to the public but in 2001 the Management and Board of Directors saw the need to educate the public and agreed to build an elevated walkway and observation deck for public use.
The Sanctuary has since found and bought a 9000+ acre parcel of land in southern Colorado. TWAS began building The Wild Animal Refuge on this property.   The Refuge includes very large acreage natural habitats ranging from 5-acres to over 300-acres in size.   The Refuge will be home to the majority of rescued animals in the future. The Sanctuary also owns a 41-acre facility located in Boyd, Texas.
Who they rescue
The Sanctuary specializes in rescuing animals from roadside attractions and small zoos. Rescues often occur after authorities have been brought in due to neglect of the animals.   Often these animals have been living in small cages and have medical issues such as malnutrition.   After animals are rescued and transported to the Sanctuary they are evaluated by a veterinarian. Once treated for any any medical issues they are released into the large habitats.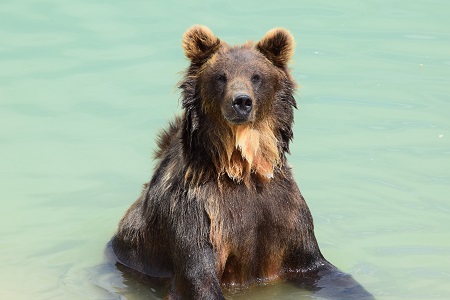 Tiger King
I'm sure many of you have seen the Netflix documentary miniseries "Tiger King".   Since Joe Exotic was sent to Federal prison for his numerous crimes, TWAS has rescued over 150 animals from the so-called "stars" of the documentary series.
Operating Days/Hours
The Sanctuary is open daily from 9am to sunset except on major holidays. It can take up to 4 hours to see the entire sanctuary so allow plenty of time for your visit. This is one of the few facilities in the world where you can view large carnivores in their natural habitat and is well worth the visit.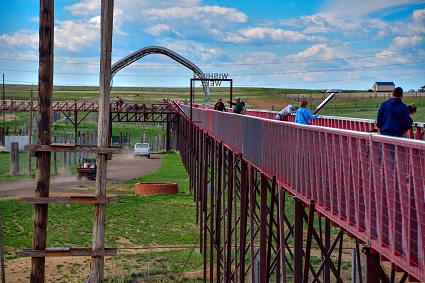 You can learn more and plan your visit here:  www.wildanimalsanctuary.org
Deanne Kelly
Girl Camper Guide – Colorado
Contributing Editor/Writer/Photographer
3783 Golden Eagle Drive
Dacono, CO 80514
303-810-4256
Follow me on my Facebook Page
Join our FB Group
Check me out on Instagram: girlcamper_colorado