My Weekend as a Girl Camper-July 29-31, 2022
Jeanette Goetter
Trail of Tears State Park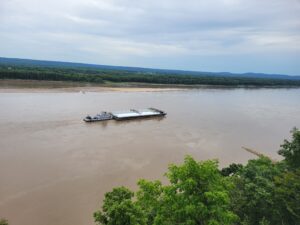 My weekend journey took me to Trail of Tears State Park. This campground is a hidden gem.  The river view is gorgeous, the grounds well maintained, the community common area in the center had a volleyball/badminton net, two sets of washers, soccer nets and a large fire pit with benches circling it.  Perfect for a large group outing. 
The downside, for anyone who is a light sleeper, is the adjacent railroad tracks has several trains go through each night which blows their whistle for the boat ramp crossing (I didn't hear a thing and slept sound 😴 but apparently several trains went by).
Trail of Tears State Park Visitor's Center
Saturday's visit to the Visitor's Center was impressive.  The building is small but extremely well done. It had a lot of history about the trek the Indians were forced to take which became The Trails of Tears.  While in the Center we asked about the hiking trails and the sweet young ranger mentioned how sad she was because she had not seen any rattlesnakes on the trail this year.  😳.  Wait.  What?  You are sad???? Because now I am rethinking this hiking idea.  🐍  After leaving the Center we drove to a lookout area where we looked across the Mississippi River into the Shawnee National Forrest and saw the Baldknob Cross ✝️
Iron Mountain Southern Railway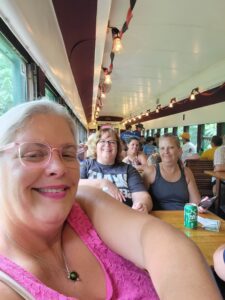 Next stop was a ride on the Iron Mountain and Southern Railway. Our 95 year old railcar was robbed and taken hostage by the James Gang where we were given watermelon and made s'mores before our escape back to the station. If you are ever in the Jackson MO area look this up. The entire thing is ran and perserved by volunteers who do a wonderful job. 
Pilot House in Cape Girardeau
Lunch was at the Pilot House in Cape Girardeau. You cannot go wrong in this place and there is a reason they have been in business for 60+ years.  Every time the waitress passed by with a plate our mouths watered because it looked and smelled so good. And when we were served, we were not disappointed. My tastebuds were happy and thanked me after this meal.  It's a bar and grill that cooks food the way God intended for to be cooked – in grease.  😋
Hiking at Trail of Tears State Park
After lunch we went back to camp and took a break before heading out on the hike. Our plan was to take the out-back yellow trail that leads to a riverview lookout point. Round trip the hike would be an easy-peasy mile. Well that was our plan. But that's not exactly what happened. 🤦🏻‍♀️.
We drove to the Peewah Trail trail head. It's a straight shot for half of a mile. The only branch/turn on the map looked to be about half way in and to our left but if we go straight no worries.  I set my watch to record the hike and off we went. 
A Mighty Force of Four Women
We were a mighty force of four women trekking through the forest, grappling spiderwebs at every bend in the trail (well not me because I was at the end of line – I learned a thing or two with all the trail running I used to do, never be the leader LOL).  When my watch showed we were 0.52 miles into a 0.50 mile trail with no end in sight and we still hadn't passed the left turn we knew there was a problem. We studied the map, assessed the situation and in a thoroughly confused state turned around to head back to the car because now its close to dusk. 
Where were we?
Zeroing back in on the trailhead we stop look at the entrance marker only to see a red blaze arrow. Red? How can that be our trail should be the yellow blaze according to the map.  Well it happened because (1) there are two Peewah Trails, an East Loop (yellow) and a West Loop (red); <who does that??? trails should not have similar names> (2) nobody realized the trails had the same name <none of us looked at the map that closely😳 which is why names shouldn't be similar😂>; (3) none of us looked at the entrance blaze color since we read the trail name on the sign at the entrance.  🤦🏻‍♀️😂🤷🏻‍♀️🤣.  An adventure for sure.  😜
Sunset on the Mississippi River
Since dusk was setting in we drove back to the lookout point we had been to earlier, saw the last bit of sunset colors above the river and the glow of the Cross across from us.
Back at the campground was a second night of enjoying beautiful weather, a fire, watching barges navigate the river and fellowship. 
The End of the Adventure
In the morning I packed up camp, came home and off to the movies I went with my book club. We saw "Where The Crawdads Sing".  I recommend both the book and movie. Then we headed to Panera to discuss our most recent book "Then She Was Gone" by Lisa Jewell.  This book was well written, a bit dark but my goodness a lot happens in it. 
All-in-all a great weekend surrounded by great women.  God is good and I am thankful.
Article written by Girl Camper Jeanette Goetter
---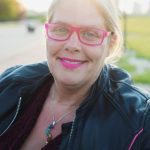 Teresa Willis |Girl Camper Guide Missouri
US Adventure Travel & Event Planner & Certified RV Inspector/Registered Technician @ Sparkle Adventures
Join the Missouri Girl Camper community where you will find sisterhood, Girl Camper news, events and more! Like our Facebook page.  Join our Facebook group.  Follow us on Instagram!
Tag us @GirlCamperMissouri
Find Girl Camper events on the Girl Camper website. I hope to see you around the campfire!
Email me at [email protected]