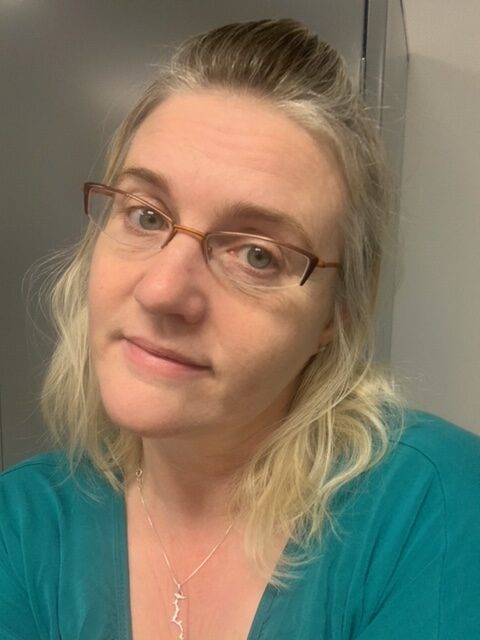 A hidden gem located in the Silver Valley of Northern Idaho is Albert's Landing Campground. This is a private campground that was shut down for a while but has recently been purchased by a local family that has done an amazing job at bringing life back into this area.
This campground has many amenities that the locals have always enjoyed. It is time to share them with the world. First, river floating. It is common to start up the Bumblebee bridge, and float down to Albert's Landing. Bumblebee is a state-run campground that is up the road farther, but not affiliated. In the past, you would have to bring two cars out to float. One would park at the bridge, and one would park down by Albert's landing. You start at the top and float down to the campground, and then someone goes for the car left on top. Alberts has solved this problem. They offer a shuttle now.
Shuttle Costs and Information
It is $5 (will not exceed $10 for multiple runs) to be shuttled to the top. They can take everyone to the top and start the trek or leave the rig at the top and then have them drive one person back to the top at the end for car retrieval. No floating devices? It is ok! The rent them. You can rent a kayak for $40 for a half day, or $60 for the full day. Innertubes rent for $25 for a single, or $50 for a double daily. Did you bring your boat? Great! They can shuttle you with your boat to a location and help you get launched for $25-$60 depending on location. You can also launch from the campground, and they pick you up elsewhere. There are many places to visit.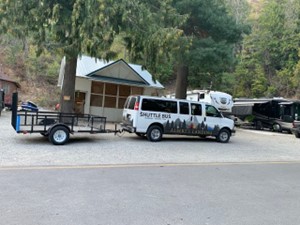 Have You Seen the Movie Dante's Peak?
The cabin from the movie was floated downstream and is now the country store for this campground. They have everything you might have forgotten, plus beer and wine. There are some small souvenirs onsite, as well.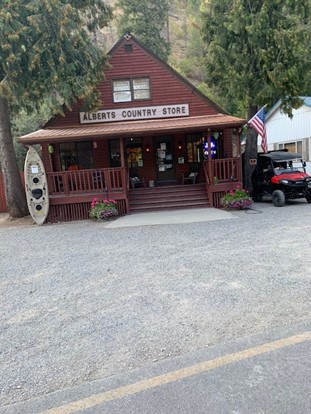 The new owners have added a bathhouse with flushable toilets, two showers, and a laundry room. The laundry room is coin operated, and the showers require tokens to be purchased in the general store, but you must have a code that you punch in for access to anything in that bathhouse.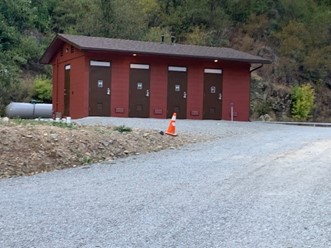 Did Someone Mention Fishing?
Yes, you can fish right there. There is beach access to the river. Grab your gear, chair, and cooler and head down. Idaho does require a fishing license so please make sure that you have that taken care of. Visit Albert's Landing Campground.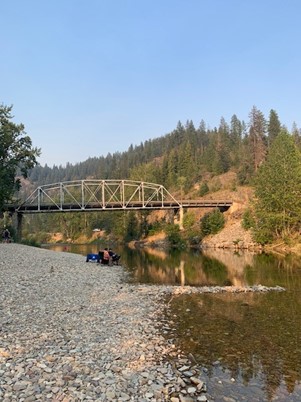 The campsites are nice. They have pull through and back in, with power (30 Amp/50 Amps) and water for each. Most also have sewer connections, but there are a few that do not. Some spots are on the river, and you can walk down for access from your spot. There are sixty spaces available, and the staff is onsite and will escort you down to your site upon checking in.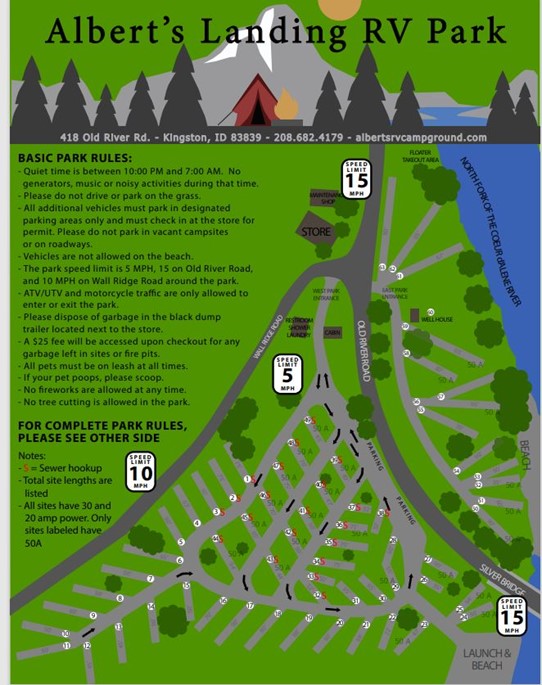 New Features and Costs
All water and sewer have been upgraded. They will be remodeling an old cabin for nightly rentals in the upcoming season, as well as Wi-Fi on the premises. Currently cell services are rough, but sometimes work. I use AT&T, and it is not wonderful here.
What are the rates? $60 nightly for 2023 season. They do offer reduced rates for longer stays.
Visit Albert's Landing Campground
What does Wallace, ID have to offer?
The town has all kinds of festivals and events. They celebrate everything there! https://www.wallacechamber.org/
Now that you are here, what do you want to do?
Nearby Activities:
Snake Pit restaurant: The Snake Pit | Enaville, Idaho | BBQ Restaurants near Kellogg, Wallace, Coeur d'Alene (snakepitidaho.com)
Silver Streak Zipline: ΛBOUT (zipwallace.com)
Sierra Silver Mine Tour: Home – Sierra Silver Mine Tour – Wallace, Idaho
Pulaski Tunnel Trail: Pulaski Tunnel Trail | Visit North Idaho
Crystal Gold Mine Tour: Crystal Gold Mine Underground Mine Tours / Kellogg Idaho (goldmine-idaho.com)
$50,000 bar plus free campground: Lincoln Silver Dollar (50000silverdollar.com)
Silver Mountain Bike Park: Silver Mountain | Bike Park | (silvermt.com)
Silver Mountain Water Park/Ski: Silver Mountain | Silver Rapids Indoor Waterpark Resort | (silvermt.com)
Hiawatha Bicycle Trail: Route of the Hiawatha – Visit Idaho
Trail of the Coeur d'Alene's: Trail of the Coeur d'Alene's | Department of Parks and Recreation (idaho.gov)
Cataldo Mission: Coeur d'Alene's Old Mission State Park | Department of Parks and Recreation (idaho.gov)
Albert's Landing Idaho (albertsrvcampground.com)
See Albert's Landing website for cancellation policies and upcoming things for the new season.
Connect with me!
Dava Jean Wharton
208-820-3948
Girl Camper Magazine: Subscribe to Girl Camper Magazine here! Girl Camper Magazine!
Events: Check out upcoming Girl Camper Events – you can attend events in any chapter! https://girlcamper.com/events/
Facebook Page – this is the link for where you can tag us and we can tag you! This is where I'll share general Girl Camper news, events and more. Girl Camper – Idaho
Private FB Group – Where you can interact with others who are interested in camping in Idaho! Girl Camper Idaho Group.