Walden Campervans, based in Massachusetts, is a new business started by entrepreneurs and couple Mike and Susie Patrick in 2020. I took one of their three custom-designed, fully outfitted campervans out overnight for a spin (more on that in another post) and was impressed with their attention to detail and how comfortable it was. I wanted to know more about their backgrounds and their business decisions, so here's a Q & A with the couple.
How did your business come about?
Mike: Being outdoors and exploring as a family has always been our favorite thing to do together. When COVID hit, my wife and I were looking for ways to get out and explore safely and freely with our 2-year-old daughter and we felt that a campervan fit our needs perfectly – easy to maneuver and just get in and go, especially if it was off-grid ready. We decided to work with a builder, Cascade Custom Vans, to bring our ideal custom campervan to life. As we were going through the build process to tailor the vehicle to our own family's needs, we realized that what was being created was too good not to share with others. We knew that connecting with nature had a profound effect on our own health and wellbeing, and we also knew that New England had so much to gain by having access to campervan adventuring, something we'd seen frequently in the western part of the country. With all of these factors coming together in our minds, the idea for Walden Campervans was born, and since then, we've been working to add additional vans to the fleet. Our fourth is currently on the way!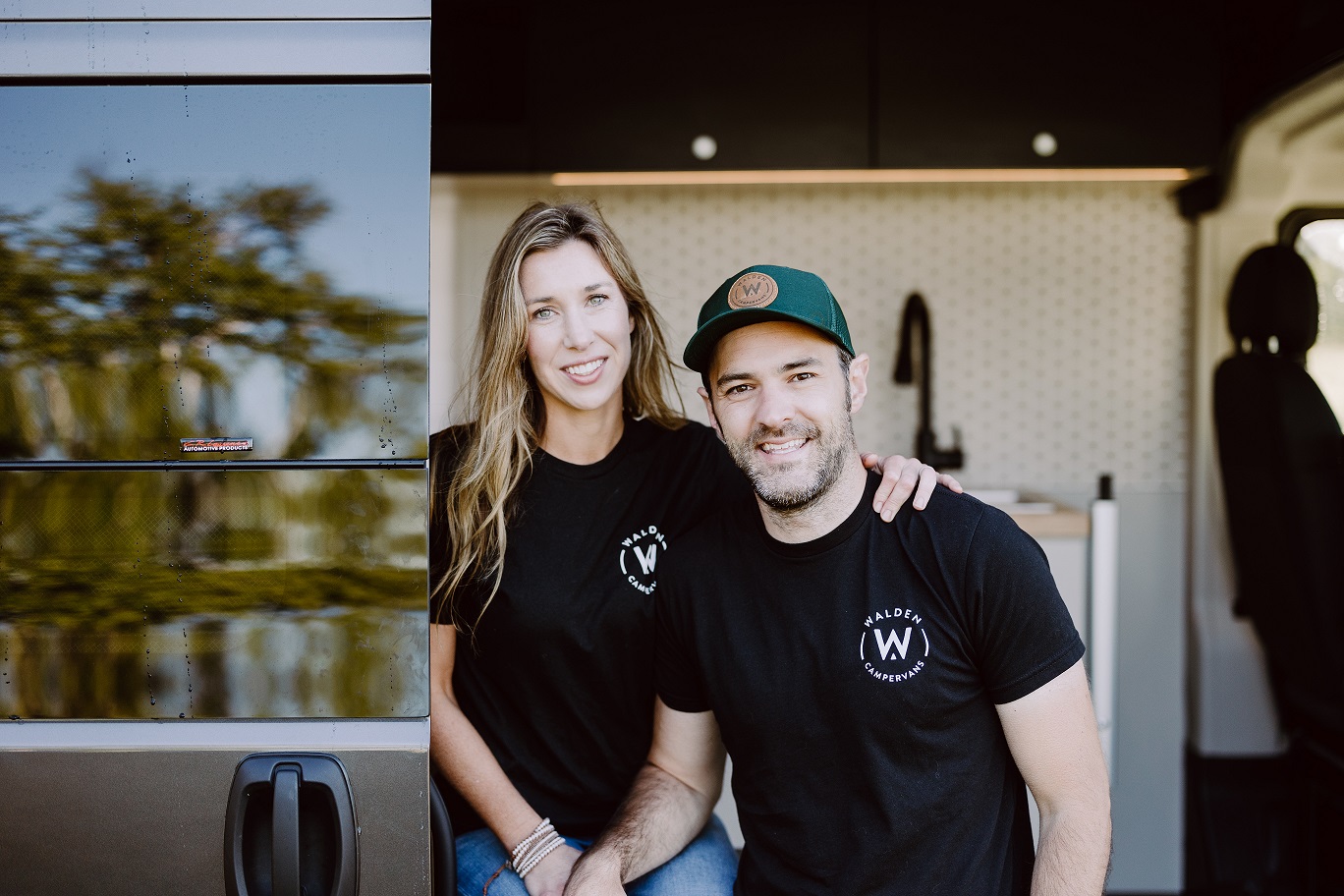 You began in 2020 during the pandemic, right? What was the hardest thing about launching then?
Mike: With the pandemic in full swing during the formation of the business, the most difficult part was doing everything remotely. We literally built the entire business from our living room. From purchasing the vans, to working with our builder to bring our custom vision to life, to negotiating with insurance agencies and banks– the list goes on. Giving up that face-to-face communication while building a new business from scratch was super challenging, but we pushed through it and ultimately formed some incredible business partnerships along the way.
What is something you wish you knew when you started out?
Mike: It would have been helpful to know how difficult the insurance process was going to be to navigate. As a startup rental company, tracking down a commercial fleet policy that worked for our business was challenging. We ultimately had to pitch an insurance company to take us on. Luckily it all worked out, but not without a fair amount of stress along the way. It would also have been helpful to have had advanced intel about all the manufacturing and shipping delays we'd face thanks to a countrywide run on vehicles and related materials – we would have ordered a lot of our gear much earlier!
Tell us about your backgrounds (state you grew up in/what you did before this business/how you met/etc.):
Susie: Mike was born and raised in Jackson, Hole WY, so adventuring outdoors has been a core part of his life since day one. I'm a Mass native raised in Franklin, and like Mike, I've always enjoyed the outdoors as well and grew up exploring New England. We met at a Boston University summer program the year before graduating from our respective undergrad schools and ended up moving to Boston together after graduation. Our career backgrounds actually channel directly into our current work growing Walden Campervans. My expertise is rooted in strategic growth operations in the healthcare space for companies like athenahealth and Amwell, while Mike's background is brand strategy and consumer insights working with brands like New Balance and JetBlue.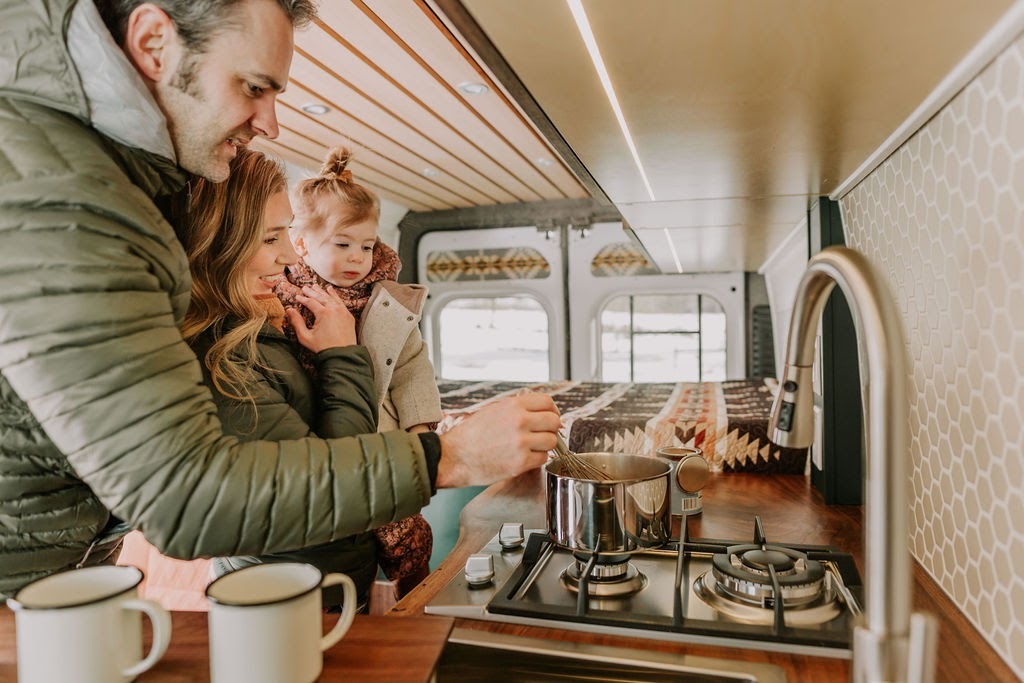 Tell us about your experiences (family camping in a tent? RV cross country trips?):
Mike: Growing up outside was a big part of both of our childhoods…camping, hiking, fishing– you name it, we grew up doing it. There's really nothing we enjoy more than being outdoors as a family in search of that next adventure. As soon as we took delivery of our first van, we couldn't wait to hit the road. We packed up the van and made our way from Boston down to Key West, making countless stops and memories along the way. We stayed at HipCamps, wineries (via Harvest Hosts), traditional campgrounds, and some true off-the-grid spots – there was seemingly no limit to where we could go and what we could see. For us, the campervan was the ultimate way to unlock adventure. We felt completely free to explore. By the end of the trip, our daughter was a full-on "vanlifer," wanting only to ride in the van vs. our car when we got back home. Who could blame her?!
What is the most unique thing about your vans?
Susie: Our vans strike a balance between offering the comforts and conveniences of home while still providing renters with the mobility, practical gear, and off-grid systems to get out and explore unexpected, dirt-in-the-tire locations. Each of our vans also has a distinct story and design aesthetic that really makes it unique. The first van we built is aptly named "Walden" – we live very close to Walden Pond, the source of inspiration for Thoreau's Walden and of course the name of our business. We modeled the first van to feel like Thoreau's cabin in the woods, a place to escape into nature.
Our second van "Mardy" is named after the famed adventurer and conservationist, Margaret Murie. Mike met Margaret when he was a kid growing up in Wyoming and was inspired by her throughout his childhood, and remains so today. Margaret was always known for having her dog by her side, so we naturally had to make "Mardy" our first dog-friendly van.
Our third van's name is "Emma," named after Emma Gatewood, the first woman to hike the entire Appalachian trail solo, at the age of 68 no less. Emma is inspired by fearless female adventures of all ages who want to get out there and hit the road. Emma's very first rental was to a woman celebrating recent retirement who took a three-week solo trip to the Midwest, a dream she'd had for some time. Bottom line, there's an enormous amount of love and care that goes into each van, and when you climb in for the first time, we hope you can feel it.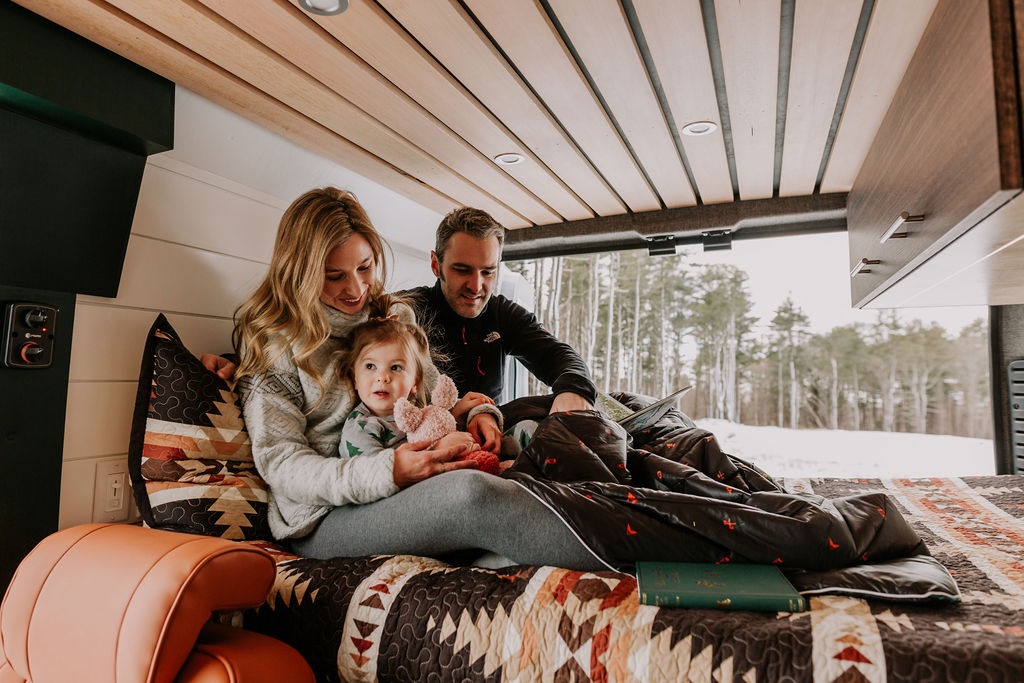 What else should our readers know?
Susie: We're excited that our fourth van on the way will be a four-seater! We've also recently added new dog-friendly packages for Mardy renters, and are now offering Special Events customizations for renters celebrating things like honeymoons, elopements, birthdays, and anniversaries. We'll work through our network of photographers, artists, florists, caterers, and all-around creative folk to make renters' special trips even more memorable.
For more information or to rent a Walden Campervans, visit waldencampervans.com.
Please join my Girl Camper Massachusetts Facebook Group, introduce yourself and join the conversation!
To subscribe to the Girl Camper Magazine, click here (Disclosure: I'm the executive editor!)
Want to meet fellow Girl Campers? Sign up here for events. Open to all!
Please note: I only recommend products I use myself and all opinions expressed here are my own.