By Theresa "Resa" Leppert
WI county parks need love too!
I love the smaller, less busy county parks. Sometimes, it's harder to make reservations in those smaller parks, and many of them are only first come first serve, but more and more counties are jumping in with both feet into the online reservation boat. Juneau County Parks in Wisconsin has a friendly website and is the home of one of my favorite parks! Juneau County Castle Rock Park is nestled in the heart of central Wisconsin near Mauston – a lovely little county park on the edge of Castle Rock Lake, which is just south of Petenwell Lake.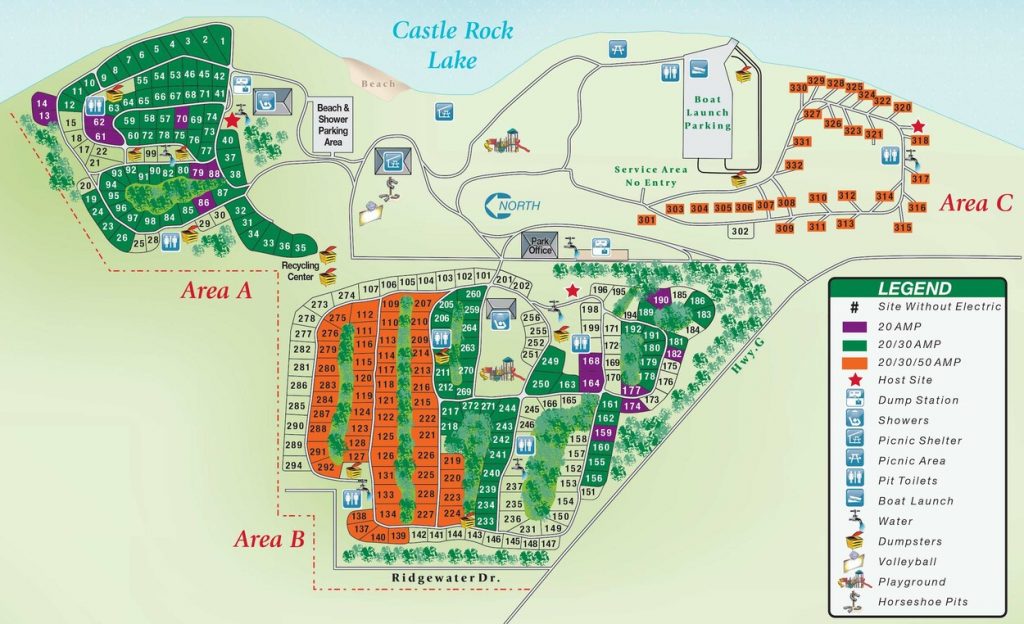 300 campsites!
The park itself is about 160 acres, and sports 300 campsites, 160 of which are electric.
As you can see in the pics below, the sites are large, grassy, sandy, and unstructured. In other words, you can put your camper anywhere on the site; there isn't a standard camper pad or gravel driveway.
Area A overlooks the water from a bit of a rise mostly shaded by old-growth trees. Because of the slight bluff, there is a fence between you and the water here, but the beach is a short walk away.
By far the largest section, almost half of Area B is seasonal sites for permanent campers. The other half consists of non-electric sites, also under a lovely tree canopy.
The newest addition, Area C, has more traditional structured campsites, i.e. with a standard driveway and camping pad. Some of these are literally right on the lake – you can step outside your camper and fish right off your campsite! The campgrounds at this WI county park all offer something for everyon.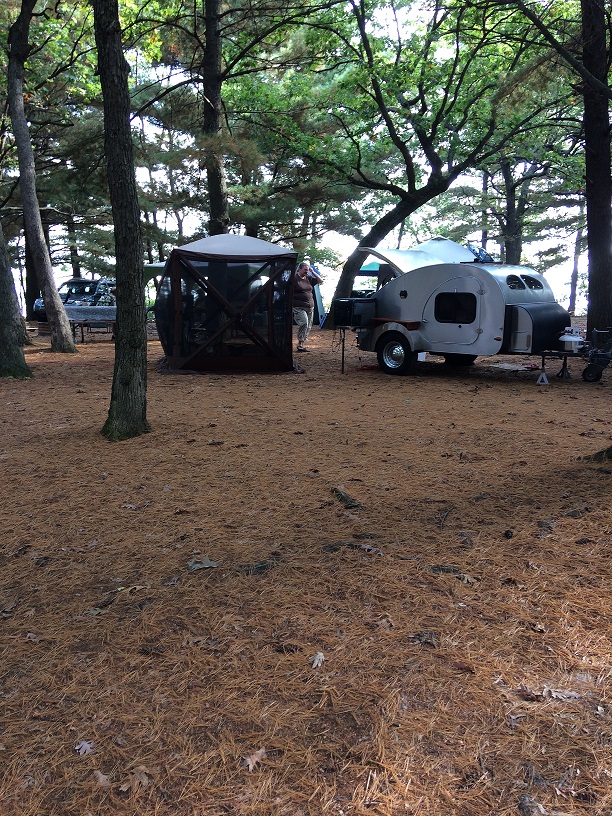 Lots of amenities.
There is a lot to do at this park – a sandy beach with swimming area (no lifeguard, swim at your own risk), boating, water-skiing, fishing, canoeing.  If day trips or picnics are your thing, there is a big shelter down by the beach.  There is even a 9-hole Frisbee golf course meandering through.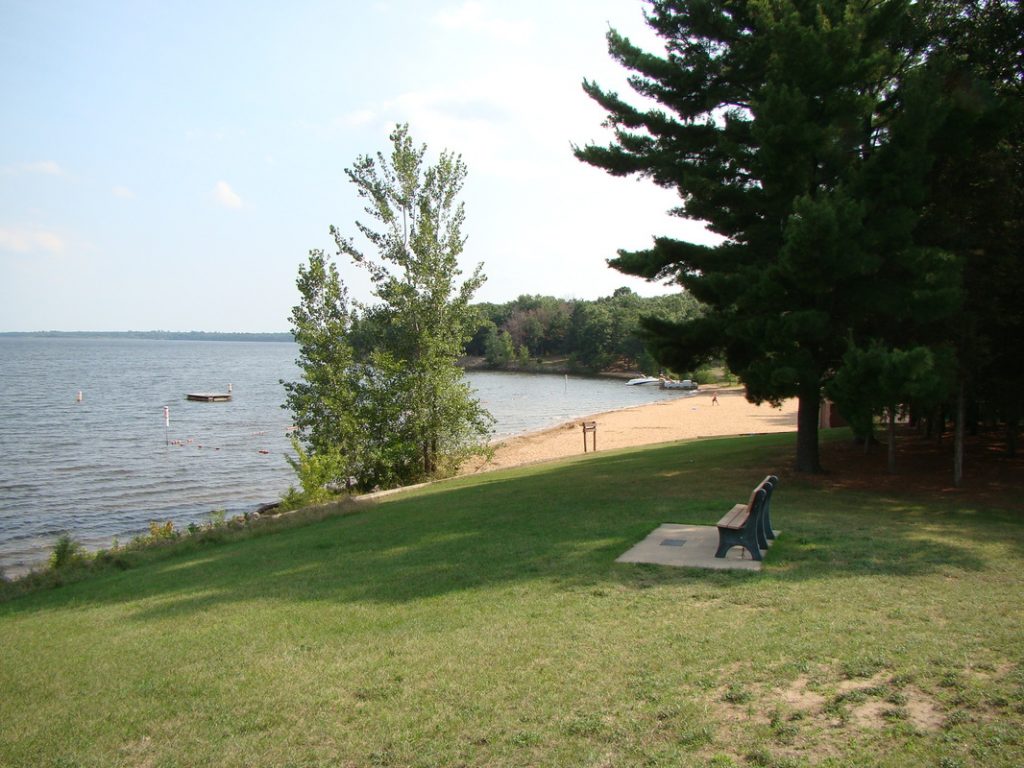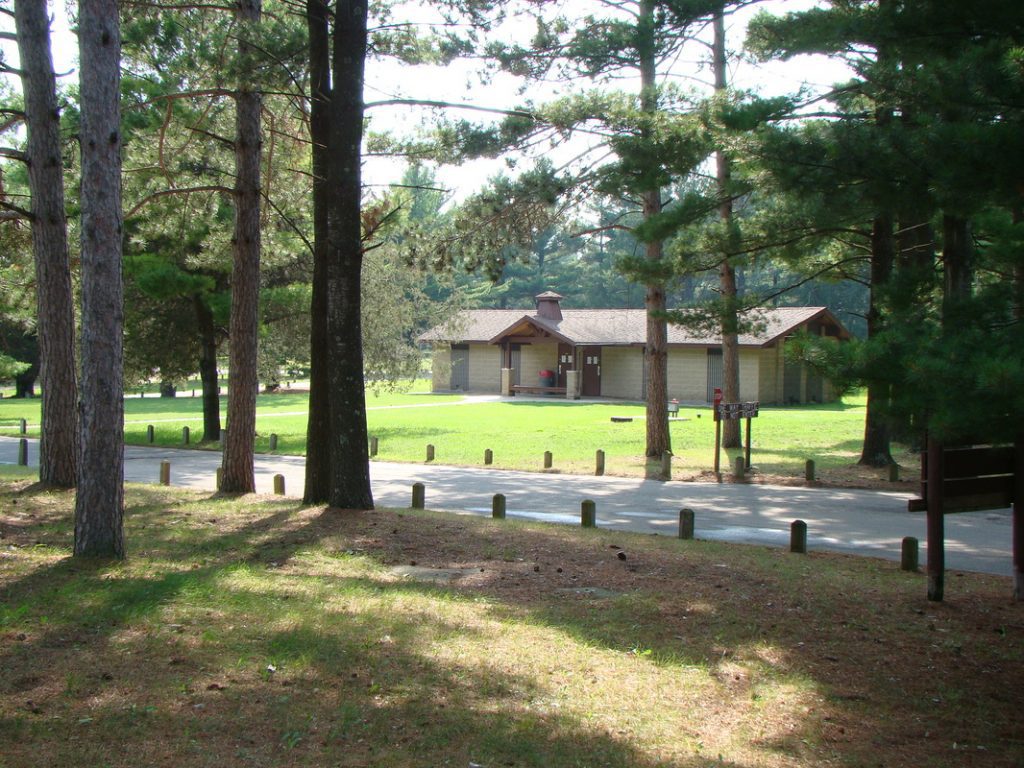 Bathrooms
Bathrooms consist of convenient pit toilets throughout the campground, and two bathhouses, one in Area A, and one in Area B. The bath house in Area A is old school, i.e. with toilets and sinks on one side of the room and on the other side, traditional shower stalls all in a row. Each stall has a little vestibule with a bench for dressing and undressing.
In contrast, Area B's bathhouse is almost brand new and sports private shower rooms with a bench, sink, and shower in each one! The flush toilets are in a separate room of the building. The showers run off quarters – 3 mins per quarter, I think, so make sure to bring a few with you!
Season Dates and Campsite Pricing
This WI county park office is open Memorial Day weekend through Labor Day weekend, with some extended seasonal sites available May 1st through October 1st.
Vehicle Stickers required – day pass $5, yearly pass $20. (Note that camping fees include one vehicle pass. Additional vehicles require extra fees.)
Camping rates for 2022:

Electric $25
Electric (Lakeshore sites): $30 (sites 330, 329, 328, 325, 324, 322, 320)
Non-electric $17
Weekly electric $138
Weekly nonelectric $102
Reservation fee $10
For reservations or more information, click here: https://www.juneaucountyparks.com/parks/
GC IA/WI Event at Castle Rock Lake!
We are doing a family-friendly event at this park over 4th of July weekend. Check it out on the GC website here!
Connect with me!
Theresa "Resa" Leppert
Guide Manager
Guide, Iowa & Wisconsin
563.284.2868
Girl Camper Magazine: Subscribe to Girl Camper Magazine here! Girl Camper Magazine
Events: Check out upcoming Girl Camper Events – you can attend events in any chapter! https://girlcamper.com/events/
Main GC Facebook Group – Join over 350,000 like-minded women in our public Facebook group! Girl Camper FB Group
Facebook Page – This is my public Iowa & Wisconsin page, where I'll share Girl Camper news, events and more. Girl Camper – Iowa & Wisconsin
Private FB Group – Where you can interact with others who are interested in camping in Iowa & Wisconsin! Girl Camper Iowa & Wisconsin Group.
Resa's Articles – Click this link to see all of Resa's articles on the website! ARTICLES
resaarticle