By Theresa "Resa" Leppert
There is a small slice of beauty a ways north, off the tip of Door County, Wisconsin. Its name is Rock Island State Park, an island in Lake Michigan. Getting there is a little complicated, but I promise, it's worth it!
Getting there is a bit of a process!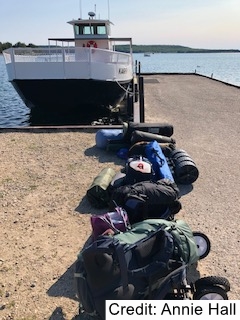 First, drive to the tip of Door County Peninsula to Northport. There, you'll get on a car ferry to Washington Island. Next, you'll drive across the island to Jackson Harbor where you can catch the Karfi passenger ferry! You (and your gear) will take a short ride on the Karfi to Rock Island.
You can go over for the day, or you can reserve a campsite and stay a while. The passengers all help load gear onto the open bow of the Karfi ferry, and everyone helps unload on the quay once the Karfi gets to RISP.
No cars or bikes allowed!
The entire island is a state park. No cars are allowed. No bicycles either! There are primitive campsites available, which are a bit of a hike from the quay where you disembark from the Karfi.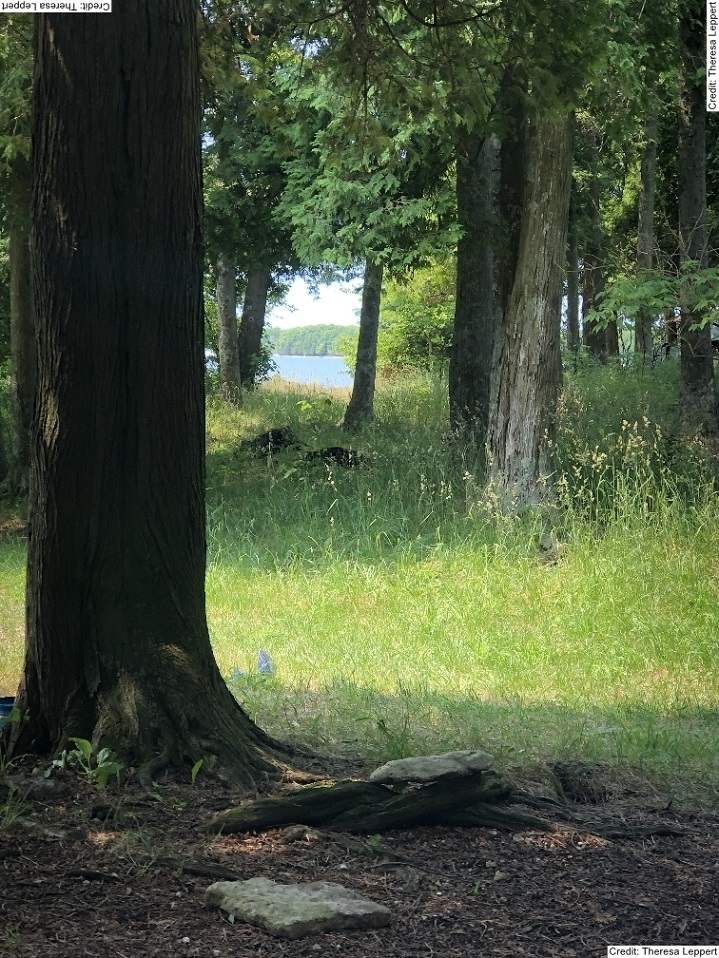 You might want to bring along a wagon to haul your gear. (Oh, and bigger nobby tires wouldn't go amiss…. The name "Rock" Island is very appropriate. Even the hiking trails are rocky!) There are some large community wagons available to borrow, as long as you promise to bring them right back when you're done – in case someone else needs to use them!
A lot of recreation & history in such a small island!
Rock Island is a mostly wooded island at the mouth of Green Bay, about 975 acres; 1.6 miles long and 1.1 miles wide. It is the site of the first permanent European settlement on the Door peninsula, a fishing village on the eastern shore. Eventually, those settlers relocated to Washington Island, abandoning the village entirely.
The Potawatomi Lighthouse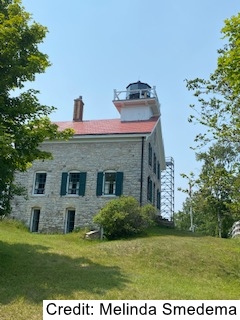 In 1836, the Potawatomi Lighthouse was constructed on the northern tip of the island. You can see from the pic that it doesn't have the traditional lighthouse look. This looks just like a normal residence with a light on top.
The lighthouse was restored by the Friends of Rock Island, and it is staffed by volunteer docents. The docents stay a week at a time and give tours. What a great way to take a vacation!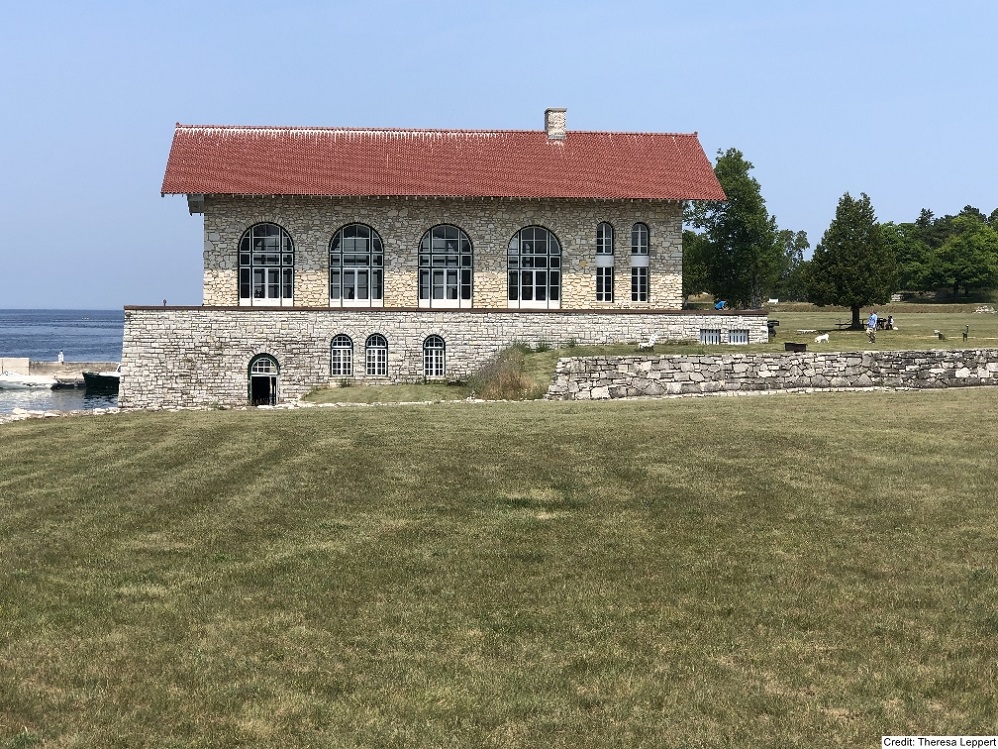 The Thordarson Estate History District
In 1910, Chester Thordarson purchased 775 acres of the island and built what is now known as the Thordarson Estate Historic District. It includes a large Viking boathouse.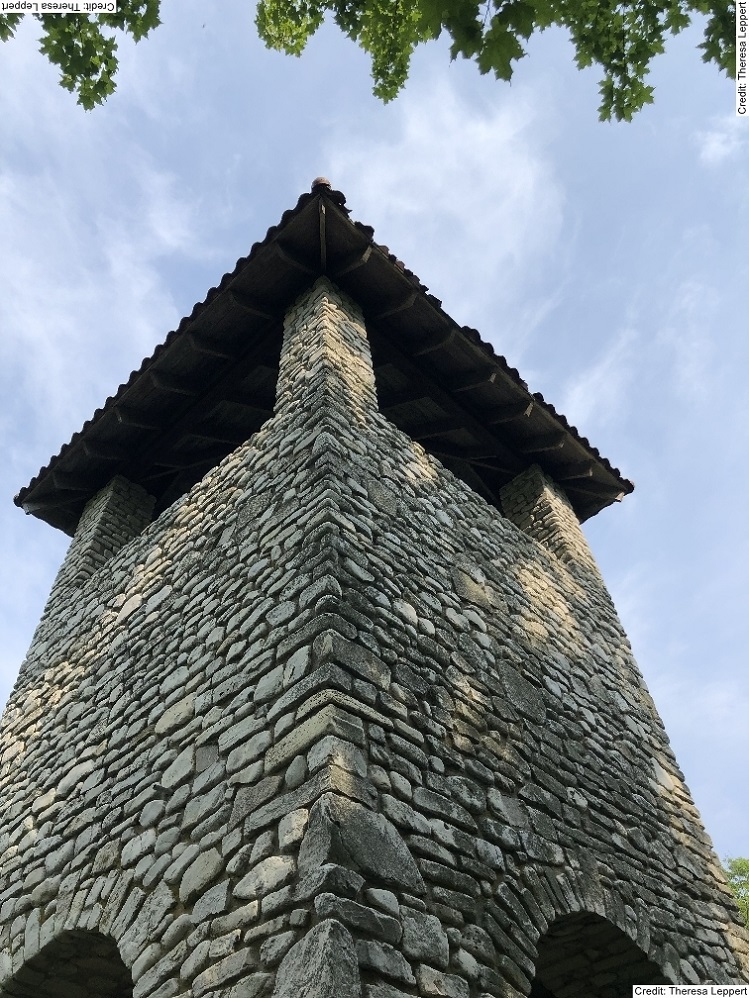 There is also a beautiful water tower on the eastern side of the island.
The stories say Mr. Thordarson hired stonemasons from his home country to build his estate.
The estate includes a Japanese style Pagoda. Local legend says Mr. Thordarson had a massive Japanese garden at the site of the pagoda; however, after Pearl Harbor, he had the garden bulldozed in protest over that terrible day.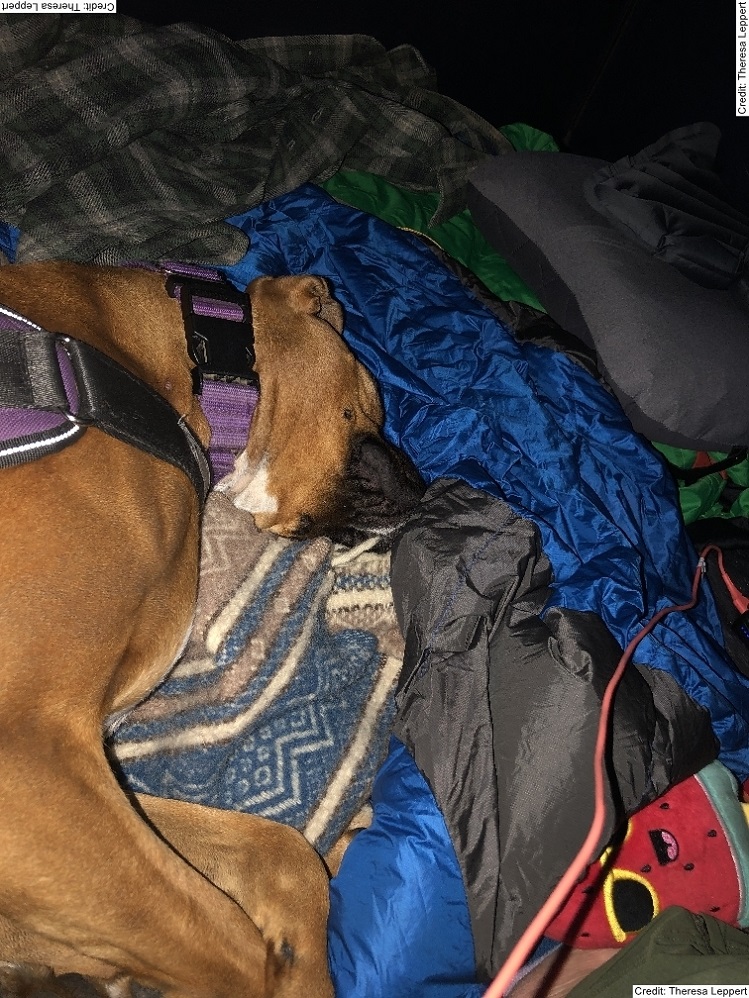 Ten miles of hiking trails
Shiloh and I hiked the Thordarson trail, a 5.2 loop around the entire island. We hiked it in a counter-clockwise direction, as we were starting from the campground. We found that direction was much less traveled and had a lot less people.
Many folks hike clockwise up from the boathouse up to the lighthouse and never make it past that point. Much of the quiet beauty of this island lies past there on the trail, so I encourage you to go a little further in your exploration!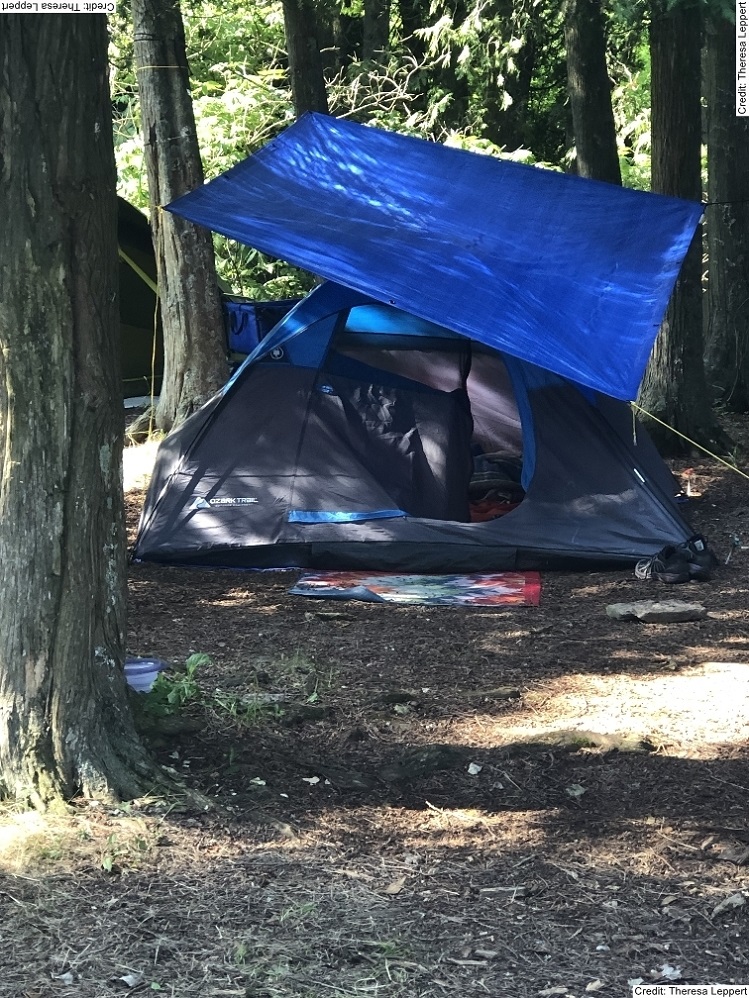 Primitive camping at its best!
The campground itself is completely primitive. No lights. No electricity hook ups. The only water on the island is near the boathouse, so that's another reason to bring a wagon: to carry your full water tank! The campsites are large, wooded, and the ones on the shore are BREATHTAKING. There is a sandy swimming beach. (Swimmer beware! That Lake Michicgan water is COLD!) Near site 15 is a rocky beach that leads up to a bluff. There are apparently carvings on the bluff you can only see from the water. Bring water shoes! Oh – and that rocky beach is DOGS ALLOWED! There are beautiful sunrises from the dog beach as Shiloh and I found during an early morning walk.
Would you like more information?
For more information about Rock Island in general and to make camping reservations: https://dnr.wisconsin.gov/topic/parks/rockisland/recreation This is a very popular park, so if you want to camp, you'll need to make reservations a year in advance. This was honestly my most remote camping trip yet, and while not true backpacking, it's the closest I've come to that to date!
YouTube Slideshow
I did a little slideshow here of all my pics from this trip. You can view it on our Girl Camper YouTube channel here: https://youtu.be/9SEYVFjRBLk
Where is your favorite remote campsite in the Midwest?
Connect with me!
Theresa "Resa" Leppert
Guide Manager
Guide, Iowa & Wisconsin
563.284.2868
Girl Camper Magazine: Subscribe to Girl Camper Magazine here! Girl Camper Magazine
Events: Check out upcoming Girl Camper Events – you can attend events in any chapter! https://girlcamper.com/events/
Main GC Facebook Group – Join over 350,000 like-minded women in our public Facebook group! Girl Camper FB Group
Facebook Page – This is my public Iowa & Wisconsin page, where I'll share Girl Camper news, events and more. Girl Camper – Iowa & Wisconsin
Private FB Group – Where you can interact with others who are interested in camping in Iowa & Wisconsin! Girl Camper Iowa & Wisconsin Group.
Resa's Articles – Click this link to see all of Resa's articles on the website! ARTICLES
resaarticle