Win the Keystone RV Springdale 1750RD Travel Trailer!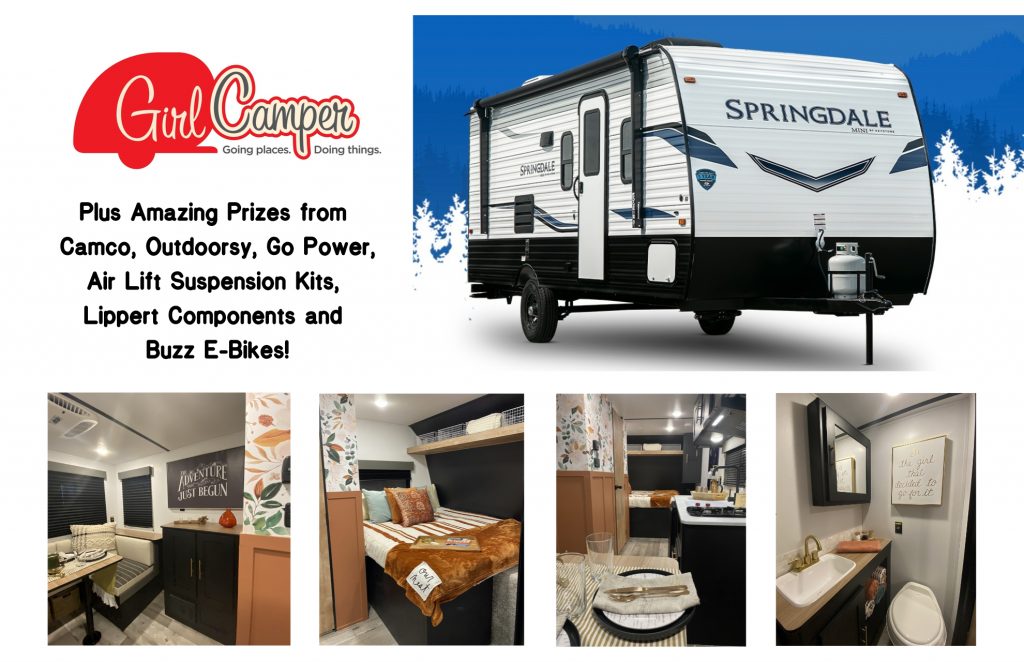 It's that time again – the annual Girl Camper fundraiser to benefit HoldYou!
We went all-out this year to bring you the best fundraiser yet with one of my favorite travel trailers ever – the Keystone RV Springdale 1750RD! This is the perfect RV for any Girl Camper with more storage, more conveniences and more clever features to make your camping experience effortless.
Even though the Springdale is beautiful right off the lot, we took it from Factory-to-Fabulous with our pal Cortni Armstrong from the Flipping Nomad. She brought her renovation brilliance to helping us create a true one-of-a-kind Girl Camper RV!
Every entry is in the running to win the Springdale along with other amazing prizes our Girl Camper partners donated including:
$10 gets you 10 entries. The more tickets you buy, the less each ticket costs! If you'd like to take your support one step further, please join the HoldYou Challenge as an individual or a team! You'll see Sign Up on the Sweepstakes home page. We'll be awarding a range of prizes to the leaders of each category too! The Sweepstakes runs until February 14th at 11:59 pm with the winners chosen on February 18th.
THANK YOU for supporting HoldYou with your sweepstakes entry!
Every parent's greatest fear is that some uncontrollable circumstance will jeopardize the health and wellness of their child. HoldYou Foundation's goal is to ease the financial burdens parents face during those traumatic times so they can focus their energy on what matters most—healing their child. 76% of the families HoldYou has served have fallen below the federal poverty line during their child's treatment. Their programs are tailored to meet the urgent and specific basic needs of each family such as Rent/Mortgage Payments, Utilities, Groceries, Gas, Child Care, Transportation, Insurance Premiums and much more.