By Terri Marshall
A land of extremes, Death Valley National Park leads us to the lowest place in the United States at the below-sea-level saltwater basin. Then, it rises up to towering peaks frosted with snow in winter months. The tallest, Telescope Peak, soars 11,049 feet into the sky. Upon first glance, this remote landscape appears lonely and desolate. But, despite its morbid name, life thrives here. Rare rainstorms yield vast fields of wildflowers in spring. Lush oases harbor tiny fish and serve as a refuge for wildlife and humans. Mysterious rocks race across a dry lakebed. This land may be the hottest place on earth but for those who look closely this park delivers plenty of surprises.
About the Park

More than 1.5 million people make their way to Death Valley National Park each year. Spanning 3.373 million acres, this surprising world is the largest U.S. National Park outside of Alaska and boasts two unique titles. The park's Badwater Basin sits 282 feet below sea level, making it the lowest point in North America. And with temperatures recorded up to 134 degrees Fahrenheit, Death Valley also claims the title of the hottest place on earth. To avoid the scorching hot temperatures, schedule your visit in winter or early spring.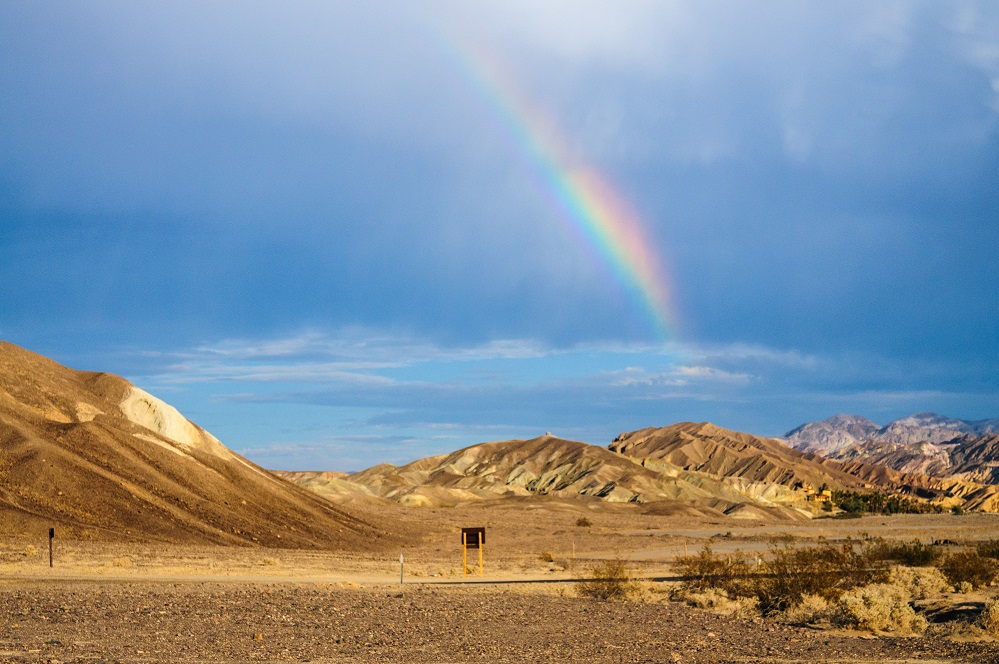 History

During the gold rush era, a group of westward-bound prospectors got lost in this area. Ultimately led out of the desolate landscape by a half-blind mule, allegedly one man said to another "Goodbye, Death Valley." The moniker remains today, but Death Valley was once known as Timbisha by the Timbisha Shoshone Indigenous tribe who've lived on this land for centuries.
In an effort to protect this land from mining and other interests, the U.S. government created Death Valley National Monument in 1933. This was not popular with the Timbisha Shoshone whose tribal leaders fought back, demanding a portion of the park be designated as tribal lands. Fifty years later, in 1983, the government formally recognized the tribe and granted back 7,800 acres of land to the Timbisha people. When the park was designated as Death Valley National Park in 1994, the Timbisha Shoshone Reservation became the first ever to be located within the boundaries of a National Park.
Activities

With more than 300 miles of paved roads, 300 miles of improved dirt roads and several hundred miles of unmaintained 4×4 roads, there's room for ample exploration. Hiking trails meander across wide-open spaces, up canyons and along ridges. The trails include cultural history, scenic vistas, easy strolls and challenging summits. Not to be missed, the Badwater Basin Salt Flats offers an easy one-mile round trip hike across fascinating salt flats 282 feet below sea level. For perspective on just how low you are, look for the sea level marker on the rocks located behind the parking lot.
Another short hike leads to the Natural Bridge (also a one-mile round trip). Located on the park's eastern side, this geological wonder formed from flash floods thousands of years ago. The hike continues beyond the bridge ending at a dry waterfall. But not all waterfalls in Death Valley are dry. Venture to the west side of the park to find Darwin Falls. This two-mile hike begins like most others in a gravel-bottom canyon. But as you continue along the trail, the dusty desert landscape evolves into a shady oasis of cottonwoods, willows and creek crossings leading to the 20-foot-tall waterfall. For those up for a challenge, a 12.7-mile out and back trail leads to the summit of Telescope Peak, the highest point in the park. Tip: Start early to avoid mid-day heat, use sunscreen and take plenty of water.
Unusual Attractions

Located an 83-mile drive from the Furnace Creek Visitor Center literally in the middle of nowhere, Racetrack Playa—a dry lakebed comprised of dried mud hexagons—holds one of the park's most bizarre sights. Large rocks referred to as sailing stones seemingly glide over the dry landscape leaving trails behind them. If witnessing this mysterious phenomenon is of interest to you, a 4×4 vehicle with high clearance is the best way to get there. Along the way, check out Teakettle Junction, where you'll find a wooden sign covered in tea kettles in a variety of colors, shapes and sizes. No one really knows how this longstanding tradition began, but some kettles contain messages tucked inside left behind by visitors from around the world. It's said to be good luck if you bring a kettle to leave behind and take one of the previous kettles home.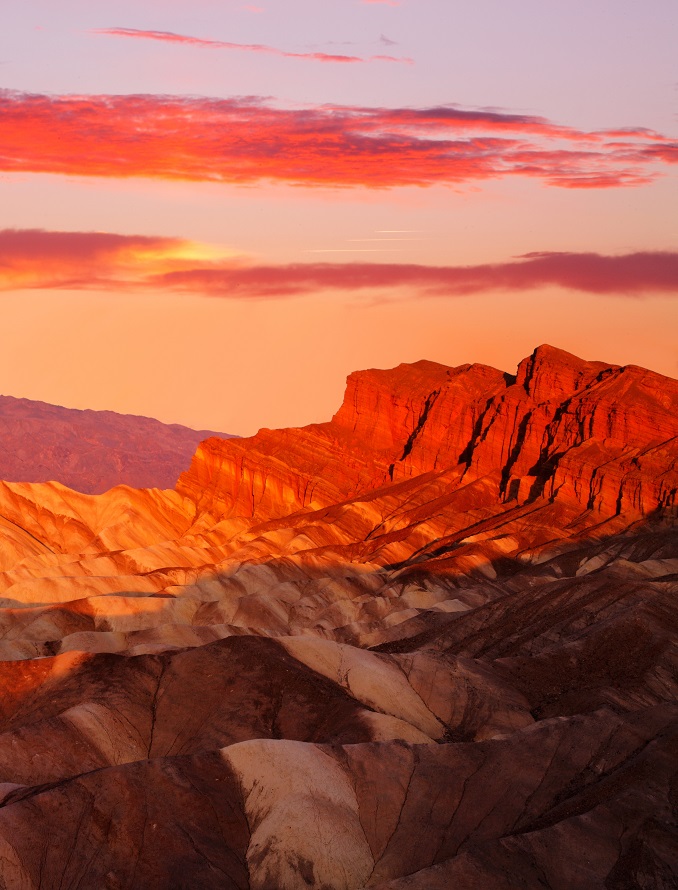 As scenic drives go, it's hard to beat the Artists Drive Scenic Loop. A departure from the desert's yellow landscape, a rainbow of colors emerges at Artists Palette. Formed from volcanic deposits rich in iron oxides and chlorite, the rugged rocks display shades of pink, green, blue, red, and orange. Star Wars fans may recognize this area as Tatooine from Return of the Jedi.
Where to Stay

Death Valley offers front country and backcountry camping. The most popular campground, Furnace Creek Campground, has 136 sites including 26 full-hookup RV sites that accommodate RVs up to 50 feet. Sites have water, sewer and 50-amp electrical hookups. The campground also accommodates trailers and tent camping. Another option, Stovepipe Wells Village has a general store and 190 campsites, including 14 full-hookup RV sites along with rustic camping. For a nominal fee, shower passes are available and include access to the village swimming pool.
This article first appeared in the winter edition of Girl Camper Magazine. Subscribe here for more great content like this.
Girl Camper Magazine: Subscribe to Girl Camper Magazine here! Girl Camper Magazine
Events: Check out upcoming Girl Camper Events – you can attend events in any chapter! https://girlcamper.com/events/
Main GC Facebook Group – Join over 350,000 like-minded women in our public Facebook group! Girl Camper FB Group