Every camper knows that getting all the loose ends pulled together for a trip can feel daunting at times. After planning your route, packing appropriate clothes, loading up your RV or car, double checking connections and securing items, you may not have given much thought to food. These easy camp meals will make that first night a breeze. With a little planning, you can have great ready-to-go meals without having to settle for whatever is available or drive around looking for a grocery store. 
We have some tips for making easy camp meals that are delicious. The secret is to prep ahead of time, take advantage of your grocer's salad bar and rethink conventional ways of cooking "camp" food. Bake potatoes at home. Pre-cook proteins. Hit the local grocery salad bar, which is an easy way to add lots of flavor profiles to your weekend menu. You can save time on meal prep, space in your limited RV fridge and money. Plus, no leftover and no waste.
Quick Breakfast Ideas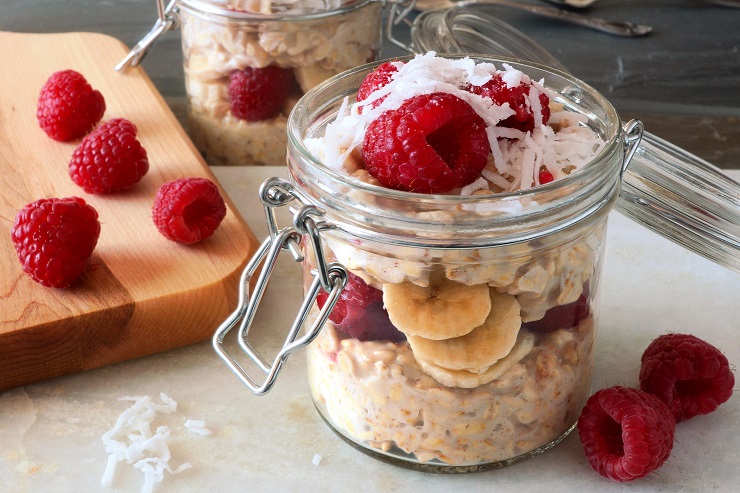 Make-ahead jelly jar oats are an easy camp meal. Add oatmeal to a glass jar, top with milk of choice and leave in the fridge overnight. Add your favorite toppings in the morning for an easy breakfast. 
Bake a batch of egg "muffins" with cheese, veggies and/or ham and store in a zip lock bag. Heat on a camp stove and eat them alone or on a toasted bagel.
Make a batch of French toast in a loaf pan at home and refrigerate. Cut the bread into slices and fry them in butter at the campground. Top with warm maple syrup and fruit.
Make granola bars at home or loose for cereal
Make-Ahead Proteins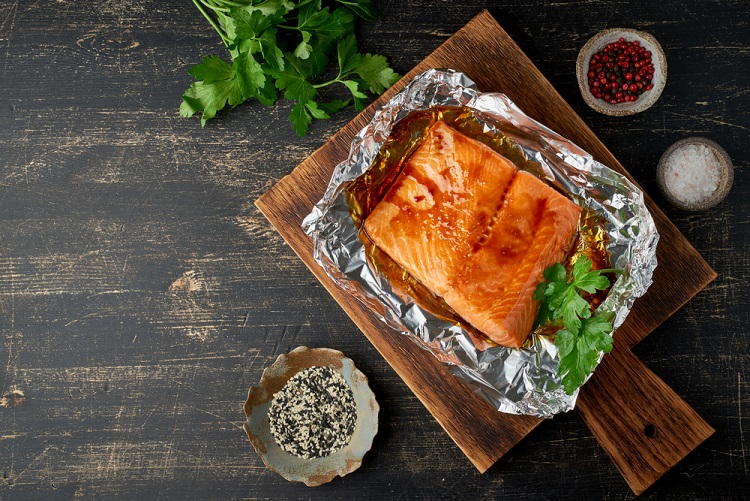 Cook a batch of seasoned ground beef for a quick chili, topping on a potato, to add to soup or for tacos.
Shredded chicken (rotisserie or homemade) is great for chicken salad, quesadillas, or to top a salad for easy camp meals. 
Precook salmon or fish, then steam in foil at camp or serve cold in wraps, on a salad or as a substitute for tuna in niçoise salad.
Precook bacon. Use it for salad toppings, breakfast sandwiches or for a BLT with locally grown tomatoes.
Baked Potatoes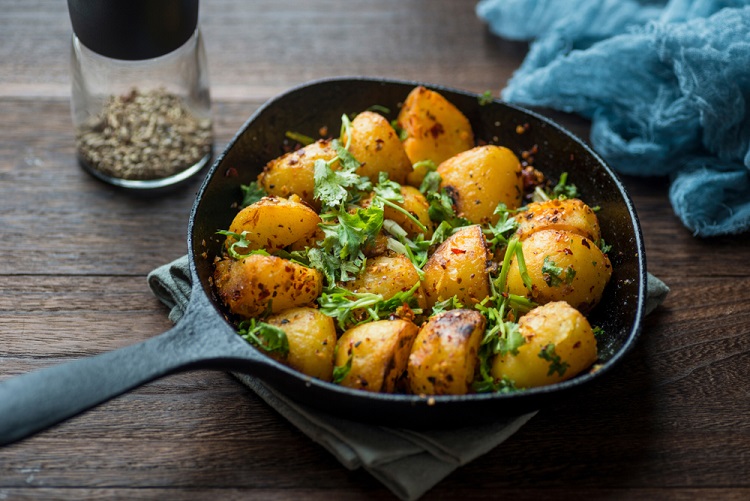 Heat them up in a cast iron pan with cheese, bacon, and scallions.
Warm them up in small cast iron pans over the campfire and top with a leftover protein.
Slice and reheat in foil with shrimp for a hearty, easy dinner.
Use them cold for potato or niçoise salad.
At the Salad Bar
A good salad bar usually has fruit, nuts, seeds, chopped veggies and pre-cooked proteins. You can create a box for each camp meal you plan to make on a trip.
Use waxed cardboard packaging if your store has it. Bonus: the empty container is a great fire starter.
If your fridge is small, transfer the food to reusable silicone food bags, which take up less space.
Label the outside of the carton with its ingredients for quick identification in the fridge.
Load up a container of veggies to make a healthy, no-fuss foil packet side dish to go with your entrée.
More Girl Camper
Girl Camper Magazine: Subscribe to Girl Camper Magazine here! Girl Camper Magazine
Events: Check out upcoming Girl Camper Events – you can attend events in any chapter! https://girlcamper.com/events/
Main GC Facebook Group – Join almost 400,000 like-minded women in our public Facebook group!  Girl Camper FB Group